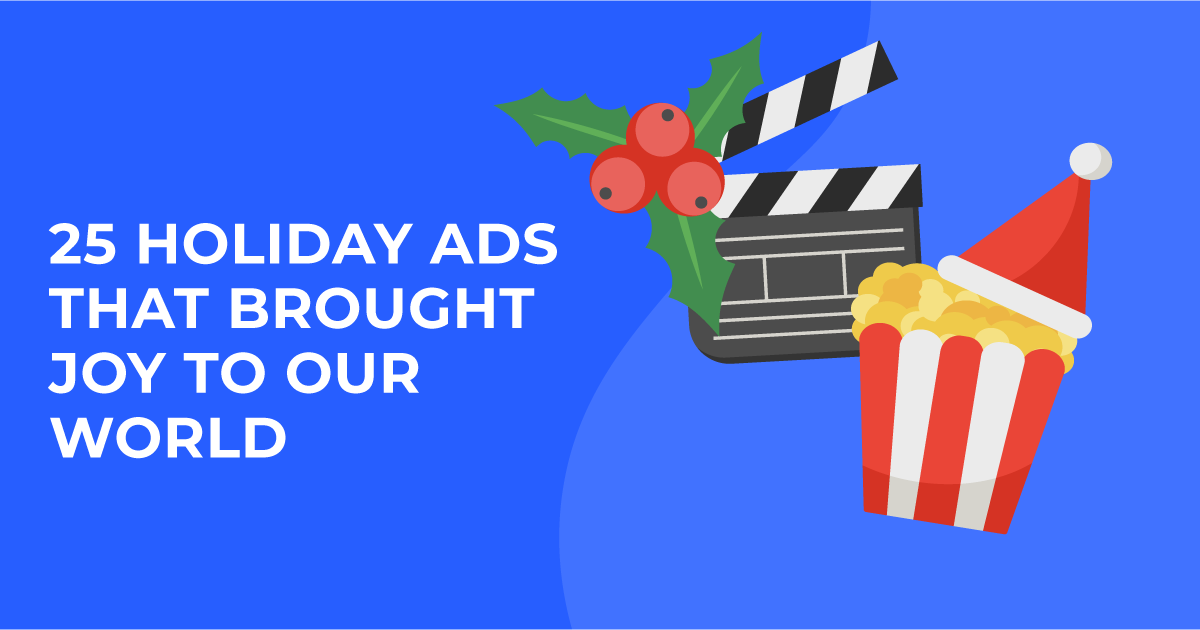 25 Holiday Ads That Brought Joy to Our World
After a week of blizzarding outside of our office, it's finally starting to feel like the holidays. In honor of the season, we wanted to devote this week's blog to some of the holiday ads that warmed our hearts and increased our brand loyalty.
We hope you enjoy!
#1: Coca-Cola's "Catch" (2012)
The polar bear has been attached to Coca-Cola since 1922. The 2012 treatment, which was on display in "Catch," appealed to football fans everywhere. Though no dialogue (outside of a few polar bear grunts) was used in this commercial, it does a great job of setting a festive mood, appealing to its intended audience, and preserving the Coca-Cola legacy – all in a 60-second spot.
#2: Edeka's "Homecoming" (2015)
Edeka, a German supermarket chain, hits us right in the heart with this one. Look no further than the comment section on this YouTube video to see how audiences engaged with this ad; it reminds us of holidays with our loved ones, and the importance of family, particularly around the holidays. Now I'm sitting here getting tears on my keyboard.
#3: Campbell Soup's "Melting Snowman" (1993)
As a 90s baby, it could just be the nostalgia in me but doesn't the mix of a cold day, a snowman in the yard, and a spoonful of chicken noodle just feel right? The tagline "nothing melts away the cold like a hot bowl of Campbell's soup" feels like it could have been developed in 1930 or 2022 – it's as timeless as it is relatable. This palate-cleansing ad is certain to bring some warmth to your heart.
#4: John Lewis & Partners' "The Beginner" (2022)
For the entire first half of this ad, I was thinking this was going to be about a man having a midlife crisis. When Ellie gets to the door and the true meaning of this ad is revealed, it's hard to not well up a bit. Though we usually have to let years pass before we can list ads in our top 25, this one felt like an instant classic for me. Bravo to the marketers behind this ad, and to John Lewis for their commitment to supporting youth in the care system.
#5: McDonald's UK's "Inner Child" (2020)
The eye-catching animation in this ad is on Pixar's level. In fact, I found myself so enamored by the animation and storytelling, that I almost was able to completely ignore the fact that this was promoting McDonald's "Reindeer Treats." It's pretty rare to watch a 90-second ad and still be left wishing it didn't end.
#6: M&Ms' "Faint" (1996)
Here's an old classic that almost all of you readers will remember. Originally shot in 1996, it was such a fan favorite that they even had to make "Faint 2" about 20 years later. For a brand that is heavily featured in Christmas stockings and holiday desserts, there's always big pressure to have a holiday ad that sticks. This one does.
#7: Sky's "E.T. Came Home For Christmas" (2019)
Man, how we all missed the E.T. scream! Here, we have Elliott and E.T. reconnecting in modern day, when Elliott is a father and his kids are able to experience the same joy that E.T. brought to his childhood. The message of this ad is summarized in the last frame – "Reconnect this Christmas." And how can you do so? Well, probably with a new Sky Glass TV.
#8: IGA's "Merry Cooking" (2018)
This ad by Sid Lee Montréal and animated by Mathematic Studio is the perfect execution of a brand tying their products into the holiday season. IGA, a corporation of local grocers, tells the story of a young boy learning to cook for Santa, only to see that love be passed onto his children as they, too, experience the magic of Christmas. Great animation, fun story, and beautiful execution.
#9: Publix's "Holiday Surprise" (2008)
Alright, I had to do another supermarket brand – but can you blame me? For any young adults who are having to create new traditions, this commercial is particularly powerful. Though the acting jobs probably won't win anyone an Oscar, this ad still has a tremendous story and is relatable for almost all of its viewers. Once again, we're reminded of the importance of family during the holiday season.
#10: Apple's "Frankie's Holiday" (2016)
For years, I've adored the commercials that Apple releases – particularly those that are released around the holiday season. Naturally, it was difficult to choose which ad to include in this list. But Frankenstein attaching light bulbs to his neck, pulling out an iPhone to play some holiday tunes, and turning a small community into a choir? Hard to forget that one. The tagline "open your heart to everyone" is simply the icing on top of the Christmas cake.
#11: Hershey's Kisses' "Holiday Bells" (1989)
I hope whomever first decided to turn a Hershey's Kiss into a holiday bell is sitting on an island somewhere, basking in their fortune. Similar to the M&M's commercial referenced a few ads ago, Hershey's Kisses are a staple to the holiday cookie and dessert game. What I love about this one is that it's so simple and obvious that it makes you wonder "wow, how didn't I come up with that idea?"
#12: Sainsbury's "1914" (2014)
Four months into World War I, soldiers from both sides put down their weapons and celebrated Christmas Eve with shared music, football, and a truce. 100 years later, Sainsbury released this commercial in partnership with The Royal British Legion to promote their chocolate bar, and (more importantly), promote that Christmas is for sharing. This ad has stuck with me for 8 years now.
#13: LEGO's "And I think to myself" (2020)
The creativity in this ad can only be matched by the creativity kids experience with their boxes of LEGOs. Our former Designer Izak is a huge LEGO guy, so I had to include a LEGO ad here just for him. But I also love the storytelling, the humor, and the creative visuals deployed in this ad. In a COVID-ridden year, it makes it all the more impressive that LEGO was able to pull off this creative ad for 2020.
#14: John Lewis' "Buster the Boxer" (2016)
We haven't even made it out of the top 15 and I've already got two John Lewis ads referenced. Their 2016 holiday ad is all about the anticipation of opening the perfect gift. It also features some incredible cinematography and bouncing animals – what's not to love?
#15: IKEA Spain's "Christmas" (2018)
A reality game wrapped up into a holiday commercial? Brilliant for engagement rates! A story about how we pay more attention to pop culture than what goes on in our families? Brilliant for switching up the dynamic at this year's Christmas table. This ad cleverly incorporates IKEA products into a long-form ad that you don't want to stop watching.
#16: Guinness' "Good Things Are in Our Grasp" (2021)
I know, I'm listing a lot of European ads. But when you tie in amazing holiday vocals from the Brighton Swing Choir with a Guinness mustache and friends enjoying beers around a pub in the winter – it's hard to turn away. I also have a certain affinity towards brands that use their end-of-year ads to discuss the good work they're doing, including Guinness pledging 30 million euros to support pubs.
#17: Folgers Coffee's "Peter Comes Home For Christmas" (1985)
This classic commercial is actually the longest running commercial in advertising history, as it ran from 1985-1998. With the relatable elements of family, coffee, and Christmas morning, it's easy to see why. I love this commercial, but I have to be honest… the 2009 remake (and some of the awkward tension between brother and sister) almost made me remove this altogether.
#18: Honey Nut Cheerios' "Scrooge" (2000)
Bah honey nut bug. Using movie characters can sometimes be a gamble, as it could ostracize a portion of your audience that doesn't understand the reference. However, it's hard to think of anyone that's unfamiliar with "Scrooge," and Honey Nut Cheerios went all-in with this ad. Not only is the ad memorable for its visuals, but the tagline of "Nobody can say no to (Honey Nut Cheerios)" is a copywriting delight.
#19: Lagavulin's "Yule Log" (2015)
Nick Offerman became a pop culture icon for his role as Ron Swanson in NBC's "Parks & Rec." He's known for his stern demeanor, memorable facial hair, and love for bacon. You know who else likely is known for similar things? Whiskey drinkers. That's why this pairing of Nick Offerman & Lagavulin is so great. What else is great is that you can literally watch this ad for an hour – and I've been at multiple holiday parties where people do just that.
#20: Walker Crisps' "All Mariah Carey Wants This Christmas" (2019)
An elf, a bag of chips, and Mariah Carey's ridiculously high-pitched falsetto. All of this for a crisps/chips brand that I had to look up to learn more about! Most people equate Mariah Carey with the holiday season, and Walkers Crisps takes advantage of that for their celebrity endorsement in this memorable ad. It's well worth a watch.
#21: Corona's "Feliz Navidad" (1998)
This ad was released almost 15 years ago, and I still find myself whistling the tune of "Oh Christmas Tree" and thinking of this ad. While many brands lean into the snowy fields and ice-covered windows for their holiday settings, Corona stays authentic to their brand and shows what Christmas may look like in a more tropical setting. Suddenly, I want some Coronas… and a lime.
#22: Disney UK's "The Gift" (2022)
In honor of the year (2022), I had to make sure that ad #22 was a modern one. Disney recently released this holiday ad in support of the Make-A-Wish Foundation. This is the finale of the trilogy involving previous ads "Lola" and "The Stepdad," and is intended to warm your hearts and open your eyes to the magic of the holiday season. I love the animation and storytelling in this ad.
#23: Asda's "Have Your Elf a Merry Christmas" (2022)
You have reached the section of this blog that fixates on newly-released ads. Welcome. For fans of the classic Will Ferrell Christmas movie, you will be pleased to see Buddy back on your screens this holiday season. What's most impressive about this to me is (unless I am gravely mistaken) they used actual clips of Will from the movie, and presented him in a modern day Asda store. With that in mind, you can't help but applaud the storytelling and edits.
#24: Amazon's "Joy is Made" (2022)
Here's what Amazon had to say about this year's ad: "a heart-warming story celebrating the inventive spirit of a loving father who is inspired to create a very special and thoughtful experience for his young daughter, proving joy is something we make." Here's what I have to say about it: "he was able to put everything else together on his own, but had to order a Paper Shredder from Amazon for his snow?" Okay, okay – I really like the story in this ad. Well done, Amazon.
#25: Hobby Lobby's "Christmas is What You Make It" (2022)
This is feel-good advertising in its purest form. During stressful times in what feels like a highly divided and competitive world, it's beyond touching to see an example of two former competitors who come together at the end of this film. Hobby Lobby also does a good job of appealing to the DIYer (arguably, their biggest customer base) and drops plenty of product examples throughout the commercial. Well done, Hobby Lobby team!
---
We hope these 25 ads also bring joy to your world this holiday season. As you prepare for your own company's 2023 marketing, feel free to reach out to our team. We'd be happy to chat through your own brand strategy and discuss ways to grow your revenue and reach new customers. In the meantime, enjoy a peaceful and relaxing holiday season!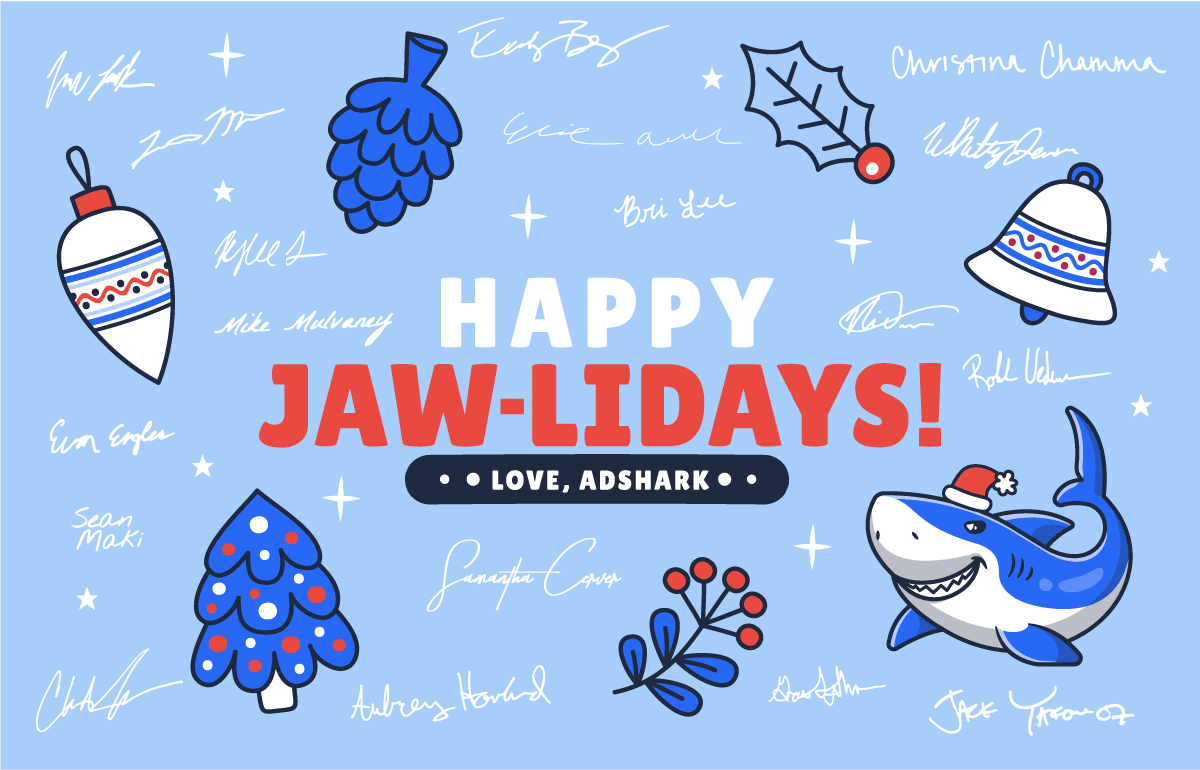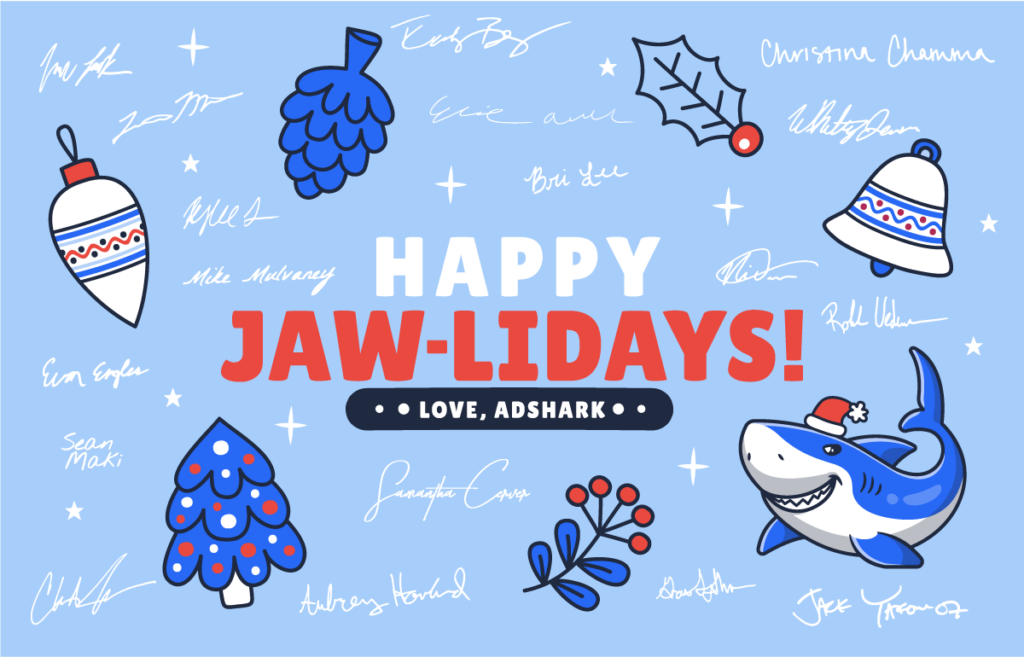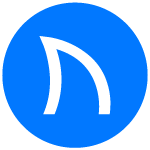 Ready to grow FASTER? Let's Talk!
Interested in having us help you grow?