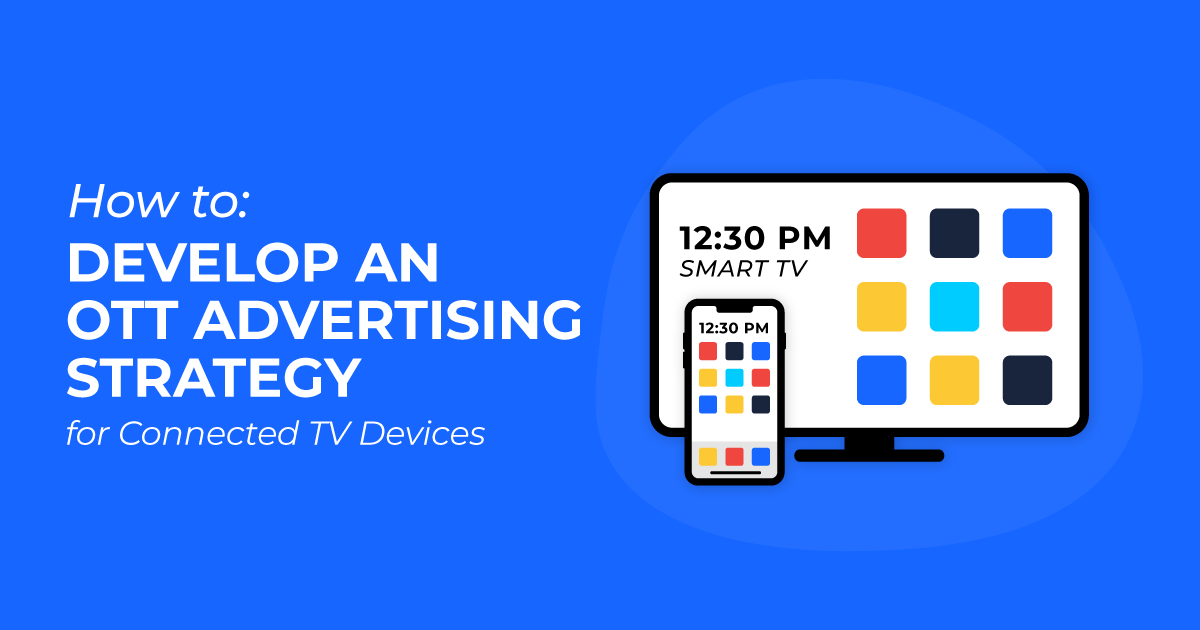 How to Develop an OTT Advertising Strategy for Connected TV Devices
"Which TV series have you been watching lately?"
This question has been breaking the ice at family gatherings, corporate retreats, and class reunions for the past several years as the popularity of streaming services like Netflix and Hulu continue to skyrocket. I'm rewatching the second season of HBO's Succession, binged Netflix's Squid Games, and occasionally catch up on Bachelor in Paradise when my fiancé has Hulu on in the living room. Streaming services have dominated my pandemic-riddled world, and my story is far from unique.
Stats show that COVID has accelerated cord-cutting trends and the rise of internet-based TV streaming. Some examples include:
The numbers don't lie. The convenience, cost, and content on streaming services like Netflix, Hulu, and more continue to prompt U.S. consumers to sever the ties with traditional TV. For those in the advertising world, this prompts us to explore new ways to reach our target audience with important brand messages. That's where OTT (over-the-top) Advertising comes in.
What is OTT Advertising and What is Connected TV?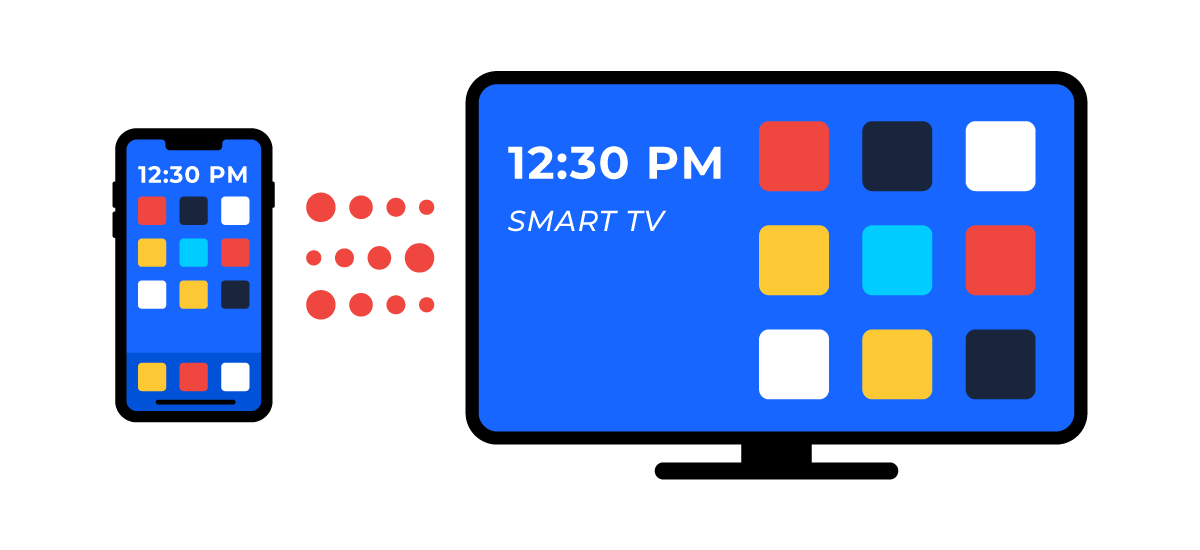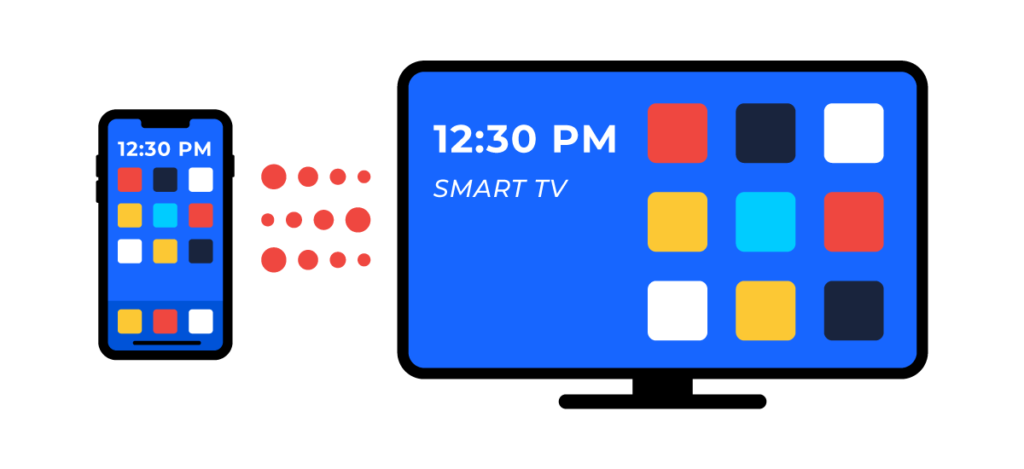 In the digital advertising world, we're prone to using a mix of three-letter abbreviations and assuming the rest of the world knows what they mean. As the world of advertising to online video viewers continues to expand, we recognize that some of the terminology may be a bit foreign for now. Let's break it down.
OTT Advertising refers to ads that are served on content that runs "over the top" of traditional cable & broadcast television gatekeepers, via the internet. The content that this advertising is served on is streamed online (via wireless, wired-in, or mobile networks) and circumvents the need for cable television.
Connected TV (also known as "CTV") are devices enabled by the internet to serve this OTT media. Some examples include Amazon Fire, Chromecast, Roku, and smart TVs and gaming consoles. These devices are either connected to, or embedded in, a television to support video content streaming.
As streaming use continues to grow, more and more Americans are utilizing CTV devices. Fortunately, new advertising channels have emerged to allow us to reach these individuals as they stream on their Rokus and gaming consoles.
A Brief History of OTT Advertising
With OTT Advertising being viewed by many as the future of television advertising, it's important to take a second to show respect to the past. In 1941, the FCC (Federal Communications Commission) issued commercial licenses to 10 US television stations. On July 1st, the first-ever commercial aired which was a spot for the Bulova Watch Company (shown below) that cost a whopping $9 to air.
By 1964, networks like CBS, ABC, and NBC were demanding upwards of $50,000 from advertisers for a prime-time minute. This number continued to rise in the 60s and 70s, and by 1977 gross TV advertising revenues rose to $7.5 billion which equated to 20% of all US advertising at the time.
In 1994, internet advertising arrived and opened an entirely new medium for advertisers to reach their audience. Despite this fact, it wasn't until 2017 (23 years later) that spending on TV ads declined for the first time. Why? With the likes of Netflix, Hulu, YouTube, and Prime Video, consumers were spending less of their time watching cable and more of their time streaming videos on the internet.
Naturally, it wasn't long before platforms found ways to increase monetization and advertisers sought ways to reach their connected TV-viewing audience. Though some streaming providers (i.e. Netflix) have been staunchly against ads being shown on their platforms, others (i.e. Hulu) have offered discounted or free versions of their service that will include ad placements.
OTT advertising launched in the early 2010s, but continues to grow year-by-year. By 2025, the market size is expected to exceed $330 billion (Allied Market Research). Though ads on connected TV platforms have been a reality for about a decade now, there are still some developments yet to emerge. For example, most advertising is still run through PMP (private marketplace) deals and third party providers. Even Hulu's Ad Manager is still requiring RSVPs for early access to its beta program.
The world of OTT advertising is ever-evolving, yet many companies haven't yet strategized how to reach audiences on connected TV devices. For those of you reading this article, it may beg the question: should I be thinking about OTT?
Who Should be Advertising on Connected TV Devices?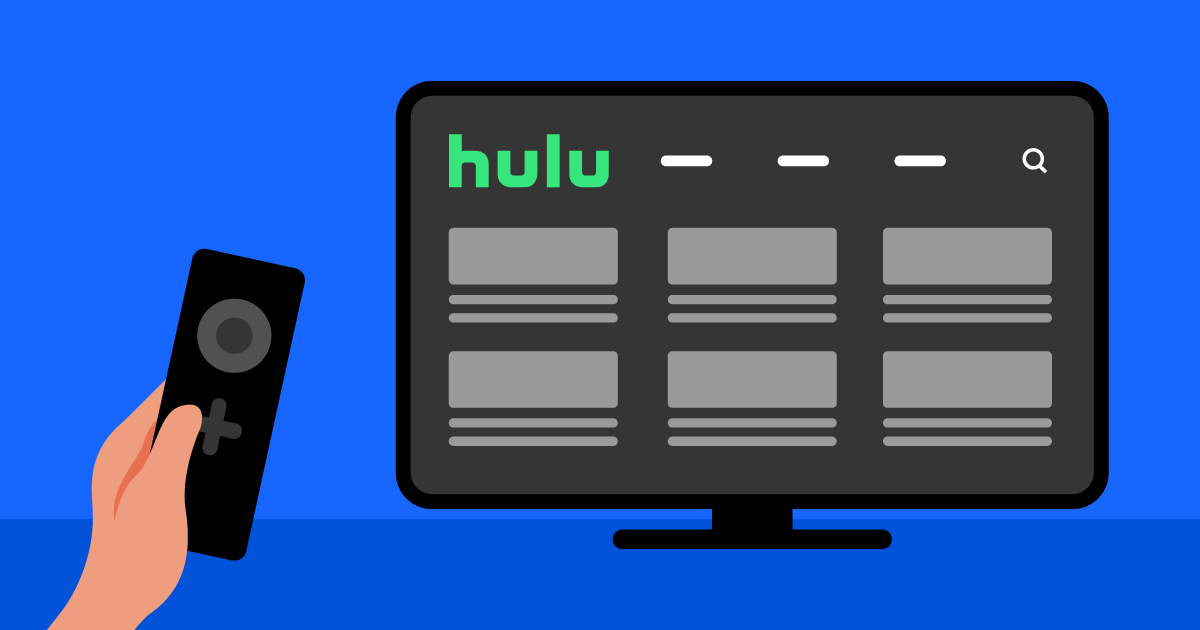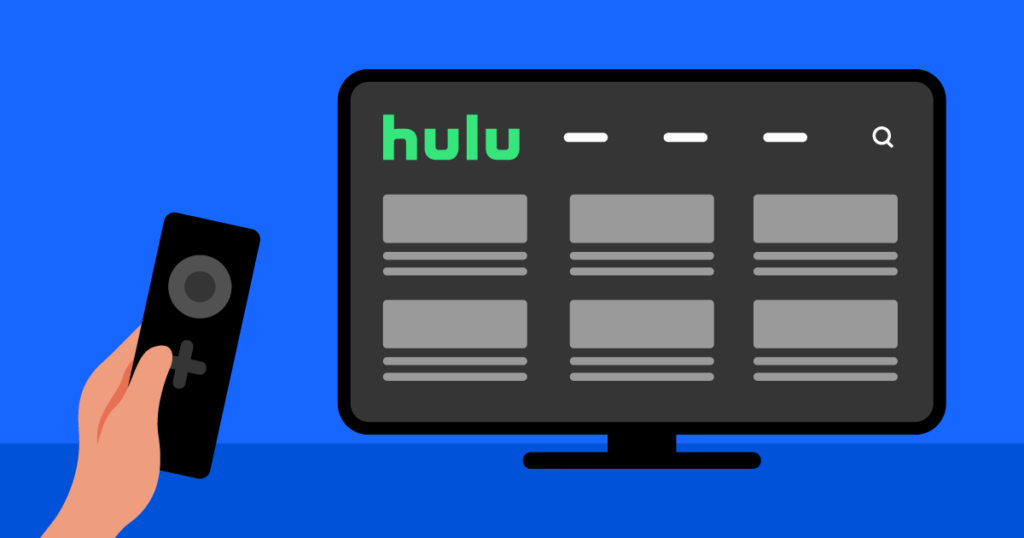 At AdShark, we don't believe in selling you services that don't make sense for your business. Though OTT Advertising can be a great fit in driving top-of-funnel awareness around your brand, it may not be the best allocation of your advertising spend. In order to diagnose whether you should be looking into advertising on CTV devices, let's take a quick look at some of the benefits of this form of advertising:
Reach an increasingly large audience of CTV users. As we chatted about at the front end of this article, CTV has been growing like wildfire. In fact, Statista suggests that 84 million households are connected to streaming TV services. This audience size is only set to increase, and according to many sources has already surpassed the audience size on traditional cable/linear TV.
OTT advertising is typically more cost-effective than pay-TV ads. Though the overall cost-per-thousand-impressions (~$20-70, pending programming) is fairly comparable on cable TV and connected TV, you oftentimes have a more favorable ability to monitor spend and set budgets through OTT. There's less financial barriers to entry, in most cases, with advertising on Roku, Hulu, and similar connected mediums.
Increased completion rates and viewability with your ads. Advertising on connected TV oftentimes results in a completion rate of around 90-95%. Though it's harder to provide comps for cable TV, there is more of an opportunity on cable programming to change the channel during commercials (or exit the room and return). With connected TV, you typically have a more captive audience even during the advertising portions.
Layer in advanced targeting. The main choices you can make with connected TV relate to the programs/packages you're bidding on, and the geos that you're serving ads to. However, this isn't dissimilar from the offerings of the majority of cable advertising providers. Where there is differentiation is when it comes to layering in advanced, interest-based targeting. You have the ability to target users based on their behaviors and interests which can help your advertising dollars go further.
Improved reporting on ad performance. While traditional ad sales reps may provide you reports on the amount of placements your ad received on each channel, you simply won't have access to the same data that OTT advertising can provide. Metrics like total impressions, impressions per geo, completion rate, clicks (to website), and more are available to help you better diagnose your ad's performance on CTV.
With these benefits in mind, ask yourself if your business would benefit from trying out advertising via connected TV. If you are a business who has done traditional advertising on cable, I would highly endorse giving CTV a shot. If your a business who's considered traditional cable advertising but you have been scared off by the price, I'd also encourage you to try OTT advertising. However, if you're a business that's a bit tight on your dollars and you're more interested in harvesting interest rather than generating new interest, I'd say that other digital channels like Google Ads may be a better starting spot than CTV.
Feel free to contact us to learn more about how we can help with your connected TV advertising needs!
Developing your OTT/CTV Advertising Strategy
It'd be really cruel if I just wrote those first few sections of this blog, but didn't actually talk about how to take the next step once you've decided, heck yeah, let's advertise on connected TV. So, this section is dedicated to that: developing your CTV strategy and how to take the next steps.
Step One: Establish Your Goal
Our clients have had varying goals when it comes to CTV advertising. Some have simply wanted to maximize impressions. Others have been very eager about having their ads shown on specific streaming platforms. For you, you may just want to ensure you have a strong completion rate. Whatever the goal may be, it will drive the entire rest of your strategy. Make sure to establish a goal that makes sense for your business and communicate that to your CTV advertising provider.
Our Advice: with CTV advertising, though you can get layer in some advanced targeting, it is typically only recommended if you're advertising to a broader metro. In most cases, we'd recommend keeping your targeting pretty broad and unlayered, but select packages that will help you achieve your goal of either maximizing impressions (choosing packages with lower CPM floors) or getting your ads on specific programming/platforms.
Step Two: Select (or Create) Your Video to be Used in Ads
If you've been running traditional cable ads and still have relevant video content, perfect! You're 90% of the way to launching your CTV ads. However, if you have yet to produce quality 15- or 30-second videos that can be used to introduce new customers to your brand, you'll want to connect with a video agency to help you produce these. Please note that there are specific requirements when it comes to advertising on Hulu, including these HD specs: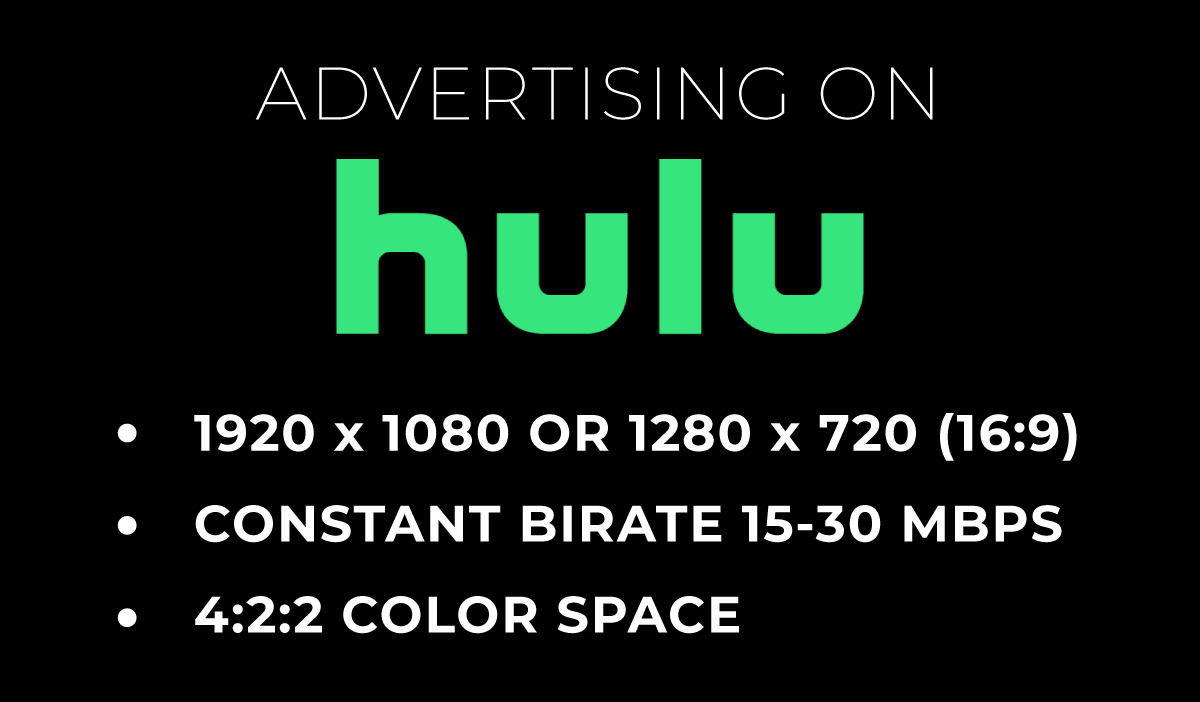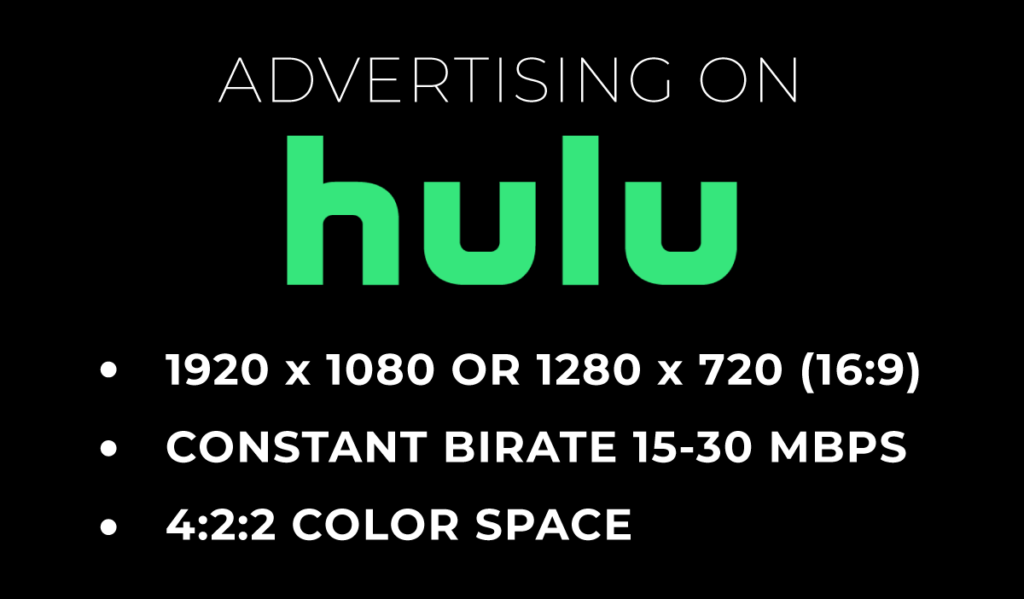 Our Advice: try to produce a 30-second video, but also a 15-second edit. You can run both ads in your campaign and split-test them to determine which one is performing better.
Step Three: Establish Your Budget
Everybody's favorite discussion. We talked before about how OTT ads are typically handled through a bidding system based on CPM. Specific programs and packages (private marketplace deals) will have values that range from as low as $10 CPM to inventory with CPMs of $100 or more. Most clients that we work with are able to achieve a CPM around $40-60 CPM, which will give them some placement on Hulu programming and additional packages (Roku, Sling, etc.). Depending on what you'd like to achieve, and the amount of available inventory at the time you're bidding, you can expect to spend similar amounts.
Our Advice: define early what an acceptable CPM is. If you're willing to spend north of $80 CPM to get more premium inventory, great! If you know that you want to layer in some less-expensive inventory, consider breaking out your campaigns into two ad groups – one which pursues higher CPM placements, and one that pursues lower CPM placements to achieve a more desirable overall balance of spend.
Step Four: Select Your Channels
As connected TV advertising continues to grow and there are more opportunities to bid directly through a platform, it's likely that you'll have more say in the exact programs and genres you'll be placed on. For now, however, you may be required to select from existing packages that your PMP (private marketplace) provider has curated. Thus, your decisions may be more about the mediums for placements (Hulu vs. Roku/Sling) and your types of programming (sports, political, news). Depending on the product or service you're advertising, select programming that broadly speaks to your target audience for optimal results.
Our Advice: speak with your connected TV rep about who your target audience is, and put some pressure on them to help select the packages that make the most sense for your company to be bidding on.
Step Five: Reporting on Results
After you've launched your campaigns, conduct reports to monitor the results. Most connected TV platforms that you advertise through (or media buyers who do the advertising on your behalf) will be able to pull numbers including:
Impressions
Pacing
Completion Rate
Win Rate (on bids)
Clicks
…and more! You can also pull reports for specific geos & specific programs/platforms to get an even clearer picture of how your advertising is working. This will help you establish benchmarks to build upon in future OTT/CTV campaigns.Our Advice: every third party provider of CTV advertising will differ in how they present data. We pull our campaign reports into spreadsheets & then a consolidated Google Data Studio Report to make it easier for our clients to view the important metrics that may influence their decisions. Example shown below.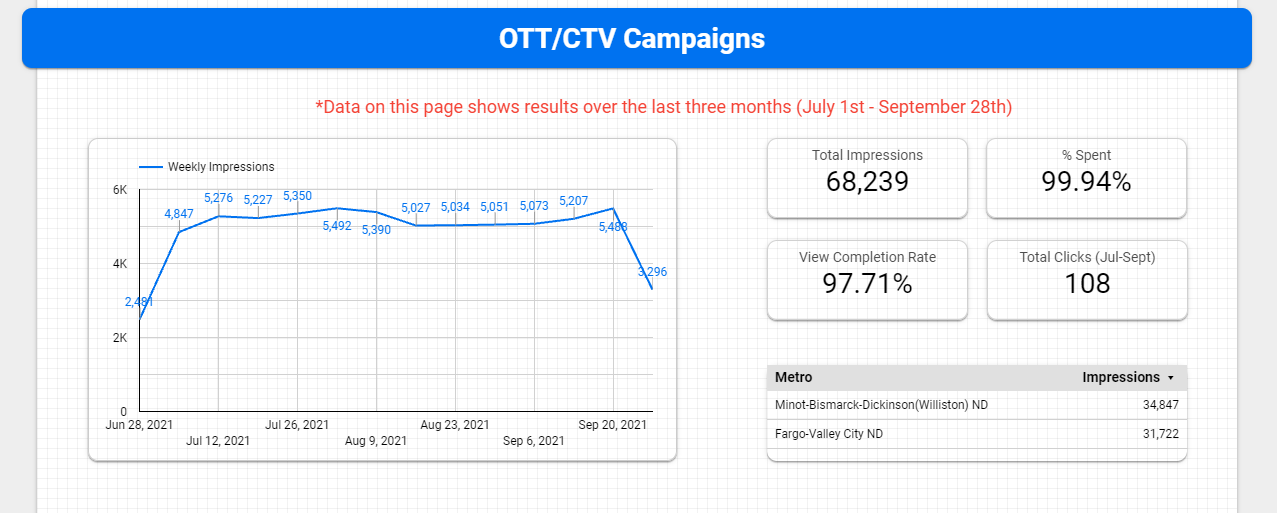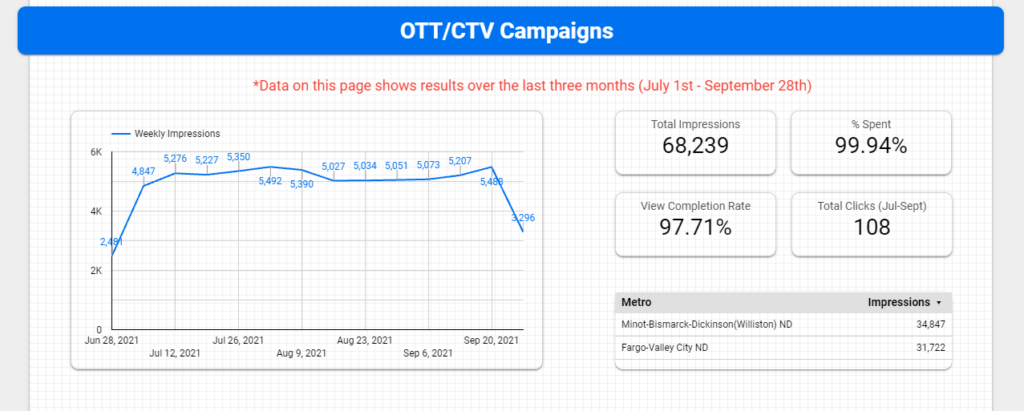 Final Steps
Once you've successfully built your connected TV/OTT advertising strategy, it's important for you to consistently look for ways to optimize and improve upon the results. Converse with your necessary stakeholders about ad performance and gauge their feedback. Identify new geos worth exploring, optimize your bids to improve your pacing and win rates, and find new packages to include in your bidding. As you continue to revise and update your creative, the lessons you learn along the way with your connected TV advertising will bode well for future campaign creation.
If you have any questions or would like a custom strategy built for your connected TV ads, please feel free to reach out to the AdShark team for a quote!
Tying it All Together
Thank you for taking the time to read this article & explore more about the wonderful world of connected TV and OTT advertising. If you're like me, you'll appreciate a synopsis of what you read at the end of an article. Well, this section is intended to provide you with that!
Here are the key things you need to know about how to develop an OTT advertising strategy for connected TV devices:
The popularity of streaming on connected devices continues to rise, and more & more Americans are cutting cable (dropping an additional 27% this year!).
OTT (over-the-top) advertising allows you to reach consumers who are streaming on connected TV devices (including Rokus, smart TVs, etc.).
TV ads have been taking place since the 1940s, but 2017 was the first year where cable users decreased. With streaming services growing, more attention is now placed on advertising to these individuals.
OTT advertising is a great option for those who have tried traditional TV ads, but wish to take advantage of new benefits that CTV provides (improved targeting, greater access to data/metrics, wider target audiences, etc.).
When developing your OTT advertising strategy, consider:

Establishing your goal
Selecting (or creating) your video content
Building your budget
Selecting your channels
Reporting on results
Advertising on connected devices is one of the newest iterations to the TV advertising world. Developments will continue to be made as platforms grow and expand, but it's never too early to try your hand at running ads on Hulu, Sling, and other connected mediums. To speak with us about connected TV advertising, or any other form of digital marketing, please click this link. We have no contracts, no commission-based sales people, and no hassles. Let us know how we can help! Thank you for reading.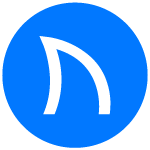 Ready to grow FASTER? Let's Talk!
Interested in having us help you grow?