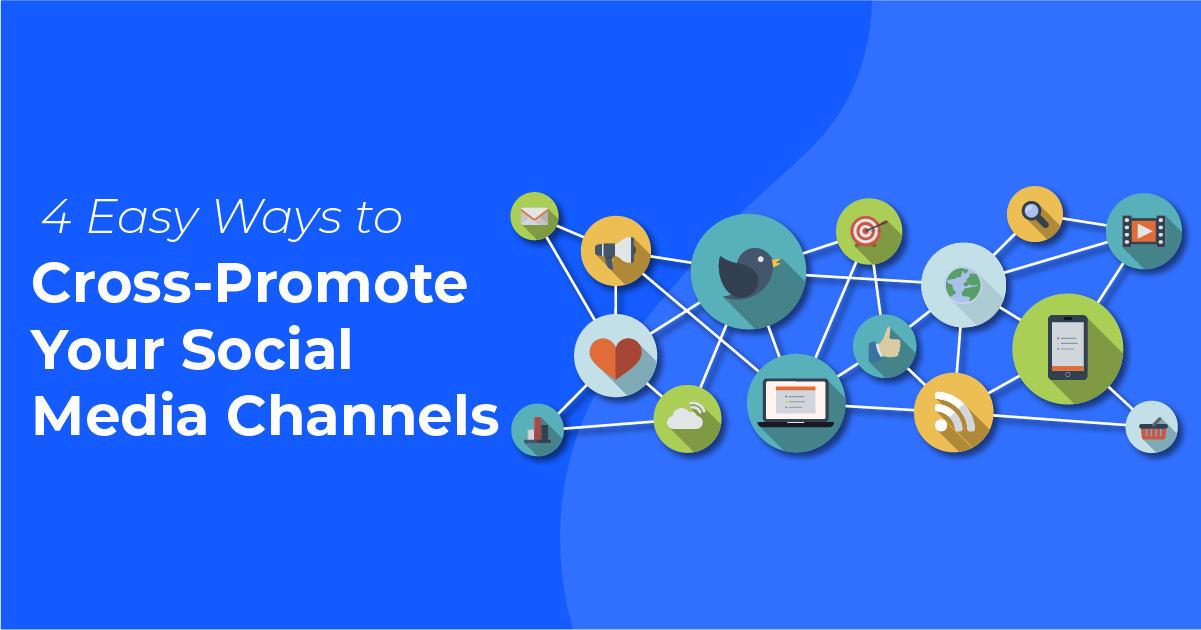 4 Easy Ways to Cross-Promote Your Social Media Channels
We are living in the era of collabs and partnerships as so many brands focus on ways to grow their audience by leveraging the connections of others. But in this constant battle to gain more traction, we often miss out on the easiest opportunity around: cross-promoting ourselves.
"Cross-promotion" refers to the act of utilizing one platform to help promote another. In today's blog, we'll be focusing on cross-promoting our own social media channels. Using your Facebook to drive more TikTok action, your LinkedIn to promote your Instagram, and everything else in between.
The benefits of cross-promoting can be plenty, but the three main ones that we would highlight would include:
Increased engagement opportunity. When you post content across one platform, you run much less opportunity for your potential audience to see your content than if you have iterations of the same content run across numerous social platforms.
Diversified risk and reward. Brands that went all in on Twitter are probably wishing they had started focusing more on growing their YouTube, Instagram, and other pages now. Not only does having a strong presence on multiple platforms help buffer you from the setbacks of platforms faltering in performance, but it allows you to reach new audiences you may have never known before (lots of rewards!).
Improved follower retention. Some stats suggest that cross-promotion efforts can lead to a follower retention of up to 90%. As your followers' use of certain platforms curtails, you'll hopefully be able to still reach them and engage with them on other platforms.
Convinced of the value of cross-promoting your social media channels? Keep reading to explore 4 quick & easy ways to begin today!
#1 – Using Cross-Linking Platforms to Share Your Other Social Channels
Virtually all social media platforms will only allow you one single link to promote yourself. Many businesses will use these links to simply lead to their website, but they're missing a great opportunity to cross-promote other social platforms.
Fortunately, there are platforms that are largely free (or inexpensive) that can help you turn one link into multiple links. Some examples include:
With these platforms, you will be able to create a custom link to share from your platform. That link, when clicked, will open up a bevy of other links where you can promote your additional social media channels. Just look at how AdShark uses ours: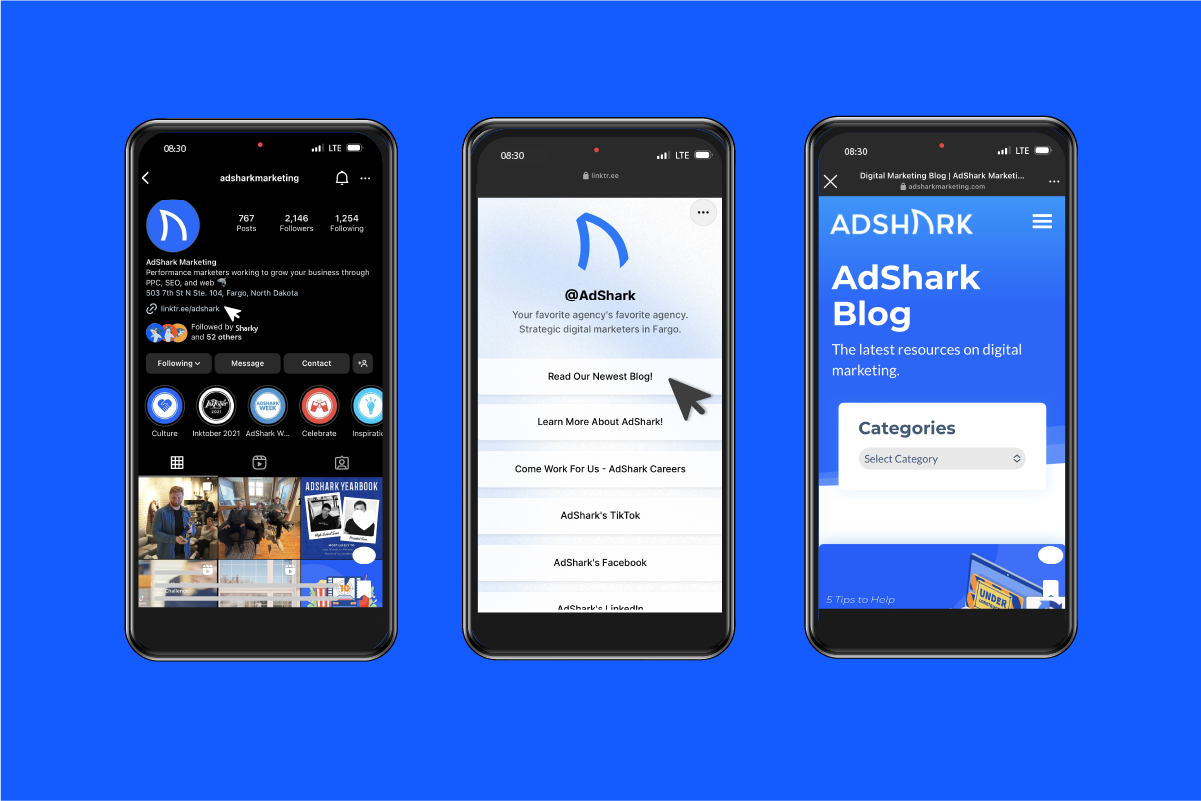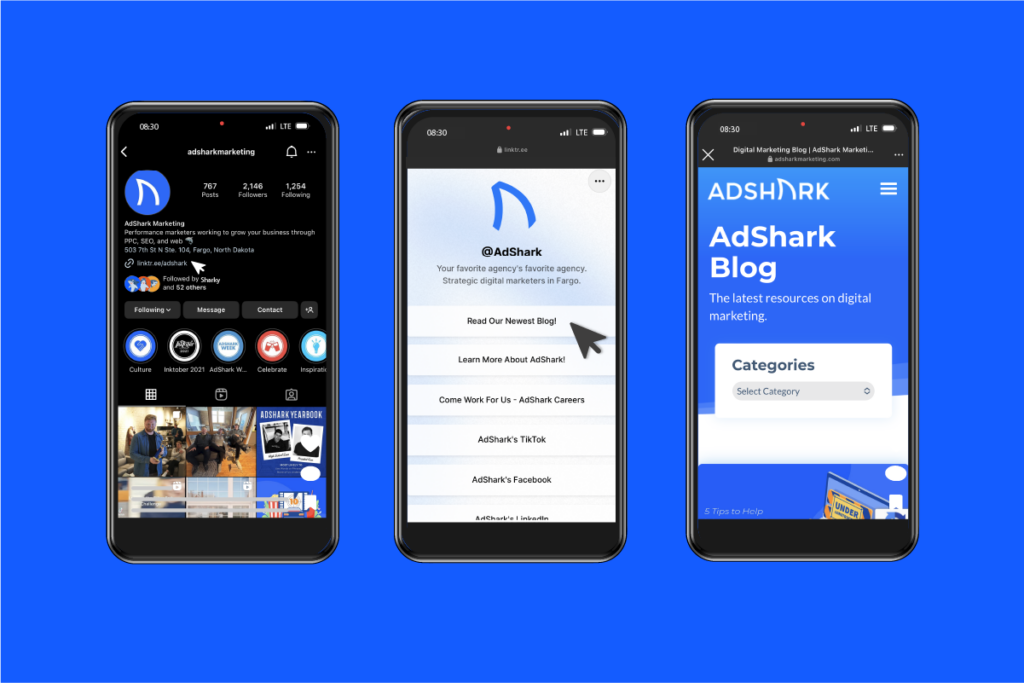 #2 – Repurposing Content & Requesting Additional Follows
If you have an engaged audience, they'll naturally want to connect with you on several other platforms as well. Utilizing content that you typically would "exclusively" feature on one social platform and sharing it on others can be a great way to cross-promote your newer platform.
Our advice: don't feel the need to share the entirety of the repurposed content. Instead, give a snippet of your content and tell them where to go to find more or watch the whole thing!
You can see an example from Team AdShark below. As we looked to build our TikTok following, we leaned on our other, well-followed pages to help our chances. At the end of every video, we'd share a "Follow AdSharkMarketing on TikTok" in order to serve as a call-to-action.
In short:
Repurpose
Repost
Reuse
Realize the benefits of an expanded audience!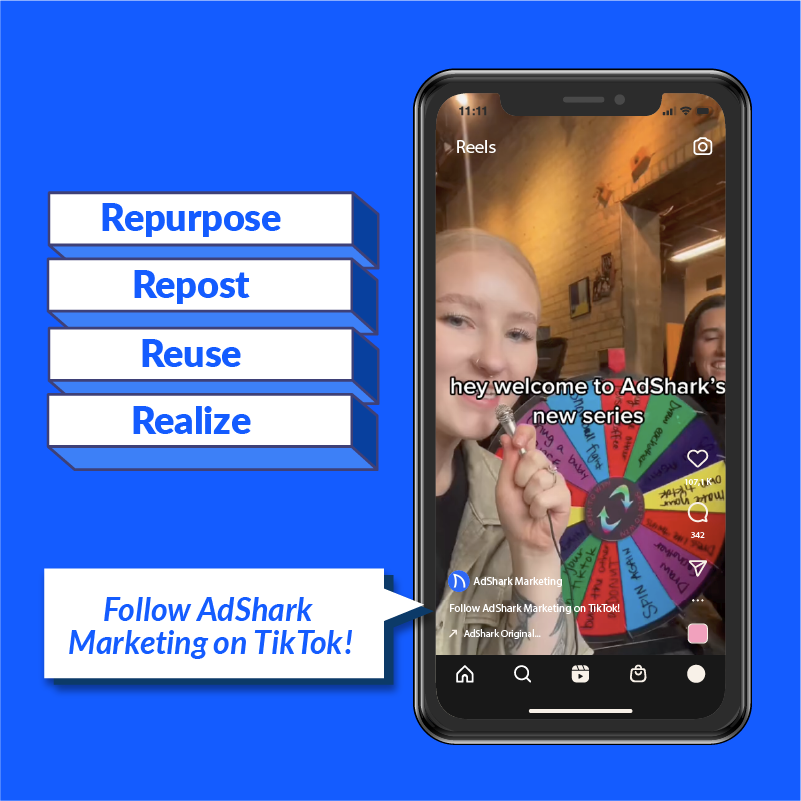 #3 – Running Contests and Content That Rely on Multiple Platforms
Looking to grow your following? Consider running a contest. Looking to grow multiple followings? Make that contest rely on multiple platforms.
Whether it's a traditional giveaway or a more unique content series, rely on this style of content to help create a buzz and get more of your Facebook followers to check out your Instagram, your Instagram followers to check out your Twitter, and so on.
At AdShark, we host a yearly AdShark Week event that features a series of promotions, treasure hunts, giveaways, and more. Throughout the week, but specifically on our contest posts, we give people a chance to check out our other social pages for a better chance to win.
How did it work for us? Last year alone, we saw an average social channel follower growth of 4% in one week (750x our normal weekly growth in followers!).
The plan:
Share a giveaway or contest on all of your social platforms
Count one comment and follow on each platform as one entry
Those who comment on follow across 5 platforms have 5x the chance to win, and you have 5x the amount of cross-promotion taking place!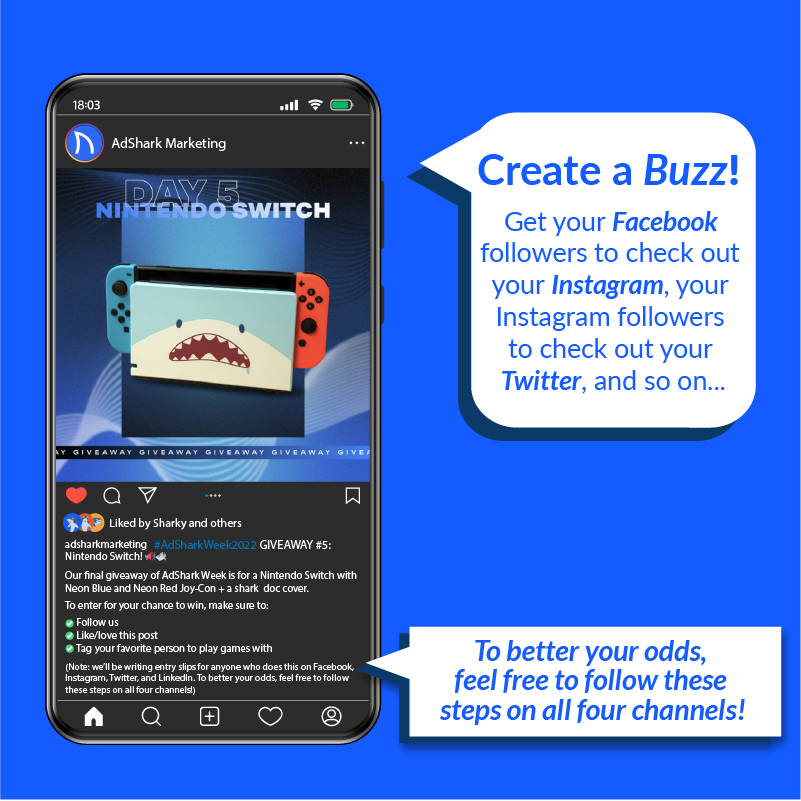 #4 – Sharing Social Icons on Websites & Email Newsletters
Don't you hate when people use their last piece of advice to pass along something really complicated or hard to implement? We did the opposite here. This is likely the easiest way for you to cross-promote your variety of social platforms, and that's using your website or e-newsletter templates to share your social icons.
Sharing on Your Website
Utilize your header or footer of your website and share icons for various social platforms (Instagram, Pinterest, LinkedIn, etc.). This is typically best done as iconography that, when clicked, links to each respective page.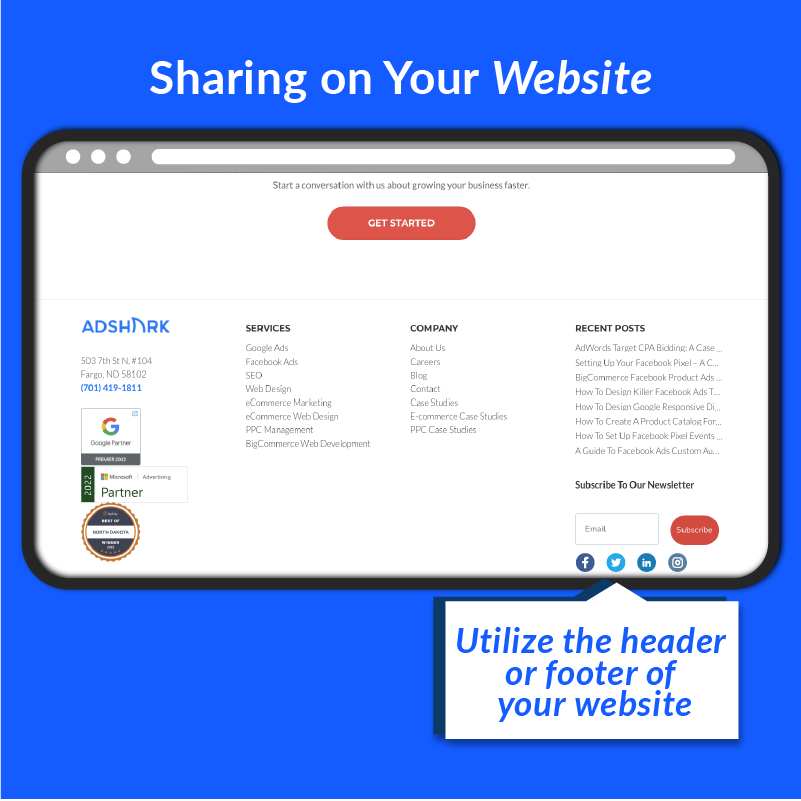 Sharing on Your Email Newsletter
If you have an email newsletter that you run through Klaviyo, Mailchimp, Constant Contact, or a similar platform – don't miss a chance to link out to your social media pages at the bottom of each email.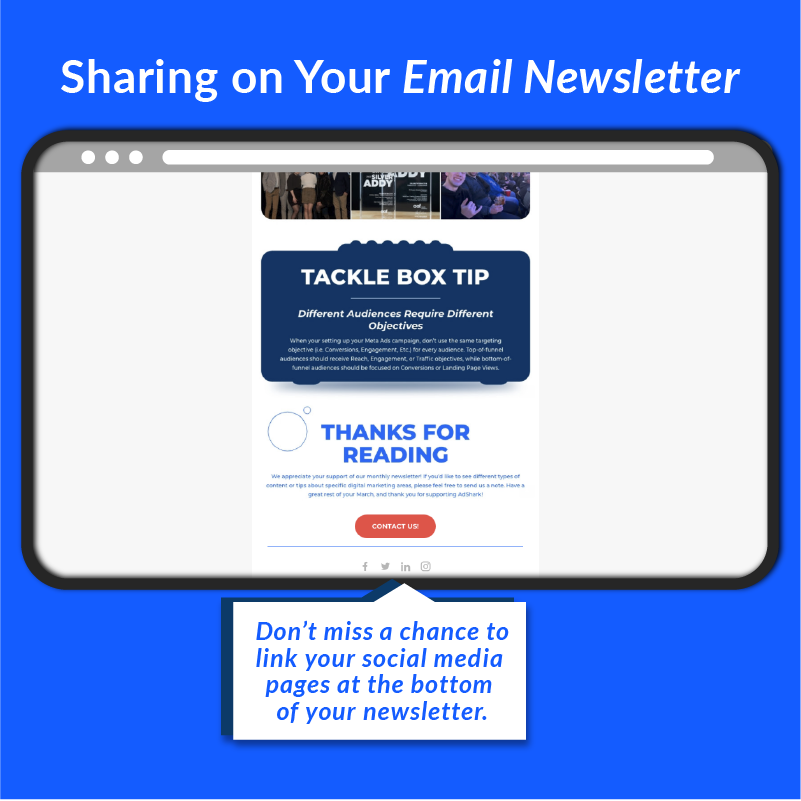 ---
Cross-promoting your social media pages can be a helpful tool in expanding your audience, growing your overall engagement and reach, and even in making your job easier. In fact, we wrote a blog about how AdShark manages our social media pages and cross-promoting content and channels is a big portion of what helps our social team be extra efficient & effective.
Looking for more helpful social media tips? Please feel free to reach out to our team & we'd be happy to share more insight about how we've helped clients grow their social following. In the meantime, best of luck as you get to work on cross-promoting your social channels. Follow AdShark on Facebook, Twitter, Instagram, TikTok, or LinkedIn and we'd be happy to follow back. Also, see what we did there?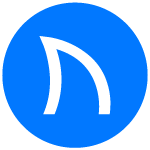 Ready to grow FASTER? Let's Talk!
Interested in having us help you grow?