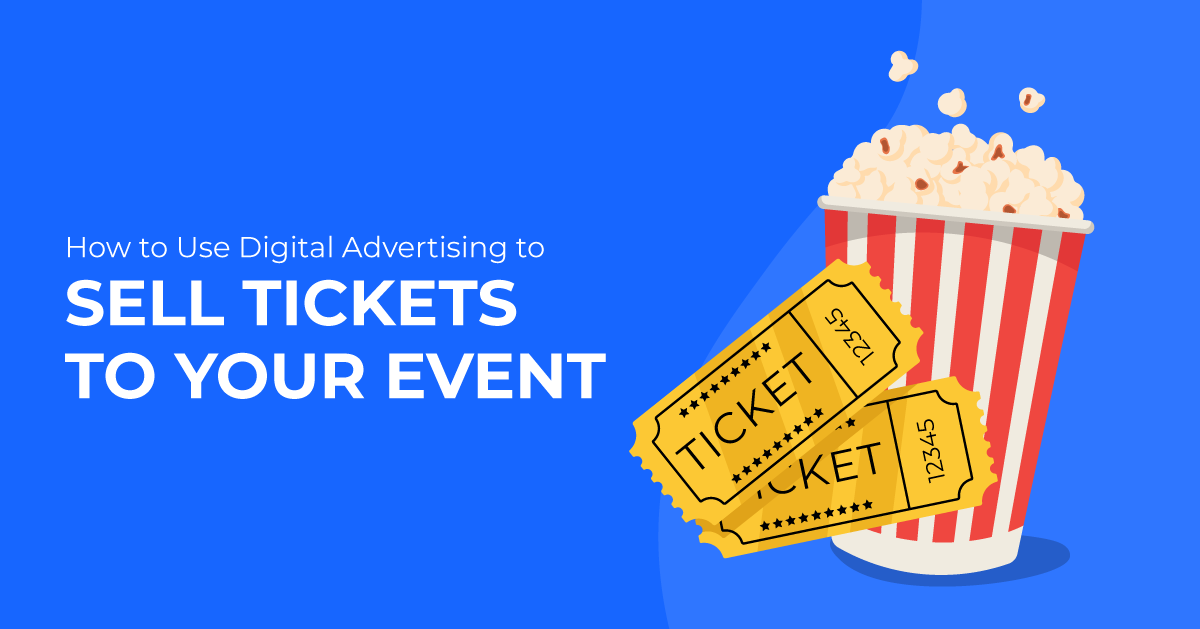 How to Use Digital Advertising to Sell Tickets to Your Event
Planning an event is tiresome. Between coordinating with vendors, staging decisions, and other logistical challenges, it's common for things to slip through the cracks. No wonder so many people look past the marketing strategy for getting attendees to their events.
Stats show that most marketers plan to allocate anywhere from 20% to 50% of their total budget to event marketing (via WBL). Whether your event is virtual or in-person, this is a significant investment. Making sure you're advertising event ticket sales in the right places is critical to your event's success.
That's why we're writing this blog. With all of the corporate events, galas, concerts, political rallies, and more that are coming back, we want to ensure that your digital advertising strategy for selling tickets is on point. Let's dive in!
Recommended Digital Advertising Channels for Event Marketing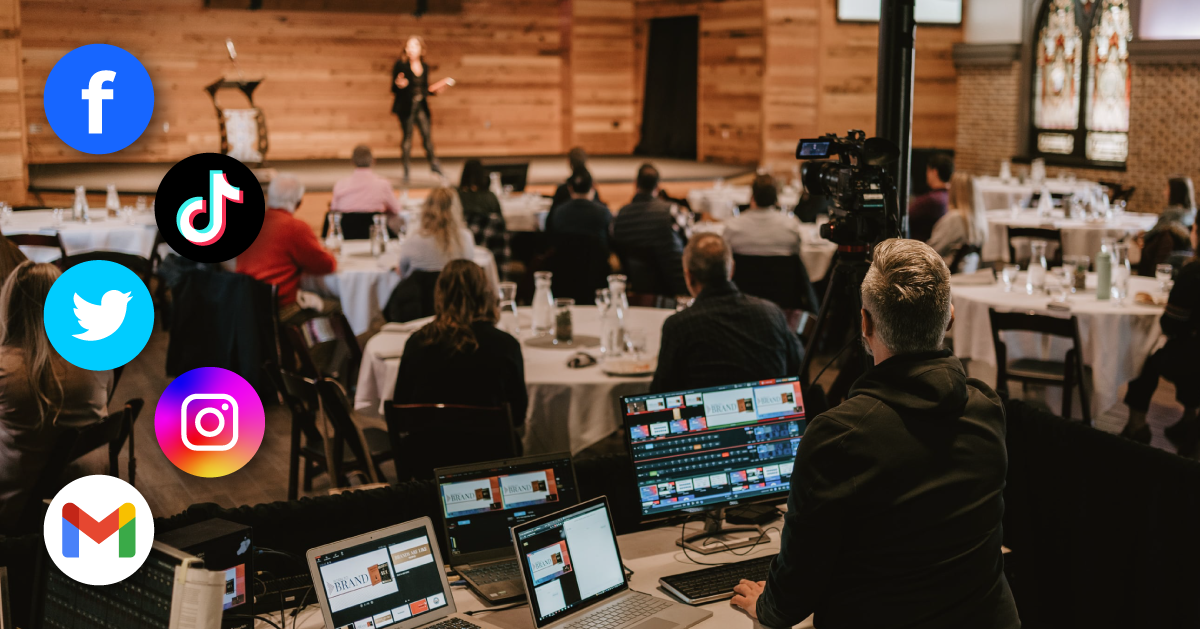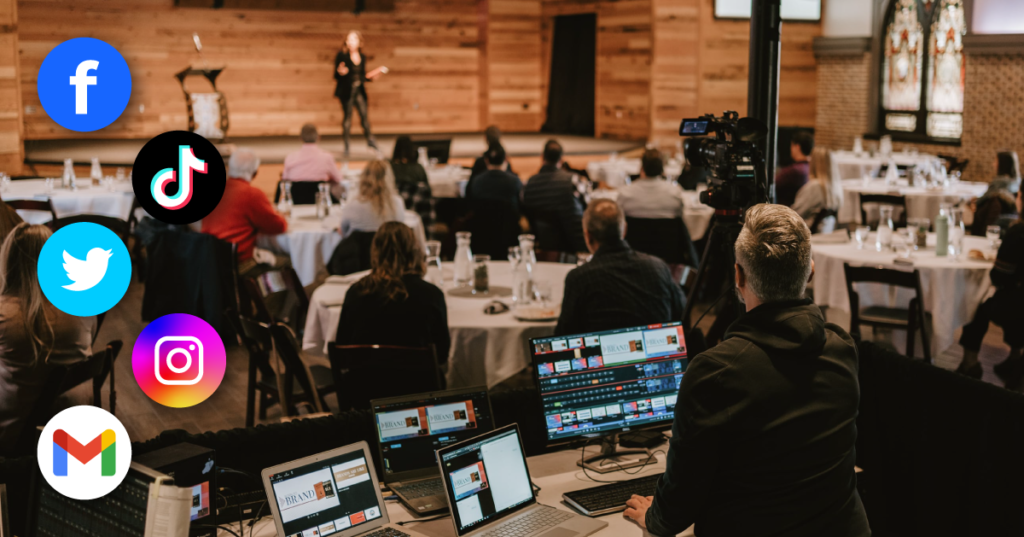 Choosing the right digital advertising channels for your event requires an understanding of each channel's expense, and best practices across the various channels. When clients come our way for event marketing, I also like to spend time getting to know their audience and making recommendations accordingly.
Across the board, however, we've found success in advertising for events through the following channels: Facebook Ads, Google Ads, YouTube Ads, and LinkedIn Ads. Here's a quick breakdown of the value of each of these platforms.
Facebook (Meta) Ads
Facebook's (Meta's) advertising platform includes Facebook, Instagram, Messenger, Audience Display Network, and more. It is home to an unrivaled audience of social media users, and readily allows for interest-based targeting and attendee sign-up tracking. For companies who already have an event page created, Facebook ads are a perfect way to get more eyes on your event.
The Main Benefits:
low cost
large audience
easy setup
integration with event page
interest-based and demographics-based targeting
Google Search Ads
Google's advertising platform oversees a variety of placements, including Search Ads, Display Ads, YouTube Ads, and more. For this section, we'll be referring to Search Ads specifically, which are text-based ads that appear on search results pages for keywords that you are targeting. Some universally valuable keywords may include "events near me" or "live music near me," whereas more niche terms like "TEDx tickets" or "fargo hockey tournament" may make sense if your event has more awareness built up for it, and is likely to be searched.
The Main Benefits:
more intentful audience
serving ads at the time that people are looking for event info
planning tools like "Keyword Planner" can help you choose keywords to bid
minimal creative needs
YouTube Ads
YouTube usage is near the top of all social media platforms, with over 82% of US males and 80% of US females using YouTube. Advertising on this platform provides a great opportunity for event organizers (who have created stellar video content) to build more top-of-funnel awareness for their event. You can serve ads to individuals based on channels they're viewing, demographic- and interest-based characteristics, and more. If you've created a hype video for your event, YouTube is a great spot to drive initial interest and engagement.
The Main Benefits:
great for driving engagement with solid video content
building YouTube views and follows
reaching younger target audiences (15-35 = largest percentage)
ability to target specific channels or affinity groups for accurate targeting
LinkedIn Ads
LinkedIn is king of the B2B marketing space for most business industries. 50% of college grads in the US are LinkedIn users, and 44% of LinkedIn users take home more than $75,000 per year. If your virtual or in-person event is targeted at business professionals in particular, LinkedIn can be a great place to spend advertising dollars.
The Main Benefits:
great for targeting individuals based on company, industry, job title, etc.
typically higher cost-per-click, but also high return on investment
LinkedIn continues to improve its event pages and event tools
These basic breakdowns may have you leaning a certain direction for your digital advertising already. In the next sections, however, we'll do a deeper dive into how to promote your event on each channel.
Facebook Advertising: How to Set Up Ads for Your Next Event
With Facebook advertising, we typically like to create a campaign aimed at driving event responses on an existing event page. To begin, ensure that you've set up your Facebook Business Manager and that you've posted your event organically. Once those steps have been taken care of, you can do the following:
Visit Facebook Ads Manager
Toggle to the correct Ads Account (connected to your Business Manager with the Page you wish to access) and click "Create" to start a campaign
Choose the "Engagement" objective, and then the "Event responses" engagement type, as shown below: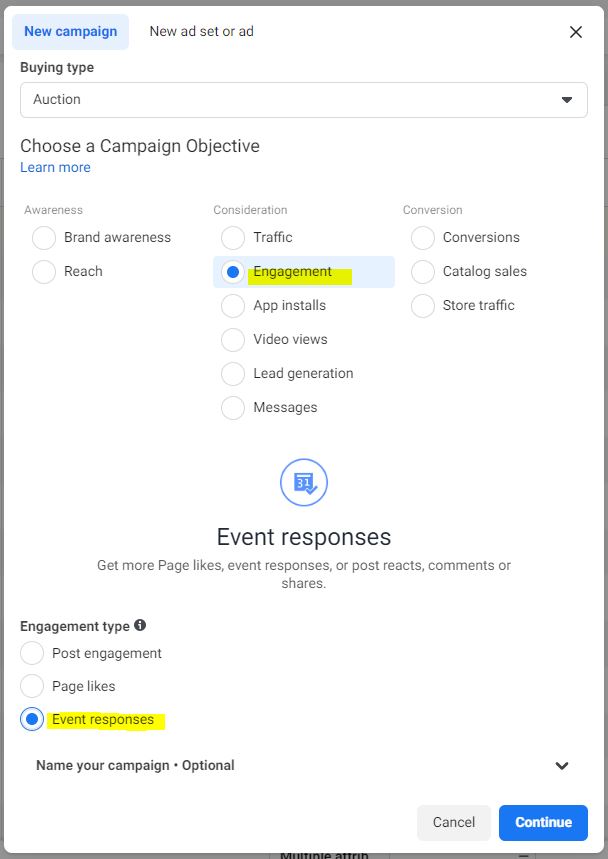 Start building out your ad set, utilizing "event responses" as the engagement type that you're targeting
Set your daily budget and schedule how long you'd like the event ad to run
Create your audience, with consideration towards Custom Audiences or Lookalike Audiences
For a Custom Audience, consider uploading a "Customer List" of emails of previous year attendees or customers/contacts that may be interested: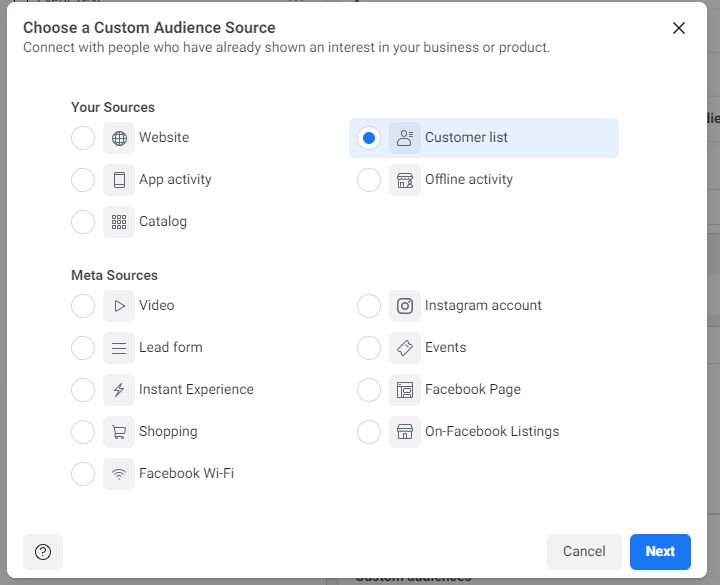 For a Lookalike Audience, you can tell Facebook to go out and find people who "look like" (similar interests, job titles, demographics, etc.) your current customers or current followers. Your lookalike audience may look like this: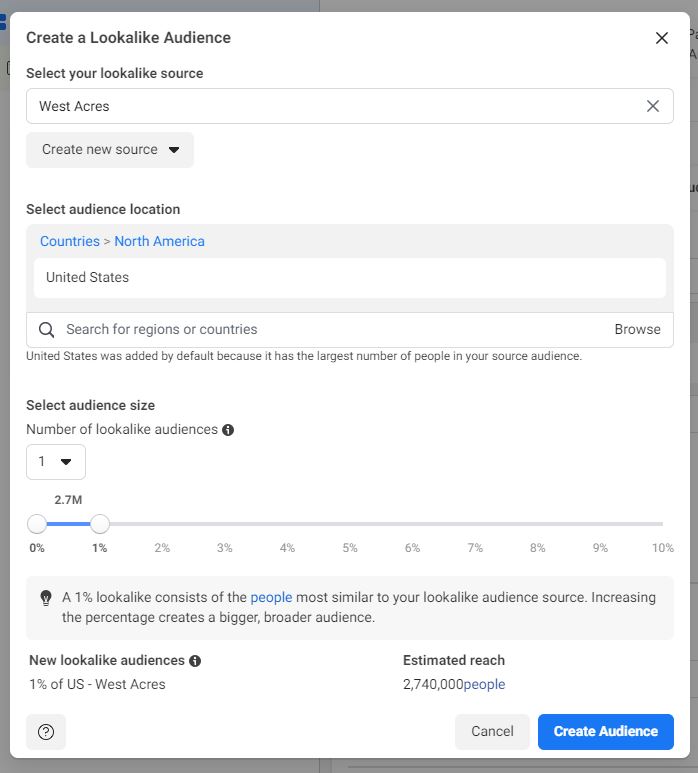 Submit your ad set, and click Next to get to the Ad editing
Scroll down underneath the "Destination" tab and find your Facebook Event. (note: it may take up to an hour or two after your event is posted for it to show in this section).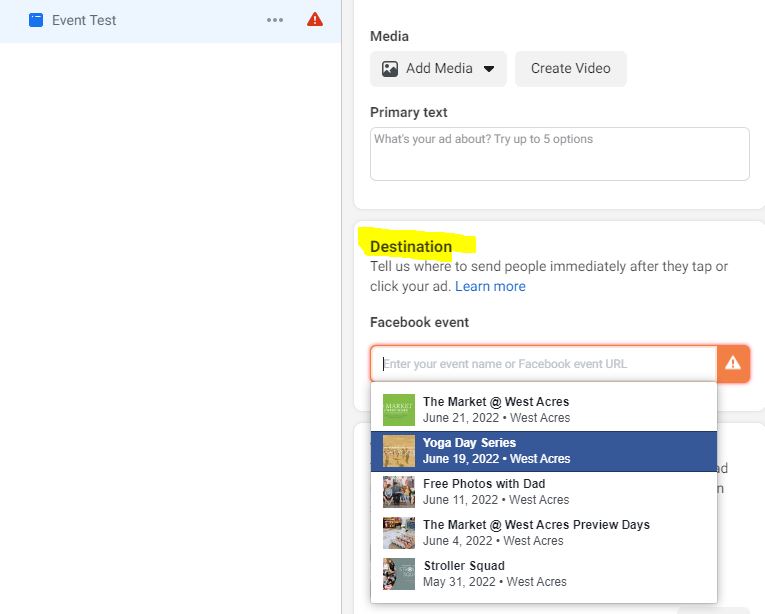 Once your ad has been uploaded, modify text as needed and click "Publish"
In addition to these ads geared towards event responses on Facebook, you can also run general image or video ads through Facebook to try to drive event sign-ups on your website, Eventbrite, or other third party site.
For more information about how to drive traffic and sell tickets using Facebook Ads, please contact our team to chat more!
Google Search Advertising: How to Set Up Ads for Your Next Event
Before getting started with running Search Ads for your event, you'll need to have a Google Ads account created. Visit Google Ads home page to get started on creating your account. We would also encourage connecting your Google Ads account with Google Analytics, and setting up conversions on your site through Google Tag Manager (so you can see how many tickets or "purchase ticket" button clicks took place). With any questions related to this process, please contact our team.
Log in to your Google Ads account
Visit Google Keyword Planner to do some keyword research
Set your geo, and enter a keyword to see how often (on average) searches are coming in for specific keywords. For example, here's a look at "live music near me" keyword ideas for a client in Los Angeles, CA: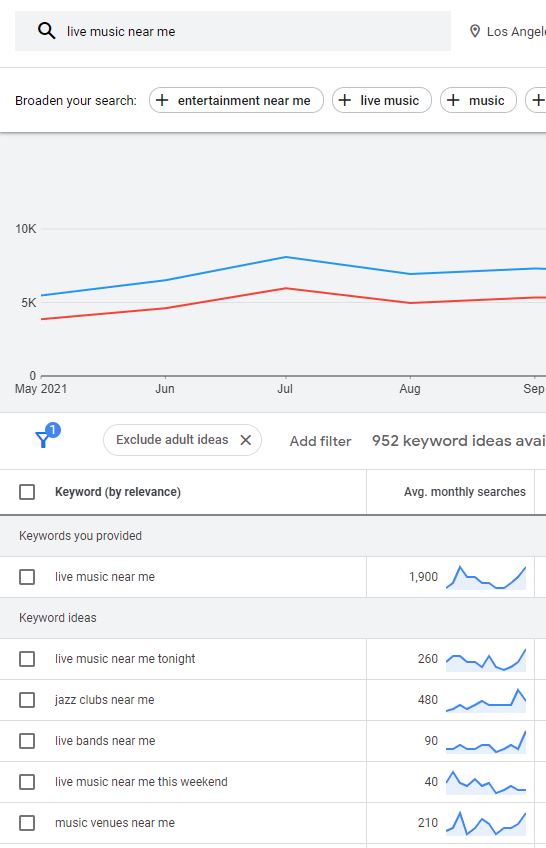 Utilizing this research and general knowledge about your event, start building out your campaigns (back in your Google Ads account)
Click Campaigns and then the blue "+" symbol
Choose Your Objective (we'd recommend Sales if you can track conversions on your page, or Website Traffic if you cannot)
Select the campaign type Search, enter your web address and click Continue
Set your daily budget, what you'd like to focus on, and your target CPA or max cost per click. Then Continue.
Uncheck the "Display Network" box (just focus on Search Network) and then choose your location, language, and any audience segments you'd like to add.
Enter your keywords (separated by comma or one per line) that you'd like to rank for, paying special attention to "match type"

"Events near me" = phrase match, events near me = broad match, and [events near me] = exact match.
Be mindful of broad match, as Google can take liberties with your keywords and show your ad for less relevant searches.

Write your ads, highlighting positive selling points
Add extensions, review, and launch!
After a few days of your ads running, take a look to see which ad groups, campaigns, etc. are driving the most traffic or conversions. Build upon those by adding more budget or more keywords. Also, monitor any irrelevant searches that you're showing up for to start plugging away at negative keywords.
YouTube Advertising: How to Set Up Ads for Your Next Event
If you followed the last section and set up your Search Ads, YouTube Ads will be a breeze! The main reason: YouTube campaigns are also set up through Google's advertising platform. In addition to having a Google Ads account, the only other prerequisite is having a YouTube account, with the video(s) that you're looking to use in your advertising publicly listed. Once you've taken care of those steps, you're off to the races!
Ensure your YouTube video is live & publicly listed, and copy the link to the video
Log in to your Google Ads account
Go to Campaigns and click the blue "+"
Choose your campaign objective (we'd suggest Brand awareness and reach or Website traffic) and then select Video as the campaign type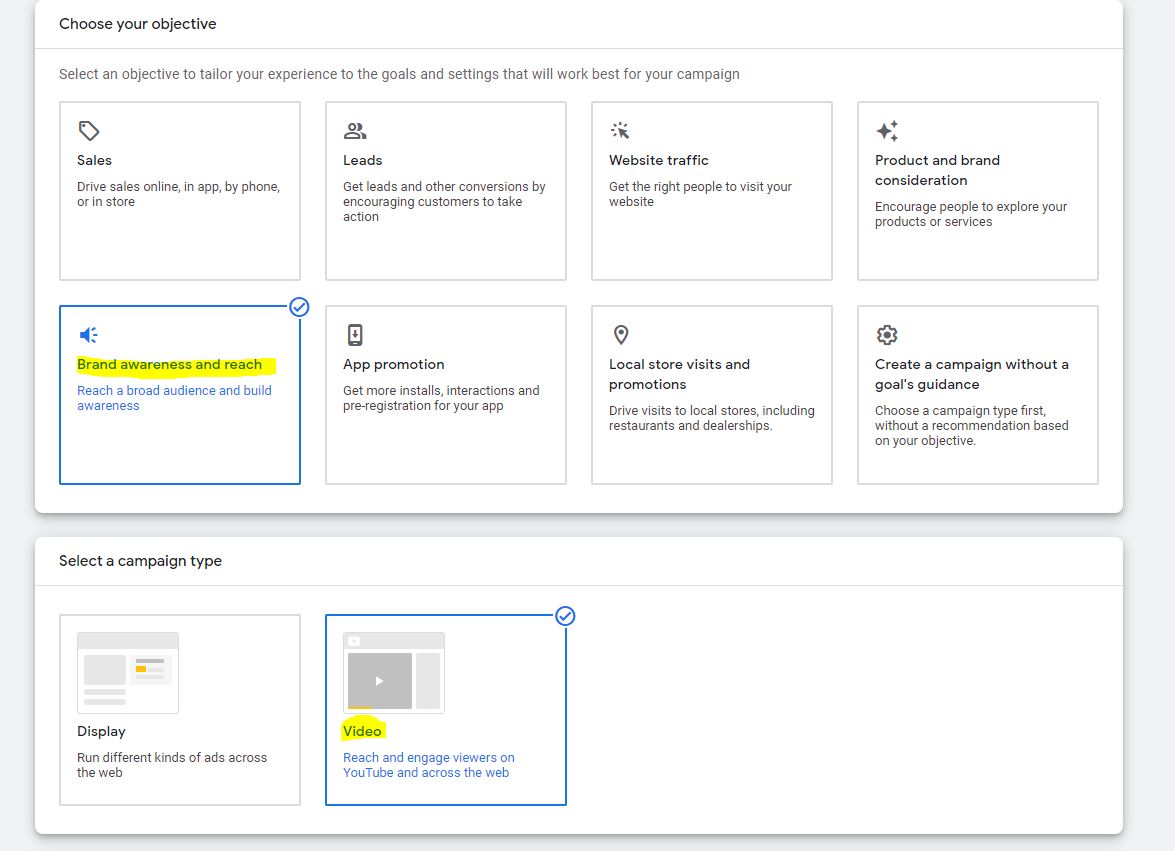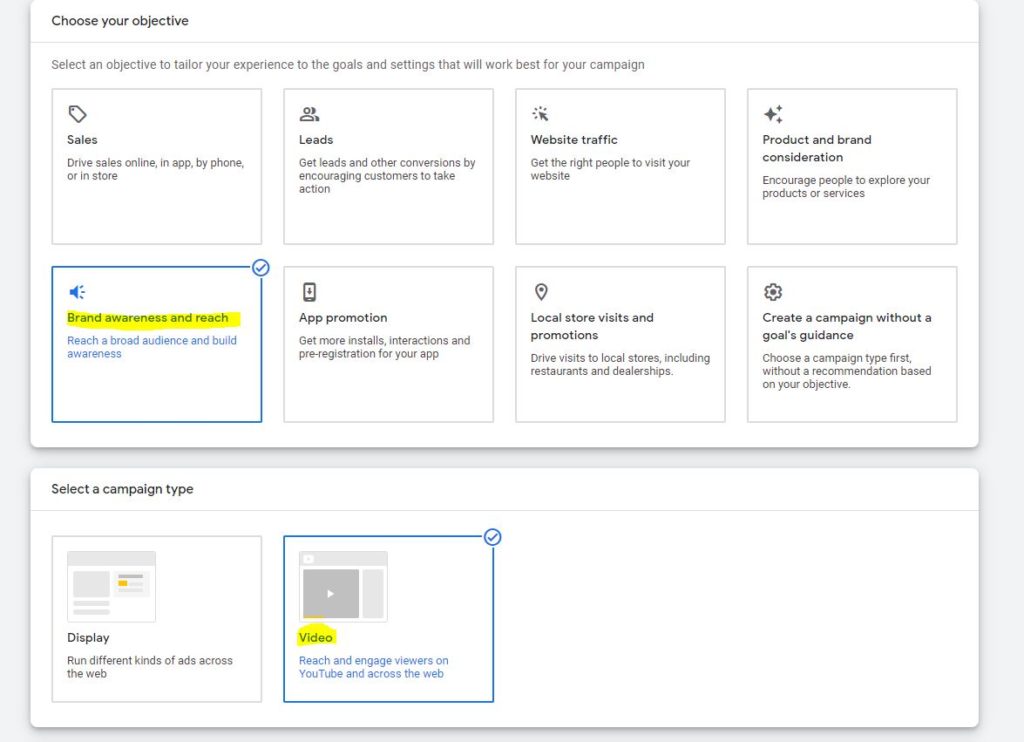 Choose your campaign subtype (we recommend Video reach campaign) and choose your ad types (Skippable in-stream will earn you lower CPMs than Non-skippable in-stream).
Choose your budget and timeline
Set your targeting and choose demographic and audience segments
Show up for specific keywords, topics, or placements (or choose to be more broad)
Create your video ads by copying the link to the video, entering a link, and adding a call-to-action, like so: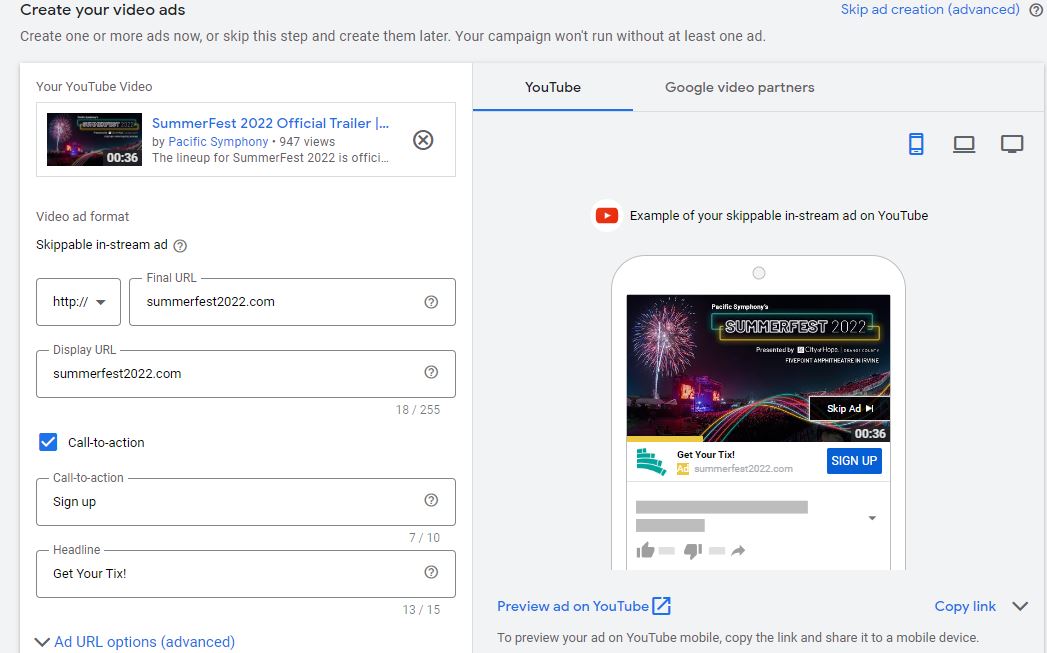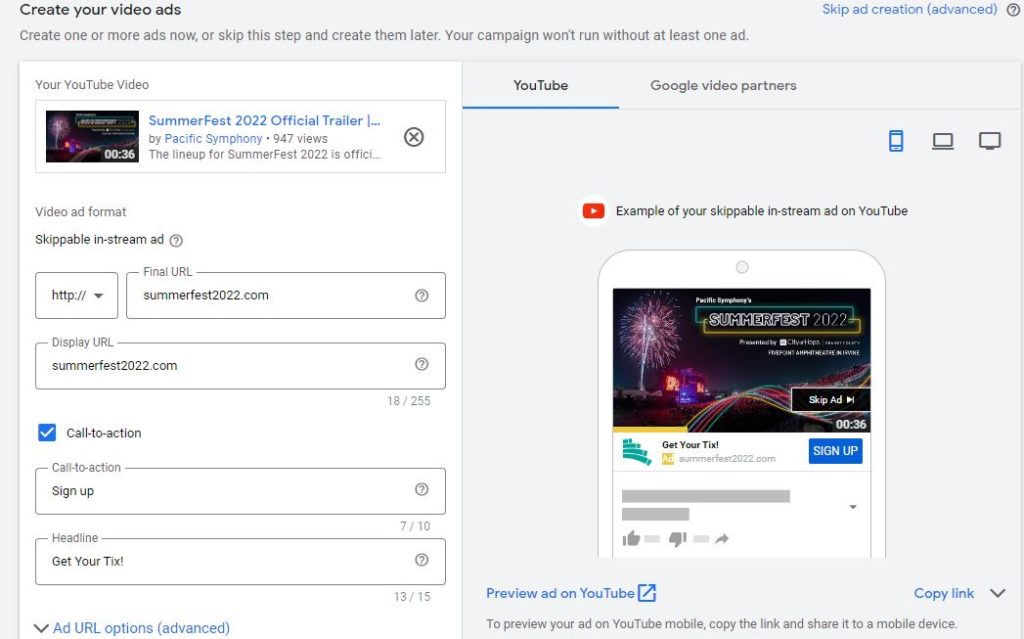 Once your video ads are live, you can track your progress in Google Ads. We also like to pull our results into a Data Studio dashboard to more readily compare our video ad campaigns. If tracking is set up appropriately, you can even see how many ticket sales can be attributed back to those who clicked a YouTube ad. For more info, contact our digital marketing team.
LinkedIn Advertising: How to Set Up Ads for Your Next Event
If you're a frequent user of LinkedIn, chances are you've been invited to an event on LinkedIn before. If you're in the marketing space, chances are you've thought to yourself "wow, I actually see my LinkedIn event notifications and pay attention to them." LinkedIn is on a really positive trajectory when it comes to events, in part because it's easy for event managers to invite and easy for users to accept event invites. It's also an easy process to run event ads, which we'll chat through below.
Ensure that you have Campaign Manager access on LinkedIn, and a LinkedIn business page associated with your account.
Create your LinkedIn event
Sign into Campaign Manager and go to your Ad Account
Go the Create dropdown at the top of your ad account, and click Campaign
Select your campaign objective (we'd recommend Engagement or Brand awareness)
Create your audience, by choosing locations, job titles, and other audience attributes.
Select Event ad under the ad format section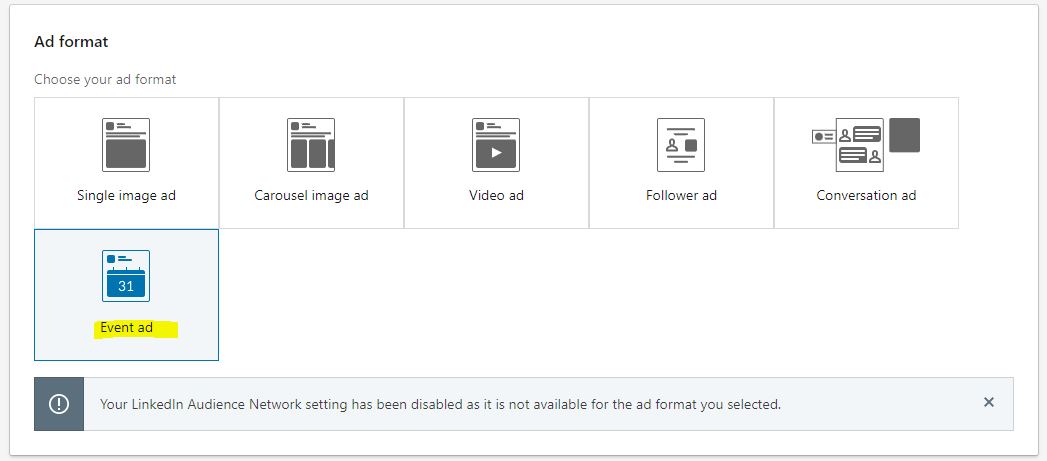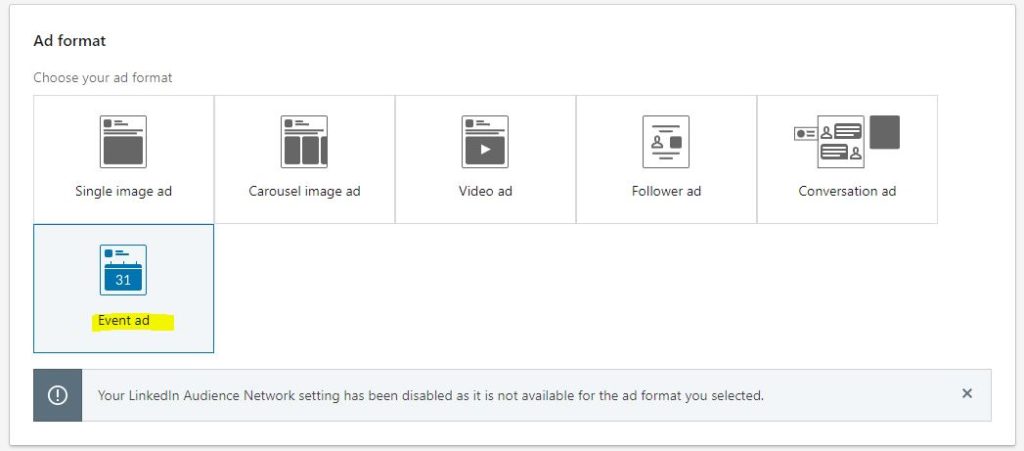 Choose your budget & schedule, bidding strategy, and conversion tracking (if applicable). Then click Next
Choose your event in the "Add ads" section and you're ready to go!
LinkedIn will provide you with forecasted results, including expected impressions, engagements, and CTR for your ad. Monitor your results and make optimizations to the campaign as you see fit! Note: LinkedIn event ads mostly are applicable for those who are looking to attract business professionals in particular to their events.
---
In the wild world of event planning, marketing your event and selling your tickets is just one more thing to account for. Make your job easier by developing a digital advertising strategy that works for you!
If you'd like to have a discussion with our team about which digital platforms make the most sense for your event, please reach out! We'd love to talk through your budget and help build a plan that makes sense for you. Thank you for reading our blog & good luck with your event preparations!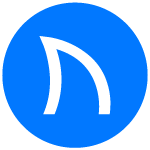 Ready to grow FASTER? Let's Talk!
Interested in having us help you grow?