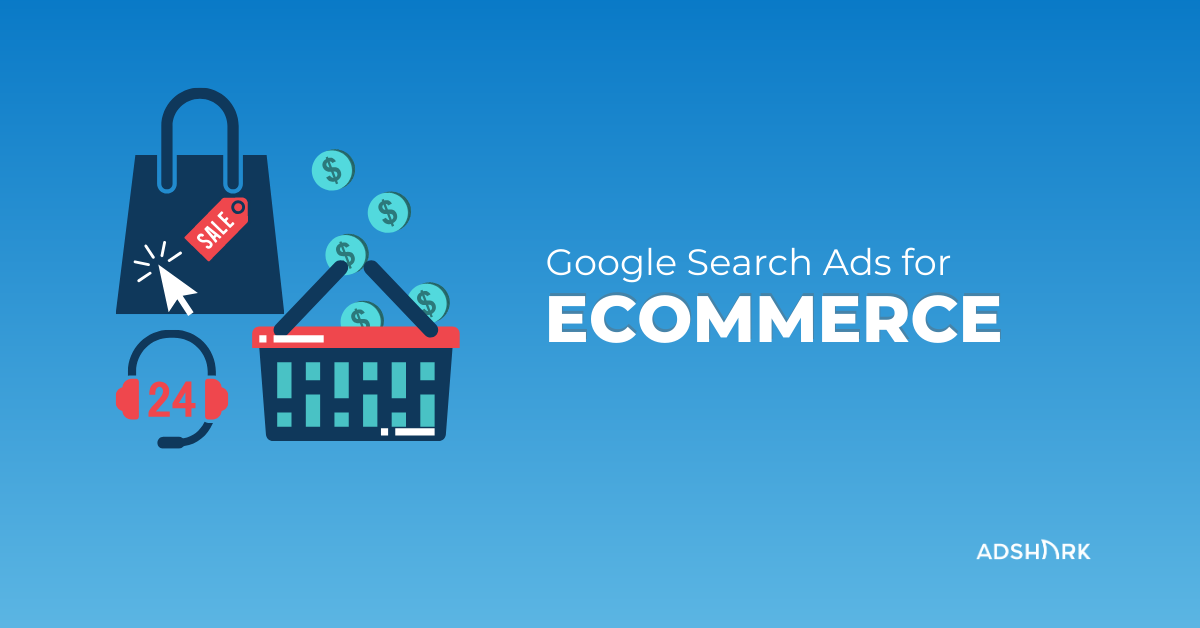 A Beginner's Guide to Google Search Ads for Ecommerce
There is a reason why Google Search Ads are so competitive for ecommerce stores. Because it works. Ecommerce companies use Google Ads to help build their brands and grow their sales.
Navigating the robust Google Ads platform can seem like a daunting task. But it only takes a plan, the right strategy, and a little follow-through to create a successful campaign that drives conversions and grows your business. And it's definitely worth it. According to Google, businesses on average see a return of $8 for every $1 spent on search ads.
Getting Started with Google Search Ad Campaigns
Know your goals
Before you even start creating your campaigns, you need to understand what you're trying to accomplish. I can guarantee that most ecommerce websites use Google ads to sell more products. Keeping that goal at the top of your mind while starting a Google Ads campaign is important to its success.
Along with your goals, understand what you need to create your campaign and help you reach that goal. This could include the types of products or keywords you want to start with, the landing page you direct your ad traffic to, and the amount of money you are willing to budget for your campaign.
Keyword Research
Once you understand your goals it's time to dig into keyword research. Without the right keywords, your search campaigns can result in ineffective ads that end up costing you money versus making you money.
To do this you need tools to help determine the best keywords for your brand. We recommend using SEMrush, Google Keyword Planner, and Google Search Console.
SEMrush is a good choice for keyword research and competitor research. Google Keyword Planner is a free tool that you can use to find keywords related to the products you sell. We also use Google Search Console to understand what words searchers are using to find clients.
Your keyword research should focus on buyer intent—informational, navigational, and transactional. For an ecommerce website, prioritizing transactional keywords will produce better results for your campaigns.
Check out competitors and what keywords they use. Find ideas through competitor research using SEMrush and checking out their category pages and top-selling products.
Determine Your Overall Budget
Google ads is only a fraction of an entire marketing budget. You will want to allocate an amount that you're comfortable with, while using enough to be successful.
Things we recommend looking at to determine a budget include the metrics that are important, the CPC for your keywords, and what your competitors are spending.
Determining budget for each campaign comes later during setup.
Campaign Structure
Now that you know what keywords you want to bid on, and you have an understanding of your overall budget, you can decide how to group them.
Your structure will depend on the budget. For example, if you only have $20, you can't split it into 20 categories each with its own campaign, because it would leave you only $1 per day on each campaign.
Getting the structure wrong can lead to issues including lower quality score, higher costs, or fewer or irrelevant clicks. Your Google Ads account can contain multiple campaigns. Your Google Ads account will consist of campaigns, ad groups, ads and keywords.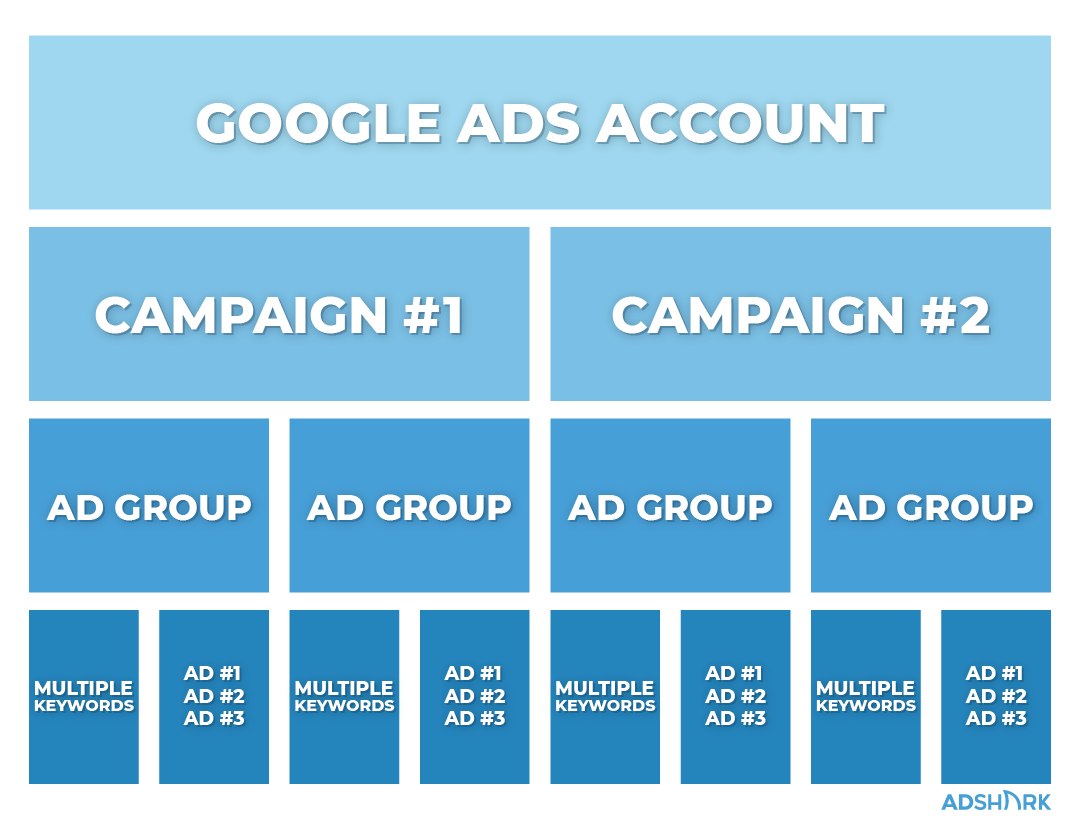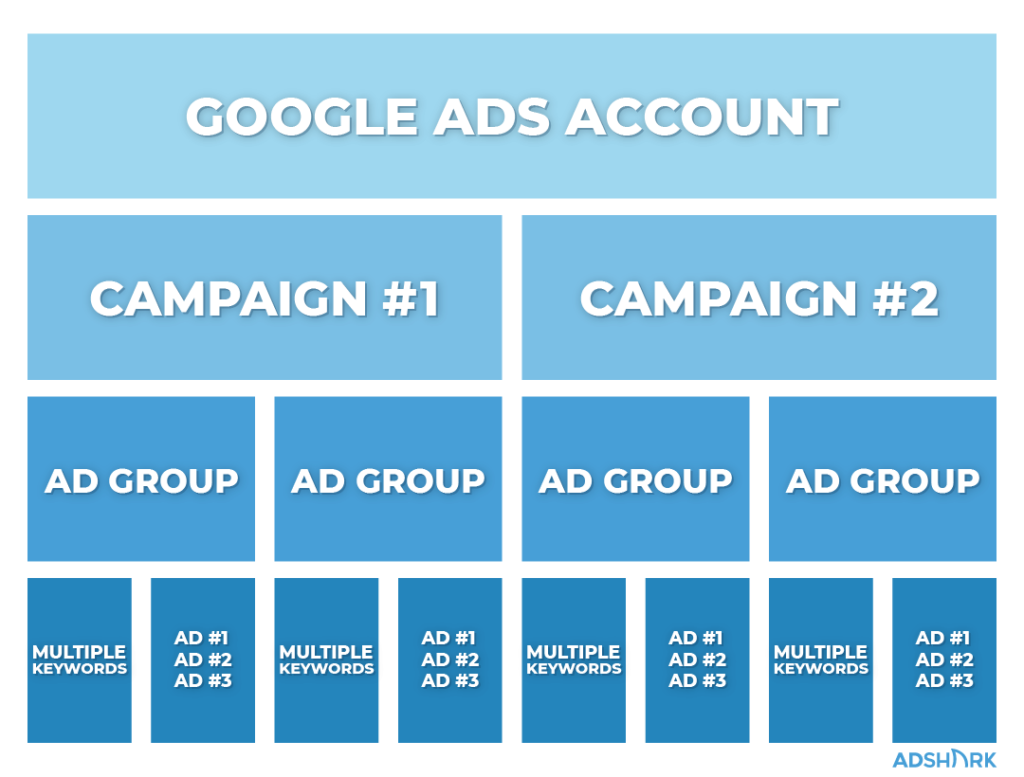 Because this article is about paid search campaigns that's the structure we are going to focus on.
Now to map out your campaign structure, you will want to look at the structure of your ecommerce store. Each campaign should be centered around a theme. We typically recommend ecommerce sites have a branded campaign, category-level campaigns, and then focus campaigns on the product categories that perform the best, drilling down to specific features, or types of products most searched for.
The ad groups allow you to create structure within each campaign based on the theme. You can also use ad groups to control keyword and ad association.
We recommend sticking to 3 ads per ad group, less than 20 keywords per ad group, and ideally no more than 10 ad groups within one campaign.
Aligning Google Search Ad Strategies and Account Structure
Now that you understand the optimal way to structure your Google Ads account, it's time to put it into practice and align your account structure with your Ad strategies. We recommend focusing on three strategies—branded campaigns, non-branded (generic) campaigns, and competitor search campaigns.
Branded
Branded search campaigns use keywords that include your brand name and are unique to your brand. For example, Zappos branded keywords include:
Zappos
Zappos shoes
Zappos sandals
Most brands rank pretty well for their branded keywords so it seems redundant to bid on them. But if you aren't, you could be leaving money on the table.
Bidding on your branded terms helps eliminate competition and is an effective way to capture searchers who are ready to purchase. We typically recommend limiting your budget since the goal of branded terms is to play defense against your competition. If you have low search traffic for your brand or not a lot of competition, this may be unnecessary.
Non-branded (generic)
Branded keywords target searchers who are already familiar with your brand. But, you'll want to focus most of your budget on getting new traffic with non-branded campaigns.
Non-branded terms are going to attract searchers at the top to the middle of the funnel, and help push searchers to the bottom where you might see an increase in branded search terms. With non-branded terms you can target category terms, including:
Or you can target individual product terms, including:
Nike Mamba Fury
Birkenstock Arizona Sandal
Note: While the above products do contain branded terms, they don't include Zappos in them so they would be considered non-branded terms for Zappos. However, you may need to get permission to include these terms in your ad copy.
Competitor Search
Gaining market share from the competition is a part of most brands' strategies to grow sales. Targeting competitors using Google Ads is one way to do that.
Competitor targeting is bidding on competitors' branded terms. If you have competitors who offer similar products or services, this is one way to drive traffic away from them and to their site. However, you have to be careful that you are doing this correctly and legally.
Here I searched for "Zappos Sandals" and you can see a few other companies bidding on that same keyword.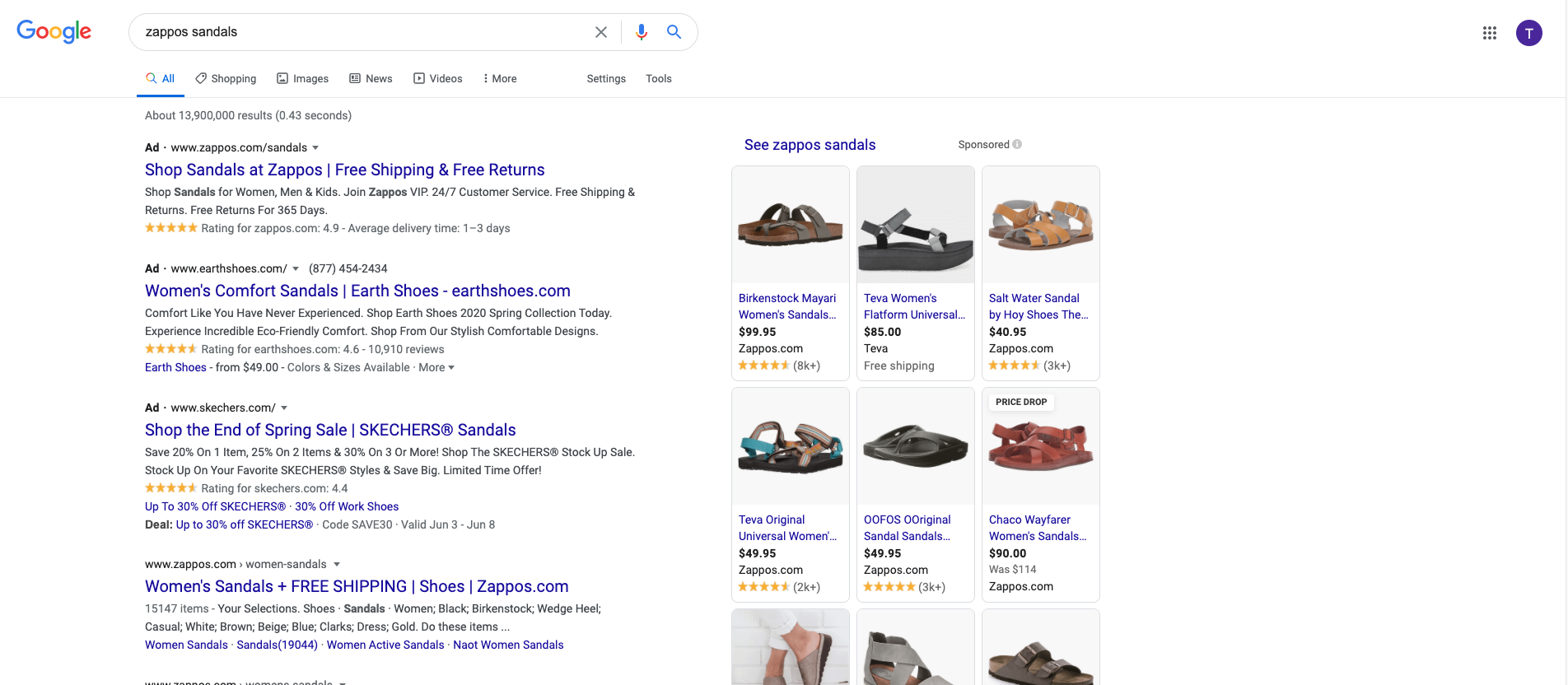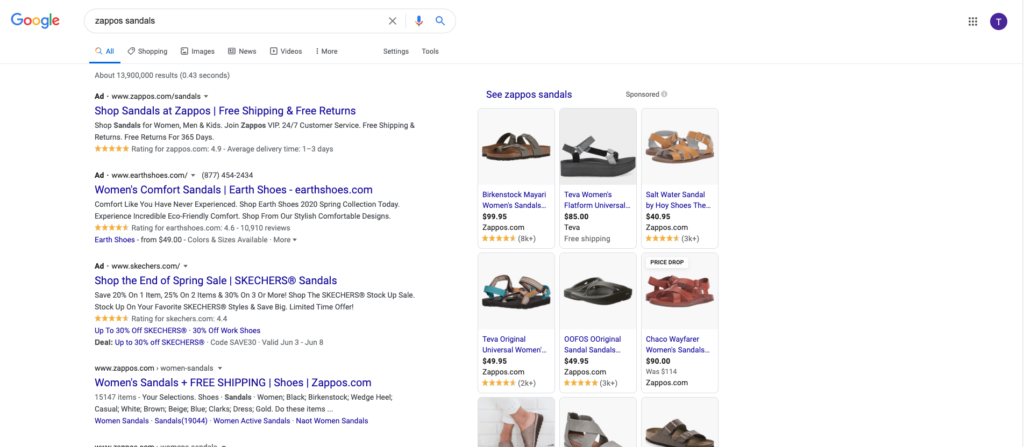 Google has rules about using trademarks in your ad copy or URL so make sure to understand what those are before launching a competitor search campaign.
Other Google Search Ad Types for Ecommerce
Google Dynamic Search Ads
Dynamic Search Ads, like text campaigns, show in the search results on Google but they use your website data to match users' queries to your products. Once it matches, they dynamically create an ad tailored to the search performed.
Remarketing Lists for Search Ads (RLSA)
Remarketing lists for search ads or RLSA allows you to directly target people who visited your website and tailor your bids and ads to those visitors when they perform Google searches or search partner sites.
This is a very situational strategy and works best with large remarketing lists to be effective. We also recommend directing searchers to a custom landing page that is known to convert organic traffic.
AdShark Recommendations for Campaign Set Up
Google will walk you through your campaign set up. And while most of the steps are relatively easy, we have some recommendations that divert from Google's prompts. Immediately when you create a new campaign, Google asks you to choose a goal. When choosing a specific goal, Google will suggest campaign settings to help you reach your goal. You will want to make sure to choose the main goal you want to achieve with your campaign. We typically use sales and leads for goals, or we will just select create a campaign without a goal's guidance.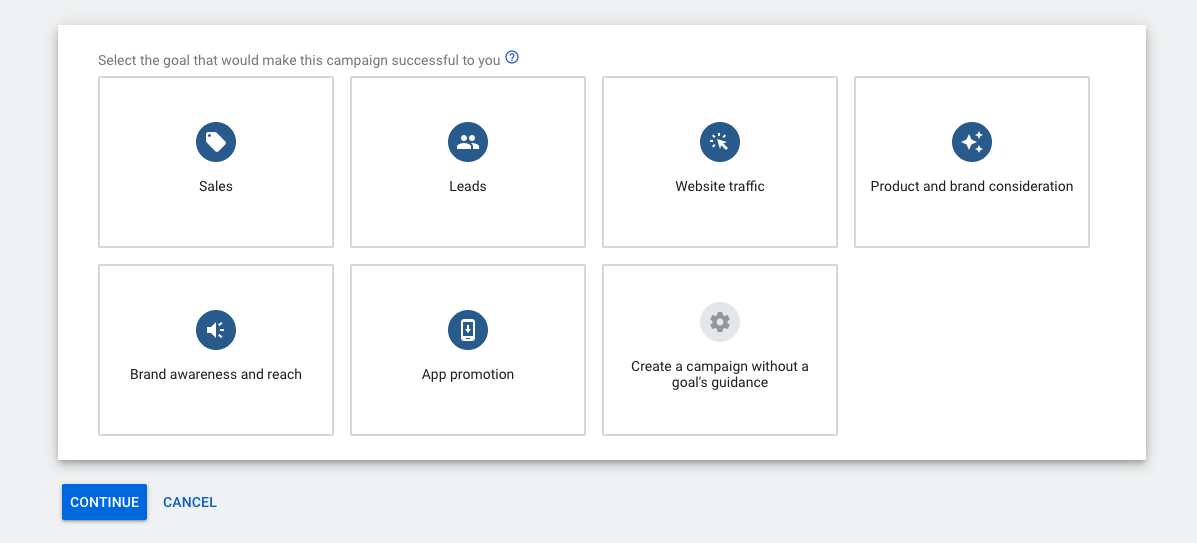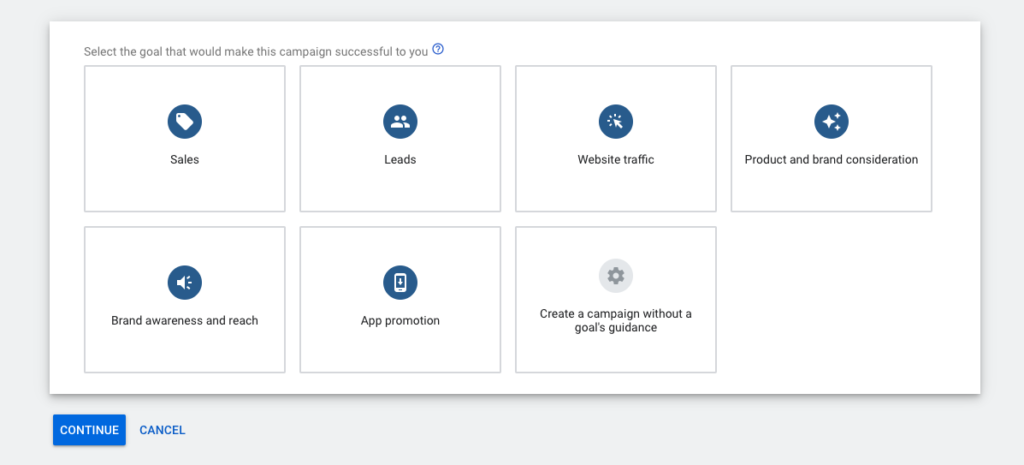 During setup, you have the option to choose what networks you want your ads to appear. We suggest opting out of the Display network because it's easier to optimize your campaigns when you keep your display and search advertising separate since you will have separate strategies and budgets for each type.
Once you set your budget you can choose your bidding strategy. Google suggests the bidding strategy based on the goal you selected, however we recommend starting with Manual CPC as your bidding strategy until you get more conversion data. To do that you have to choose Or, select a bid strategy directly (not recommended).


Google Search Ad Bidding Strategies
A critical factor in driving your costs down is the bidding strategy you choose. If you don't make the right decision you might end up paying more than you bargained for. The first thing Google wants to know is whether you want automated or manual bidding. If you are just starting out, we typically recommend choosing Manual CPC.
Manual CPC
This strategy gives you the most control and lets you set your own maximum cost-per-click (CPC) for your ads. We recommend starting with Manual CPC so your account can collect data for Google when you're ready to switch to an automated strategy.
With Manual CPC, you start by setting a max CPC bid, or default bid, for an entire ad group. This is a good strategy if you know what keywords are more profitable.
Target CPA
Using machine learning, Google automatically optimizes your bids to get you as many conversions as possible at the set target cost-per-action (CPA).The action can be based on any conversion, including cost-per-sale or cost-per-lead. You do need to have conversion tracking set up and a sufficient amount of conversions for Google to optimize effectively.
Target ROAS
According to Google, Target ROAS automatically sets bids to help get as much conversion value as possible at the target return on ad spend (ROAS) you set. You will need to set values for your conversions and, like Target CPA, you will need conversion data for Google to optimize effectively. For Target ROAS, Google recommends at least 50 conversions in the past 30 days.
Maximize Clicks
This automated bidding strategy focuses on getting you as many website visitors as possible. Its a good option for building awareness and growing your lists. Used to create site traffic, this strategy sets your bids to maximize the clicks within your budget.
It's available for single campaigns or across multiple campaigns, ad groups and keywords. If you use Maximize clicks as a bid strategy. We recommend setting your max CPC limit and keep track of your average max CPC. Google will spend your entire daily budget every day if you aren't careful.
Maximize Conversions
Google automatically sets bids to help you get the most conversions for your campaign. Make sure to check your daily budget because this automated bid strategy will try to spend the entire budget, potentially increasing your spend significantly. Also if you use maximize conversions on more than one campaign, make sure each one has its own daily budget assigned to it. Maximize conversions will spend the entire shared groups daily budget, not just its own.
Maximize Conversion Value
With this automated bidding strategy, you determine the value that you want to maximize, including sales revenue or profit margin once you set up conversion tracking for your account. Google then uses advanced machine learning and automatically optimizes and sets the bid. This strategy uses real-time data, which means your existing bid adjustments are not used.
Target Impression Share
Target Impression Share automatically sets bids with the goal of showing your ad on the absolute top of the page, on the top of the page, or anywhere on the page of Google search results.
Target Impression Share is available on the Search Network only, as either a standard strategy in a single campaign or portfolio bid strategy across multiple campaigns.
Creating Your Google Paid Search Ads
Structuring your campaign correctly and choosing the right bidding strategy is a great start. However, your ads won't be successful if you don't include the right message at the right moment in the right place. Better creative can improve your ad's relevance and drive qualified traffic to your site. These elements will help you create ads people want to click on.
Compelling Ad Copy
As they say, you only get one first impression, so make it count! You want your ad to show value to your audience versus being pushy. Ad copy should focus on needs, benefits and highlighting promotional offers.
Google has hard character limits for both headlines and descriptions. 30 characters for a headline and 90 for description. Use these character limits wisely. Don't limit your headlines, take advantage of the space you have.
Google also offers feedback with the Ad Strength metric for your responsive search ads. While creating your ad, ad strength will give you an overall rating and specific actions to improve.
Landing Pages that Convert
As a user how frustrating is it to click a link only to be sent to a random page that isn't related to what you clicked on? When you are paying to drive traffic to your website you don't want to waste their time or your money. If you don't direct them to a relevant landing page, you will lose money and your campaign will fail. It's important to align your landing page copy with your ad. But you also need to consider these things:
Keep it simple. White space is your friend. Don't make it hard for a user to follow or so busy that it's a frustrating user experience.
Headlines are your friend. Speak directly to your target audience. The headline is the first thing people will read.
Clear, concise copy. Get to the point. You have limited time with your audience, use it wisely.
Easy Forms. Make it easy for the user to provide their contact information.
Testing
Testing and iterations will help you hone in on what works, especially with headlines. For testing to work, you need to limit how many elements you are testing so you can learn from the differences. You will also want to establish what metrics you need to be confident in the result of the test. If you have a large account, focus your testing on high-value campaigns.
Google recommends each ad group has 3-5 ads and at least one responsive search ad. The more you have the more opportunity for a successful auction. It's important to remember to learn and understand what works for you and to document what you find.
Ad Extensions
Ad extensions help improve click-through-rate (CTR), which improves quality score and results in lower cost-per-click (CPC). You can have multiple extensions in one ad, so make sure to enable all that make sense for your business. Google will determine the best combination on an auction-by-auction basis. We recommend ecommerce clients use the following:
Sitelink Extensions
Want people to go to a specific page on your site? Add the Sitelink extension. Add sitelink extensions at the account, campaign or ad group level, specify the link text and the destination URL. Ecommerce businesses can use sitelinks to direct traffic to product pages or category pages. You can also set up conversion tracking and view detailed data about the clicks you get.
Promotion Extensions
Show special offers with promotion extensions. The promotion extension helps your ad stand out by including the promotion along with the special occasion you select in bold. They work well for sales during Black Friday and Back-to-school.
Callout Extensions
Callout extensions promote offers including free shipping or 24-hour customer service. You can show up to 10 callouts in addition to your ad text.
Call Extensions
If you want people to call or send text messages, you can use call extensions. Just add a phone number or button to your ads. On mobile, users can tap the number and call directly from the ad.
Calls To Action
The most common calls to action for Google Search ads are "shop now" for ecommerce or "contact us" for lead generation.
As a good rule of thumb, make sure your call to action matches your goal. For example, if you are selling products online and your goal is to drive product sales, don't have ad copy that reads "sign up for our newsletter".
Dos and Don'ts of Google Paid Search Ads for Ecommerce
Do
After launching your campaign check the search term report and make sure your campaigns are running as intended. Add negative keywords if needed.
Watch the performance and adjust bids if needed

If your campaign budget is limited, search impression share is low, Impr. (Abs. Top) % is high that could indicate your bids are too high. Lowering your bids could get your more traffic at a lower CPC.
If your budget is not limited, search impression share is low and search impression share lost due to rank, you likely set your bids too low, and increasing them could get you more impressions.

Add audiences with observation targeting so that you can increase bids users with the highest conversion rate
Dont
After launching don't forget to look for patterns in your search term report and ensure your budget is going to the top-performing searches. If people who search with their location (ex: lawn mowing services Fargo) have a higher conversion rate, restructure your campaigns to make sure you are maximizing impressions for these local searches.
How AdShark Marketing Can Help
Still have questions? Reach out and we can help you by auditing your account or answering any questions you have.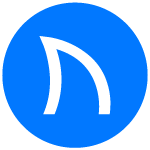 Ready to grow FASTER? Let's Talk!
Interested in having us help you grow?