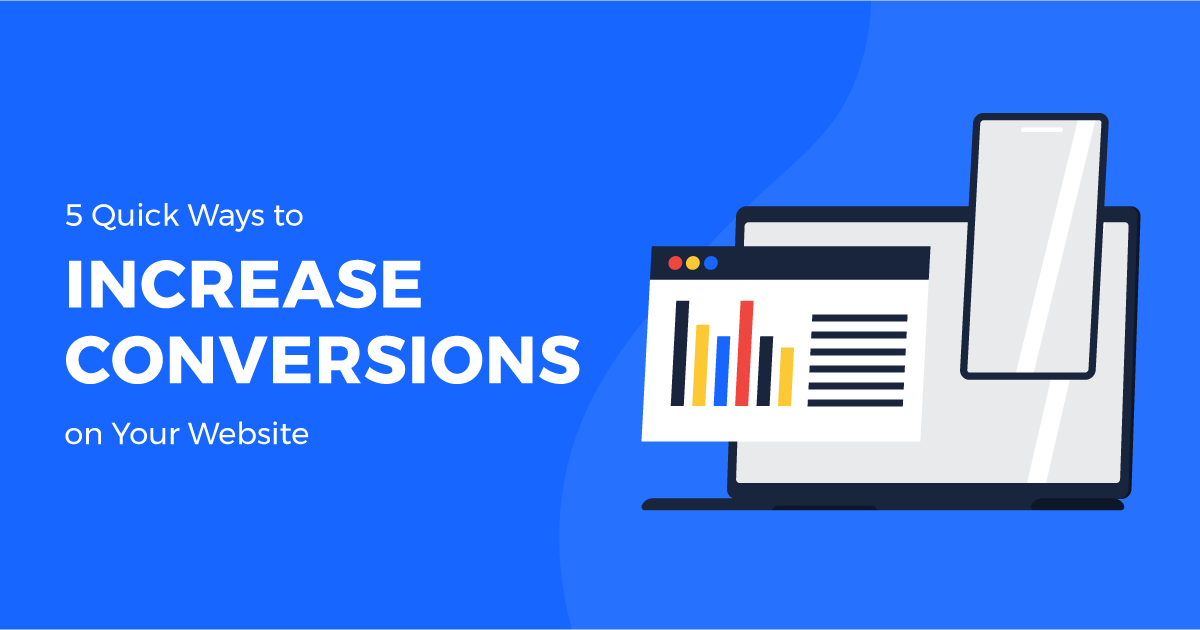 5 Quick Ways to Increase Conversions on Your Website
If a tree falls in the forest but nobody is there to hear it, did it really fall? I'm not sure – but I am sure that if prospective customers get to your website but they don't convert, it's likely that your site needs to work on conversion rate optimization.
According to WordStream, only 22% of businesses are satisfied with their conversion rates. If you ask virtually any CMO or Marketing Manager, they'll always wish to have more of their web traffic converted to a lead or sale. I've been a part of several of those conversations in the past:
I mean… we're getting people to the website. They're just not buying!
Perhaps we have unrealistic expectations. On average, website conversion rates are between 2 and 3%. However, the top 10% of companies are seeing 3-5x higher conversion rates than average. So what do they do that you don't? How can you 3x your conversions? And how can all of it be done quickly?
We'll aim to answer those questions and more in this week's blog!
Defining Conversions and CRO
Before we dive too deep, we thought we should take a section of content to build clarity around a couple of definitions. If you've spent time in the digital marketing industry, you're likely familiar with the terms conversions and CRO already. But if not, here's a quick rundown:
Conversions refer to any tracked objective that takes place on your website. Oftentimes, companies will refer to a "conversion" as a lead form being filled out, a call being logged, a live chat conversation starting, or (for eCommerce companies) a purchase being made.
If you're tracking conversions, you're likely also in tune with your conversion rate. This takes the total number of conversions divided by the number of sessions. In other words, if you had 100 sessions take place on your website last week, and got 5 leads from said sessions, you'd have a conversion rate of 5%.
Naturally, a company's goal is to have a high conversion rate; this means that the traffic getting to your website (whether organic or paid) is qualified traffic, and your website is doing a good job of converting them into a customer. This desire to increase conversion rates opens the door for CRO (conversion rate optimization), which, stated simply, is the practice of increasing a website's conversion rate.
Why Does Increasing Conversions Matter?
Fair question. If your company is considering paying a digital marketing agency to work on your CRO, it likely comes with a fairly large price tag behind it. You want to make sure that this investment is greeted with a return that makes it worthwhile.
Let's explore.
For this example, I'm going to introduce two fictional companies: Jack's Jelly Beans, and Charles' Chocolates. Both companies receive 60,000 monthly visitors, but Charles' business has a conversion rate that is 1 point higher than Jack's. What does it mean for sales?
| | | |
| --- | --- | --- |
| | Jack's Jelly Beans | Charles' Chocolates |
| Monthly Sessions | 60,000 | 60,000 |
| Conversion Rate | 1.5% | 2.5% |
| Monthly Orders | 900 | 1,500 |
| Average Order Value | $50 | $50 |
| Monthly Revenue | $45,000 | $75,000 |
Though this is a trivial example, you can see how an increase of 1% in conversion rate led to an increase of 67% in revenue. If you deal with a higher average order value, small percentage point gains can lead to even greater increases.
As you look to grow your conversion rate (and corresponding revenue), we'll provide 5 quick tips on changes you can make below. Ensure that you are tracking conversion rates before and after your CRO engagement to help quantify the improvement.
Tip #1: Reduce Friction Points on Your Site
Common pain point: you're trying to call an insurance company to ask questions and speak to a real person about a question you have. You spend 5 minutes pressing numbers to get to your desired prompt, try entering your PIN and failing, reset your pin, and then wait on-hold for 15 more minutes to speak to someone. If you're like me, you're dropping off before you even get put on-hold.
Though an exaggerated example, we experience this same amount of frustration and pain with some websites. Friction refers to any delay in the website experience – including a customer having to make too many clicks to get to a desired page, or waiting too long for content to load.
More friction points = lower conversion rate. Once you have a qualified web visitor on your site, you want to guide them towards their desired action as efficiently as possible. Here are a few ways to do so:
Allow access to your most important pages (product or service pages) directly from the home page
Put your most important call-to-action buttons in the hero banner and/or top right corner of your page
Try to reduce the number of clicks, and think intentionally about what pages are linked together
Compress image and video files so as not to slow down load time
Make sure any pop-ups can be readily exited out of, to not lead to frustration
Omit unnecessary fields on forms and/or checkout pages
Let's take a look at a site that I think does a great job of reducing friction points, Nike.com. In an effort to get some new golf shoes, it took me under a minute to navigate to the pair I wanted and start my checkout process.
Special bonus: the "only a few pairs left" call-out that increased my sense of urgency and impacted conversion rate!
Tip #2: Improve your CTAs
A CTA, or call-to-action, is typically used to describe the text on top of a button that prompts us to "convert." The text may also appear above the button (in a paragraph or header). Regardless of where it appears, it's the driving force behind getting us to purchase or submit a lead form.
If you're looking to increase your website conversions, don't underestimate the importance of a strong CTA. Here are some interesting stats to back it up:
HubSpot found that anchor text CTAs increased conversion rates by 121%
ContentVerve saw a 90% increase in CTR by using first-person phrasing ("Start my trial" versus "Start your trial")
Copyblogger found that making CTAs look like buttons created a 45% boost in clicks for CreateDebate
Helzberg Diamonds saw an increase of 26% by adding an arrow icon to their CTA buttons
Though some of these stats point to more specific actions than others, they all highlight this fact: making changes to your CTAs will impact results.
Here are a few quick tips to improve your website calls-to-action:
Use buttons (and anchor text on buttons) to make your desired next step clear
Be clear and concise, using strong, direct language in your CTAs
Include some informational text near your CTAs; consider a headline, paragraph, and button as a complete CTA package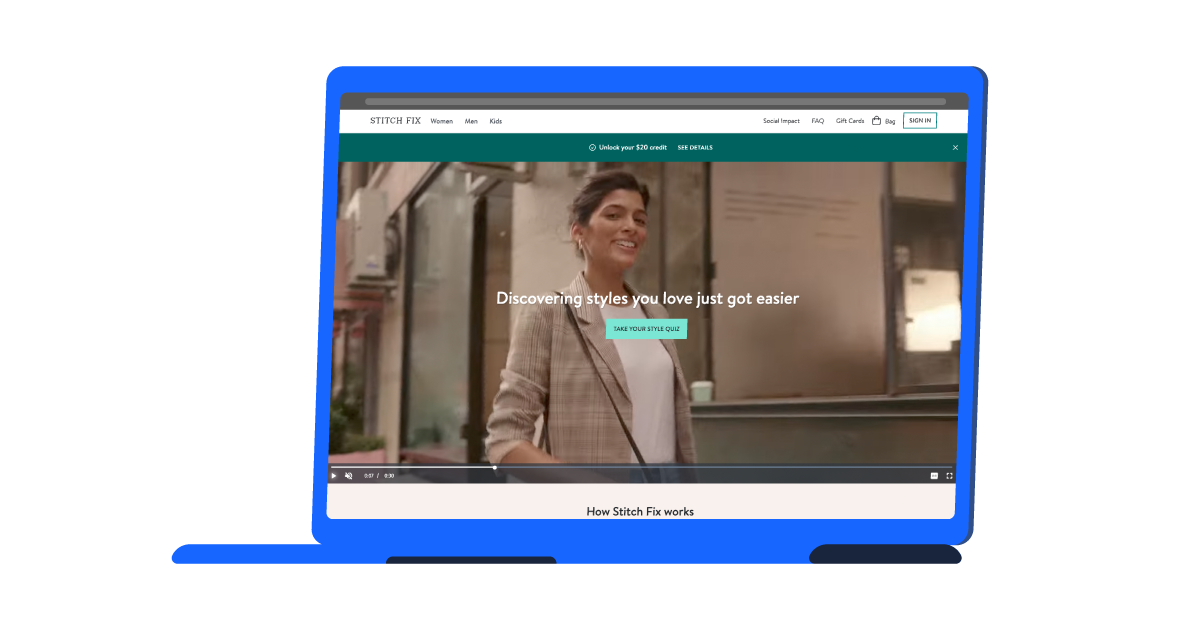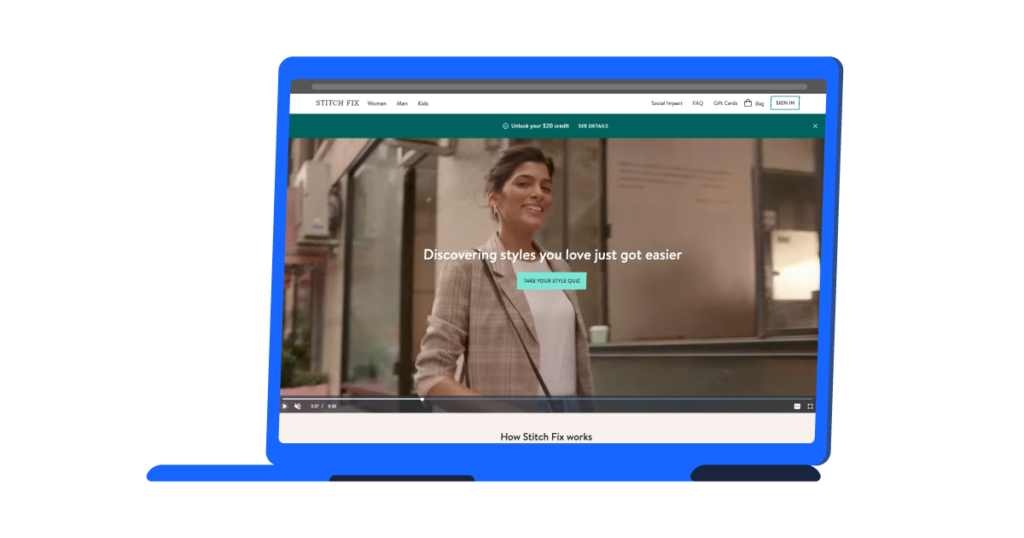 What we love about Stitch Fix's example is that the CTA is unique, clearly stated, and doesn't ask for too much. Because Stitch Fix's process always begins with a style quiz, and the style quiz is free for users to do – it makes sense that it's the first CTA on the website. Would conversion rates drop if the CTA changed to "Shop Women's Styles," for example? I'd argue so.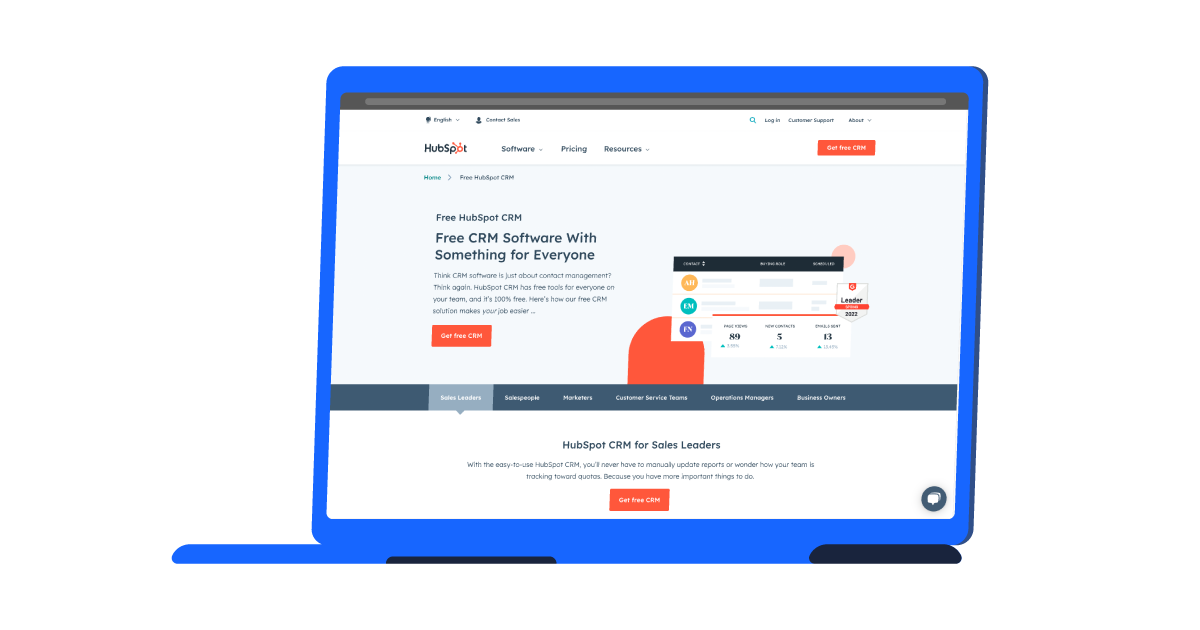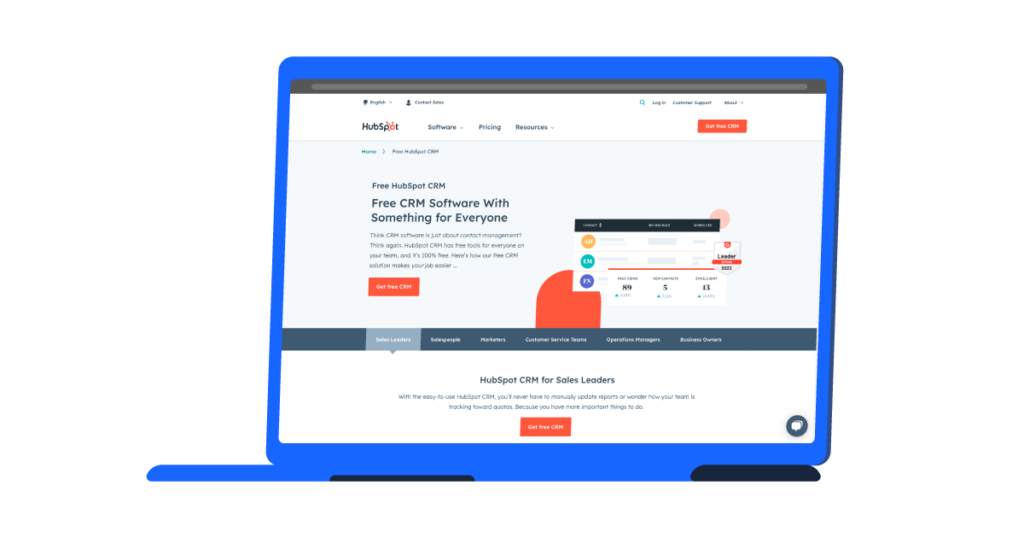 Leave it to a content marketing company like HubSpot to deploy a great CTA. Their landing page for the HubSpot CRM includes a solid header, great descriptive paragraph text, and a CTA with a FREE offer. Many lead gen businesses may find equal opportunities to utilize a free offer (consultation, demo, trial) to hook their audience and turn them into paying customers after they test it.
Yet, so many companies fall back on CTAs like "Contact us" or "Learn more" and wonder why their conversion rate is lagging behind.
Tip #3: Add More Conversion Points
Struggling to gain many conversions? It may simply be that you don't have enough opportunities for potential customers to convert! 
If you're an eCommerce company, it's likely that the only conversion points that will really matter will be Add-to-Carts. However, if you're handling offline sales, there are quite a few potential conversion points to consider:
Lead forms (contact us, request a quote, etc.)
Demo or Consultation scheduling
Live chat
Phone call
Free downloads (downloadable resources, pdfs, etc.)
Newsletter subscribers
…and more. In addition to the sheer number of conversions or events that you're tracking, you can be thoughtful in adding them in key spots on your site. Throughout service pages, are there better ways to link to your contact page? Strategic spots to include pop-ups to drive conversions?
One recommendation would be to consider a tool like Hot Jar to show heatmaps on your website's use. This may help draw more attention to spots on your website that could use an additional conversion point.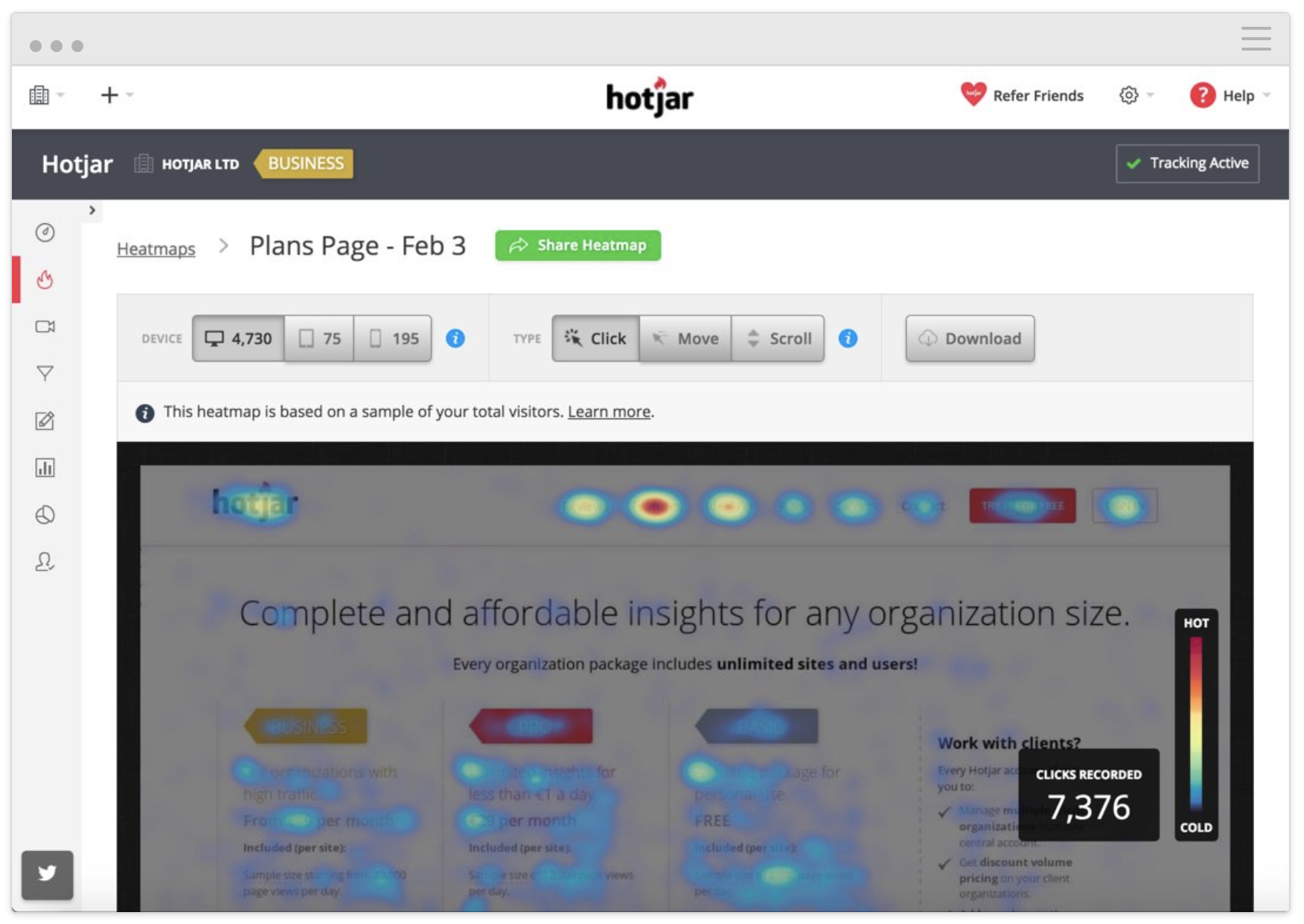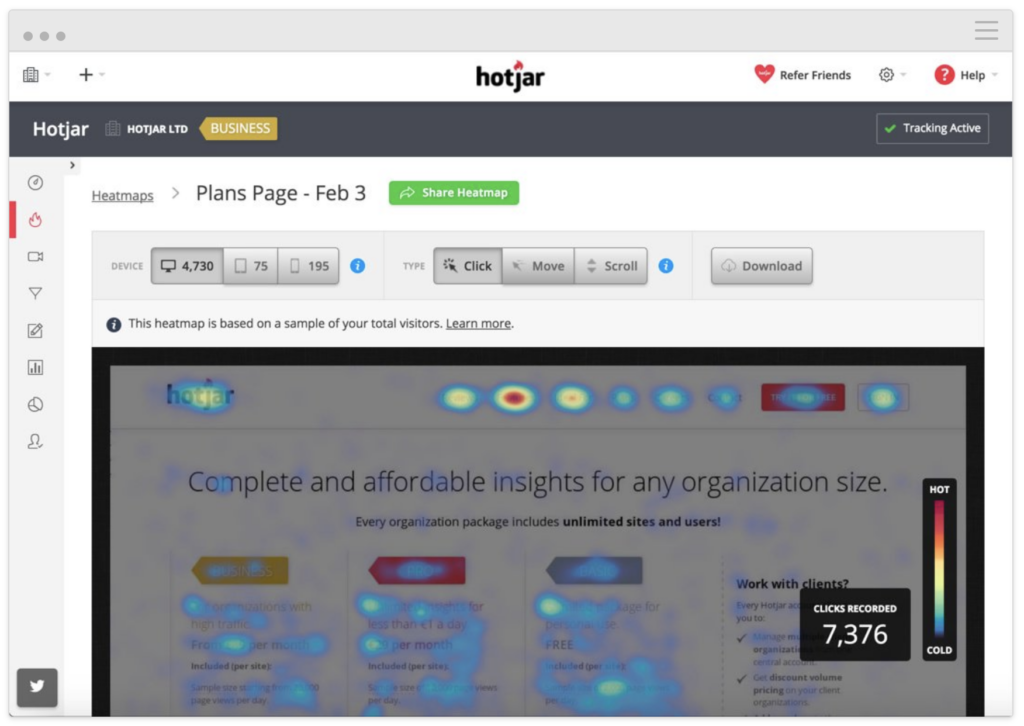 Tip #4: Work on Your Messaging and Content Layout
In all reality, it shouldn't have taken me until point #4 to call out the important role that your website's content and messaging plays in driving conversions. Many companies will spend hours of labor developing ads that get people to their website, yet neglect the needed work to get their landing page(s) to help that traffic convert.
The most important piece of content to identify is your value proposition. This messaging, usually seen in written form as headlines on home pages or other landing pages, will tell prospects why they should choose your business over a competitor's. It will identify your differentiating factors, and clearly label the benefits of your product or service.
To get meta with it, let's take a look at the value proposition on the landing page of a service that builds landing pages: Unbounce.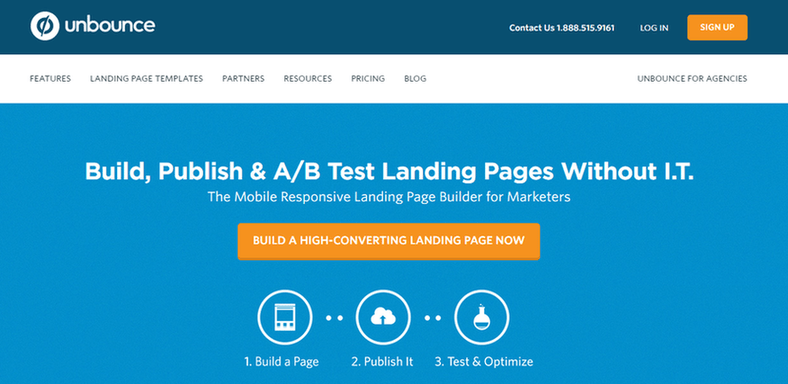 Their value proposition (build, publish & A/B test landing pages without I.T.) is clearly labeled at the top of the page, above a strong CTA button.
In addition to consider your most important message on your landing page, you should also consider the flow of the page as a whole. One common ideology that we ascribe to is the Storybrand model. This model discusses a framework centered around the following sections:
A hero (your visitor) and the guide (your company)
Common pain points your hero has
The benefits of the guide
The plan the guide has to solve the pain points
Proof/testimonials from previous heroes that have trusted the guide
…and more. Having a structure that works for your website is key, and if you're struggling to drive conversions – perhaps the content is just not guiding your audience as effectively as it could be. Consider changing things up or a/b testing to see which leads to the highest conversion rate.
Tip #5: Include an Offer
The final quick tip to consider is the inclusion of an offer to drive a conversion. If you're having difficulty sealing the deal with your web visitors, it may be a result of not having a compelling enough offer to get them to convert. Listed below are some potential offers to include on your landing pages to increase conversion rates.
For Lead Gen Clients:
Free consultation
Free trial
Free demo
Free downloadable PDF or resource (for email capture)
First month free
Free application fee
For eCommerce Clients:
Free shipping over $____
10% off your first order
Free product with purchase of other products
Product arrives by ____ when you purchase today
You can get creative with your own service or product offers that you include, or consult with our digital marketing team for some ideas. We do FREE consultations as well! See what I did there?
An example of a strong offer on a website comes from our friends at BetterFed Beef.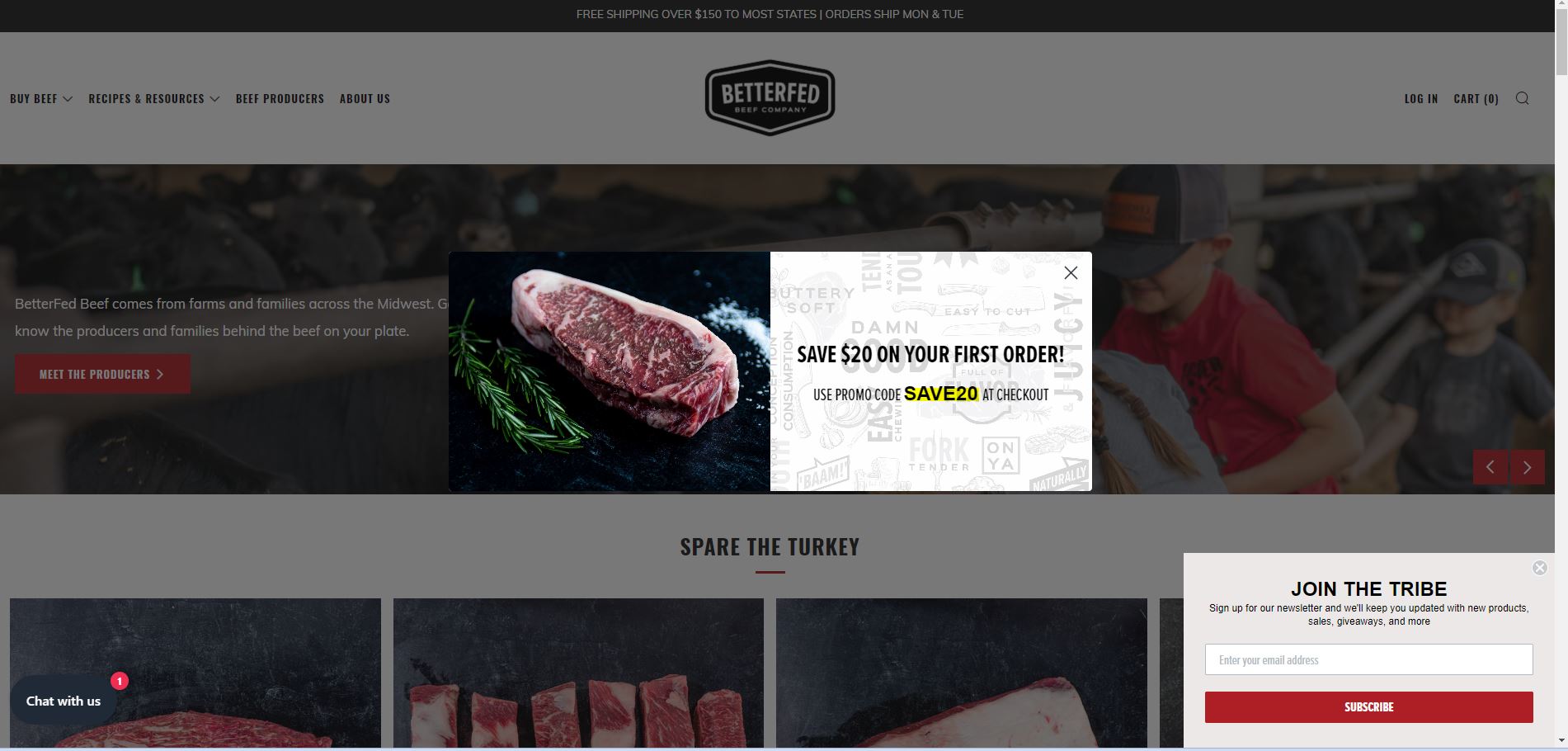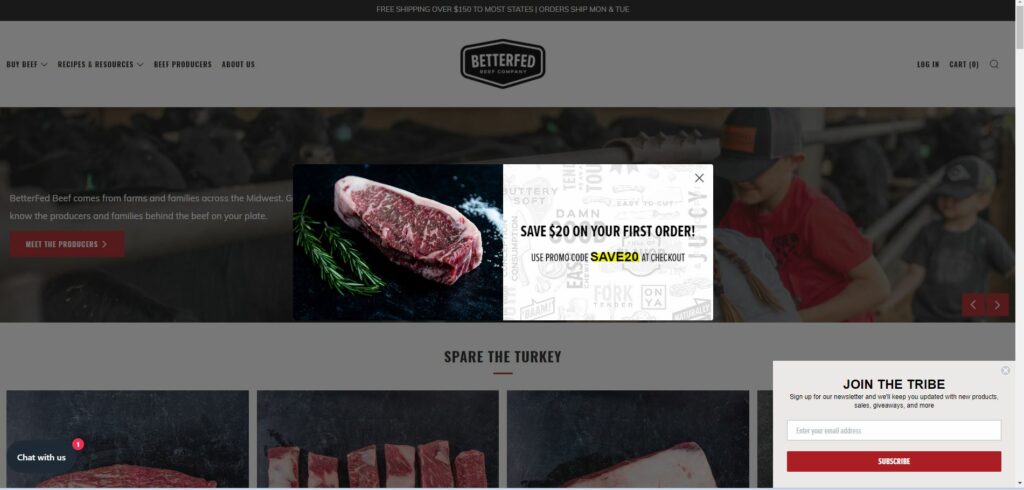 Tying it All Together
Improving your website's conversion rates is one of the best ways to drive more leads and increase your overall revenue. As you look to increase your conversions and drive more sales (or sales opportunities) from your website, consider any and all of these 5 quick tips to boost your conversion rate.
Reducing Friction Points on Your Website. Monitor your site's speed, consider the way your pages are structured and linked, and try to guide site visitors (as efficiently as possible) towards your objective.
Improve your CTAs. Test different anchor text, buttons, and descriptions to help drive people towards your desired goal.
Add More Conversion Points. Look into additional trackable objectives, in addition to the placement of your conversions on your website.
Work on your Messaging and Content Layout. Construct a clear value proposition and consider using a web framework that guides visitors towards your ultimate end goal.
Include an Offer. Tie in a free offer or promotion to help drive more sense of urgency from your visitors in filling out a form or making a purchase.
---
If you'd like to chat through any additional ways to increase your website's performance and drive more conversions, contact our team! We'd be happy to put together a custom proposal for you, or simply provide some strategic recommendations to help your business grow. Thank you for reading our blog!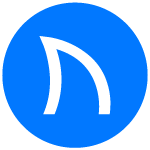 Ready to grow FASTER? Let's Talk!
Interested in having us help you grow?