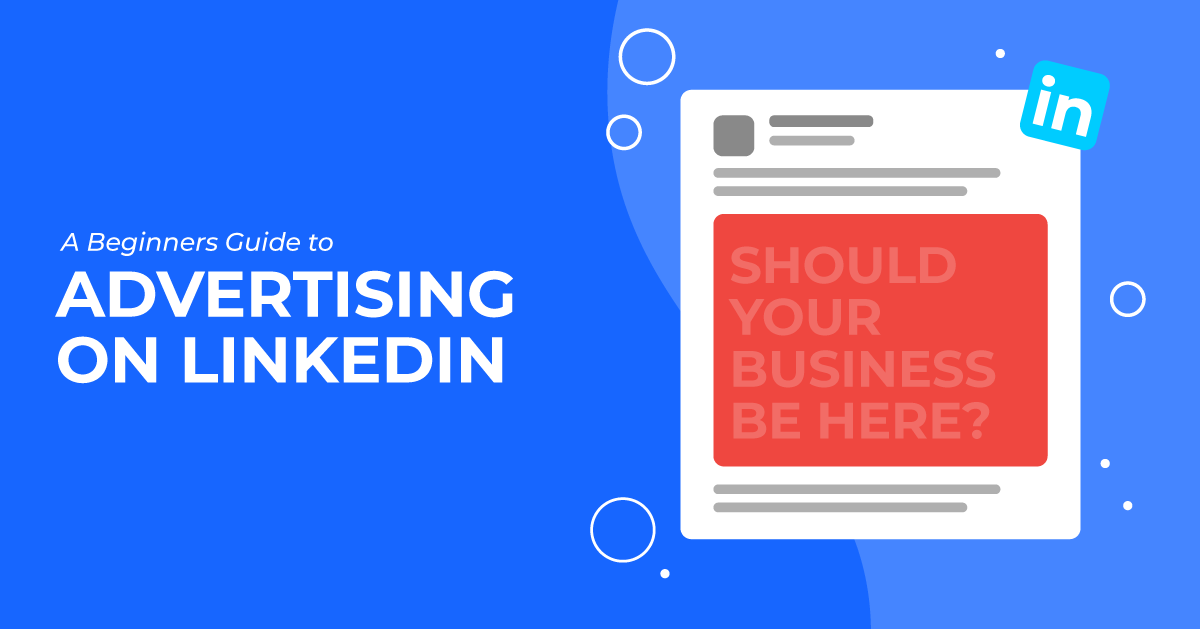 A Beginner's Guide to Advertising on LinkedIn
Like many of my peers, I started a LinkedIn account because a former professor told me to. It was 2013 and I was a junior at Concordia College, looking to learn more about internship opportunities. At the time, I looked at LinkedIn much like an online resume; it was a place to share my volunteer experience, education, and early work history.
As the years went on, I started logging into LinkedIn with more frequency. At first, I wanted to find out about job opportunities. Then, I wanted to grow my endorsements and write more articles. Now, I find value from a business development perspective and staying engaged with clients.
And it's not only my LinkedIn use that's on the rise. Recent stats show a spike in LinkedIn users and engagement, including:
LinkedIn users in the US jumped from 159 million in 2017 to 169 million in 2021 (via Statista)
46% of social media traffic to company sites comes from LinkedIn (via LinkedIn)
80% of B2B leads come from LinkedIn (via FindStack)
These stats, merged with a growing need for recruitment marketing, has led to more & more companies considering advertising on LinkedIn. But is it the right fit for you? We'll address that question and more in this week's blog! Let's dive in.
Who Should Advertise on LinkedIn?


LinkedIn advertising has higher CPMs than most any social media advertising platform, so it's important to make sure it's a good fit for your needs. To assess whether you should advertise on LinkedIn, let's first take a look at LinkedIn's demographics.
Here's what we know about LinkedIn's audience (via Hootsuite):
Ages: 46-55 years old (37%), 36-45 (34%), 56+ (29%), 26-35 (27%), 15-25 (16%)
Locations: Urban (30%), Suburban (27%), Rural (13%)
Income: $75,000+ (45%), $50k – $74,999 (24%), $30k – $49,999 (20%), <$30,000 (13%)
Education: College and more (50%), Some college (22%), High school or less (9%)
We also have some insight into the industries that are most active on LinkedIn (via LinkBoost):
Information Technology & Services (#1 rank)
Hospital & Health Care (#2)
Construction (#3)
Retail (#4)
Education Management (#5)
Financial Services (#6)
Accounting (#7)
Computer Software (#8)
Higher Education (#9)
Automotive (#10)
This helps paint the picture of a social media platform that is primed with professionals with years of experience in some niche industries.
LinkedIn advertising may not be the best fit for everybody, but if you are a company within a B2B Industry looking to generate leads or a company with a need to advertise job positions, it can be a good fit for your business. Let's look at some of the benefits to advertising on LinkedIn to further shape your decision.
The Benefits of LinkedIn Advertising
For businesses that are accustomed to advertising on Google or Facebook, it may be harder to rationalize the added costs of LinkedIn advertising. However, there are some definite benefits that are unique to LinkedIn's ad platform that should be considered.
Access to increased job-based targeting: while you have some ability to target individuals with certain job titles on Facebook, LinkedIn's job-related targeting is much more robust (and much less restrictive). This is helpful for both employee and client recruitment, when you have a strong profile of the skills, past work experience, and positions that you're looking to reach.
Personalized experience: using Sponsored InMail, you have the ability to send customized messages to an audience member. This can be particularly helpful in attracting leads/prospective customers.
Ability to retarget to previous contacts or site visitors: retargeting is also possible with LinkedIn ads, and you have the ability to create a second touchpoint with contacts in a variety of ways. You can retarget previous site visitors, upload contacts that can be matched, target specific companies, and even create lookalikes (just like with Facebook).
Strong conversion rates: ultimately, higher costs are easier to stomach when you see strong conversion rates. A Hubspot study cited a 6.1% conversion rate through LinkedIn Ads, compared to 2-3% conversion rates on other advertising platforms.
As LinkedIn's user base continues to grow, LinkedIn keeps improving their ad platform. I'd anticipate even more advertisers flocking to LinkedIn ads, and the benefits list growing even more in years to come. 
Ready to get started? OK, let's talk through the next steps.
Getting Started with LinkedIn Ads
It's no secret that LinkedIn would like for you to advertise on their platform. They have a variety of helpful learning materials, certifications, and other resources to get you started in their Marketing Labs. We'll talk through the basic things you should consider when getting started with LinkedIn ads, but would encourage you to begin by visiting their ads page.
Once you've made the decision to advertise on LinkedIn, there are a few things you should consider, including: goals, budget, targeting, ad creative, and tracking.
Establishing Your Goals
Every great marketing campaign starts with a goal, and the same can be said for your LinkedIn campaigns. When you start a new campaign, one of the first things you'll be asked to do is identify an objective. LinkedIn provides the following campaign objectives:
Brand Awareness: for those interested in increasing reach & impressions
Website Visits: for those looking to drive link clicks to landing pages
Engagement: for those looking to increase followers or post engagements
Video Views: for those looking to increase their views on videos
Lead Generation: for those looking to capture leads on LinkedIn directly
Website Conversions: for those looking to increase sales or leads on websites
Job Applicants: for those looking to increase applications for positions
In most cases, we encourage clients to consider the bottom three objective types. Lead Generation or Website Conversion objectives are great for client prospecting for a B2B business. Finding more job applicants is also worthwhile if your advertising dollars are intended for employee recruitment.
I would encourage you to sit down with your marketing department, or your advertising agency, and establish your goal for your marketing. Then, find a campaign objective that LinkedIn can optimize for to help increase your chance of success.
Determine Your Advertising Budget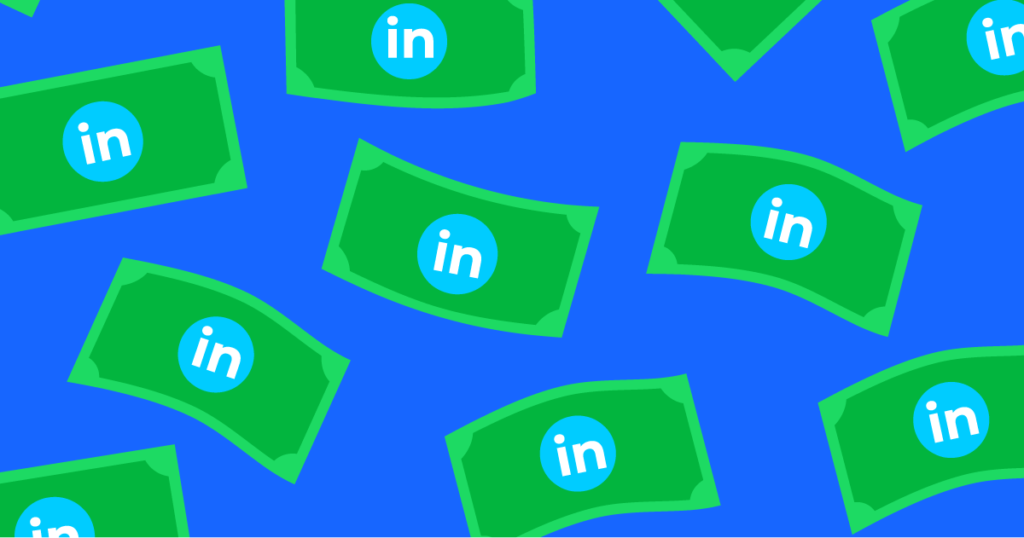 I led with it at the start of this blog, but LinkedIn isn't your cheapest advertising platform. With CPMs around $6-7, and cost-per-click averaging at $5.26 (per WebFX), you should prepare for a larger investment on LinkedIn than other social platforms.
It should also be noted that LinkedIn does have daily and lifetime limits on budgets. You must spend a minimum of $10/day and have a minimum lifetime budget of $100. Depending on your campaign objective and targeting parameters, a lifetime budget of $100 may only net you around 15,000 impressions and 20 clicks. That same budget on Facebook would help you achieve almost 5x the amount of clicks (on average).
When I'm sitting down with clients to determine their LinkedIn budgets, there are a few questions I try to ask. The most important:
What's a cost-per-lead (or cost-per-applicant) number that you're comfortable with?
When we factor in a conversion rate of above 6% on LinkedIn ads, it can make the CPMs more justifiable. If $100 earns you 20 new web visitors, that would be 1.2 leads (or a CPA of $83). For higher-end service businesses, paying $83 for a qualified lead may be well worth it.
In most cases, I would encourage beginning with an advertising budget of $500/month on LinkedIn to give yourself enough spend to optimize and learn from your endeavor. For additional insight on your budget, contact our team!
Setting Your Campaign Targeting
Now that you know your goal and budget, it's time to determine who you want to serve your ads to. LinkedIn's advertising platform will give you a variety of targeting parameters to use, including:
Location: you can target as broadly as a whole country, or narrow it down to specific cities, counties, and states. You can also target someone who permanently resides in these locations, or has recently visited them.
Company: you can serve ads to people who fall within a certain company category, have connections to a company, follow a company, work for a company within a specific industry, and more.
Demographics: you can serve your ads to people who fit a certain age or gender category.
Education: specify whether you want to target certain degrees, fields of study, or member schools.
Job Experience: target an individual based on job functions, job seniorities, job titles, skills, or years of experience.
Specific Audiences: you can upload lists, build lookalikes, retarget previous site visitors, or pull in third party data to serve to an even more specific audience.
If these targeting parameters aren't enough, you can also look up LinkedIn audiences (such as Members with a Bachelor's Degree, Expertise in Development Operations, and more). If you're looking to serve ads to a group of individuals within a specific professional niche, LinkedIn is a good spot for you.
Developing Your Ad Creative
Whether you're working with an internal design and photography team, or have an agency to help, your ad design will play an essential role in determining your campaign's success. LinkedIn ads have eight different ad formats to choose from (as shown below).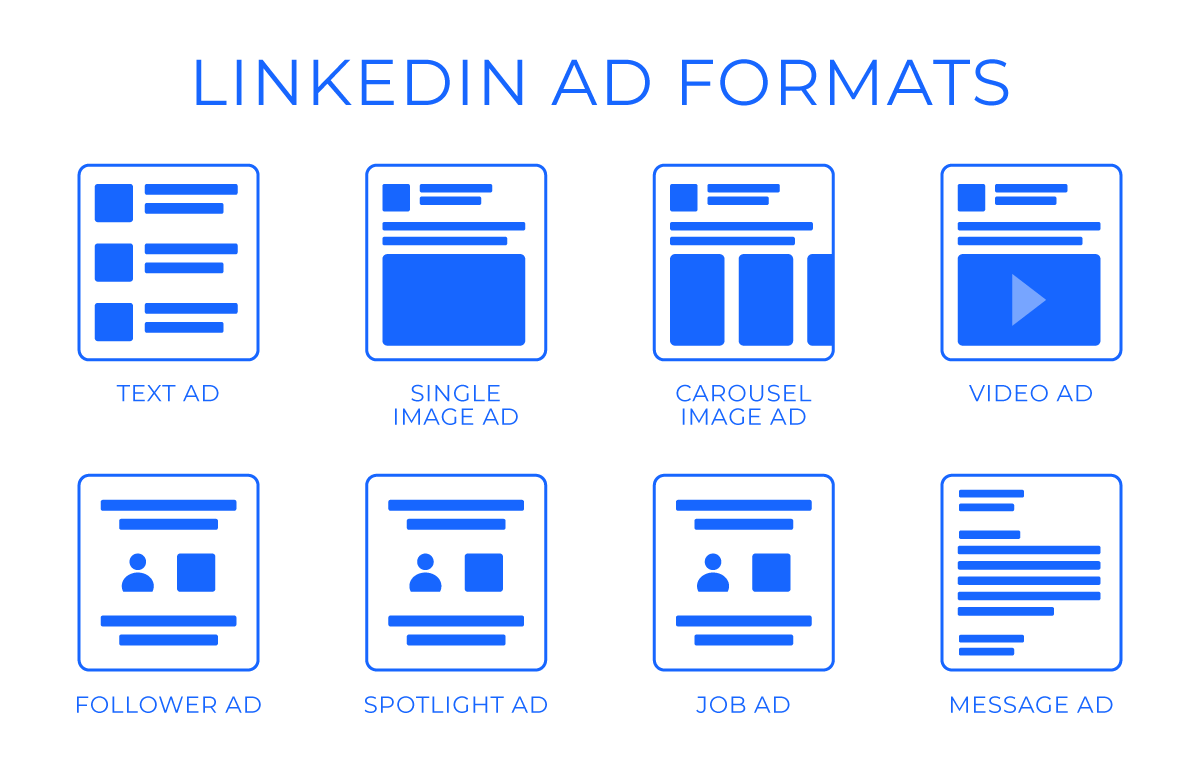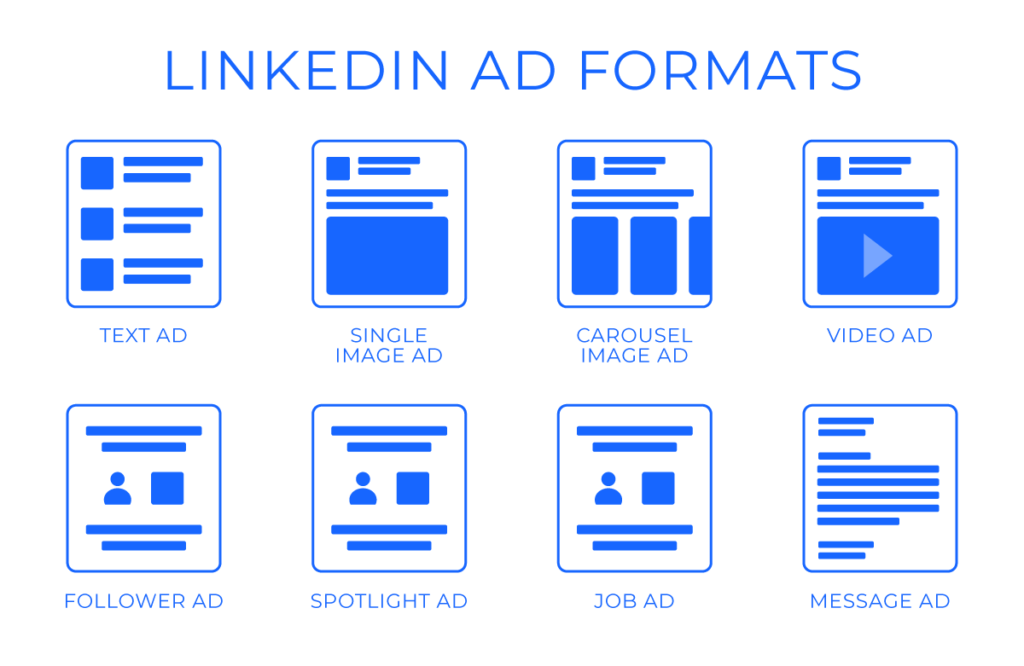 LinkedIn publishes spec sheets for their single image ads, video ads, carousel ads, and event ads that can be found here. Ensure that you're following these guidelines so as not to crop or truncate your ads and limit their chance of success.
When considering ad creative, please keep in mind what your campaign goals are. If your campaign objective is related to website leads, consider a single image ad, carousel ad, or spotlight ad. To have a more in-depth conversation about your LinkedIn ad creative, please contact our team.
Track Your Results & Optimize Your Advertising Efforts
Your success in advertising on LinkedIn will depend on your ability to track, analyze, and optimize your results. LinkedIn will supply you with a variety of metrics, including ad spend, cost per result, impressions, clicks, click-through rate and more.
We like to take the tracking into our own hands, though, and bring LinkedIn Ads data into our Google Data Studio. We use a connector called Supermetrics to connect our LinkedIn Ads data to our client dashboards. This allows us to get an in-depth look at our campaign results, and recommend changes based on the data we're seeing. Examples of optimizations may include:
Re-allocating spend to campaigns with better results (lower CPMs, more link clicks, better cost-per-lead)
Adjusting creative or ad types for campaigns with poorer results
Changing campaign objectives to better accomplish our goals
Your proficiency as a digital marketer is measured by your ability to make meaningful optimizations to a campaign to improve results. Don't just set your LinkedIn ads, and forget it. Rather, spend time working through the data and finding out how to be more effective with your ad spend.
---
LinkedIn is a viable advertising option for businesses looking to drive more sales activity or increase their applicants. Getting started with advertising on LinkedIn requires a strong understanding of your goals, budget, and audience. You also must focus on developing creative that will improve your results, and establishing tracking to help you report upon successes (and optimize where needed).
If your company would like to dive deeper into a discussion about LinkedIn advertising to see if it's a good fit, contact our team! We'd love to provide some honest feedback and recommendations tailored to your company. Thanks for reading!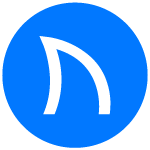 Ready to grow FASTER? Let's Talk!
Interested in having us help you grow?