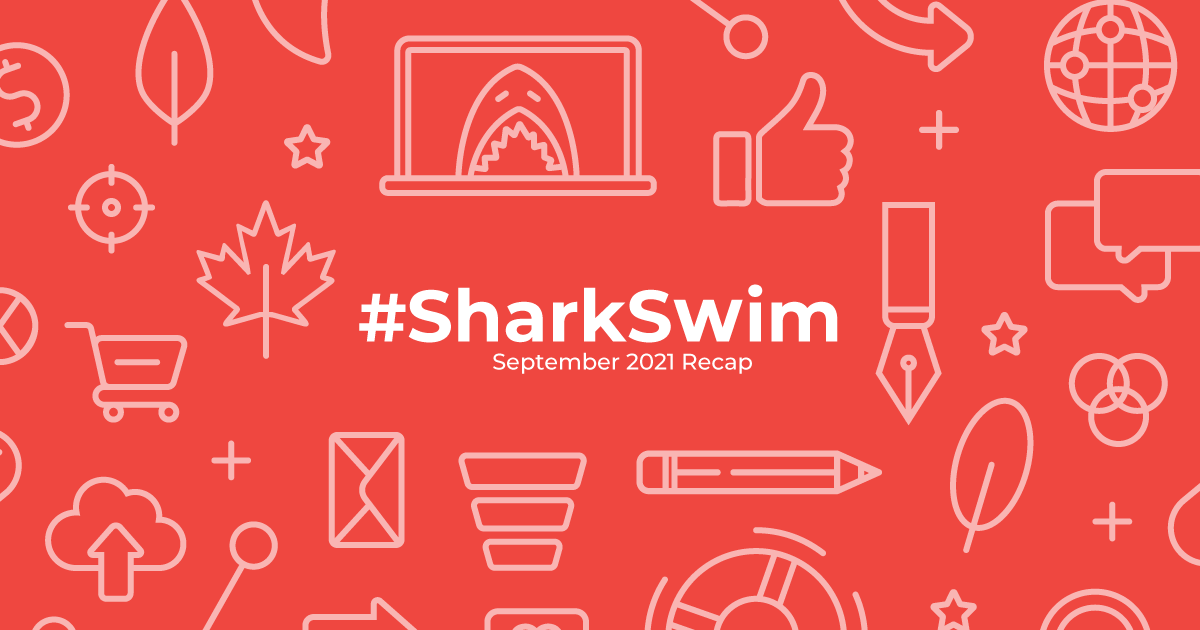 #SharkSwim: September 2021 Recap
Fall is here and there must be some-fin in the air getting the AdShark team so excited for the holiday season! Welcome to the #SharkSwim monthly recap, where we highlight the past month's anniversaries, client successes, company events, and more!
There's a lot to unpack from this past September, so get ready to hear all about it in this month's Recap!
Anniversaries!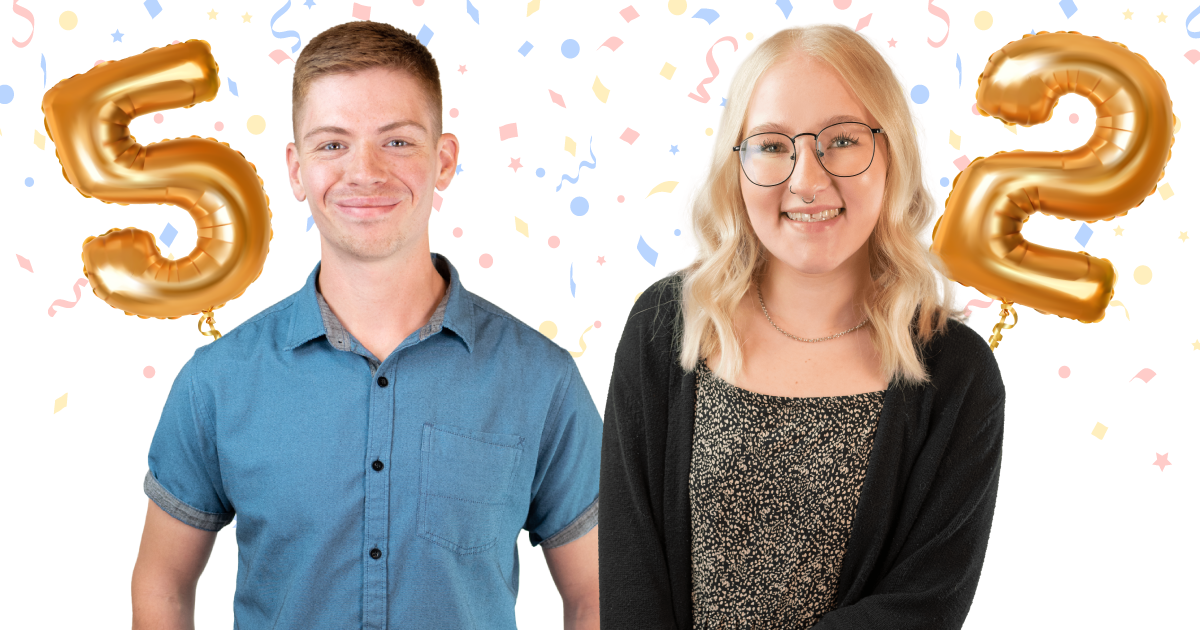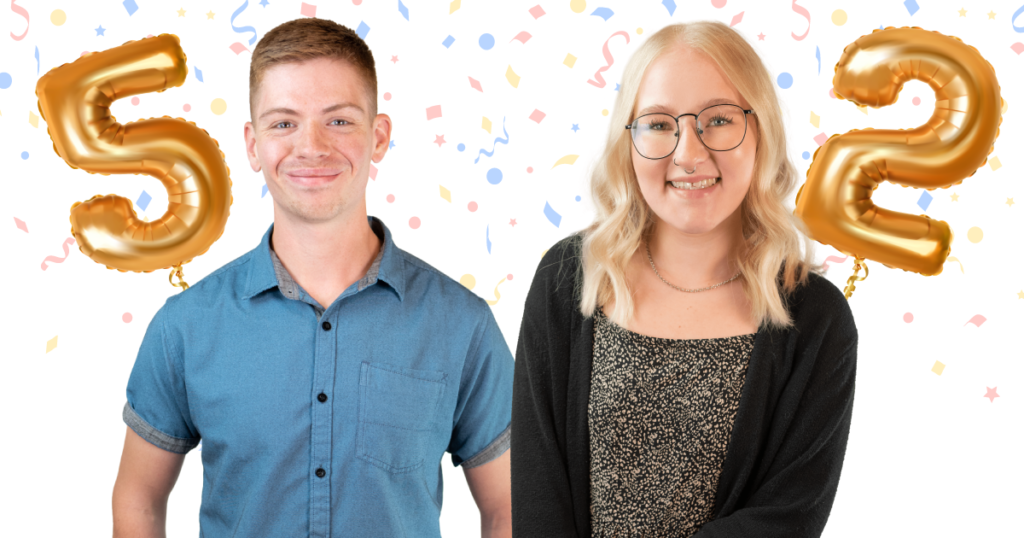 We celebrated two anniversaries this month. Starting with Digital Creative Designer Christina Knutson, we celebrated her 2nd anniversary of working at AdShark. Since starting in September of 2019, Christina has played a huge role in producing creative for AdShark's social media and blog, taking amazing photos at company events, and livening our office with her vast assortment of plants. Thank you for everything you do, Christina!
Also celebrated this past month was Creative Manager Nick Due's 5-year anniversary with AdShark. With the exception of founders Rick Berg and Sean Maki, Nick is the longest-standing employee at AdShark. Since beginning his career at AdShark, Nick has not only helped shape the company into what it is today by constantly pushing the quality of his team's creative work but he's also aged by half a decade! Thanks, Nick!
Hope Blooms Website!
Sharing success stories and the quality of work we bring to every client is one of our favorite things to do, especially for clients like Hope Blooms. Hope Blooms is a local nonprofit dedicated to brightening the lives of nursing home residents and severely ill individuals by surprising them with bouquets made from donated, recycled flowers.
We had the opportunity to redesign Hope Bloom's website to help them strengthen their brand and drive more donations and volunteers. We're so proud of the website we were able to build for such a great company. Be sure to show your support and check out their new website here.
Cats Cradle Volunteering!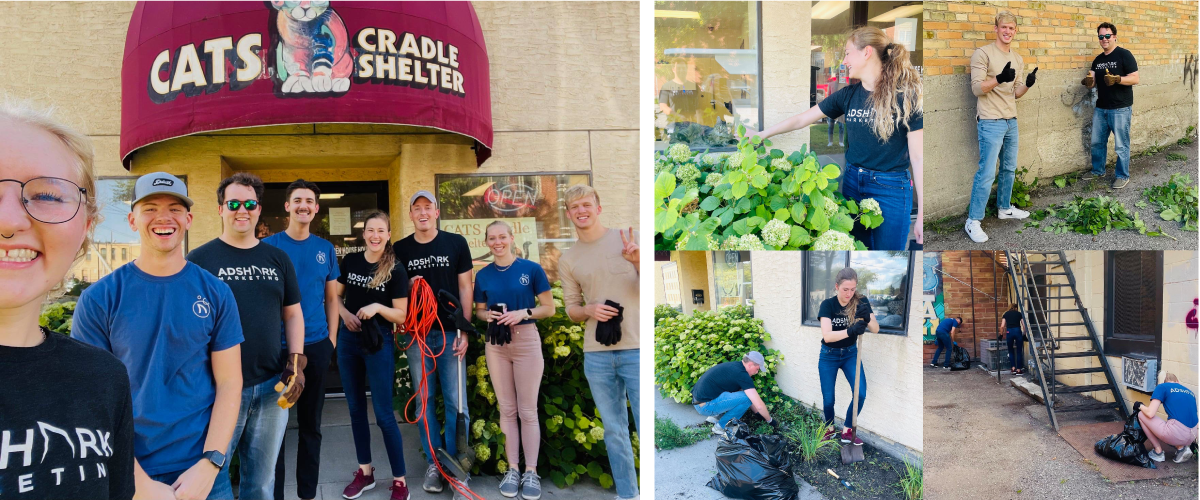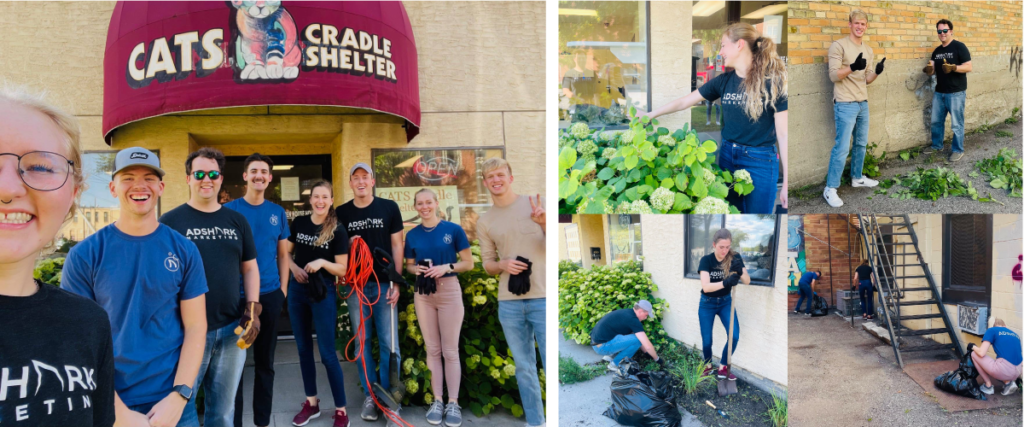 Another month, another company-sponsored volunteering opportunity! This past month's may PAW-ssibly be the most JAW-some one yet!
Combining our love of volunteering with our love of cats, we grabbed our gardening gloves and took to weeding and cleaning up around the Cat's Cradle Shelter. Cat's Cradle Shelter is an incredible nonprofit dedicated to creating a more humane and compassionate world through the rescuing of abandoned cats and giving them a new home. If you're looking to foster or adopt a new feline friend, go see our friends at Cats Cradle!
Ribbon Cutting!
You may remember reading about us building a website for the Fargo Lions Club's project, "Spirit of the Sandbagger" in the March 2021 Recap. This past month, they officially finished and hosted a ribbon-cutting ceremony and we had the honor of helping them cut the ribbon!
While Creative Manager Nick Due would do anything to keep this footage off the internet, I can't help but post about it in the recap. Enjoy this exclusive footage of Nick (not) cutting the ribbon!
Rock Climbing!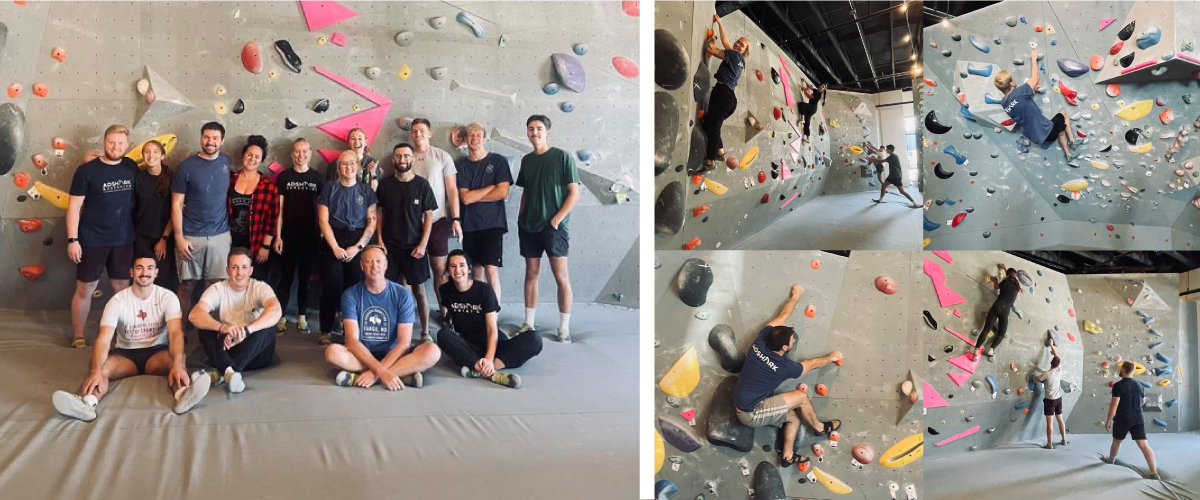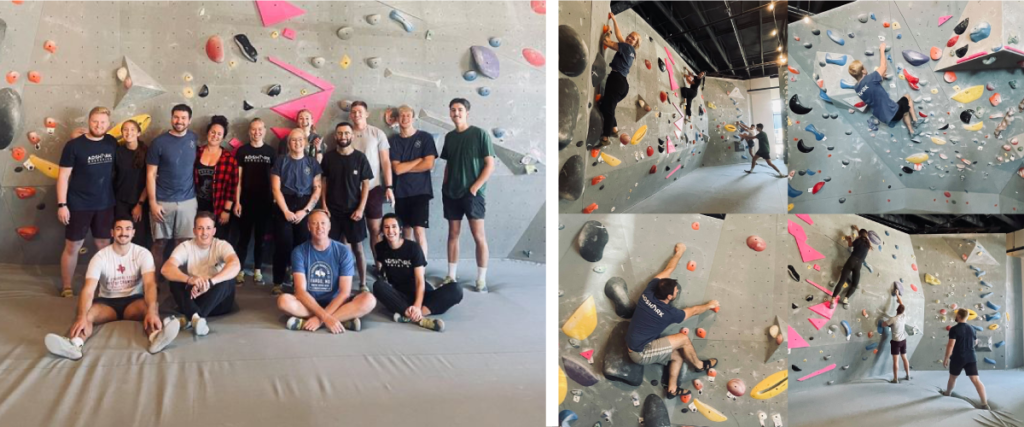 Sharks can climb? Well, kinda.
The AdShark team hosted a company event this past month at Nature of the North in Moorhead. After an afternoon of climbing and falling off of their rock climbing wall, the team decided to call it quits and get a beer at Swing Barrel Brewing in Downtown Moorhead, where we all agreed that we're better off in the water than on the rock wall. Thanks for hosting us, Nature of the North!
5k!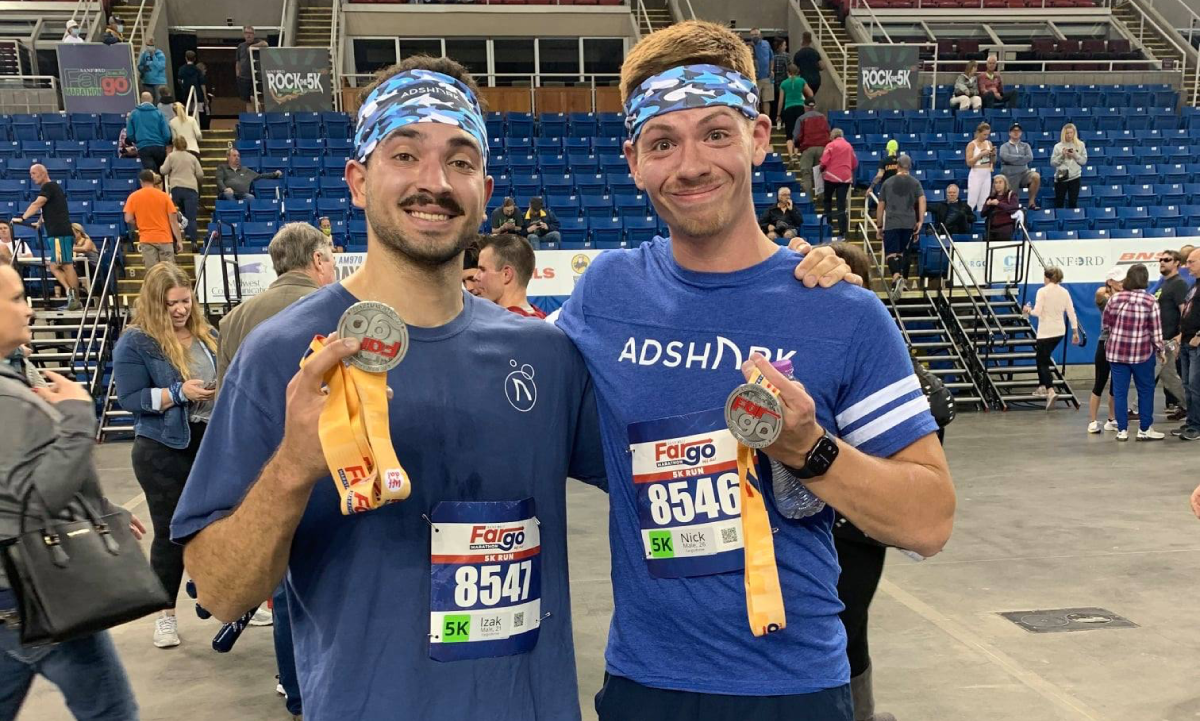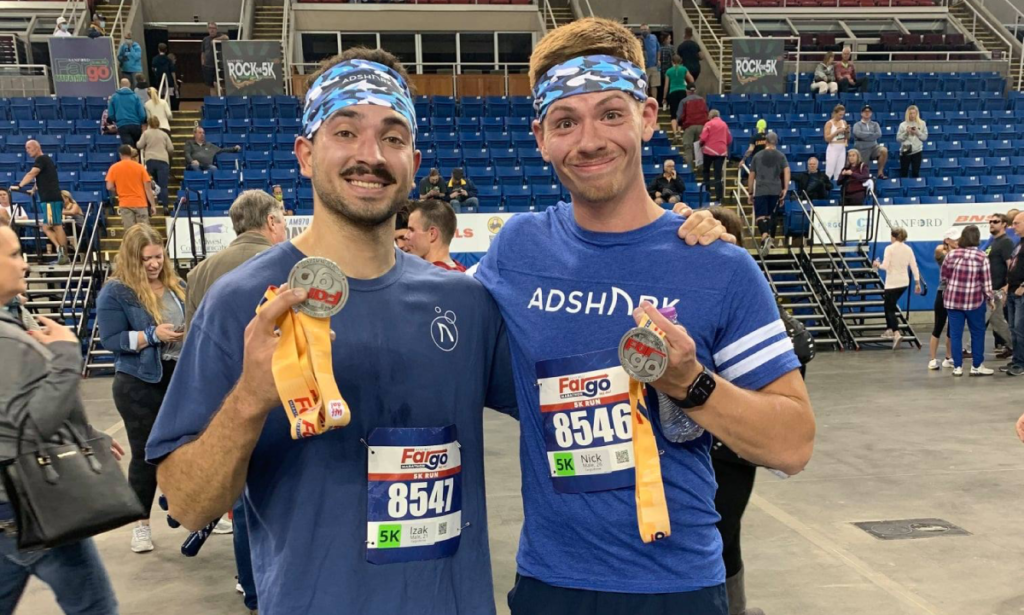 As if the rock climbing event wasn't enough physical exertion for the month, Nick Due and Izak Moleterno from our creative team wanted to represent AdShark at the Fargo 5k! Thanks for rocking your AdShark swag, guys!
We're Hiring!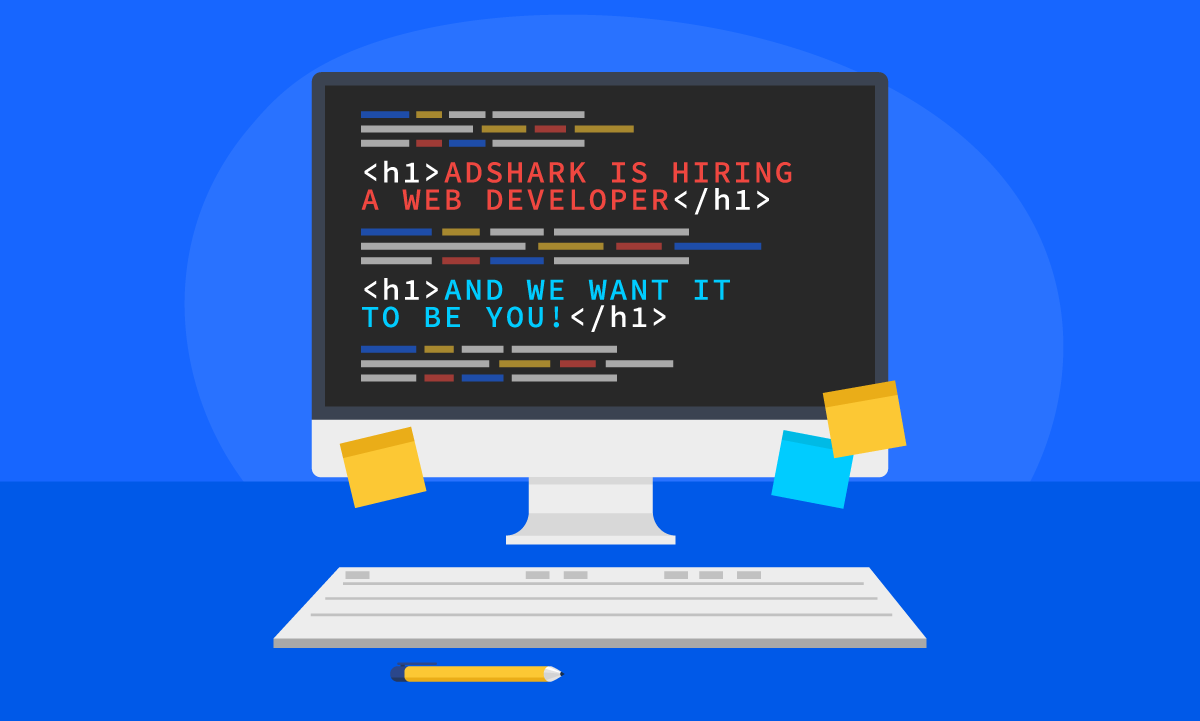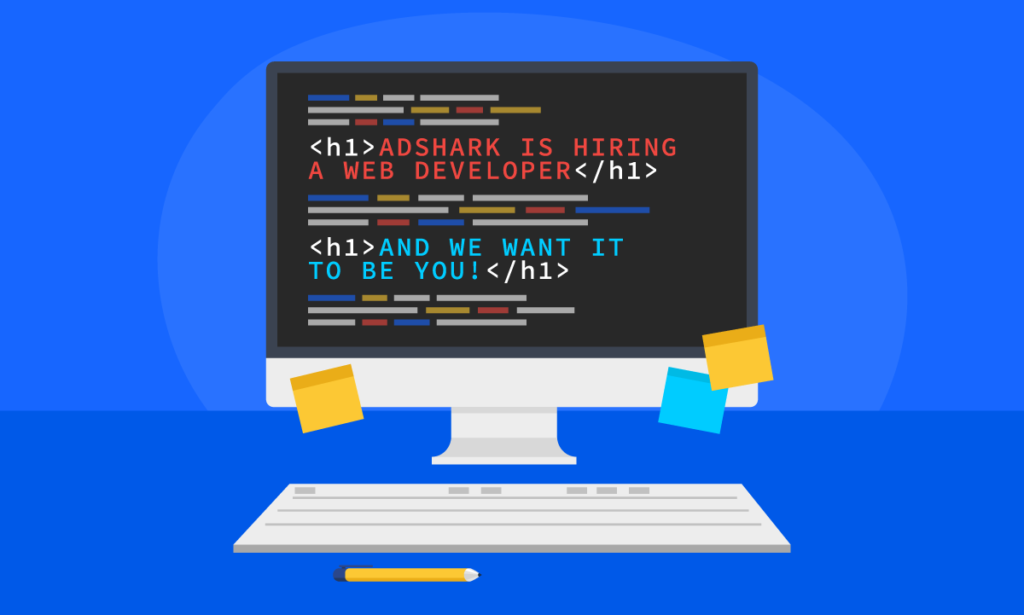 Do you want to love your job?
Do you want to join the best digital advertising agency in Fargo?
Do you have experience working with HTML, CSS, SCSS, Javascript, React, Node.js, or Express?
If you answered yes to these questions, chances are you would be a great fit for our team! We're currently seeking a Web Developer to assist with developing websites using primarily BigCommerce, Shopify, and WordPress. If you think you're the person for the job, be sure to check out our careers page and apply today!
Creative Feature: Stunt Puppy!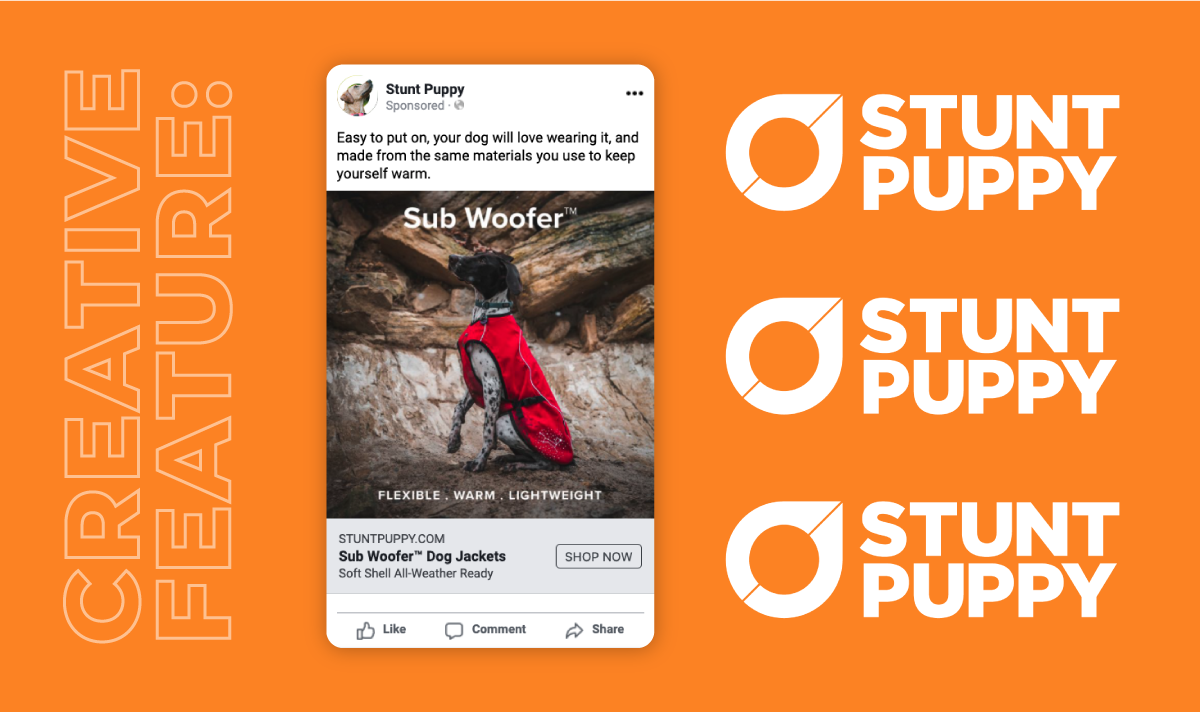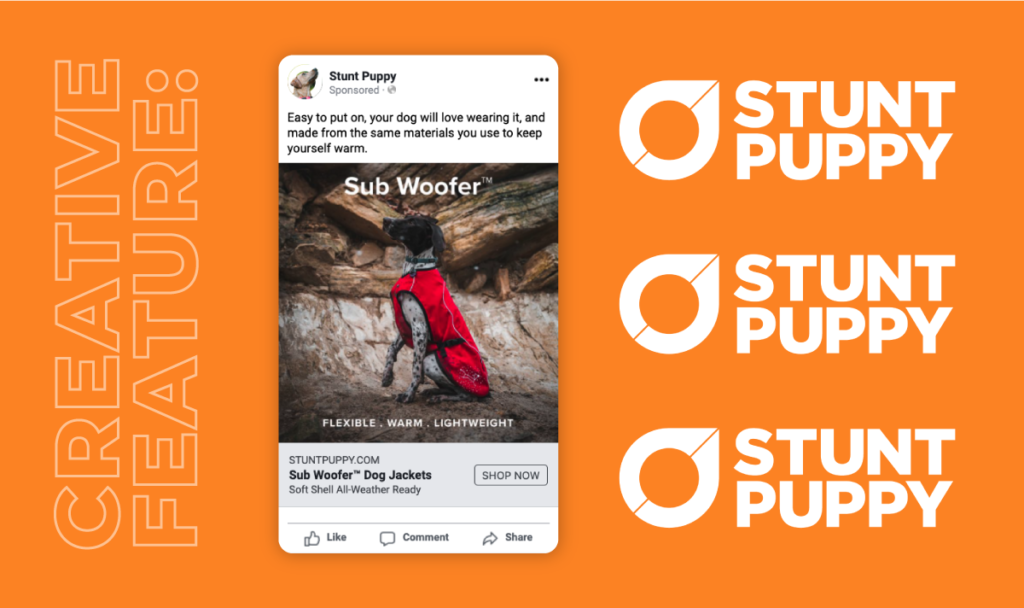 This month's creative feature is for Stunt Puppy. Stunt Puppy is a Minnesota-based company that makes dog collars, leashes, harnesses, lifejackets, outerwear, and more designed for dogs who love the great outdoors. By giving your dog the gear they need to stay safe and comfortable, we give them the ability to join us on any adventure we can think of!
While I'd love to go on about showing your dog some love by dressing them in Stunt Puppy's products, I think I better turn it over to Digital Creative Designer Sam Carver to tell us about her inspiration and intent for this ad:
"Stunt Puppy is a high-quality brand and I wanted to show that through this ad. Their outdoor jackets are top-tier, so I decided to take a more simple/modern approach to the image to showcase the product instead of covering it up with graphics. I found inspiration through the brands North Face and REI to help bring in the 'high-quality gear' vibe I was looking for in this ad."

Sam Carver, Digital Creative Designer
Thanks for sharing, Sam!
The Shark Wave Channel for September 2021
Are you looking for some good sweater weather music to jam out to while you carve pumpkins and rake leaves? Look no further. The AdShark team put together a playlist with only the essentials for you to have a great start to your Fall.
Thank you for reading this month's #SharkSwim recap! Remember to give us a follow on Instagram, Facebook, LinkedIn, and Twitter and come back next month for more celebrations, stories, funny videos, and hot playlists!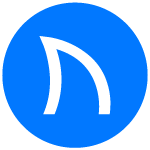 Ready to grow FASTER? Let's Talk!
Interested in having us help you grow?