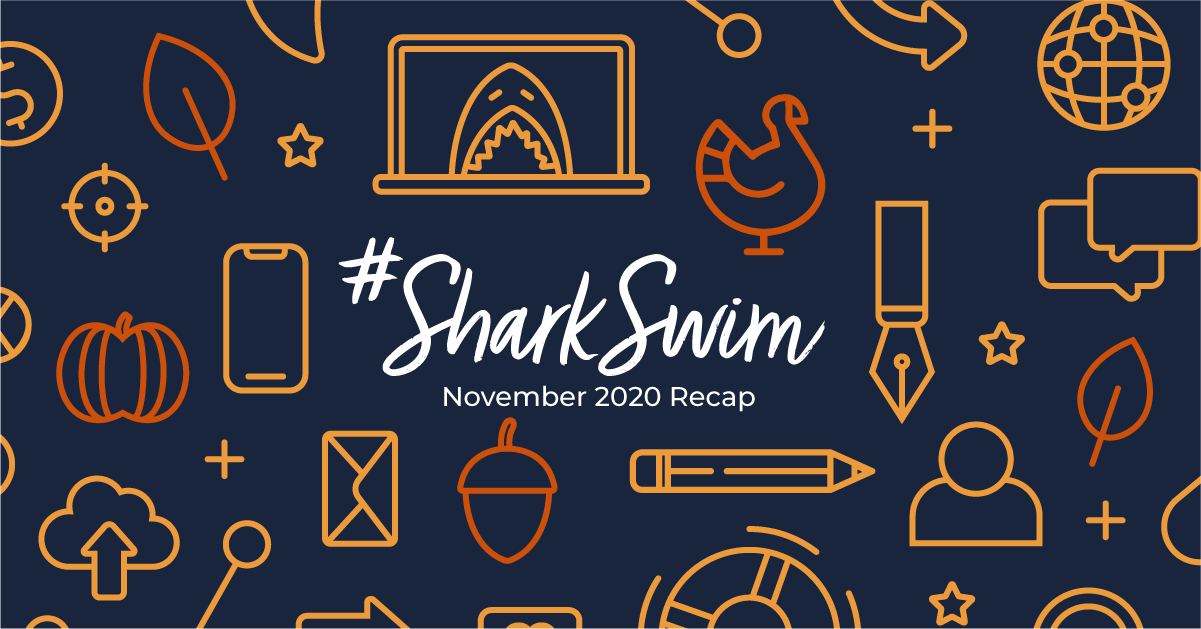 #SharkSwim: November 2020 Recap
In the words of Ned Stark, "winter is coming." In the words of our team members in Fargo, winter is already here! November brings about a flurry of emotions for us: gratitude around the start of the holiday season, fatigue due to the shortening of days following daylight savings, and excitement as we prepare for the busiest season of digital advertising campaigns. Though 2020 has deviated from the norm in many ways, we feel thankful for the busyness of our workload and for having a team of marketers & creatives that are willing to lend a helping hand to one another.
This is officially our third #SharkSwim blog, and truthfully, it crept up on us a bit. The month of November seemed to breeze by so quickly that we barely could recollect what happened during this month. Thankfully, we've gotten more diligent about keeping our notes throughout the month (special shoutout to Asana). The month included birthdays, new clients, a social media record, a new internal campaign, and some great music, all of which will be featured in this article. Grab your snorkels, friends: it's time to go swimming!
Aubrey Turned 26 Years Old!
I remember when I was 26 (okay, it was like six months ago). Our very own Aubrey Hovland, a digital marketing strategist on the AdShark team, celebrated her big day on November 29th. Birthdays during a pandemic are a little more difficult to celebrate, but Aubrey still made the most of it. She was quoted saying she's excited to be "past the quarter life crisis."
Aubrey spends her days at AdShark working on PPC campaigns and communicating with her clients, but also has some hidden talents (that I only recently learned of). She has an extensive background in music (trained in both piano + french horn) and still plays the piano for fun when she has the time. If you stick around our social media channels long enough, maybe you'll see a future video of Aubrey playing some tunes for us soon. Happy birthday, Aubrey!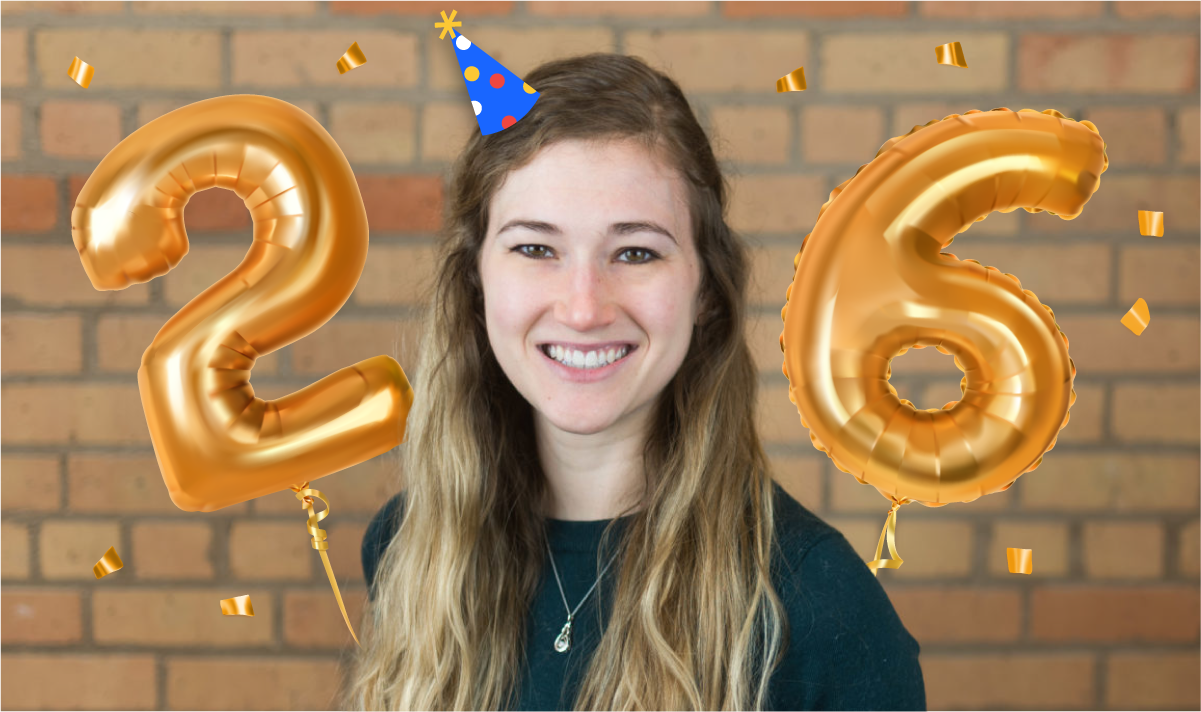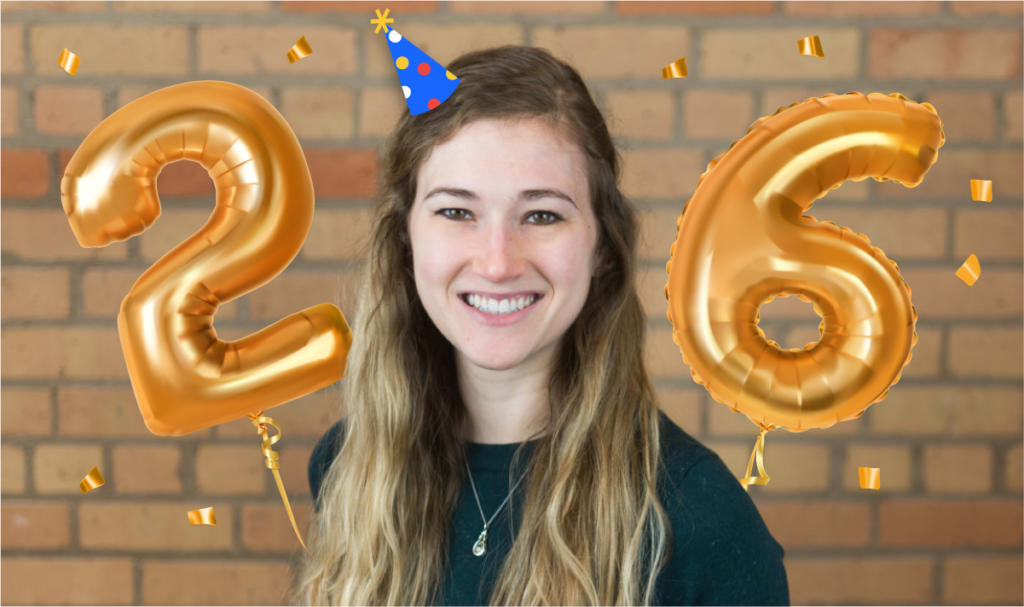 We Put a Beard on a Shark and Broke a Record
Okay, so it was just an internal record, but still the headline stands. As we've started to get more active on our Instagram account, we continuously are looking for content to keep us relevant and fresh with trending hashtags. Each November #NoShaveNovember gets a lot of love from the beard-donning community. Since none of our employees have a beard to display, we decided to get involved by throwing a photoshopped beard onto a great white shark (credit to Christina for making such a realistic shark beard).
To our surprise, this post (with no help from an advertising budget) had a reach of 5,393 and earned us 40+ additional Instagram followers. Since we began tracking our post engagement, this is a record for our Instagram account and in the year of 2020, we need obscure reasons to celebrate. Follow us on Instagram for more cheeky (and occasionally serious) content.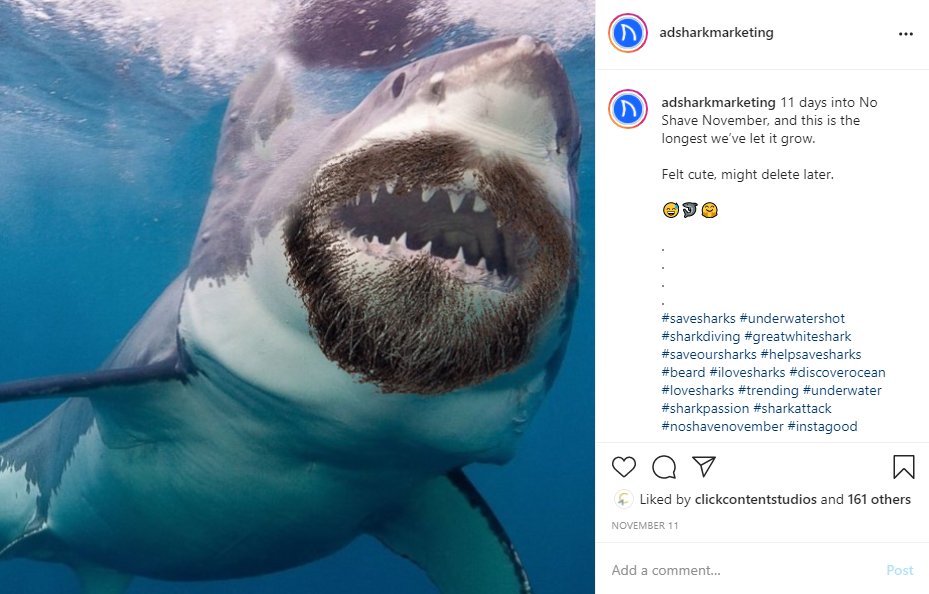 Our #ShopSmall Campaign Worked to Raise Funds & Support Local Businesses
We have the pleasure of working with a variety of small businesses across the Fargo-Moorhead area and beyond, and wanted to think of a neat way for us to promote "shopping small" this holiday season. Small business owners have faced an incredibly challenging year, which made it even more important for these businesses to have a profitable Black Friday, Small Business Saturday, and Cyber Monday this year.
Our team built out a custom landing page and invited our small business, e-commerce clients to preview a few of their products they're looking to push over the holiday season. We also put UTM URLs on these product listings, so when somebody clicked through from our page to the client's page, we could track what orders originated from the "/shopsmall" AdShark webpage. We then used Facebook Ads to help boost up the traffic and get new eyes on it. For every order that we could track, we vowed to donate $10 to the Great North Pole, a local charity that is providing winter gear to children in need in Cass & Clay counties.
We were able to send back a donation of $200 to Great North Pole, and were also excited to help highlight some great gift options sold by local small businesses. We'll look forward to finding more ways to give back to the community and help raise up our clients through future campaigns.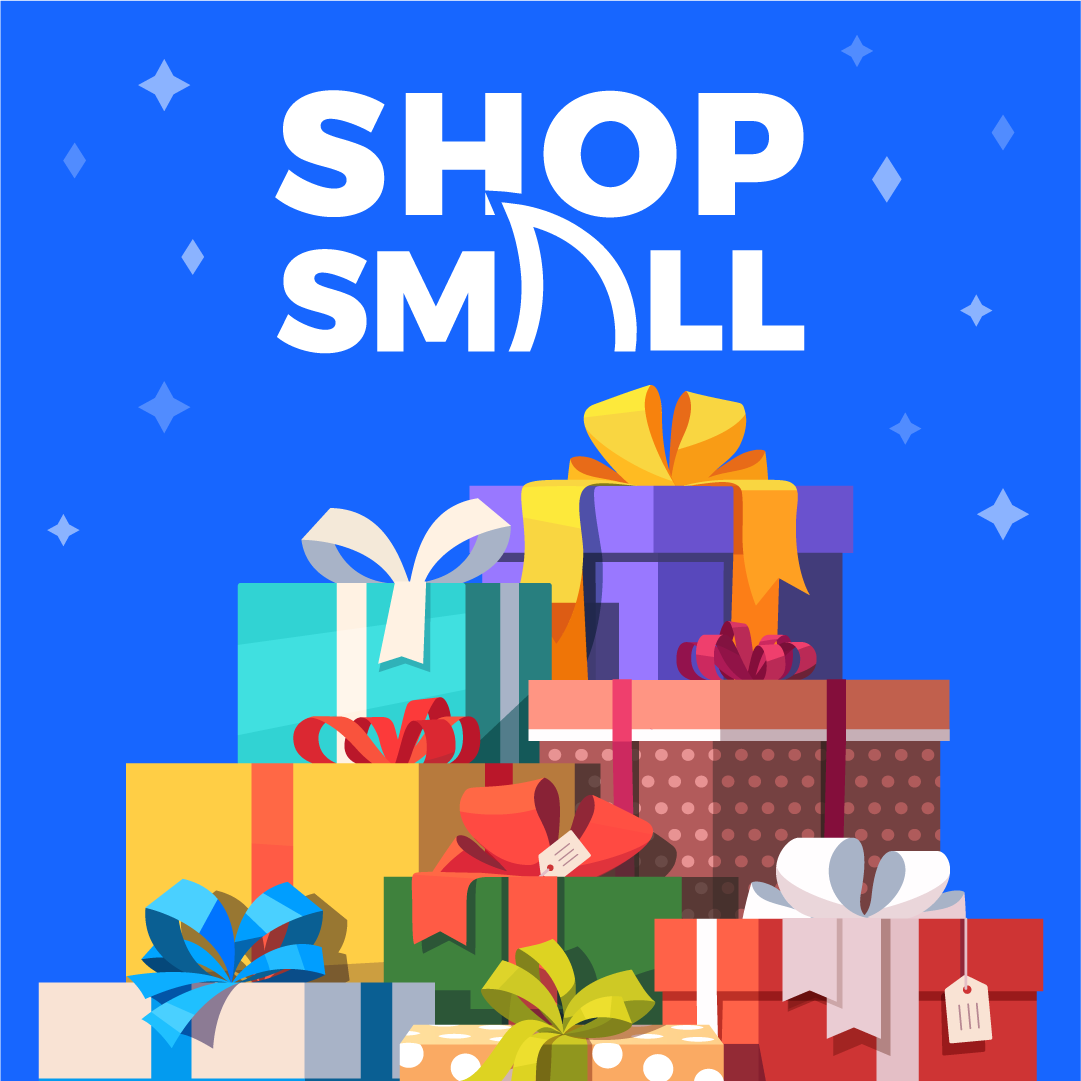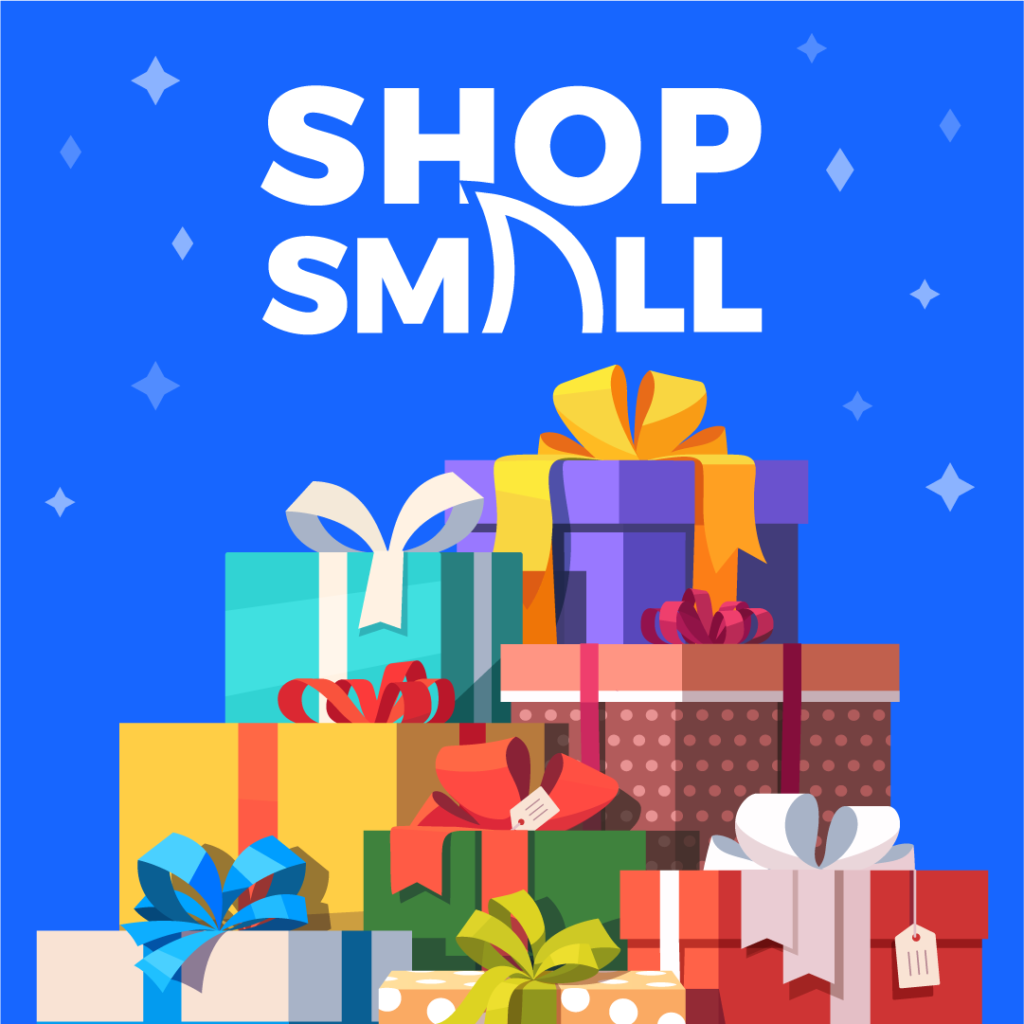 Selling An Outdoor Dining Experience with Crave & West Acres
We've had the pleasure of working with our new friends at West Acres during this holiday season on both some paid social and paid search campaigns. One of the ad sets we worked on through Facebook and Instagram was helping to promote a unique, outdoor dining experience at Crave. Using some great imagery provided by the West Acres team, we helped develop the copy and handled the ad placement and targeting. The Fargo-Moorhead area must have been itching for a fun winter activity, because this experience sold out so fast we had to stop the ads quite a bit earlier than their original end date. Thanks to West Acres for being such a great client and trusting us to help their digital marketing efforts!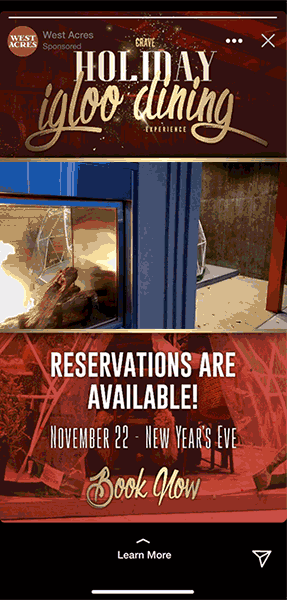 Celebrating Thanksgiving
It was a rather unconventional Thanksgiving for every one of our team members, but we had the opportunity to enjoy a couple of paid holiday days this past Thursday & Friday (thank you, Rick & Sean!) and were able to eat some pretty amazing food, while enjoying some well-deserved rest. Here are a couple of pictures that team members captured on their Turkey Day: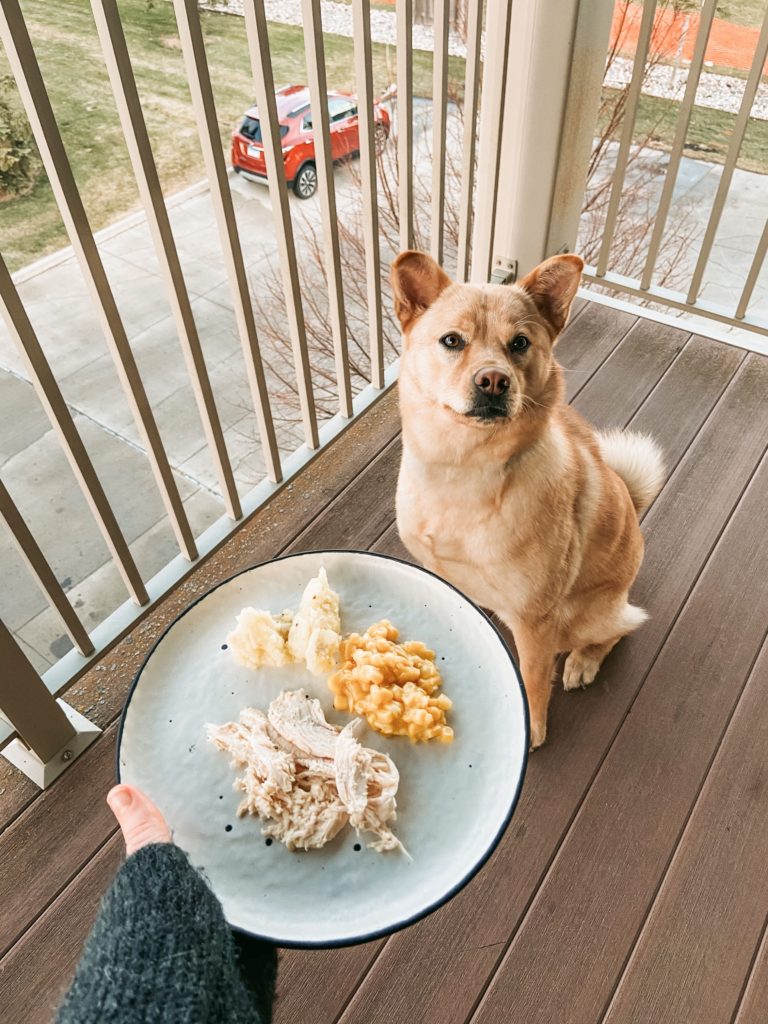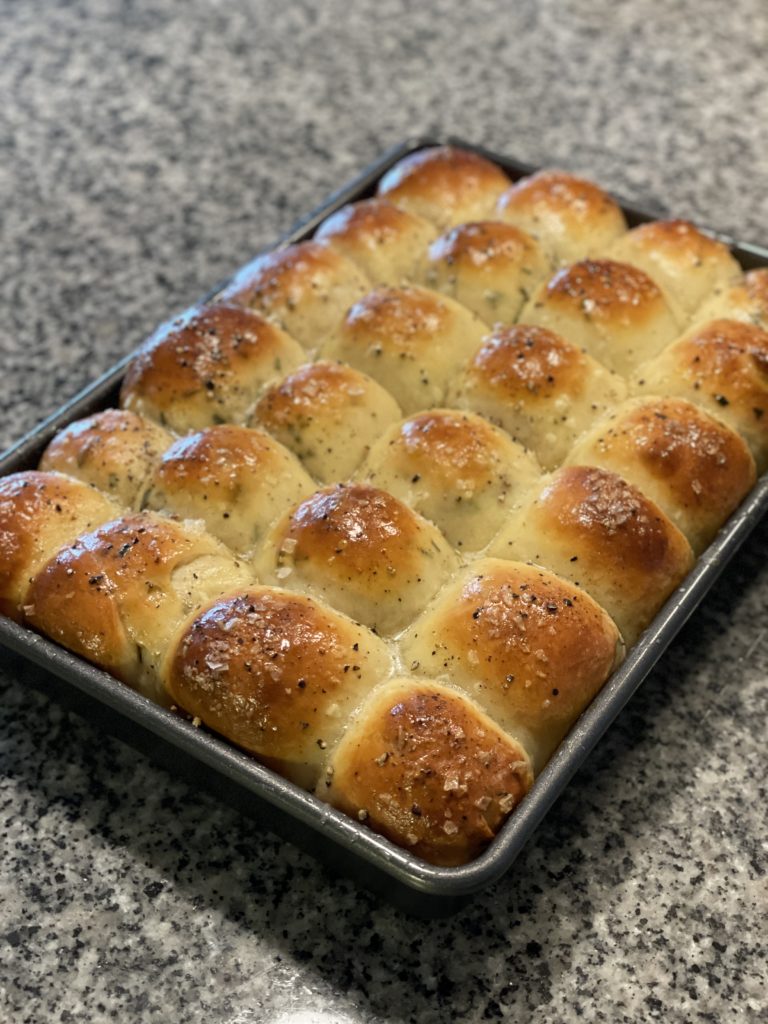 It's easy to get lost in the things that haven't gone our way this year, but it was nice to have a day to reflect on the things we are thankful for. From a company standpoint, we're beyond grateful for all of our clients and employees who have helped us retain our growth this year. We hope everybody else had a safe & special Thanksgiving Day, as well.
The Part Where I Promote Other Blogs
If you don't actively visit our social media pages or search for the things we're posting about, you may have missed some gold… or silver. I'd like to think these are gold, though. We spent our November writing about how trade industries (plumbers, electricians, repair services, etc.) can use Google Ads to help grow their leads, and the SEO benefits of acquiring more Google Reviews. If you have any interest in learning more about either of those topics, please follow the links below:
The 'Shark Wave' Channel for November 2020
I think you'd be hard-pressed to find a wider range of musical interests than you find on our team – we've got everything from Noah Cyrus to Donovan Woods and Billy Joel featured in this month's "Shark Wave." It's our third straight month of putting together a joint Spotify playlist that hosts the music our team has been listening to when working on client ads, and I feel like this may be the best one yet. If you're looking for new tunes and can't wait until Discover Weekly or New Release Radar, give this a try:
There's officially only one more month to go in 2020, and we wholeheartedly wish you the best in December. We're excited to have a chance to work with you on your next ad campaign, or just interact with you on our social media channels. If you have any ideas for things you'd like to see in the next "Shark Swim," please let us know! We hope you have a great December, and will check back with you soon.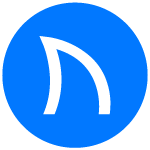 Ready to grow FASTER? Let's Talk!
Interested in having us help you grow?