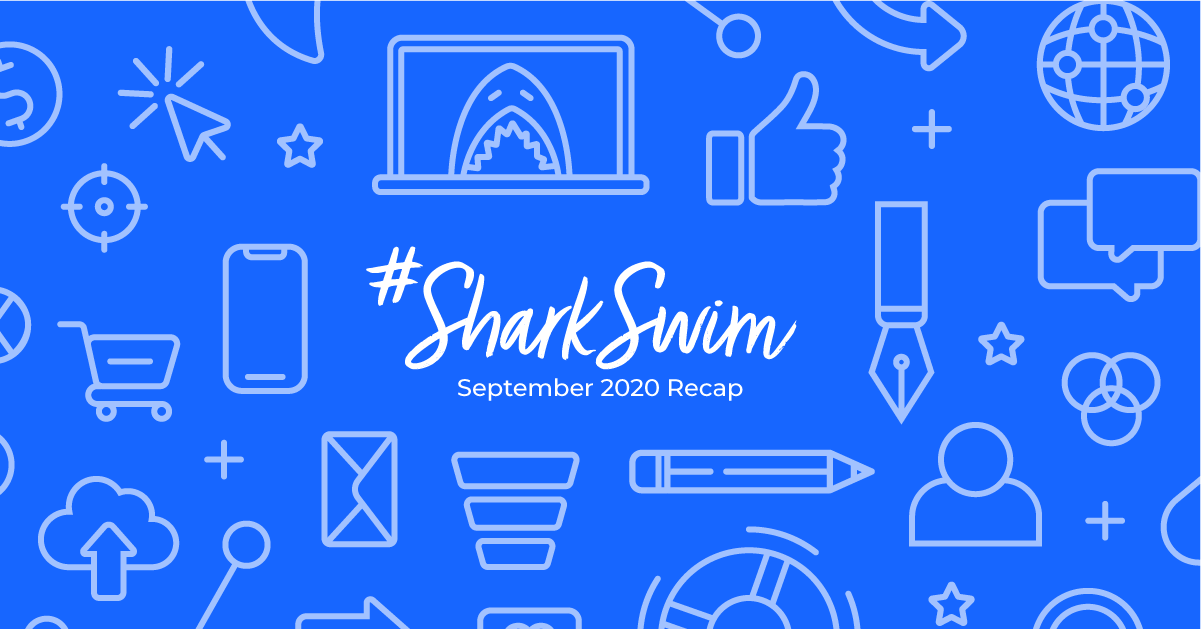 #SharkSwim: September 2020 Recap
Leaves are changing colors, football is back on the TV, and everybody's favorite pumpkin spice lattes (or, "peh-sells," as @AdSharkNick refers to them as) are back. September has always been a month characterized by nostalgia; something about the changing of seasons inspires us to reflect on childhood memories of heading back to school, picking apples, and jumping in piles of leaves. In the spirit of reflection, today's blog will involve us looking back on the month of September as it relates to the happenings at AdShark.
The #SharkSwim will be a monthly rundown of all of the things of interest that occurred in the last 30 days – including birthdays & anniversaries, fun client projects, culture-related events, and even a look at the music we've been playing. Our team has been hard at work in the 'Tank' (our office in the Meadowlark building) as we brace for the busy season that approaches. However, we still made the time to enjoy each other's company and share some moments of fun as a group. Put on your gear… it's time to get swimming.
Nick and Christina Celebrated Anniversaries
Our Creative Manager, Nick Due, and Digital Designer, Christina Knutson, celebrated their work anniversaries just two days apart from one another. Nick has officially been with the company for four years, and Christina for one year. It's been great to see both of them, who started as interns for AdShark, grow and flourish in their roles with the company.
Nick and Christina agree on just about everything – from their taste in music, to their affinity for Blackbird Pizza. So, it was only fitting for us to celebrate the two of them at the same time with this wonderful photo-op of them singing each other's praises.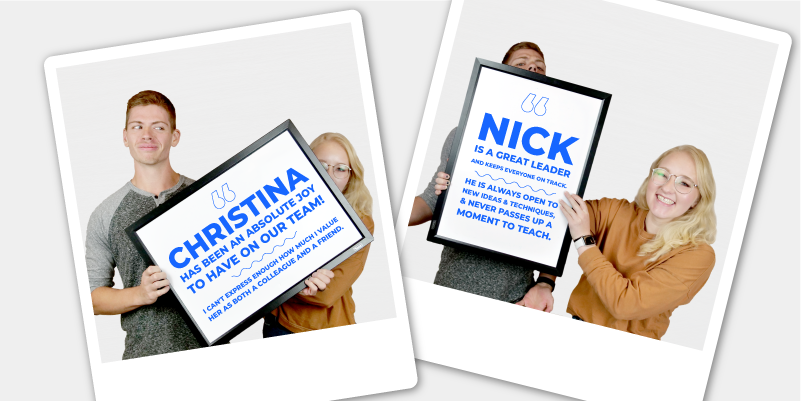 Helping The Village Promote Two Important Services
This past month, we were able to help The Village Family Service Center with an advertising project that was near & dear to our team, and so many across the world. With a general decline in mental health and increase in substance abuse nationwide due to the pandemic, The Village aimed to increase their advertising efforts related to their services for Alcohol and Drug Addiction and Mental Health Counseling.
Kelsey (on design) and Eric (on copy) worked with the team at The Village to produce these visual ads to a wider audience through the Google Display Network (in addition to the Facebook campaigns we started running last month). If you or someone you know are struggling from addiction or require mental health counseling, we would encourage you to head over to TheVillageFamily.org to learn more.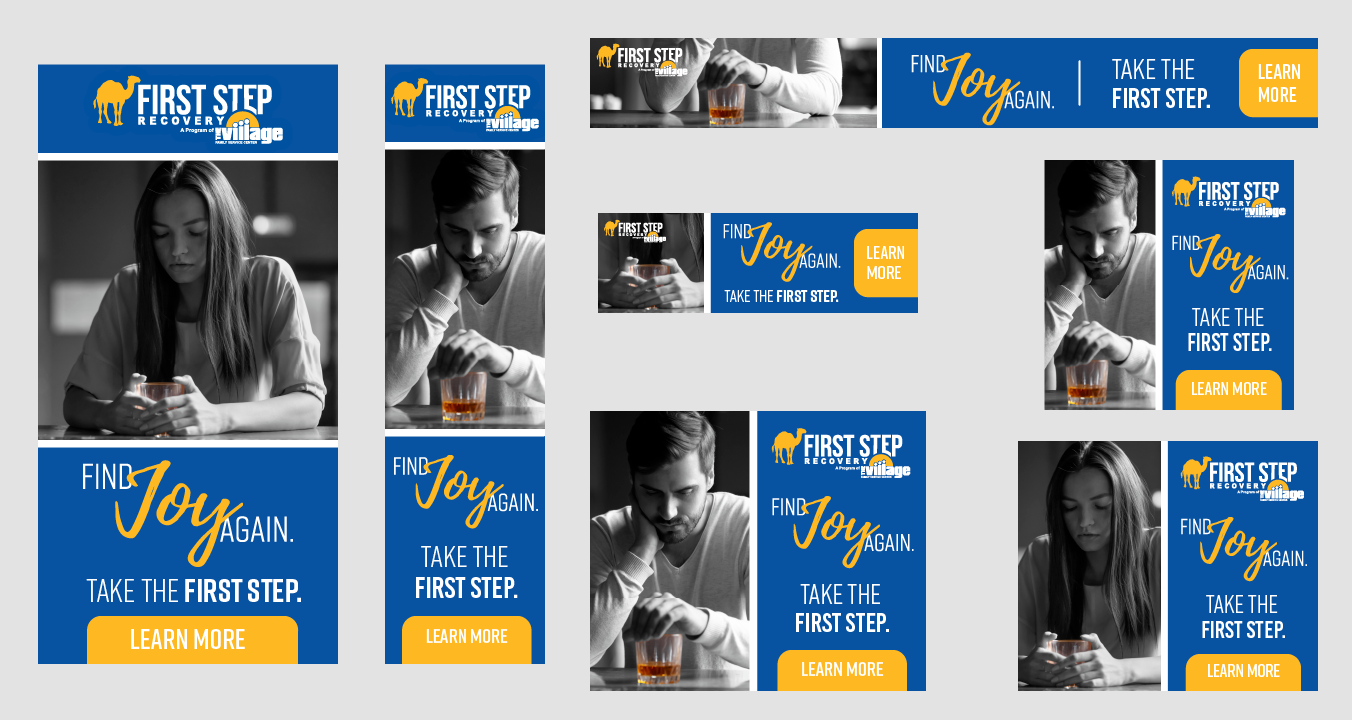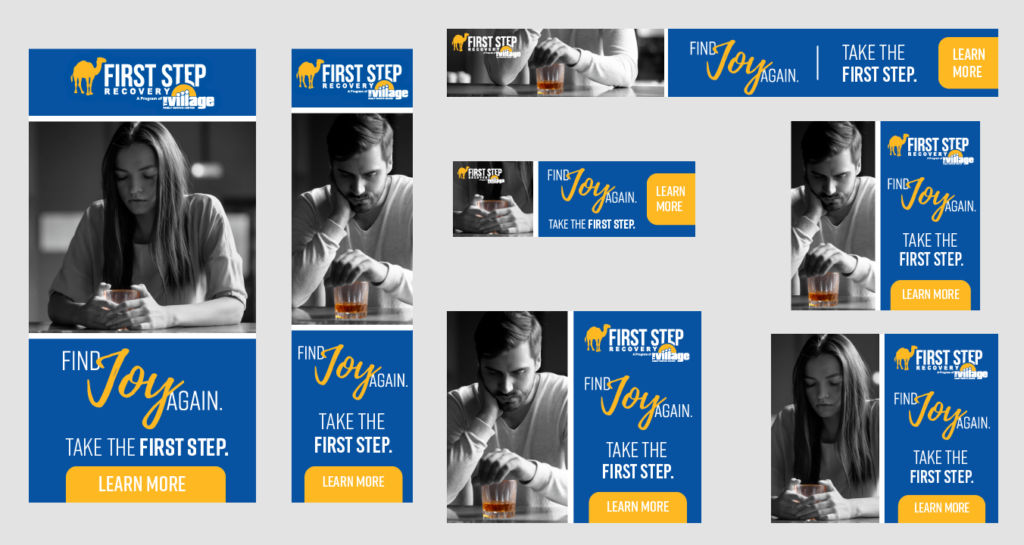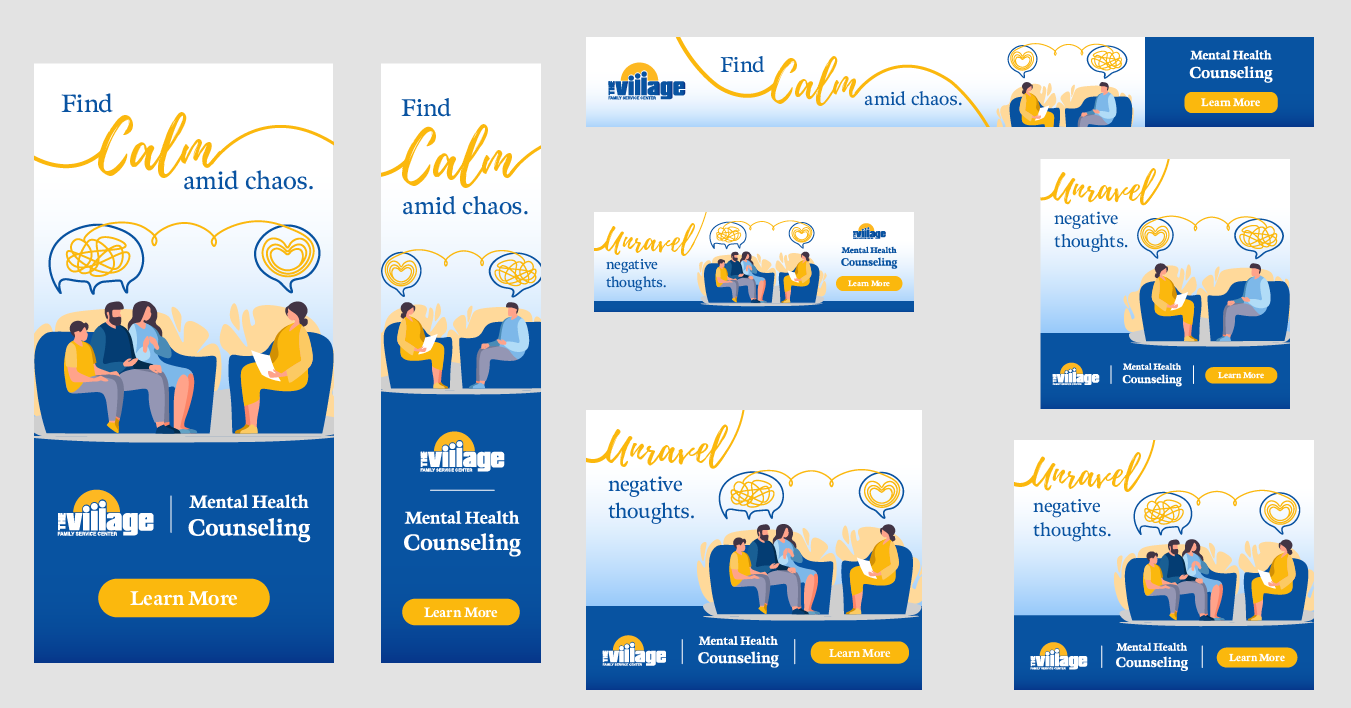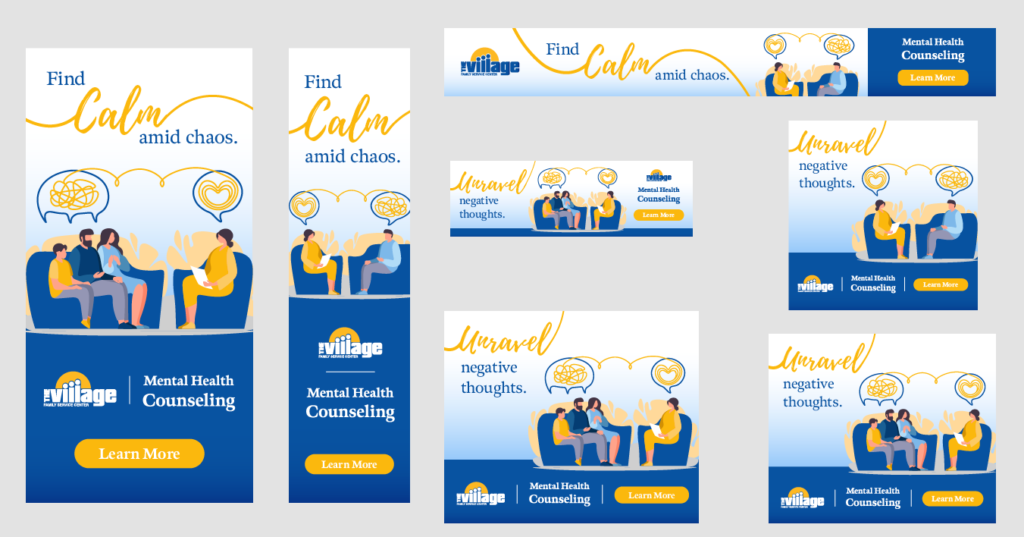 Just FORE Fun, AdShark Went Golfing
In the first week of September, six of our team members got together after work to go play a round of golf at Prairiewood. We divided into two teams of three and competed in a 'best ball scramble.' It looked like Team 2 (headed by CEO, Rick Berg) had lost by four strokes, but we later realized he had accidentally counted the seventh hole results twice, and in fact Teams 1 and 2 finished in a tie. The jury is still out on the accuracy of the scorekeeping on both sides. Regardless, any time that we get to hang out as a group is always appreciated by our team… and no houses were hit with golf balls, which was also a plus.


AdShark Receives Finalist Award for Small Business of the Year
In late August, we celebrated being in the final three for the FMWF Chamber of Commerce's "Small Business of the Year" running. The event was held virtually, but our team watched together and were extremely pleased to be mentioned as a top-3 finisher for this honor. Just last week, Casey Sanders from the Chamber's team came in with our new award which you'll now find on the glass table when you enter our office. Congrats to Sagency who took home the first place prize this year!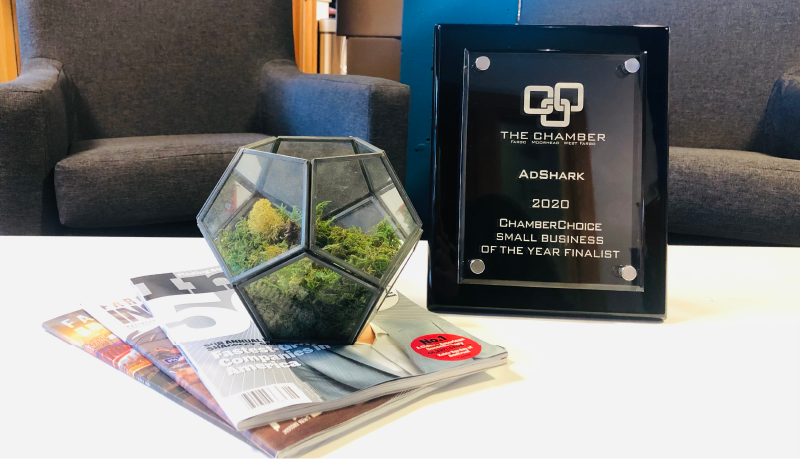 Making a Case for Dealerships & The BigCommerce Plugin For WordPress
How meta is it for me to use a blog article to promote other blog articles that were written this month? Good thing I have no shame. As we continue to roll out more content through our social media & website, we published a couple of new articles in September that may be worth your time. The first is about how we have found ways to effectively generate leads through digital marketing channels for auto dealerships, and the second discusses an experience using the BigCommerce Plugin for WordPress, allowing content creators to sell merchandise through their sites. Compelling stuff, I know. Click below to check them out:
Sharky Tries Out Acting
Our mascot, Sharky, was featured in a couple of fun videos that we put together this past month. First, was a video of Sharky (okay, Nick wearing a shark costume) trying to run some football reps to get ready for NFL Kickoff. Second, we brought Sharky around Oak Grove Park to get in the fall spirit. Where will Sharky be next? Rumor has it there are additional appearances set for the month of October. Stay connected with us on Facebook, Twitter, Instagram, and LinkedIn to follow him through his adventures.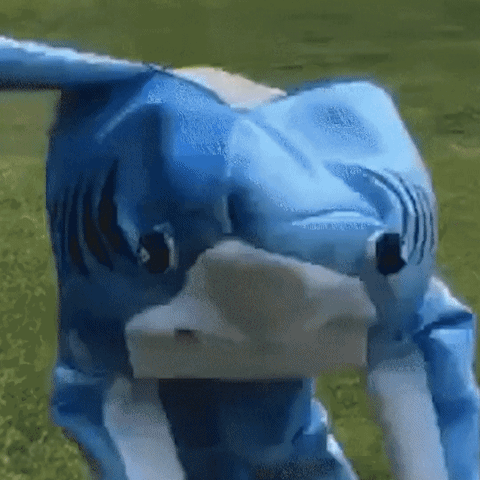 The 'Shark Wave' Channel for September 2020
We're not saying we have the best taste in music, but we're also not not saying that. Our office is filled with a bunch of music lovers who like to pass along recommendations, so we figured it would be a fun feature in these #SharkSwim postings to share with you the music our team has been listening to each month as we prepare your digital ad campaigns. Enjoy!
As another page in our wall calendar flips over and we prep for October, we just wanted to pass along a genuine 'thank you' to all of our existing clients, employees, and friends from the community who have helped make September a great month for our crew. We're aware that there's a lot of chaos going on in the world around us, and having the opportunity to stay busy at work is a great blessing. We're excited to see what comes our way in October!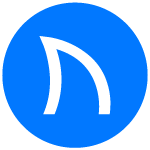 Ready to grow FASTER? Let's Talk!
Interested in having us help you grow?