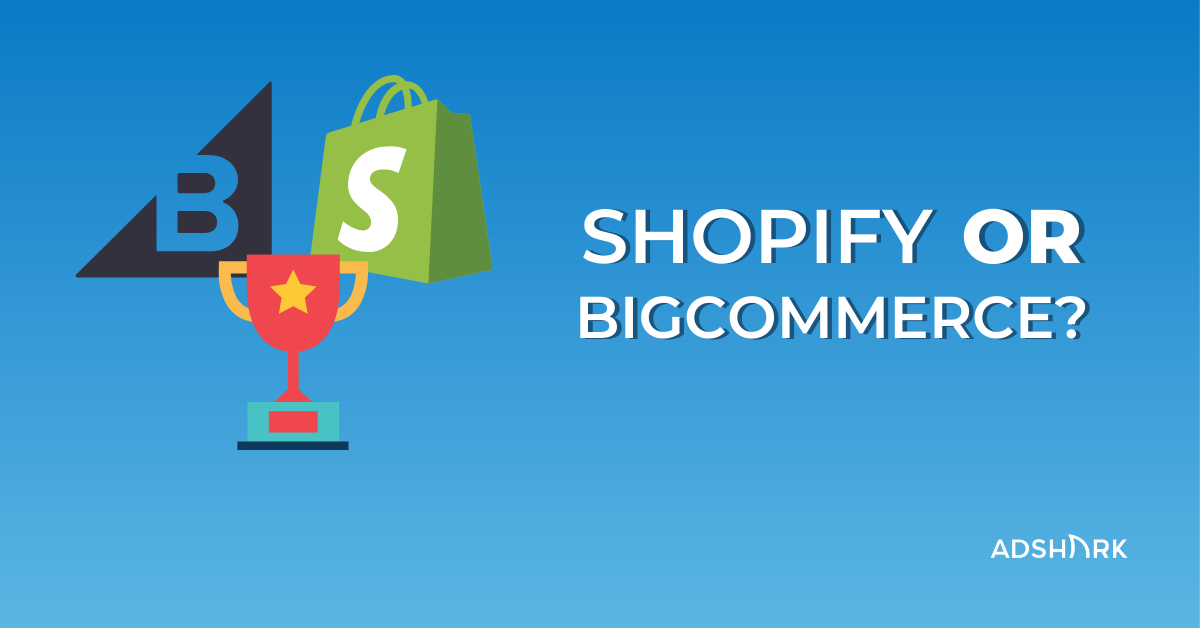 Shopify VS Bigcommerce: E-commerce Platform Comparison
Launching an e-commerce store means having to make a lot of decisions, including the right e-commerce shopping cart service. Two of the most popular e-commerce platforms are Shopify and BigCommerce.
Both platforms offer many of the same features and services, making it difficult to decide which one is right for your online shop. The truth is both Shopify and BigCommerce are solid options. But there are slight differences between the two that make each a better fit for specific scenarios.
3 Important E-commerce Platform Decisions
1. Hosted vs. Self-Hosted
The main difference between using a self-hosted and hosted platform is the features and services you get. Self-hosting isn't as costly as a hosted option, but, as they say, you get what you pay for.
Self-hosting gives you the flexibility to select one of the many open source e-commerce platforms available on the market, as well as the hosting service of your choice.
A popular example is using WordPress with the WooCommerce plugin as your e-commerce platform. However, you will need technical knowledge to install it correctly. You won't have much for support services and will need to troubleshoot most problems yourself or hire a developer.
A hosted platform is the simpler route and what we typically recommend to set up your shop. The software itself, shopping cart, hosting of your site, and customer service are all included in your package.
It's basically eCommerce in a box. The main benefit of a hosted solution is getting to use a platform that has been and is currently being used by thousands of other shops. You'll be benefiting from all the features and functionality that have been built, tested, and nearly perfected.
Of course, buying into this slew of services is bound to cost more than a self-hosted e-commerce platform and can sometimes limit customizations. But for the vast majority of businesses, a hosted e-commerce platform is the right solution.
Integrations
There are thousands of digital tools for e-commerce businesses. It's important to ensure that what you're currently using is compatible with the platform you choose. No need to reinvent the wheel.
Web Design
Web Design can take weeks, months, even years to build a custom, solid front-end. Both Shopify and BigCommerce offer many designs and themes to choose from. Either platform will sufficiently service 90% or more of e-commerce businesses. However, this is your business and you don't want sufficient, you want perfect.
We have extensive experience designing and developing with both of these shopping cart services.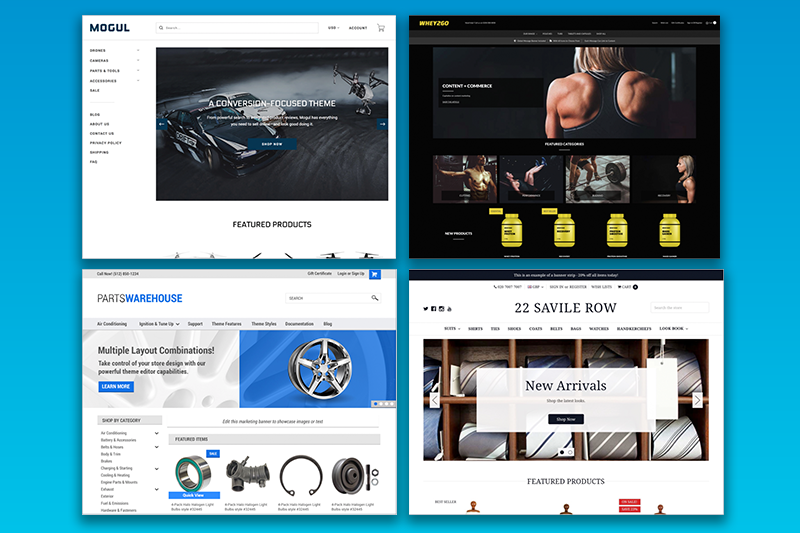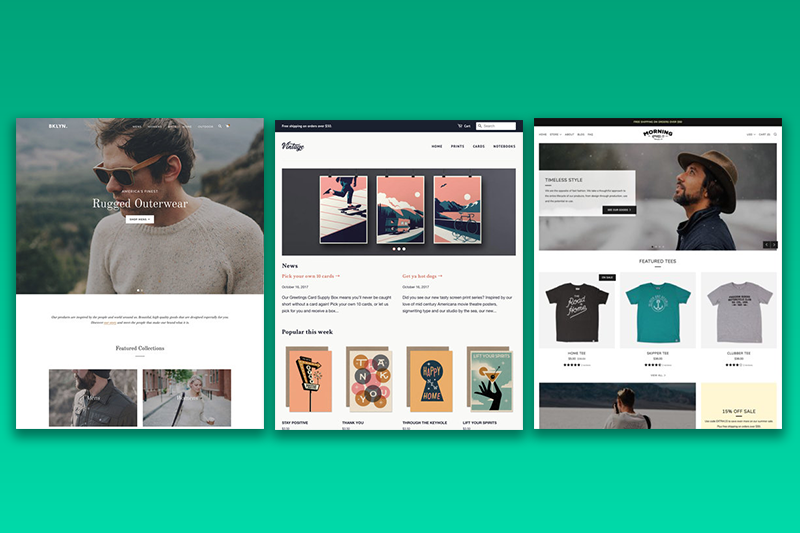 In this article, we break down different features offered, pricing plans, customization possibilities, and SEO capabilities for both BigCommerce and Shopify. We rate each area out of 5 shopping carts, with one shopping cart on the low end and a 5 shopping cart rating as the best available.
BigCommerce vs Shopify: Ease of Use
When we look at the ease of use in Shopify vs BigCommerce, we mainly look at the main dashboard or admin. And they look incredibly similar.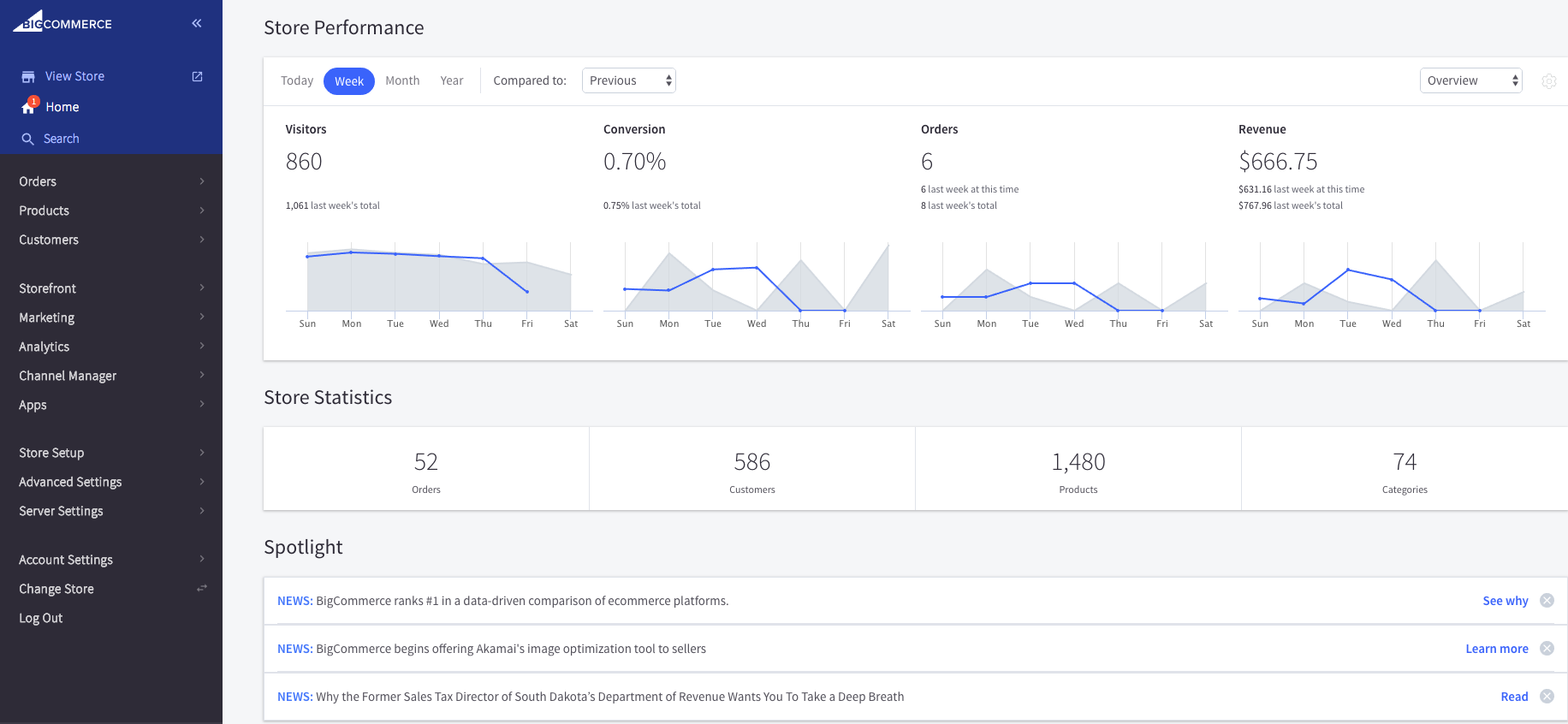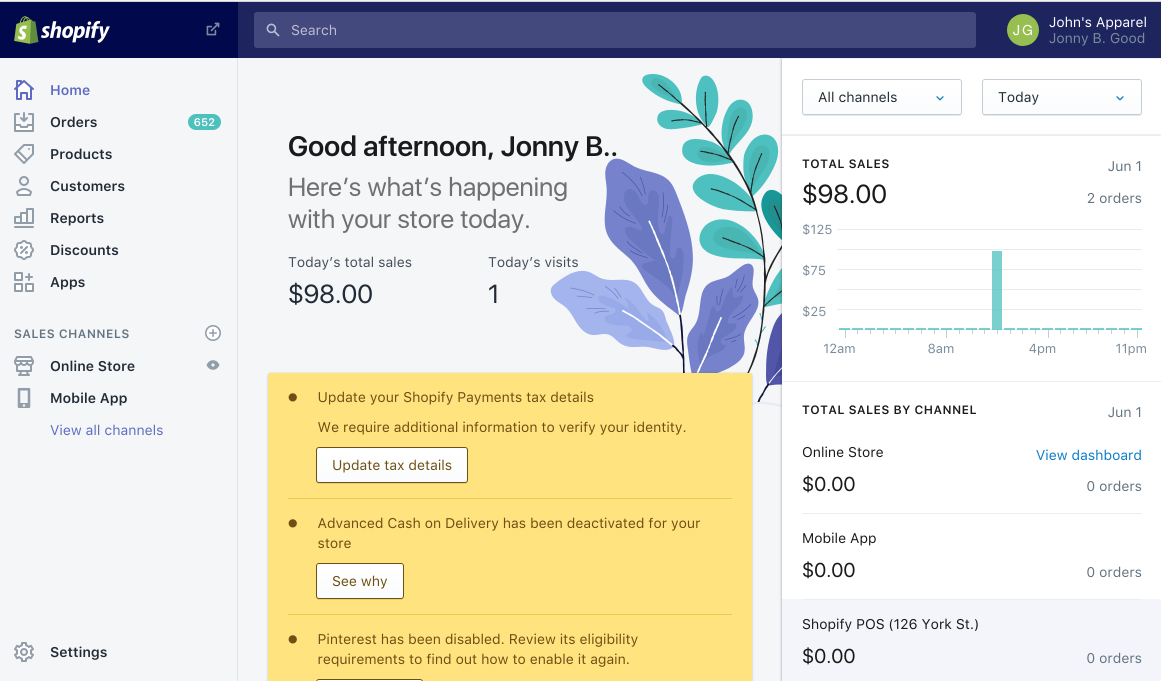 Both display a menu on the left side for accessing reports, adding products, and most any action you will need to take. The rest of the screen is populated with up-to-date stats or your most common actions, like editing products. This style is almost identical to other services like WordPress or Squarespace.
Shopify Ease of Use Score:

Because of the limited functionality out of the box, Shopify requires more installed apps before most stores are up and running to the owner's preference. This means digging into the extensive App Store, comparing, and scoping out a price.
But overall, Shopify is one of the easiest merchant experiences you can find. Shopify is dedicated to the ease of use for its customers. Although, some of this simplicity is due to Shopify having fewer options and less out of box customizations which is typically why Shopify works well for beginners and why we're giving Shopify a whopping 5 out of 5 shopping carts for ease of use.
BigCommerce Ease of Use Score:

For most users, BigCommerce will have more of the functionality needed to get started. And when it comes to maintaining and operating your store, Bigcommerce will be easier to navigate for the slightly more tech-savvy. You'll see this distinction throughout this e-commerce platform comparison. But because of this slight learning curve, we're knocking off half a star for Bigcommerce ease of use.
BigCommerce Vs Shopify: Updating or Creating Products & Categories
The way you structure your site is one of the most important steps you'll take in setting up your shop. It's something that you'll continue to maintain as well. Your product categorization has an impact on search engine optimization (SEO) and customer conversions. So of course, this product categorization is one of the key selling points for an e-commerce platform.
Shopify Products & Categories:

"Automated collections" as Shopify calls them, or "smart categories" as they are often referred to, are a feature that allows you to categorize your products right in the admin and is based on the info you have provided about each product. For instance, if you want a category of all your red products, create an automated collection to include every product tagged "red" or with the word "red" in the title.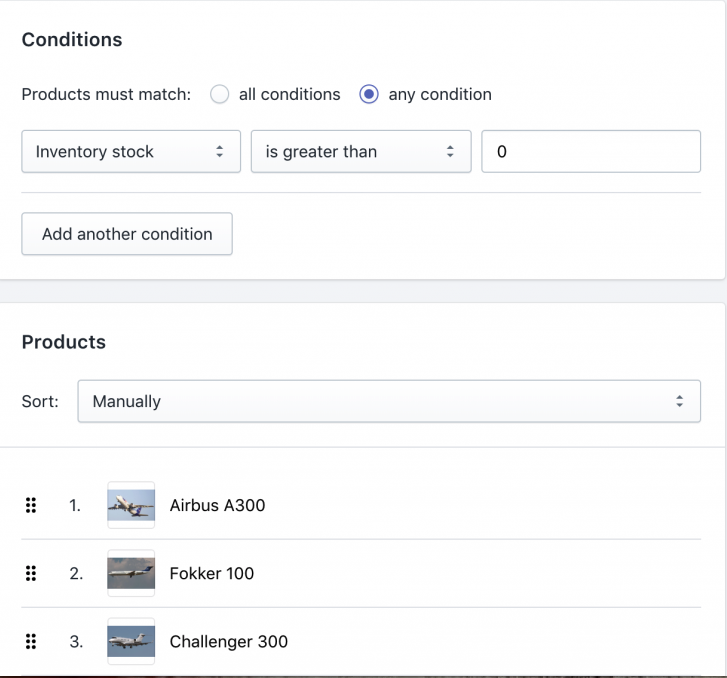 This is an incredibly simple method of organizing your inventory, and for many, it makes Shopify the preferred platform, and why we're giving it 5 shopping carts for product categorization. However, this requires real dedication to consistent naming conventions, and relying on your product titles for categorization does not always make the most customer-friendly or SEO-friendly products.
BigCommerce Products & Categories Score:

In Bigcommerce, product categories have to be applied manually. There is a bulk edit option to expedite the process, but it hardly works in a bulk manner and many would argue Shopify has the advantage in this area. Typically when categorizing products of any scale in BigCommerce one would use the product import feature through a CSV file. This feature is a must however, it can be complicated to get it right especially if you're not very skilled in Excel.
One thing to consider on either platform is the SKU or product variant limit. Bigcommerce has the advantage here as they allow for an unlimited number of variants UNLESS you are tracking inventory by variants then the limit is 600. Shopify however, without any additional 3rd party apps is limited to only 100 products variants regardless of inventory tracking. So if you have more than 100 product variations, and you don't mind taking the time to input them all, Bigcommerce will be your best choice. But because that isn't always the case, we have to give BigCommerce a measly 3 and 1/2 shopping carts for product categorization.
BigCommerce Vs Shopify: Customization
Your website is the central aspect of your online presence. Your home page is your front door, and your product categories are your lanes and aisles. Staying competitive means maintaining a modern design and a unique brand identity.
Both Bigcommerce and Shopify offer great professional, modern templates right out of the box. Both offer easy to use features to customize (to varying extents) color schemes, layouts, fonts, etc.
But the last thing you need is to get hours or even days into building out your shop, only to realize your platform doesn't offer what you need or doesn't look how you had imagined.
What can you customize on these e-commerce platforms, and how do you do it?
Shopify Customization Score:

There was a time when you could spot a Shopify site from a mile away. The basic plans were just that – basic. With little branding options, boring layouts, and clunky checkout processes, most of these sites were the epitome of the early days of e-commerce, and as time moved on, these sites did not instill a lot of confidence in customers. But gone are the days of running "just a Shopify site."
Shopify now offers many free themes, and even more priced between $140 and $180. These themes are professional, functional, and beautiful. Frankly, the quality look and feel of these themes is one of the biggest pros for Shopify. Your website will look and function as if you hired the best designer in town, right from the start.
Beyond the editable aspects provided in the admin, further customization requires editing of the code. Shopify is not a platform that expects you to need or want to edit code but does provide for it. Shopify themes use their own language, called Liquid, to better allow for updates to the platform.
As a proprietary language, Liquid is not something most are familiar with. However, many experienced developers attest to its simplicity, and even a novice developer should be able to navigate the code for their own purposes.
But this is further testament to the idea that Shopify is not intended for those with more intense or custom needs. We're giving Shopify a solid 4 shopping carts for customization.
BigCommerce Customization Score:

Through various features and services, BigCommerce is better than Shopify at cultivating an environment more friendly and encouraging to customization. Things like Stencil, a theming engine, allow for professionals to design and develop "beautiful, dynamic, and powerful storefronts" for merchants.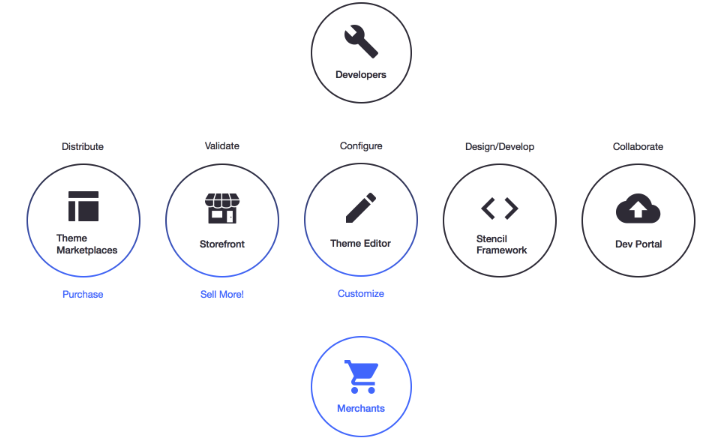 Offering a robust REST API and webhooks encourages custom development on Bigcommerce, which adds functionality and betters the user experience. While most won't need this high-level of customization, the ability to shape your site exactly how you want gives BigCommerce a perfect 5 shopping cart rating for customization.
BigCommerce Vs Shopify: Pricing
The platform you choose is such an integral part of your business, it's almost like selecting a new business partner. Of course, as an important partner, they take their cut. If you're growing, you'll want your e-commerce platform to grow as well.
For many, pricing is the deciding factor in choosing Shopify or BigCommerce. As you can see below, the two platforms' pricing plans are extremely similar. However, both have their distinct Achilles heel. Take a look.
Shopify Pricing
Shopify:

| | |
| --- | --- |
| Subscription Level | Monthly Cost |
| Shopify Lite | $9 |
| Shopify Basic | $29 |
| Shopify | $79 |
| Advanced Shopify | $299 |
| Shopify Plus | Contact for pricing |

Shopify is often listed as one of the cheapest e-commerce platforms around. This is only technically true.
At $9 a month, you can purchase Shopify's simplest plan. Sounds like a great deal, right? Maybe this is exactly what you need. Although, when you take a quick look, and you'll see that the "Lite" plan doesn't even include a web store.
This plan is intended for those that want to use Shopify as their point-of-sale system or for the online shopping cart itself (if you have an online store or website already set up). So while the $9 is the number you often hear toted, it's not the plan that is comparable to most other platforms'.
So what about the Achilles heel? For Shopify, it's their transaction fees. Shopify is one of the very few platforms that actually charge an additional transaction fee. These range from 0.5% – 2% per transaction depending on your plan. Of course, these are waived if you use Shopify Payments as your payment processor versus another option, however, in many cases, it can be helpful to allow other payment options that have a larger customer base such as Amazon Pay.
Shopify Payments itself has its critics. While the majority of customers have positive experiences with the service, some Shopify users report that their store is "not permitted" to use Shopify Payments. The service is also only available in select countries. Because of their added transaction fees and the strange pricing system, we're dropping Shopify down to only 4 shopping carts for pricing.
BigCommerce Pricing
BigCommerce:

| | |
| --- | --- |
| Subscription Level | Monthly Cost |
| Standard (up to $50K annual sales) | $29.95 |
| Plus (up to $180K annual sales) | $79 |
| Pro (up to $400K annual sales) | $299.95 |
| Enterprise (negotiable) | Contact for pricing |
| Shopify Plus | Contact for pricing |


Again, you'll see the plans offered by BigCommerce are highly comparable to those offered by Shopify. Bigcommerce takes the win in this category, providing gift cards, reporting, and live shipping calculations with all plans, features not included in Basic Shopify.
So what's the catch? Well, BigCommerce has revenue-based tiers on each plan and if you exceed the tier for your plan then you're required to move up to the next plan or pay additional fees based on revenue in excess of that tier. While many shop owners may not like the revenue pricing model, tiered pricing similar to this is fairly common practice in SAAS business models. Shopify does not have revenue-based tiers. Overall, BigCommerce ends up on top (if only slightly) by offering incentives at the lower levels, and a cheaper price at the top end. We're giving BigCommerce the edge here with 5 shopping carts for pricing.
BigCommerce Vs Shopify: Integrations, Customization, Apps & APIs
E-commerce stores need a multitude of tools to bring your product from the sourcing stage to net profit, and you've chosen those tools carefully to make your ecosystem work best for you. Both Shopify and BigCommerce offer a serviceable number of integrations, including the big ones like MailChimp, Quickbooks Online, and ShipStation.
But will you be able to integrate your other, perhaps less known tools into your chosen shopping cart? Nothing is worse than a platform that feels like it's trying to sell you yet another platform.
Do your research before committing and check out the Shopify App Store and the Bigcommerce Apps Marketplace to search for your integration or explore the others available.
While Shopify and BigCommerce will be functional for most businesses straight out of the box, both will almost certainly need at least a few apps or other add-ons to fit your shop's needs. The number and type of these apps also vary significantly between the two platforms.
Shopify:

Shopify is perhaps best known for the wide range of integrations and add-ons available to users. We're talking in the thousands. Shopify is more limited out of the box than Bigcommerce, creating the need for this large library of apps. It is also known that Shopify has a much larger user base, meaning a larger pool of developers creating for the platform. This out of the box limitation drops Shopify by half a cart, but overall should have enough apps and integrations to make up for its shortcomings.
BigCommerce:

Currently, the BigCommerce Marketplace offers around 600 apps, add-ons or integrations, nearly one quarter the size of Shopify's library. Note that the base of your Bigcommerce plan will offer more in the way of features than Shopify, requiring fewer of these apps or add-ons.
An area where most developers would agree BigCommerce is a clear winner is within their Application Program Interface (API). The API with BigCommerce is much more comprehensive and developer friendly than Shopify's. This is a critical component if you need to have advanced customizations, functionality or integrate with a custom or uncommon software or solution. This great API gives BigCommerce a perfect 5 shopping carts for apps and integrations.
BigCommerce Vs Shopify: SEO
There are many factors to consider for a comprehensive SEO strategy and some of them are completely off-site. Shopify and Bigcommerce offer similar features in this department and for the most part, meet the majority of SEO best practices. However, there are a few minor differences.
Accelerated Mobile Pages (AMP)
Both platforms offer this Google-backed feature that essentially serves a stripped-down version of your page to mobile users to facilitate a faster loading time, thus reducing all kinds of negative metrics, like bounce rate. Traditionally, this feature is for text-heavy pages like blog posts, but both platforms now offer the ability to format your product pages for AMP as well. One caveat—AMP is a paid add-on with Shopify and included with BigCommerce.
The SEO Basics
Meta descriptions, page titles, headings, and alt-text are all very easy to update on both e-commerce platforms.
Redirects
While managing an e-commerce store, you will definitely need to change page names or categories with updated inventory or to optimize for better conversions. When this occurs, it's an SEO best practice to place a redirect on the former page to tell the browser where the new page is, and pass along the correct "SEO juice." The slight advantage here goes to BigCommerce. While both offer this, BigCommerce gives you the option to automatically generate the redirect. Shopify, however, prompts you to create the redirect.
SEO-Friendly URLs
Google likes URLs that are shorter and to the point. While you can still add keywords to your URLs with Shopify, you don't have complete control. Shopify structures URLs around categorization, placing prefixes like /products/ and /collections/ on all your product and category pages. Bigcommerce, however, easily allows you to forgo these structures and customize or create a short, friendly URL such as www.shop.com/green-hat.
Shopify:

As an e-commerce operator, you'll find most SEO tools you need to optimize your website's search success. But the need to add paid add-ons and a somewhat inflexible URL structure give Shopify a lower rating of 3 and a half shopping carts for SEO.
Bigcommerce:

The SEO features found in BigCommerce are very simple, but again, they cater to users with slightly more technical knowledge than your average shop owner. Because Bigcommerce offers less structure and guidance in their SEO fields, it's best to have an understanding of how they support your search success (H1s, titles, etc).
This and things like free AMP formatting and friendly URLs give BigCommerce an edge in SEO with 4 and 1/2 shopping carts.
Comparing an E-commerce Platform: Shopify vs. BigCommerce
There are endless choices for an e-commerce platform. If you're choosing between Shopify and Bigcommerce you will get a good, solid platform regardless of your decision.
For the most part, they both offer the same base features. And you likely won't notice the differences until you are building your store.
We recommend taking both for a test drive. Shopify offers a 14-day free trial, but you must buy into a plan before that time is up in order to keep the work you put in during your trial. Bigcommerce offers a 15-day free trial, no credit card required.
While we have a preference, we understand that each e-commerce site is going to have its own needs and customizations.
BigCommerce Vs. Shopify: Recommendation
BigCommerce
More often than not we recommend BigCommerce, mainly due to its advanced ability for customizations. We're a marketing agency and like the flexibility to customize something that could improve the user experience or help improve sales. However, both e-commerce platforms are great options.
Why BigCommerce?
If you have any hesitation about Shopify's customization, go with Bigcommerce. This is an e-commerce platform that embraces developers.
Bigcommerce is still an excellent platform for average e-commerce stores that will accommodate your growth for potentially the entirety of its lifespan.
At AdShark, we typically recommend Bigcommerce. Check out how we can help you on your Bigcommerce journey.
Why Shopify?
If you're unsure of what you need, Shopify might be the best place to start. The platform will serve the novice e-commerce proprietor best, considering its incredible ease of use and broad resource base. The downside includes a potentially complicated pricing scheme, which has the potential to get more complicated and expensive with additional apps and add-ons.
The question here is not whether Bigcommerce is better than Shopify, but which is right for you. Even after you have decided to go with a Shopify store, continue to research – are there apps with the exact features you need? Will your desired payment processor work with your shop? Given the transaction fees, how much will you really be paying?
How Can AdShark Marketing Help?
We have many years of web design and development experience, creating everything from start-up e-commerce stores to e-commerce sites with thousands of SKUs. Our web team is knowledgeable in both web design and development and can help you get your store, Shopify or BigCommerce, up and running smoothly. Reach out and we can help you get your store online.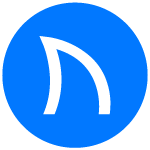 Ready to grow FASTER? Let's Talk!
Interested in having us help you grow?