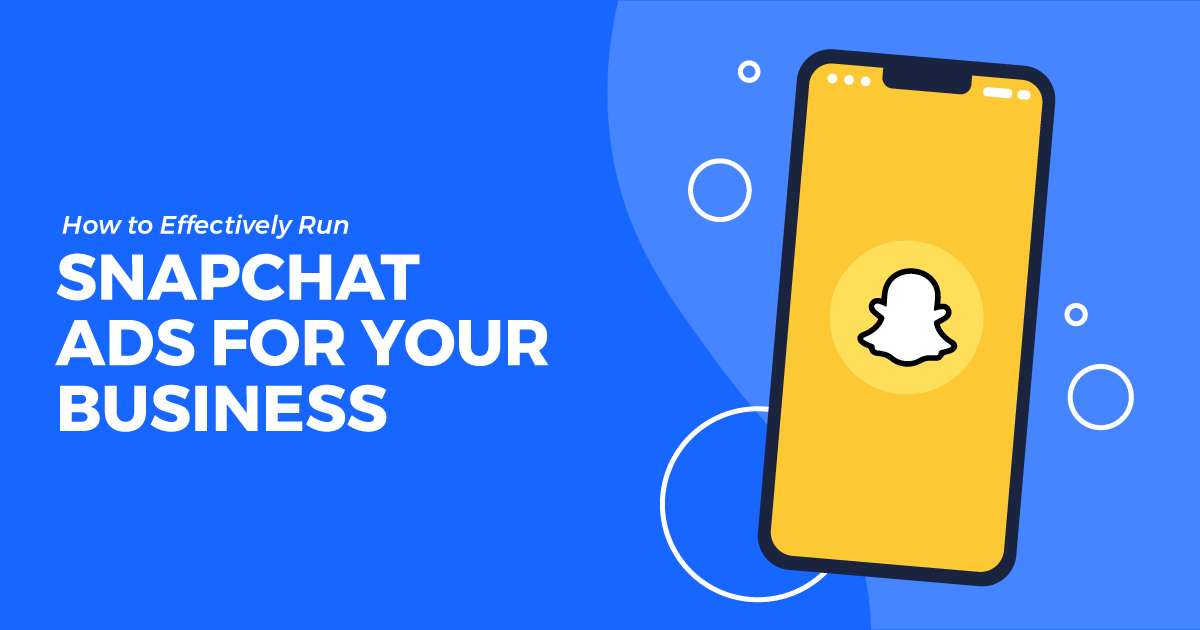 How to Effectively Run Snapchat Ads for Your Business
I started a Snapchat account in 2012 and was convinced that it would only last a month. The concept was unique. Sending pictures that would be automatically deleted after 10 seconds? As a sophomore in college, I understood it. However, few could have predicted the growth of the social platform over the last ten years.
Today, Snapchat's use has continued to increase with over 293 million daily active users and 4 billion 'snaps' shared per day. The increase in engaged users has helped Snapchat jump from a $19.4 billion valuation in 2020 to a $90.9 billion valuation in 2021. That's nearly a 370% increase in valuation in just a year.
As businesses continue to diversify their advertising portfolio to reach their target audience, Snapchat has become a solid option for many. But does it make sense for your business? We'll discuss that and more in this week's blog!
Who Should Advertise on Snapchat?

Snapchat has average CPMs around $2.50, about one-third the cost of advertising on Facebook. This stat alone has probably given you reason to pause and question if Snapchat is a more suitable social advertising platform for you. In order to truly assess whether it makes sense for your business, we'll want to look at Snapchat's demographics.
Here's what we know about Snapchat's users (via Data Reportal and Business of Apps):
Ages: 13-17 years old (21%), 18-24 (39%), 25-34 (22%), 35-49 (13.5%), 50+ (3.5%)
Gender: Female (53.8% of users), Male (45.4%)
Locations: USA accounts for ~21% of the active users, and has the 2nd highest use as a country behind India
Usage: Average daily user spends at least 30 minutes per day on the app
With almost 60% of Snapchat users being under 24 years of age, and 82% of Snapchat users being under 34 years of age, businesses should be aware of the target audience they're going to reach. However, for the younger audience who is present, it's clear that they are engaged.
Snapchat advertising may not be the best fit for everybody, but if you are a company looking to gain impressions and build awareness with a younger audience, it can be a good fit for your business. Let's look at some of the benefits to advertising on LinkedIn to further shape your decision.
The Benefits of Snapchat Advertising
If you're doing other paid social or paid search advertising, you'll want to ensure that Snapchat is worth the added expense to your budget. That requires becoming acutely aware of the benefits of Snapchat, as they relate to your business. Here are a few of the most prominent benefits of advertising on Snapchat:
A budget-friendly way to build awareness: as noted earlier, Snapchat's CPMs typically are around the $2.50 mark. This means that, on average, your ad is able to be viewed 1,000 times for less than $3. Compared with other popular platforms like Facebook and YouTube, you'd be spending almost 3 to 4 times as much for the same number of ad views. Furthermore, you only need $5 per day to get started.
Ability to target a younger demographic: 82% of Snapchat users are under the age of 34 years old. If you've been struggling to connect with a younger audience, and your Facebook Ads seem to only be serving impressions to older demos: maybe Snapchat is worth your spend! Companies who have a customer base that is primarily Gen Z or Millennial will enjoy this benefit.
Ability to serve ads between, or within content: unique to Snapchat, you can choose to limit your ad placement to going either between content or within content. In the "between content" option, your ads can be delivered between user stories and/or publisher/creator stories. With the "within content" option, your ads can be delivered to partner-curated stories and Our Stories on Snapchat's platform. You can a/b test placements to see which works best for you, and adjust accordingly!
Seamless self-serve platform: though you can rely on a digital marketing agency to run your ads, Snapchat also has a great self-serve platform that many will find beneficial. The Snapchat Ads Manager will allow you to create ads, launch campaigns, and monitor your ads' performance.
Furthermore, Snapchat continues to improve their ad experience. With multiple bidding strategies, lookalike audiences, a Snapchat pixel, and more – it's clear that the company has been investing in improving their platform for advertisers.
If your company can benefit from the aforementioned features of Snapchat, great! Stick around and we'll talk about the next steps.
Getting Started with Snapchat Ads
Your boss has determined that it's time to run Snapchat ads, and you're in charge. If you're anything like us, you want to go into this with a strategy. First, I would encourage sitting down with your team to determine who will run the ads and who will handle the creative needs. From there, you'll want to identify your goals for advertising and set up your campaigns in a corresponding fashion.
Determine Your Advertising Goal
As soon as you login to Snapchat's advertising platform to start running your ads, you'll be asked the question What is your advertising goal? This will help Snapchat determine how they optimize your campaigns. Your options include:
Website Visits: for those looking to drive link clicks to landing pages
Promote Local Place: for those looking to increase foot traffic locally
Calls & Texts: for those looking to drive more phone call or SMS activity
App Installs: for those looking to get downloads of their mobile apps
App Visits: for those looking to increase visits to their app in the app store
For local brick & mortar stores and restaurants, Promote Local Place may make the most sense. Whereas, eCommerce companies will benefit from Website Visits. If you have a mobile app that you're looking to promote, the final two advertising goals will make sense for you.
I would encourage you to sit down with your marketing department, or your advertising agency, and establish your goal for your marketing. Then, find a campaign objective that Snapchat can optimize for to help increase your chance of success.
Design Your Ads
If your advertising goal is Website Visits, you'll have the opportunity to import photos from your website to help with ad creation. It's a simple checkbox that will show up after you select your URL and looks like this: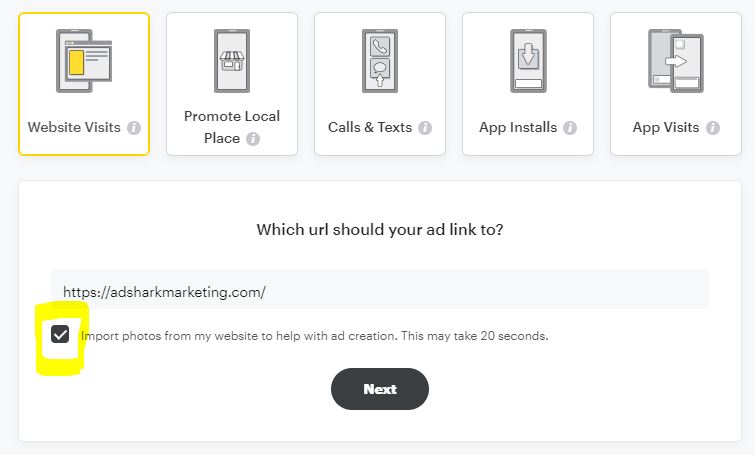 This option is essentially the "easy button" for developing ad creative, but in most cases you'll be sacrificing creative quality in exchange for time. Instead, consider developing your own ad creative with the following specs (for single image or video):
1080 px x 1920 px (9:16 aspect ratio)
Either still image, gif, or video
3-180 seconds in length
.mp4, .mov, .jpg, or .png
Audio: utilize 2 changes, -16 LUFS, PCM or AAC codec, 192 min kbps
If you'll be utilizing a different ad type, or want to see a full list of specifications, visit Snapchat's Business Help Center.
When designing your ad, you'll also be able to write your business name & a headline, choose your CTA, and (optionally) add a caption to make the ad feel even more native to Snapchat.
Whether you decide to use a video or a still image for your ad, we would encourage making the ad feel native to the platform to help boost engagement. That may involve using filters, text effects, or other animations that will capture your audience's attention. Keep your text (if any) concise and to the point, and use a strong CTA to drive user behavior.
Here are a few Snapchat advertisers who did a great job of creating effective ads:
Establish Your Budget & Campaign Duration
Everyone's favorite subject: budgets! As un-fun as determining ad spend can be, it will be one of the most important factors in determining your campaign success. Spending too little can restrict your learning, and overspending can lead to high frequency numbers and limited results. First, let's take a look at the considerations.
Budget:

The minimum is $5/day
CPMs are typically around $2.50
For a budget of $50, you could expect around 20,000 impressions

Duration:

You are able to start campaigns (basically) instantaneously
You can run your campaigns indefinitely, or choose an end date
Start and stop times will also allow you to choose the exact hour minute and second that you'd like to start (or end) your ads
In most cases, I advise clients to start a little bit above the minimum amount. Rather than $5/day, aim for between $10-20/day to begin and tie in some targeting options. Though the more targeting you do, the higher the CPMs can be, you'll also ensure that your ads are being served to your ideal target market.
Pending agency fees involved with getting your campaign started, you would likely be looking at a monthly investment of about $300 – $500 to get started. Once you see favorable results, it's easy to scale up and adjust accordingly.
Choose Your Targeting Options
Ads are simply more effective when they're targeted. Though many businesses will consider leaving their ad targeting pretty broad in the early days, we'd encourage tying in at least one or two targeting parameters to increase your campaign effectiveness.
Snapchat will allow you to do advanced targeting based on demographics, location, interests & custom audiences, and devices. Here's a quick overview of how those work:
Demographics
Genders: male, female, or all
Ages: 13 – 50+
Languages: English, Arabic, Chinese, Danish, Dutch, and more!
Location
Countries
States
DMAs
Radius Targeting on a Map
Interests & Custom Audiences
Choose Lifestyles to target, such as gamers, arts & culture mavens, do-it-yourselfers and more. Snapchat builds lifestyle categories using both Snapchat and third-party data. The goal of these categories is to reach people based on their interests and behaviors.
Devices
Operating Systems: All, Android, or iOS
Device Makes: Apple, Samsung, etc.
Furthermore, when you have Snapchat's Pixel added to your website, you're able to retarget your ads to previous site visitors or build lookalike audiences. Implementing targeting that narrows in on age, language, and certain interests can be a really great way to get started with Snapchat advertising.
As you change your targeting options & budget, you'll notice Delivery Estimates that are shown on the right side of Snapchat's Ad Manager. This (as shown below) provides a great idea of the estimated reach, impressions, and swipes (clicks) that you can expect given your current settings.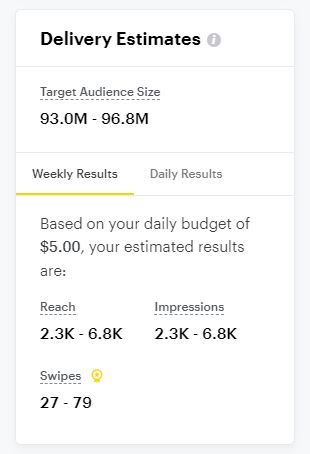 LinkedIn publishes spec sheets for their single image ads, video ads, carousel ads, and event ads that can be found here. Ensure that you're following these guidelines so as not to crop or truncate your ads and limit their chance of success.
When considering ad creative, please keep in mind what your campaign goals are. If your campaign objective is related to website leads, consider a single image ad, carousel ad, or spotlight ad. To have a more in-depth conversation about your LinkedIn ad creative, please contact our team.
Analyze and Optimize Your Ad Campaigns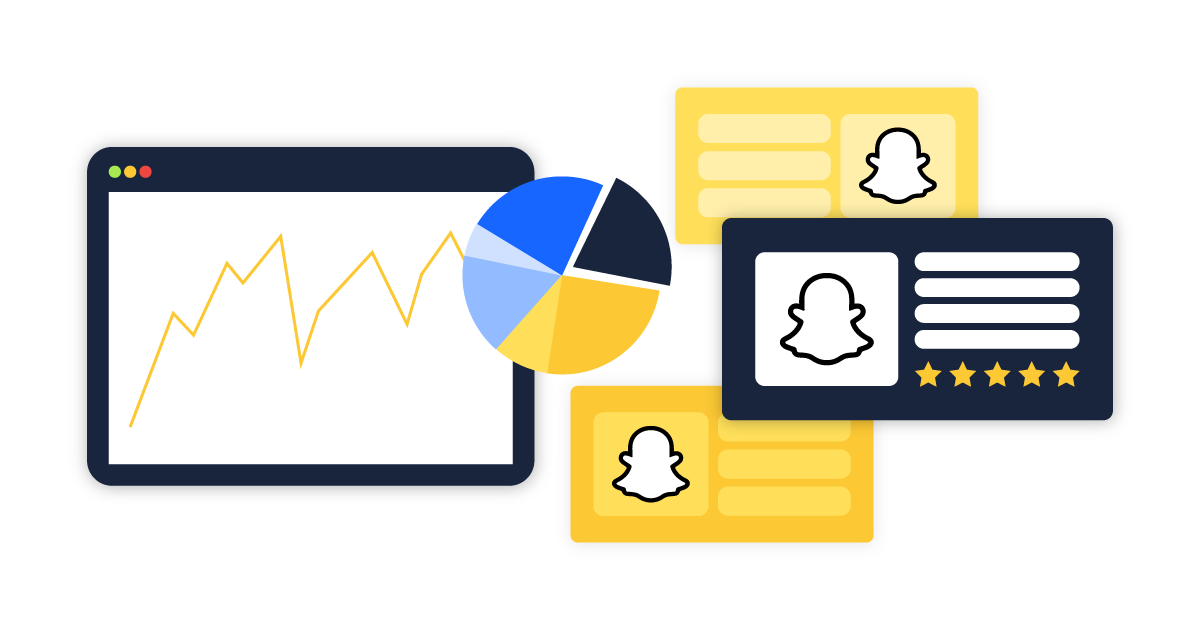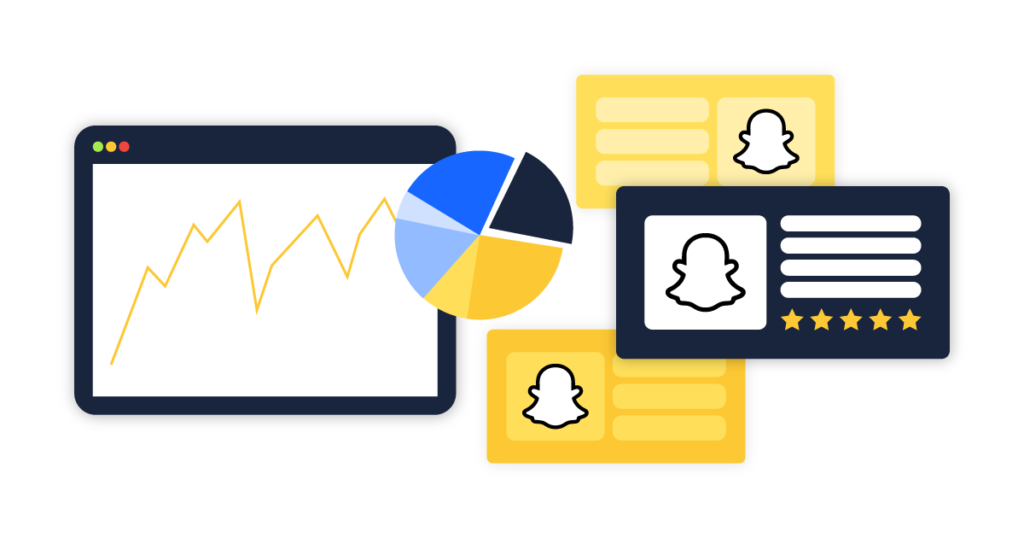 We're in the business of performance marketing, where numbers drive everything. When you get started with your Snapchat advertising, you'll want to ensure that you have a strong handle on the key metrics that Snapchat will provide you. Those numbers may include:
Impressions: the total number of times your ad was seen
Spend: the total amount of money you've spent on your campaign
Swipes: similar to "clicks" in other platforms
Swipe Up Percent: similar to "click-through rate" on other platforms
Video Views: applicable for video content only
eCPSU: effective cost per swipe up, similar to "cost per click"
Screen Time: the number of seconds spent watching your ad
With Snapchat ads, the main goal is seldom to drive sales or leads. Rather, this is mostly centered around building up brand awareness and increasing engagement. As a result, we look mostly at metrics like "swipe up percent" (showing us how often people are engaging), "screen time" (giving us more insight how long people are viewing ads), and "eCPSU" to tell us how effectively we're using our ad spend.
If results are not where you want them to be, it's important to make optimizations. Those optimizations may include changing your targeting parameters, updating your ad design, or re-allocating your spend. 
---
Snapchat is a viable advertising option for businesses looking to increase their brand awareness with younger demographics. Getting started with advertising on Snapchat requires investing time and energy into the goals, creative, budget, and targeting. It also involves being aware of reports and how to optimize your campaigns.
If your company would like to dive deeper into a discussion about Snapchat advertising to see if it's a good fit, contact our team! We'd love to provide some honest feedback and recommendations tailored to your company. Thanks for reading!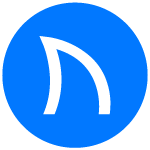 Ready to grow FASTER? Let's Talk!
Interested in having us help you grow?