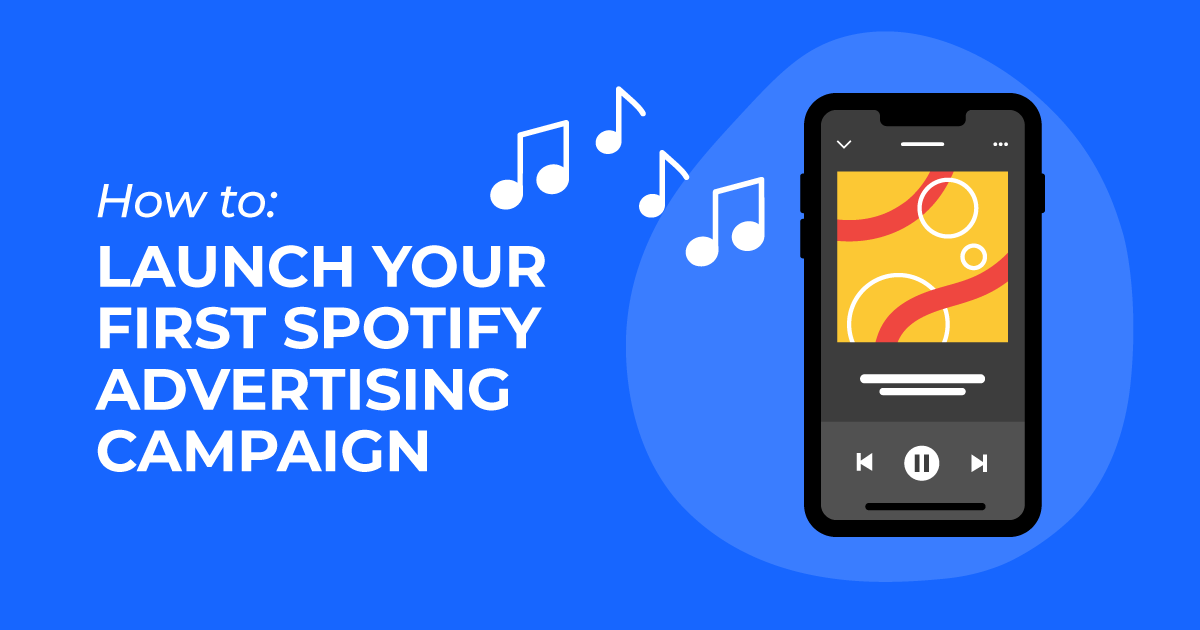 Launching Your First Spotify Advertising Campaign
Spotify was launched in 2006 by Swedish business partners Daniel Ek and Martin Lorentzon. Though it's only been available in the United States since July 2011, Spotify has become the premium audio streaming service across the United States (and beyond) with over 70 million songs and 365 monthly active users.
The streaming platform has been a hit for both users and creators, as Spotify has become known for leading the way in user experience and accessibility. As a (small & insignificant) musician myself, I've benefited from using this platform both as an artist and as a listener. Now, I also have the opportunity to use Spotify as an advertiser!
Spotify's advertising platform is a great way to reach your desired audience, and they are truly leading the streaming radio advertising game. In today's blog, we'll talk about how you can leverage Spotify Ads to reach prospective customers with your brand messages. Let's dive in!
Why Companies Should Advertise on Spotify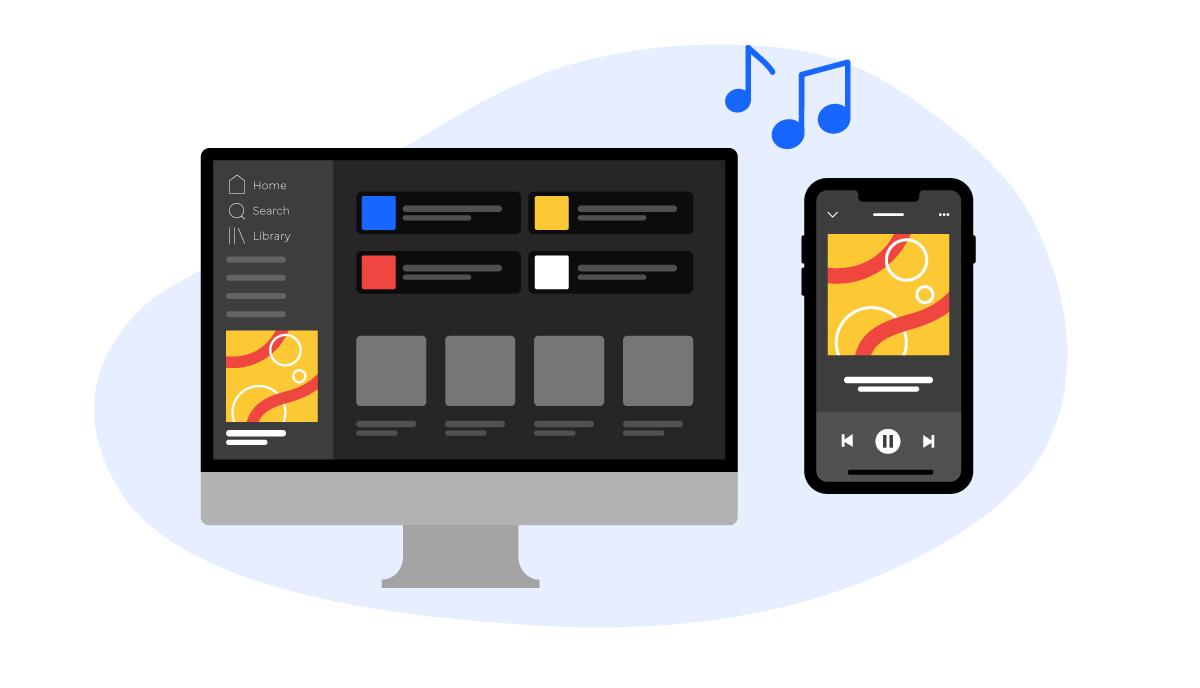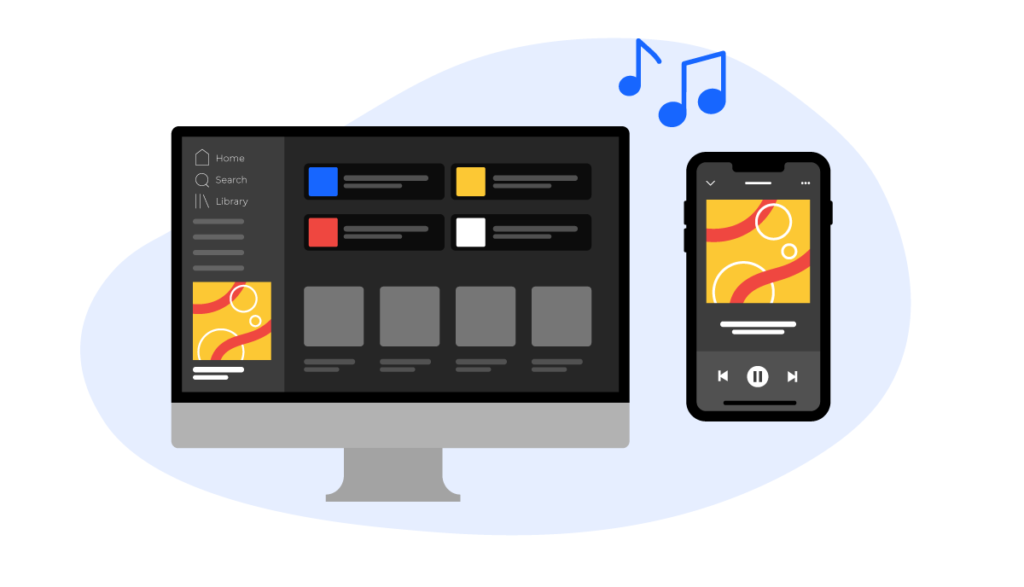 Spotify, Pandora, and additional online audio streaming services are grouped into an advertising subset called "streaming radio." While traditional radio still has a loyal fanbase, the share of monthly online radio listeners has risen drastically in the past 15 years. In fact, in 2007 only 20% of the U.S. population was listening to online radio monthly, compared with 68% in 2021 (via Statista).
This stat alone highlights the opportunities that exist for advertisers on these online, audio-streaming platforms. If you're still not convinced, here are a few more reasons why companies should advertise on Spotify:
Spotify's Monthly Users Continue to Rise. As of Q2 of 2021, Spotify has 365 million monthly users (via BusinessOfApps). This is over 6 times more than that of Pandora, another popular online radio streaming platform.
The vast majority of Spotify users can be served ads. Spotify's free account allows users to be served ads, and ~200 million of the 365 million monthly users are on the free account and are eligible to receive ads (via BusinessOfApps).
Spotify is popular across every age and gender segment. While the 25-34 age group leads the way with 29% of users fitting this segment, 19% of users are 55+. Furthermore, 56% of Spotify users are male and 44% are female (via Market Research).
Listeners say Spotify audio ads have helped them discover new brands and products. According to a Spotify/Qualtrics Entertainment study, over 61% of listeners say Spotify has helped them discover new brands/products.
Spotify's Ad Studio makes it easy as ever to produce ads & serve them to your desired audience. From free ad creation (all you have to do is enter a script) to advanced channel and interest-based targeting, Spotify makes it extremely efficient for advertisers to reach their audience.
We've seen companies of all shapes and sizes – larger retail outfits to smaller not-for-profits – find success through Spotify advertising. If you'd like to learn more about how online radio advertising could work for you, feel free to contact our team to discuss. Otherwise, stay tuned for the rest of this blog to learn more!
How Much Does Spotify Advertising Cost?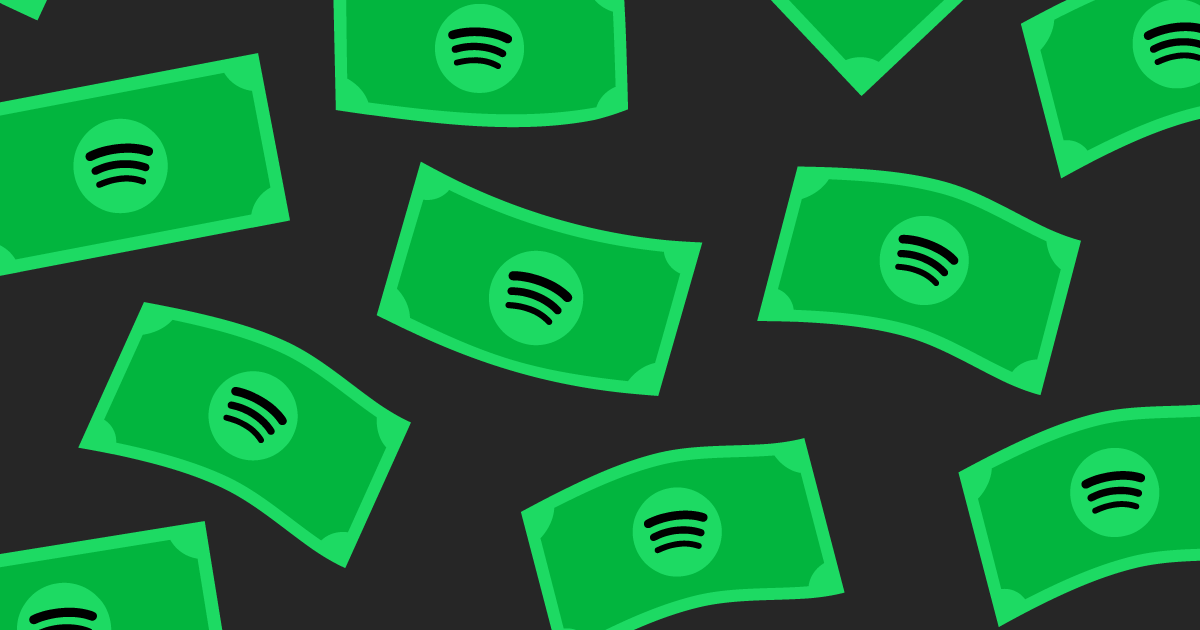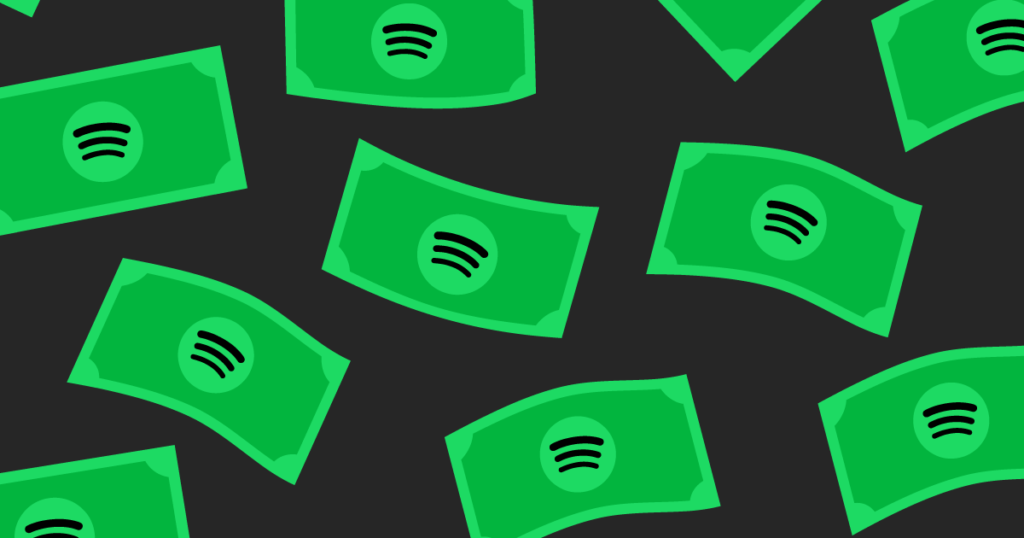 You can launch a Spotify Advertising campaign for a minimum of $250. The average cost per thousand impressions ranges between $15 and $25, meaning that with a $250 campaign budget, you'd be expected to receive between 10,000 and 16,667 impressions. Of course, there are a lot of variables that influence cost, including:
Channels You Run Ads On: if you're selective with iOS vs. Android vs. Desktop, you may find it more difficult to achieve low CPM (cost-per-thousand-impressions) numbers.
Timing of Campaigns: an example we experienced recently involved running a campaign for a business in the month of May vs. the month of September. Though each month had the same budget, May experienced ~3,000 less impressions for this client in part due to perceived competitiveness and number of advertisers in September vs. May.
Targeting Settings: we'll chat more about targeting in a later section, but the locations, age groups, genders, and advanced targeting may influence your CPM numbers as well.
For our clients, we typically recommend a starting monthly budget of $1,000 in ad spend on Spotify. This allows us to achieve desirable impressions & reach count, while still tying in some advanced targeting. If you have questions about the budget you should be attaching to a campaign, please consider reaching out to our team to discuss more.
Steps Required to Launch Your Spotify Advertising Campaign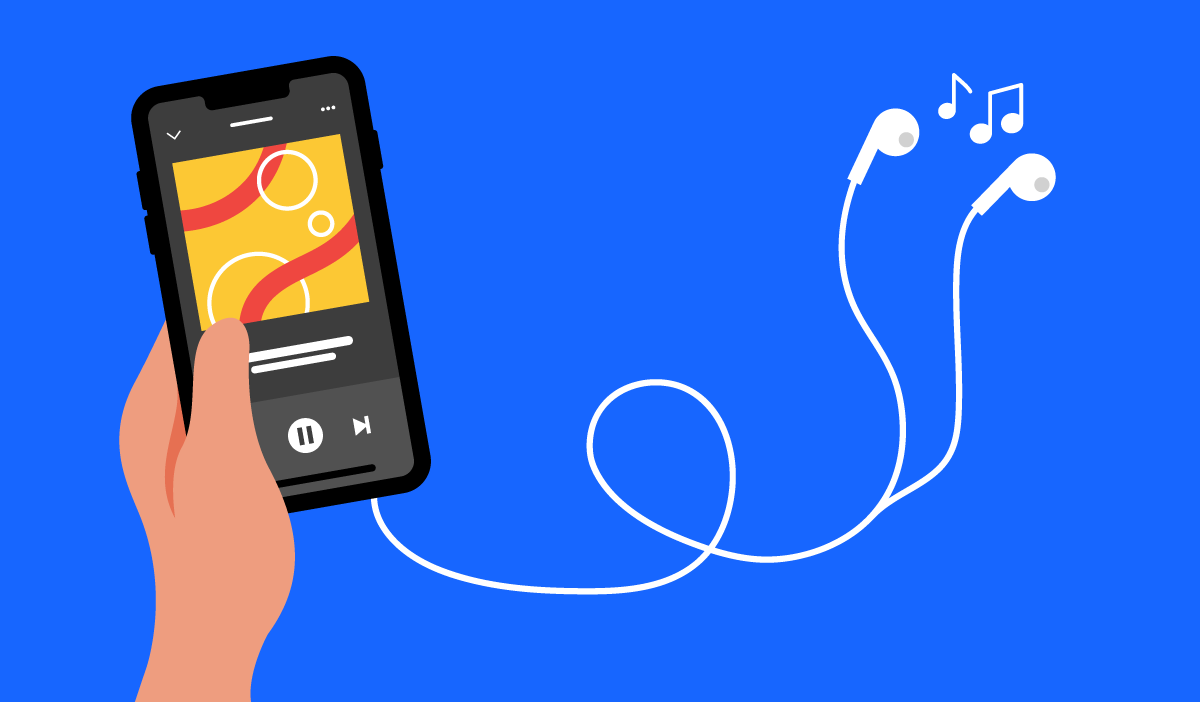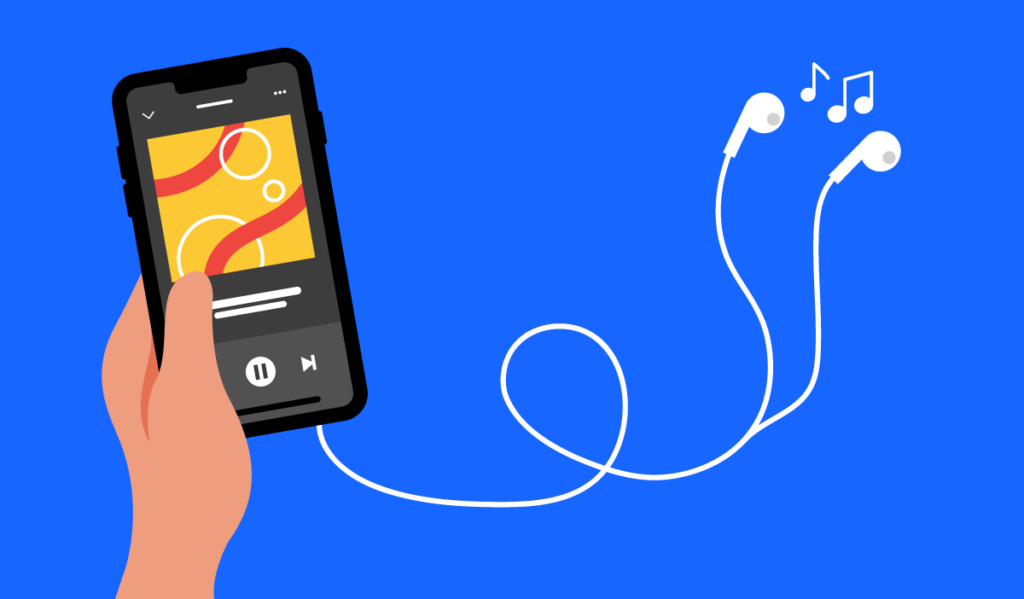 Whether you're planning to work with an advertising agency to launch your campaigns, or plan to do so on your own: we've got you covered! Spotify's advertising platform provides a unique opportunity to reach your audience as they are actively listening to their favorite songs or podcasts. What better time to reach them with a promotion for your business' products or services? Let's talk about how to get started with Spotify Ads.
Step One: Establish Your Spotify Advertising Goal
When we chat about digital advertising with our clients, we usually are aiming to drive more web traffic or web conversions (sales & leads). With channels like Spotify, more of the focus is on reaching that top-of-funnel audience that isn't yet aware of your business or the products you offer. Thus, metrics like impressions, reach, and completion rate are the name of the game on Spotify.
As you look to establish your goal with Spotify Ads, keep in mind that the objective should revolve around raising awareness rather than driving web traffic. So, what would you like to raise awareness for?
A specific product? Then set your targeting to the audience who would find it most useful, and focus your message on the benefits of said product and what makes it different from others in the market.
Your brand, as a whole? Consider Spotify Ads as your "elevator pitch" to introduce new audiences to who you are, what you do, and why it matters. Ensure your ad creative centers around making them care to learn more.
A promotion you're running? You'll be able to track link clicks, but also focus on tying a message about the promotion (i.e. "save 10% on your first order when you use promo code SPOTIFY10 today!") that allows you some ability to measure the success of the promotion.
Once you've established a goal for your advertising campaign, you can center your efforts to match said goal. The next step involves outlining your budget.
Step Two: Set Your Campaign Budget
When you are creating your campaign, you'll be asked to set your schedule and budget (as shown below).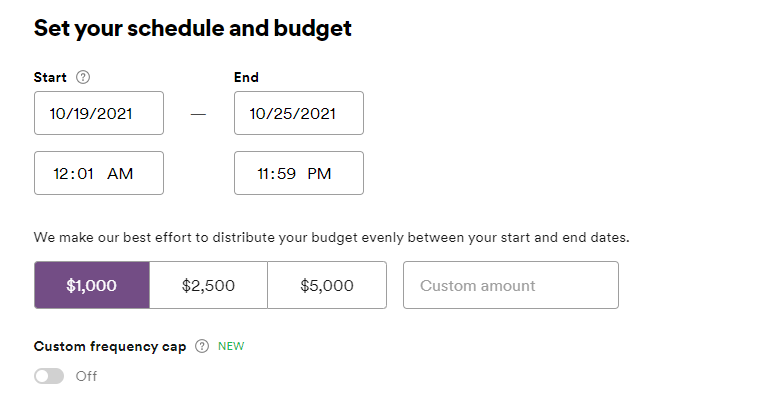 As noted in a previous section, the average cost per impression is between $0.015 and $0.025. Most of our clients run their advertising on a monthly basis, but perhaps you want to test Spotify out for a couple of weeks for your product or service. Draw out a budget that will help you achieve your desired campaign results.
Step Three: Develop Your Spotify Ad Creative
One of the first decisions you'll have to make is what ad format you'd like. Spotify offers three different types of ad formats for campaigns that are running. Those include:
Audio: mp3 or wav files that are a maximum of 30 seconds and include a companion image, but no motion graphics.
Video (horizontal): 16:9 (landscape) ads that are mov or mp4 file types and play for a maximum of 30 seconds.
Video (vertical): 9:16 (portrait) ads that are mov or mp4 file types and play for a maximum of 30 seconds.
For the vast majority of our clients, we simply run Audio ads on Spotify, as there are other mediums such as YouTube Ads and Connected TV Ads that we run more of our video marketing through. When you create your Audio Ads, here are some of the important audio specs to take note of: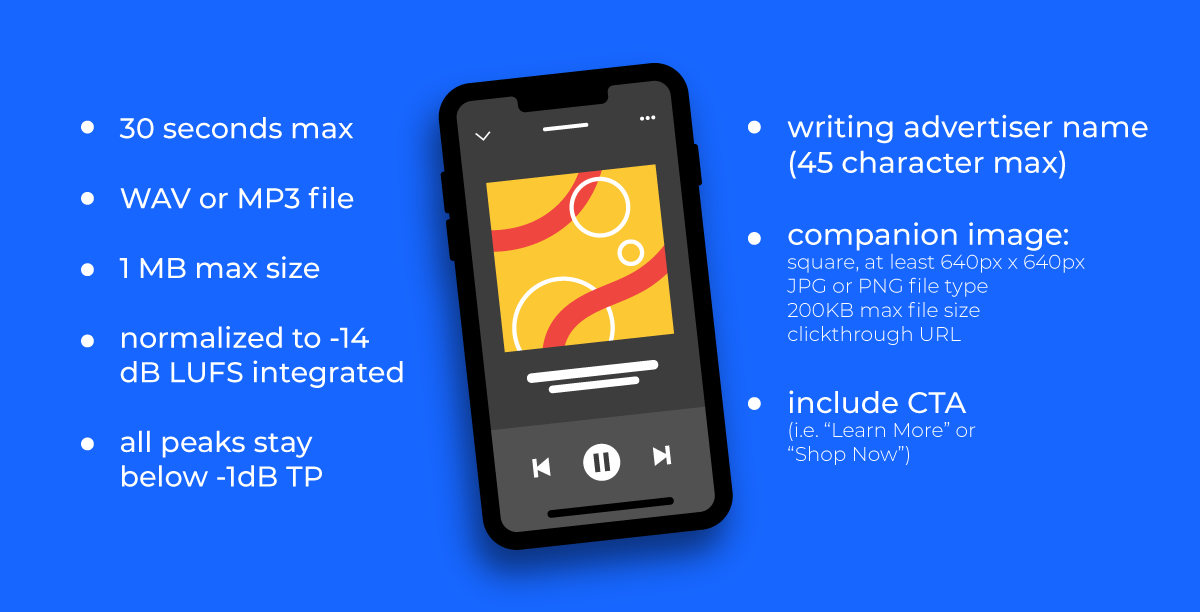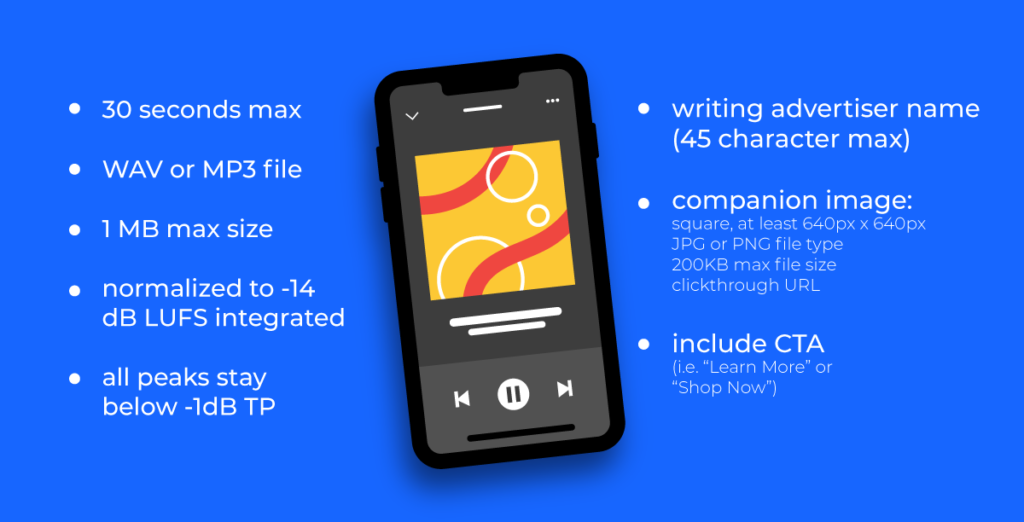 You also have the ability to have Spotify produce an ad on your behalf, with professional voice actors and all! In this case, you'll have to:
Choose the gender & general age of your Spotify Voice Actor
Provide a script (70 word max) for them to use
Select a mood for the background music to match
Still include a companion image, CTA, and advertiser name/tagline to include
… and that's it! In my opinion, it's one of the best perks of advertising through Spotify as the ad quality comes out great, and you're provided a preview to ensure you're pleased with the ad before it gets launched.
Step Four: Set Your Spotify Ad Campaign's Targeting
Spotify provides a multitude of ways for you to target your audience: (a) by location, (b) by age and gender, (c) by interests, (d) by real-time contexts, and (e) by genres. This provides an optimal way for a company to narrow in on their target market and ensure that ads are being served to a group most likely to be interested in their business.
Location-Based Targeting: first, you'll want to select the country/countries you'd like to advertise in. You can then specify more granular locations, including states, DMAs, counties, cities, or specific postal codes. You are also able to bulk add postal codes if that is necessary.
Age- and Gender-Based Targeting: targeting begins for ages 13 and goes as high as 65+. It should be noted, however, that Spotify may disapprove ads from running if the product/service you're advertising is not appropriate for minors. We typically advise keeping your age-based targeting pretty broad, but keep in mind that the main age group on Spotify is 25-34. Spotify's user base is also 56% male, but Spotify will allow you to target all genders, female only, or male only.
Interest-Based Targeting: there are a multitude of interests that Spotify allows you to check, with everything from books and fitness to business and parenting. You can also select a "Podcasts" interest which will serve to listeners who recently listened to a podcast, but it will not serve an ad to them while they're listening to a podcast.
Real-time Contexts: this targeting allows you to reach people in "specific moments, as indicated by the playlist they're currently listening to." These categories include terms like chill, gaming, and workout. For some advertisers, these contexts can be very helpful in advertising a product or service to a group who is in the right frame of mind to absorb the information.
Genres: if you'd like to go as far as targeting an individual based on the genre of music they were listening to immediately before healing the ad, you can do that too! Enter genres such as "hip hop," "jazz," and more to reach said audience.
As a whole, we lean towards leaving this level of targeting relatively broad. Though some interest-based targeting or real-time contexts can come into play, there is also the prospect that multiple people (think of an office setting, restaurant, car, etc.) are listening to one Spotify user's account at the same time.
Step Five: Launch Your Spotify Ads!
Now for the fun part. Once you've established your goal, set your campaign budget, and developed your ad creative, you have the pieces in place to officially launch your campaign. You can add an optional tracking URL to your ad, or set up a UTM URL on your own to help draw even more insights. Take a look at your ad preview and make sure that all looks good before you get launched.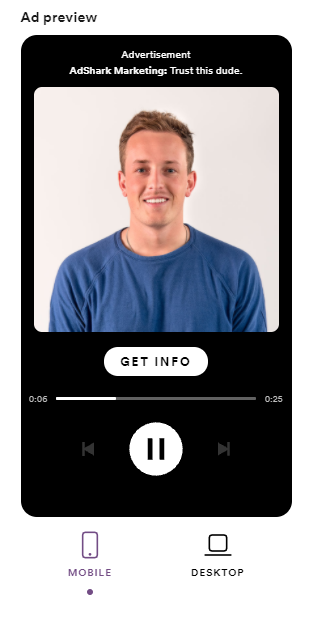 Naturally, this will depend on whether you're managing the campaign yourself or are trusting an agency to do so. If you're launching the campaign, I'd encourage that you monitor it in the first 24-48 hours after launching to keep an eye on your pacing and ensure that there were no issues with the ad getting launched.
Step Six: Track & Report on the Results
As is the case with any new advertising medium, the metrics will need to drive the discussion on how worthwhile your campaign was. On an ongoing basis, you'll have access to live campaign metrics through Spotify that include:
Impressions
Clicks
CTR (click through rate)
Completion Rate
Budget Spent
Frequency (impressions / reach)
Reach
Pacing
Out of these results, we like to hone in on impressions, reach, completion rate, and pacing. While clicks are nice, they're often not as expected from this form of advertising. Instead, we're really trying to drive awareness with a new audience and ensure that they are engaging (by listening through an ad in its entirety). We also want to monitor the reach to ensure that we have a wide enough audience so as not to saturate the same audience with too many impressions per person.
As you analyze the results of your campaign, consider paying close attention to the impressions and reach that correspond to your total advertising budget. As you budget for future campaigns, it will help give you a really strong idea of what you can anticipate for results based on specific dollar values.
Tying it All Together
Spotify Advertising is an exciting avenue for agencies & businesses alike. With the ability to target your audience in a whole new way, it's natural that we've had an influx of individuals reaching out about streamed radio ads via Spotify. Here are the "cliff notes" for what this blog discussed:
Though Spotify has been around since 2006 (and 2011 in the U.S.), the accessibility of advertising through this platform is still relatively new.
There have been some impressive early statistics to show that Spotify is a worthwhile advertising platform, including:

There are over 200 million monthly users who are eligible to receive ads while using Spotify
Over 61% of Spotify users have said that the platform helped introduce them to a new brand or product
Spotify is popular across virtually every age demographic. Though 25-34 year olds make up 29% of the listening audience, 19% of listeners are 55+

Spotify advertising is relatively affordable with a minimum budget of $250, and average CPM (cost-per-thousand-impressions) of $15 – $25.
In order to launch your own Spotify campaigns, consider:

Establishing a goal
Setting your campaign budget
Developing creative (and taking advantage of Spotify's great tools to do so for audio ads!)
Set your targeting
Launch ads
And track and report results
For those who have been accustomed to traditional radio advertising, consider giving this new form of (online) audio advertising through Spotify a chance. With the ability to dictate your audience targeting, scale up your budget based on results, and take advantage of free advertising tools provided by the Spotify team, you'll be quite impressed with the experience. If you'd like to chat any further about how Spotify Ads can work for you, send us a message. Thanks for reading!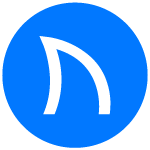 Ready to grow FASTER? Let's Talk!
Interested in having us help you grow?