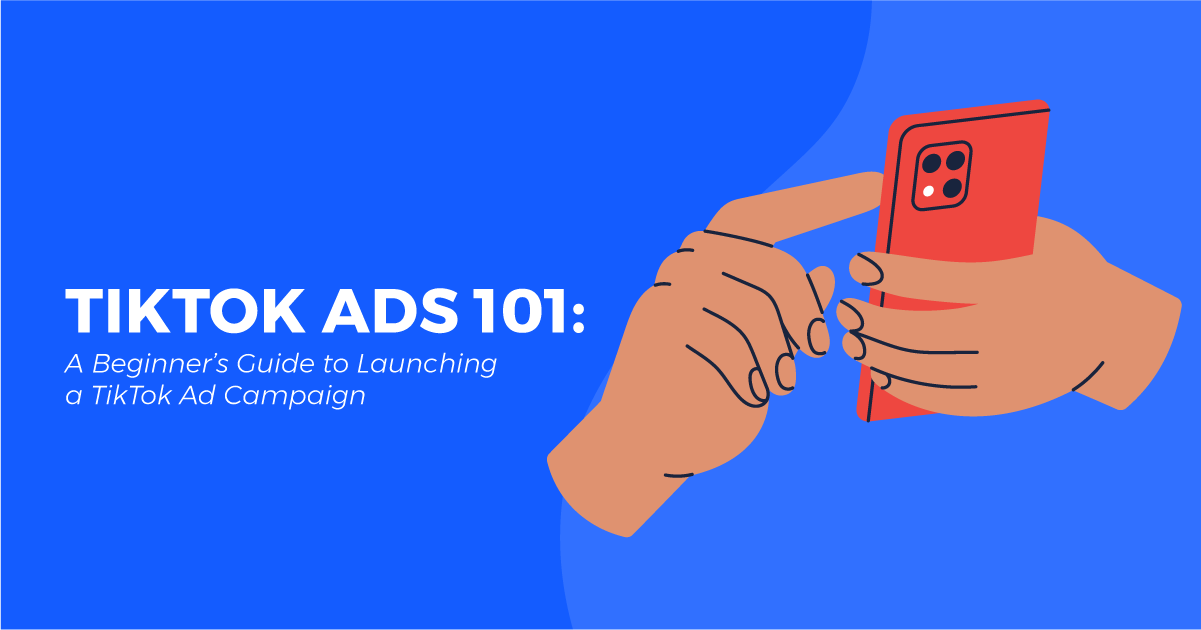 TikTok Ads 101: A Beginner's Guide to Launching a TikTok Ad Campaign
In our house, "watching TikTok" has become synonymous with relaxing. In fact, we'll go some nights without even turning on our TV – instead, we find ourselves fascinated by the content chosen by TikTok's famous algorithm. My wife even bought a TikTok scroll remote to improve her viewing time. It's getting serious.
In 2023, TikTok is projected to have an estimated 834.3 million monthly users worldwide (source). For context, Twitter has 450 million monthly users and SnapChat has 162 million. The once-niche social platform has turned into a household name in virtually every household, and is now eyeing up the likes of Facebook and Instagram in popularity.
Remarkably, despite the growth of TikTok's users, many businesses have been slow to utilize TikTok's advertising platform to grow their sales. If you're looking to change that, this is the blog for you!
Pre-Advertising Checklist – What Do I Need in Order to Advertise on TikTok?
Marketing departments everywhere are debating the same thing: should we be advertising on TikTok? The answer, sadly, isn't a firm yes. For some businesses, it may not be the best place to use their advertising dollars, and for other businesses, they may have more to prepare for before launching.
To make things easy, here's a basic pre-advertising checklist to determine what you need to get in order before you're ready to advertise on TikTok:
An appropriate budget. TikTok requires a $500 minimum for advertising, including a campaign-level daily minimum budget of $50, and an ad group-level daily minimum of $20. If you're not prepared to spend $50/day on your ad budget, TikTok likely isn't for you.
A business that's in the D2C space. Though B2B companies can advertise on TikTok, we often find that this medium is most applicable for direct-to-consumer brands. B2B may be better suited for LinkedIn Ads or Facebook Ads.
Short-Form Video content that will work for ads. We wrote a recent blog on short-form video. With TikTok in particular, it's imperative that your ad content appears native to the platform. With this in mind, consider it a must to have video content that is tailored to this unique placement.
Tracking and reporting in place. Have you set up your TikTok Pixel? Do you have custom URLs that can be used to track results? Getting your tracking (and reporting) in place is a great way to ensure that you can analyze the effectiveness of this channel.
A TikTok Business Account. The good news? You don't need to have a TikTok page in order to run ads! The less-good, but still okay news? You do need to create a TikTok Business Account to get started. We have more information about this in the section labeled "How to Launch a TikTok Account."
If you were able to answer "YES" to all of these prerequisites, you're well on your way to getting started! First, let's discuss some of the benefits of advertising on TikTok.
The Benefits of Advertising on TikTok
If your company has been weighing the potential of advertising on TikTok, here are some main benefits to consider:
#1 – TikTok is growing in popularity
As marketers, we have an obligation to consider channels where our target audience resides. In 3 short years (from 2020 – 2023), TikTok is set to rise from 465 million monthly users to 834 million monthly users. This is a 79% increase in users, with no ceiling in sight.
Also, contrary to common belief: TikTok is not just a platform for Gen Z. Of the United States-based monthly users, it's estimated that 40% of users are 24 years of age or older.
#2 – TikTok Ads have strong engagement rates
With Meta advertising (Facebook & Instagram), we're accustomed to seeing engagement rates in the 1-2% area. On TikTok, it's not uncommon to see engagement rates above 5%. In fact, a recent study found TikTok's engagement rate by video views to be a whopping 6.73%.
Advertising on TikTok requires companies to think even more about making content that feels native to the platform. With a platform that is hellbent on utilizing engaging video content, it's no wonder that advertisers have had success here.
#3 – It's remarkably easy to get started with TikTok advertising
In fact, you don't even need to have a TikTok page to run ads. Dissimilar from YouTube, Facebook, and similar platforms that run ads from your page, with TikTok, you're able to advertise without setting up an organic page. This makes things even easier for businesses that are looking to test the waters with TikTok.
TikTok for Business, TikTok's version of Ads Manager, also includes some incredible resources for advertisers to maximize their performance. For example, they have TikTok Creative Center that shows top ads by industry or keyword to help you generate new ideas.
#4 – TikTok users have demonstrated strong purchase behavior
A 2022 study found that 71.2% of TikTok users are willing to shop when they stumble across something on TikTok. I'd argue that the other 29% of respondents to said survey simply aren't willing to admit that they can be influenced. I mean, there was even the trending hashtag #TikTokMadeMeBuyIt not too long ago.
Though TikTok users are certainly interested in finding products while on TikTok, advertisers may not see it reflected in their data. Our experience has involved some loss in attribution, as TikTok users may find inspiration on TikTok's platform, and then visit Google to actually make their purchase.
#5 – Strong-performing content is even easier to produce on TikTok
TikTok has been the leading platform in regards to short-form video content. We wrote a blog about this style of content and the advantages of it earlier this year. On TikTok, it's not only acceptable, but it's recommended to use ad content that feels native to the platform. That means low-budget, iPhone produced content with a good story and hook prevails.
For advertisers that are concerned about higher minimums on TikTok campaigns, you can rest easy knowing that you will also be able to pay less for the actual video content. You can also contract out your video content through content creators who excel in their use of the platform. Explore TikTok's Creator Marketplace to learn more.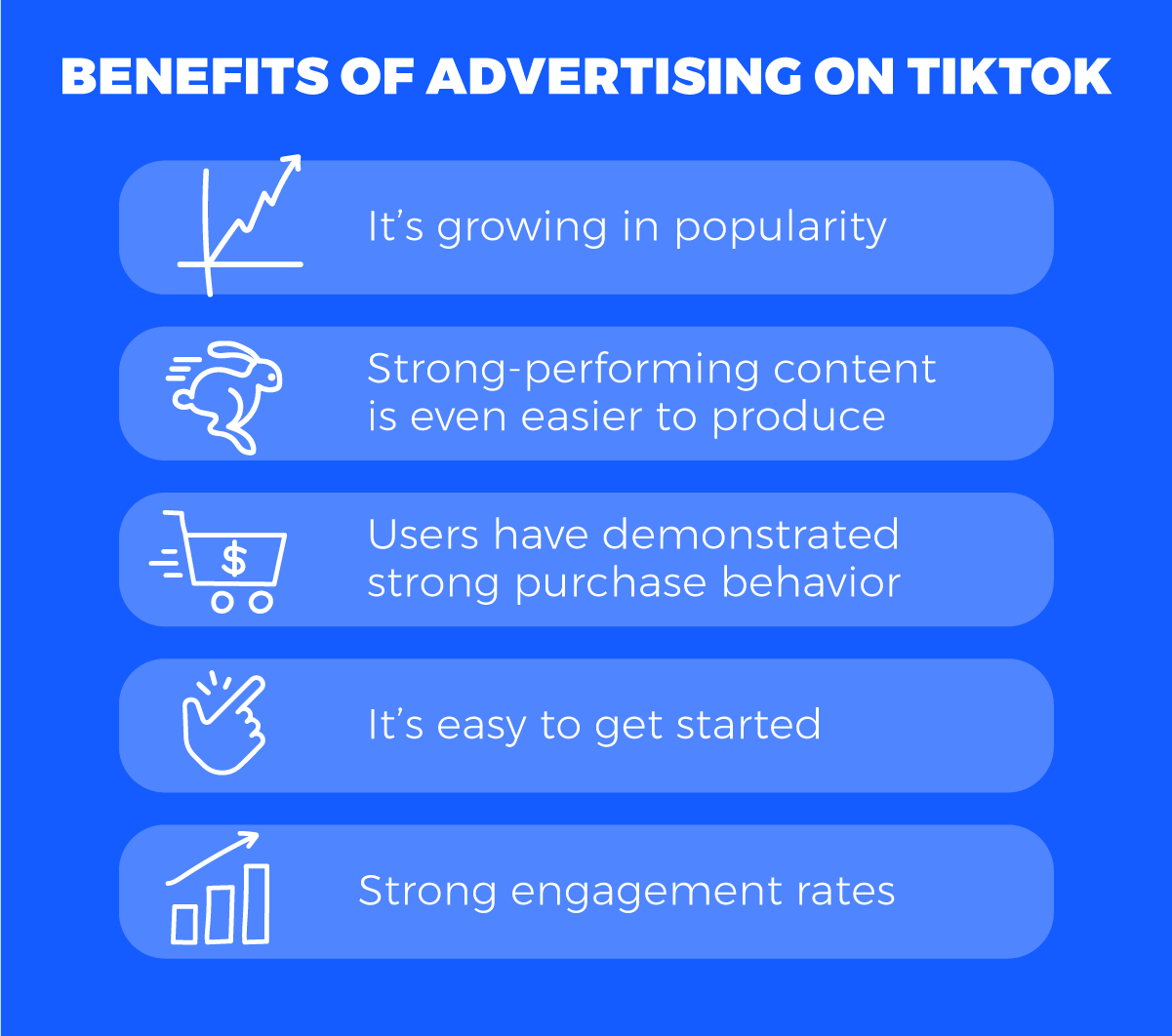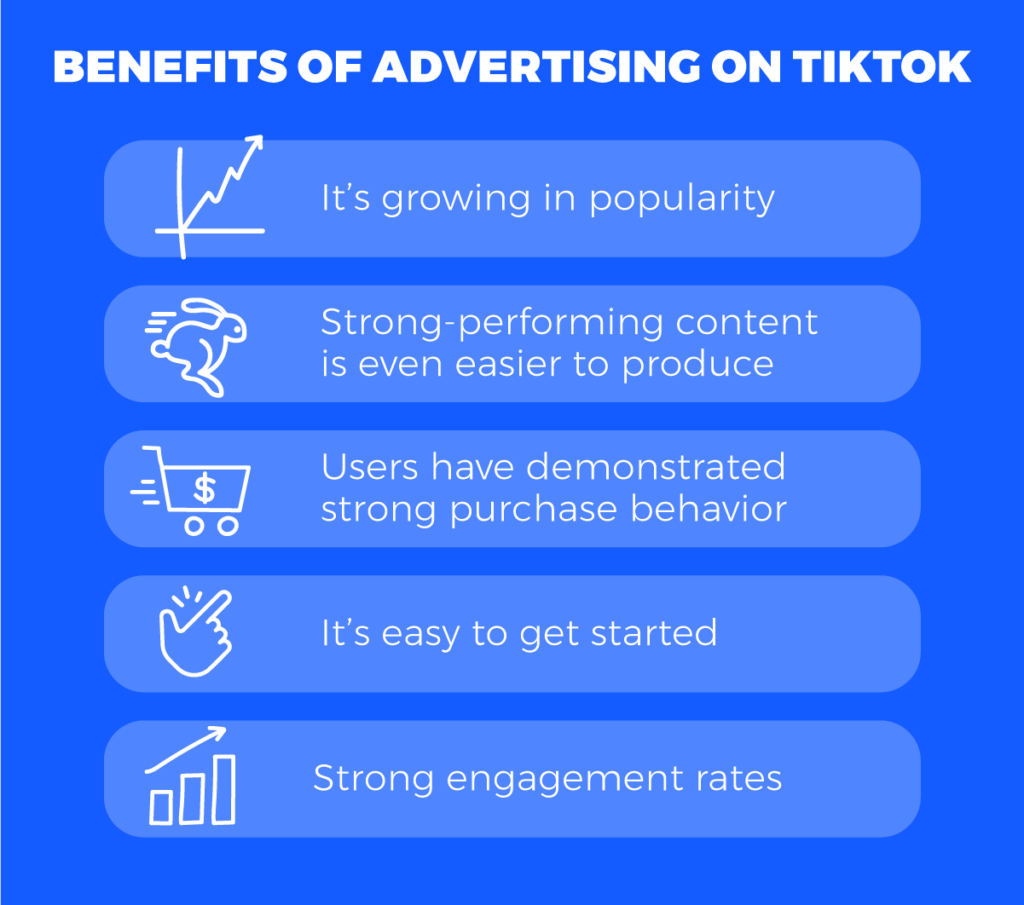 How to Launch a TikTok Campaign
Feeling ready to make the leap into TikTok advertising? Let's discuss the steps required to get your first campaign officially launched.
Step #1: Create Your TikTok for Business Account
Visit tiktok.com/business
Click "Create now" to get started
Enter your email and password, and check the two boxes before clicking "Sign Up"
Confirm your email address by entering the code in your inbox
Create Your Account

Enter your country/region, industry, business name, time zone, phone number, and currency before checking the box
Click "Register"

Set up billing information and Go to Ads Manager
Choose the ad manager mode that fits your needs

Simplified Mode – easier to run, but more limited settings
Custom Mode – harder to run, but more control
Step #2: Set up Your Campaign
Note: your campaign is the top level of your advertising on TikTok. This is where you will set your advertising objectives. If you have multiple ads to run and have different purposes for them (i.e. one for awareness, one for sales), run them in two separate campaigns.
Create a new campaign (in custom mode, or simplified mode)
Choose your advertising objective:

Reach – good for building awareness, gaining impressions
Traffic – good for sending people to your website or app
Video Views – good for getting more engagement on your ad
Lead Generation – good for collecting leads
Community Interaction – good for increasing page followers
App Promotion – good for getting app installs
Website Conversion – good for driving sales on your website

Click Continue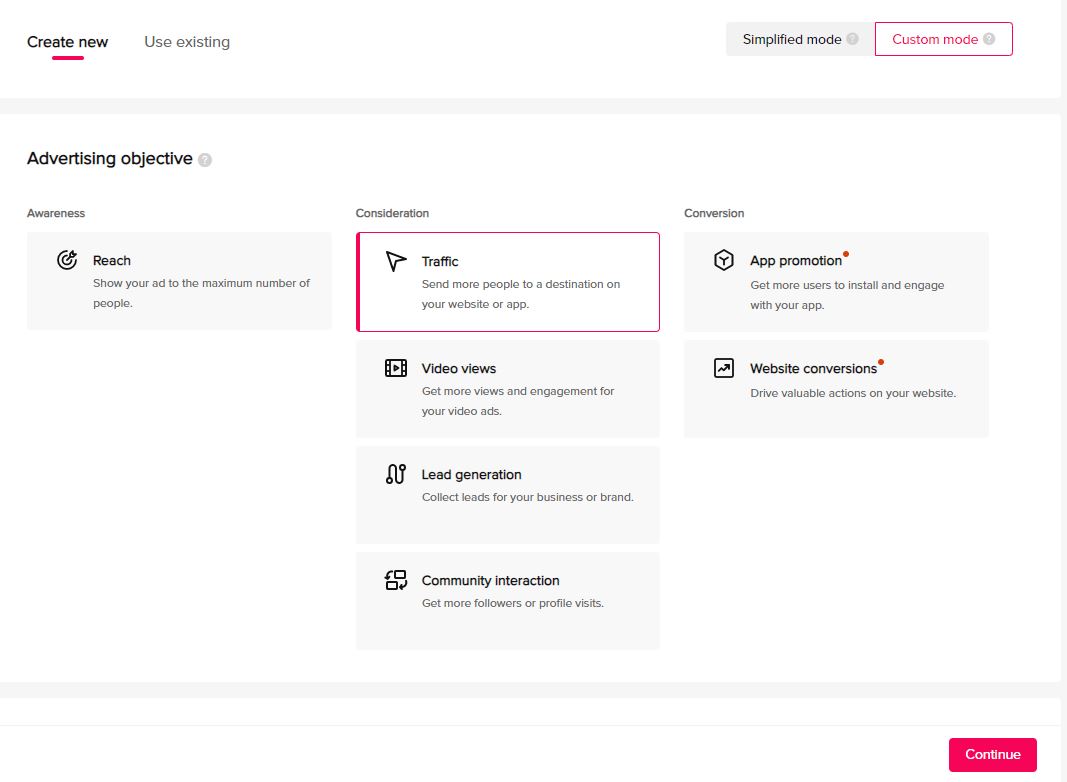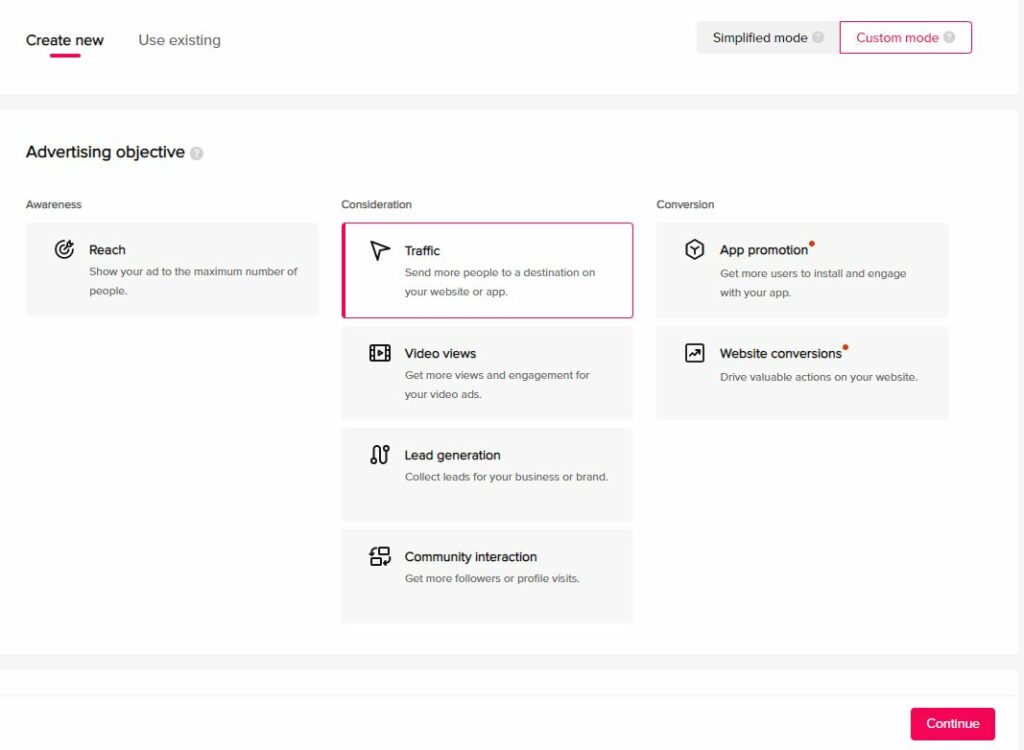 Step #3: Set up Your Ad Group(s)
Note: the ad group level determines your ad targeting details and spend. This is the section that will request the most information. If you are looking to target different groups with your ad and dictate how much spend goes to each group, you will want to create multiple ad groups.
Create a new ad group and name it
Select your promotion type (i.e. with "Traffic" objective, your options will be App for sending to an app, or Website for sending to a website)
Choose your ad placements

Automatic placement – allows TikTok to choose the placements that will most lead to your objective
Select placement – will allow you to manually choose the placements for your ads (only TikTok or TikTok + Pangle)

Show advanced settings and note if users can comment, download, or share videos

For ads, some advertisers may want to limit user comments to ensure that there is no trolling taking place

(Optional) Select automated creative optimization if you'd like TikTok to optimize your creative assets using the best performing combinations of videos and ad text
Set your targeting

Custom targeting – allows you to select locations, languages, genders, ages, household income, contact lists, lookalikes, interests & behaviors, and devices.
Automatic targeting – you only tell TikTok the location and languages, and TikTok will automatically serve to individuals they feel are a best fit

Determine your budget and schedule

Note: you must have a minimum of $500 in total spend, with a campaign level daily budget of $50, and an ad group level daily budget of $20
Choose your daily budget or lifetime budget
Set your starting and (if applicable) ending date for the ad group to run
If applicable, choose your "dayparting" preference; this is where you can choose if you'd like ads to run all day, or during certain parts of the day

Set your bidding & optimization

Choose your optimization goal (or note the pre-chosen goal for you, based on your campaign settings)
Determine your bid strategy

Lowest cost – where you will maximize your results
Bid cap – where you will keep your average cost per results lower than your bid based on dollars per click, per thousand impressions, etc.

Click next
Step #4: Upload and Format Your Ad(s)
Note: the ad level determines how your creative will actually look. This will involve the visual and text that you use, as well as the link (if applicable) that you will send your audience to. If you have multiple creative assets to test out, consider uploading them as multiple ads – either within the same ad group and campaign, or within different ad groups or campaigns.
Choose your ad name
Choose your account identity

You can use your TikTok account to deliver "Spark Ads" (running ads for content that you've already posted)
OR, you can set a custom identity by choosing a display name – which will be the "perceived" account name and profile pic that is posting the video

Choose your ad format

Upload a single video
OR choose "Collection ads" to generate a combination of instant experiences to use in your ad

Choose your ad creative

Upload video, choose from your creative library, or Create a video
Enter your text (up to 100 characters) that will go along with your ad
Choose the destination page for your to send to
Add a disclaimer, if needed (only applicable for certain industries, i.e. health services, housing, banking/finance, etc.)

Add tracking (if applicable)

Select your pixel
Choose app events
Add a click tracking URL

Click "submit" and await approval!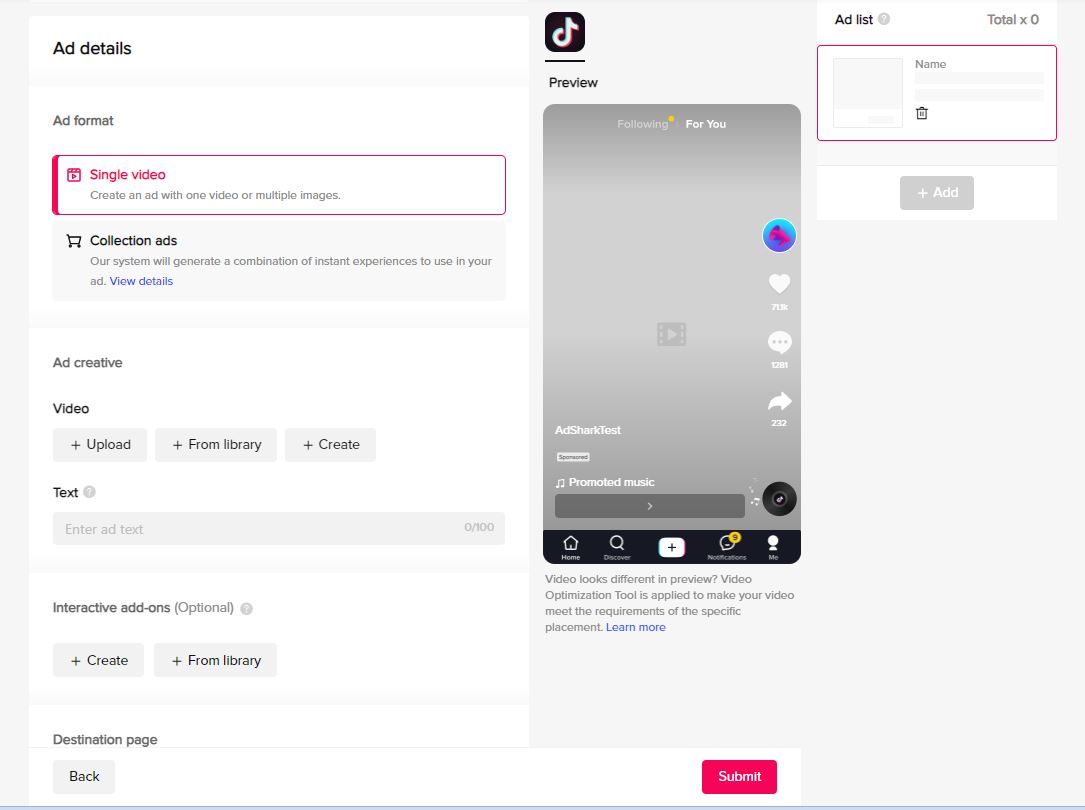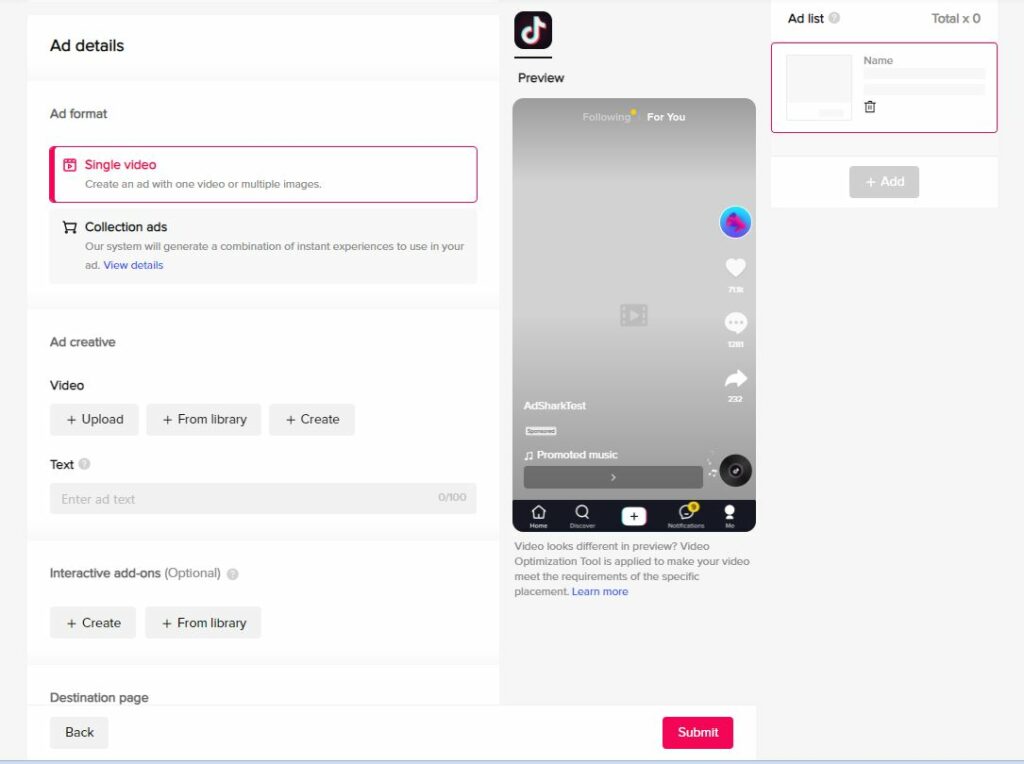 TikTok Advertising Best Practices
Now that we've set a baseline for what you need to do in order to run ads on TikTok, the benefits of TikTok advertising, and how to launch your first campaign – let's focus on the best practices.
Implement these following tips into your TikTok advertising efforts, and you'll be well on your way to increased conversions!
Keep video content feeling native to the platform. If you're still with us, this is the third time we've referenced this exact point. TikTok users will be able to sniff out gimmicky ad content, so be sure to make your content feel authentic to TikTok. That may involve using recognizable & trending sounds, familiar faces and content creators, and a general style that doesn't feel overproduced.
Limit your video length & get to the point quickly. Try to keep your ads to 15 seconds, and make sure the first 3 seconds of the video have a strong hook. Be clear with what you're selling & cut out the filler. By keeping the video as short and to the point as possible, you give your ad the most chance for success.
Make sure videos are formatted for the placement. Fill up the vertical (9:16) format that is used by TikTok, rather than trying to shove a horizontal video in the middle. Make sure no key imagery or text details are cut off.
Use captions or text overlays to highlight key points. Make sure you use TikTok-style captions or text overlays to really emphasize the points that you are discussing. Also, if needed, tie in longer-length captions to make sure that no key pieces of text are missed during the viewing experience.
Add background music (ideally, trending music). Consider testing out different background tracks to see which has the best engagement and click-through rates. Consider the addition of music that is trending on TikTok or can be recognized by people who frequent the TikTok app.
End with a strong CTA. Your ad efforts are only as strong as your call-to-action. What do you want your audience to take away from viewing your ad? End your ad with a strong statement to try to drive more actions.
Enlist help if you're stuck. Not every company has the benefit of a strong influencer network or an internal team who is well-versed in making TikToks. If you're in a bind, consider using TikTok's Creator Marketplace to connect with content creators, or reach out to our team and we'd be happy to develop a proposal for you.
For more best practices, keep following along on our blog and socials! TikTok advertising isn't going anywhere, and as we continue to grow our TikTok clients, we will keep passing along tips and guidance for you.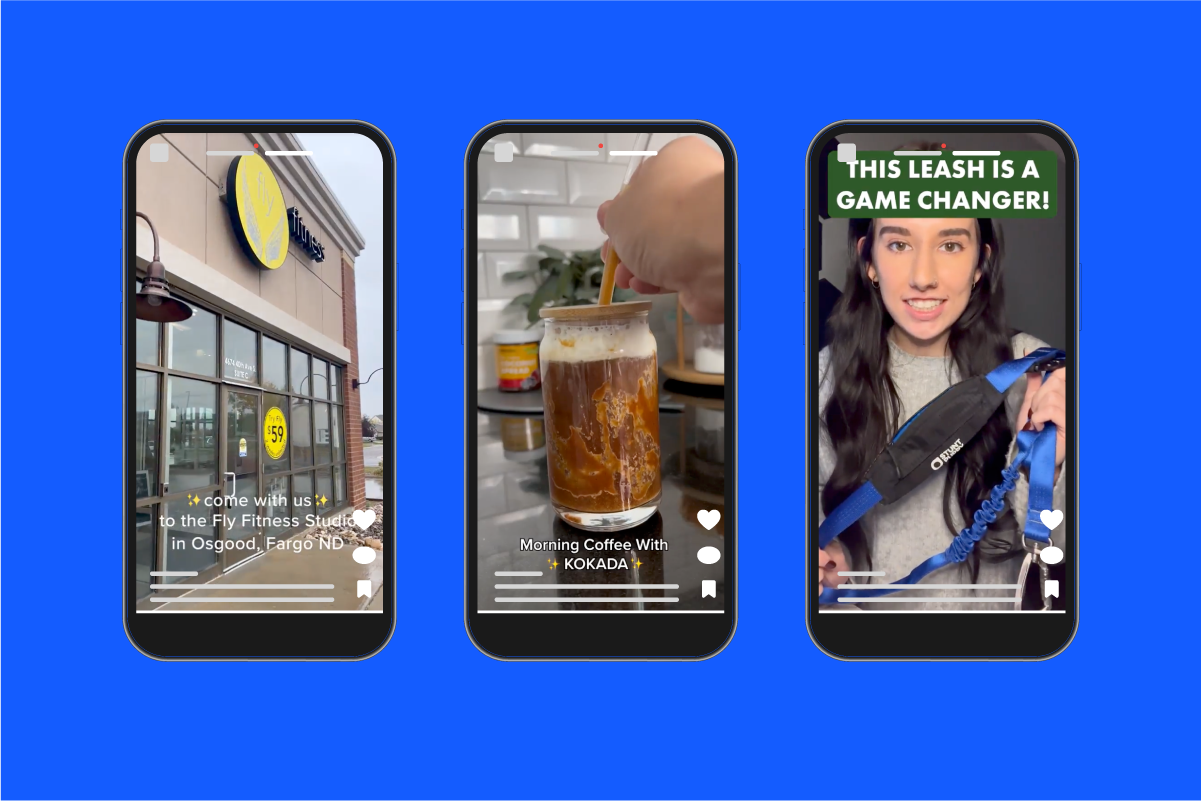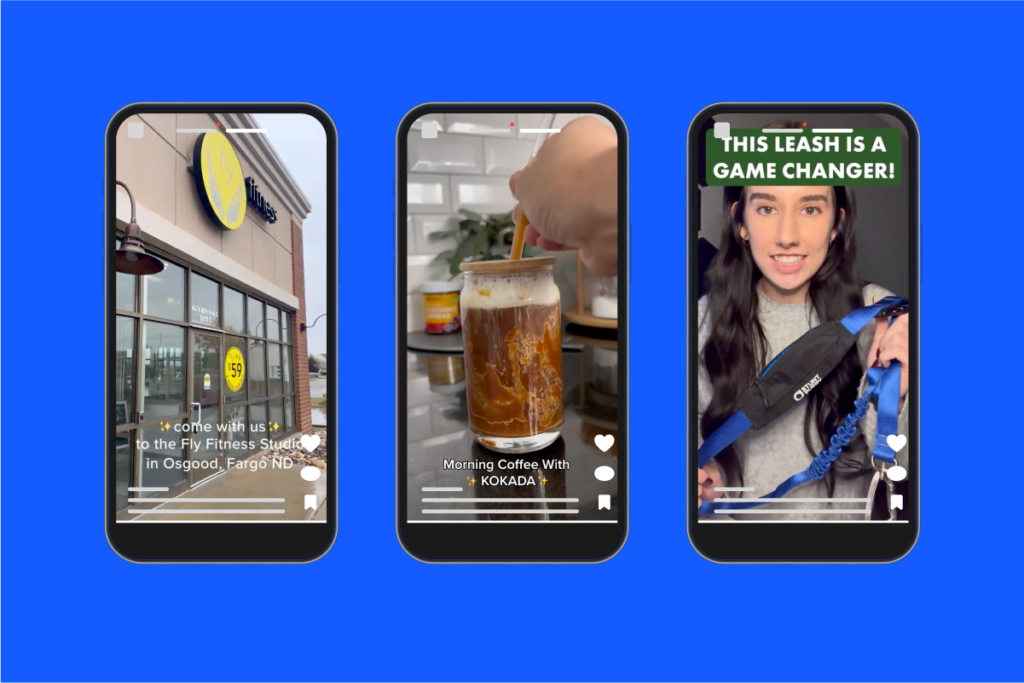 ---
Tying it all Together
If you're like me, you like to skim blogs and get to the meat and potatoes. Fortunately, I love cooking up meat and potatoes and am happy to do so here too. Here is the summary of this blog:
If you're wondering if TikTok is a good fit for you, answer the following questions:

Do I have enough budget? TikTok requires $50/day in minimum spend.
Is my business in the D2C space? Though B2B businesses can advertise on TikTok too, B2B ad dollars may be better spent elsewhere.
Have I started building short-form video content? If not, get started here.
Is my tracking and reporting in place? Get the TikTok Pixel on your site and be prepared to measure key results.
Have I created a TikTok Business account? No worries, if not – you can do so here.

The benefits of advertising on TikTok for your business are plentiful. If we could summarize them into the 5 greatest benefits, it would be:

TikTok is growing in popularity
TikTok ads have strong engagement rates
TikTok advertising is easy to get started with
TikTok users are prone to being strong purchasers
Top-performing TikTok ad content is easy and inexpensive to produce

Launching a TikTok Campaign involves the following four steps:

Creating your TikTok account
Setting up your campaign
Setting up your ad group(s)
Uploading and formatting your ad(s)

Best practices for advertising on TikTok include:

Running content that feels native to TikTok
Getting to the point quickly
Making sure videos are formatted correctly
Using captions and text overlays to highlight key points
Adding background music
Ending your video with a strong CTA
Enlisting help if needed
As you look to get started with TikTok advertising, we hope you found this blog to be a helpful resource! With any additional questions related to TikTok advertising, feel free to reach out to our team of digital strategists. Otherwise, stay tuned on the AdShark blog for more content about how to grow your business. Thanks for reading!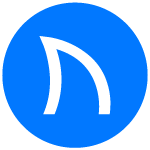 Ready to grow FASTER? Let's Talk!
Interested in having us help you grow?