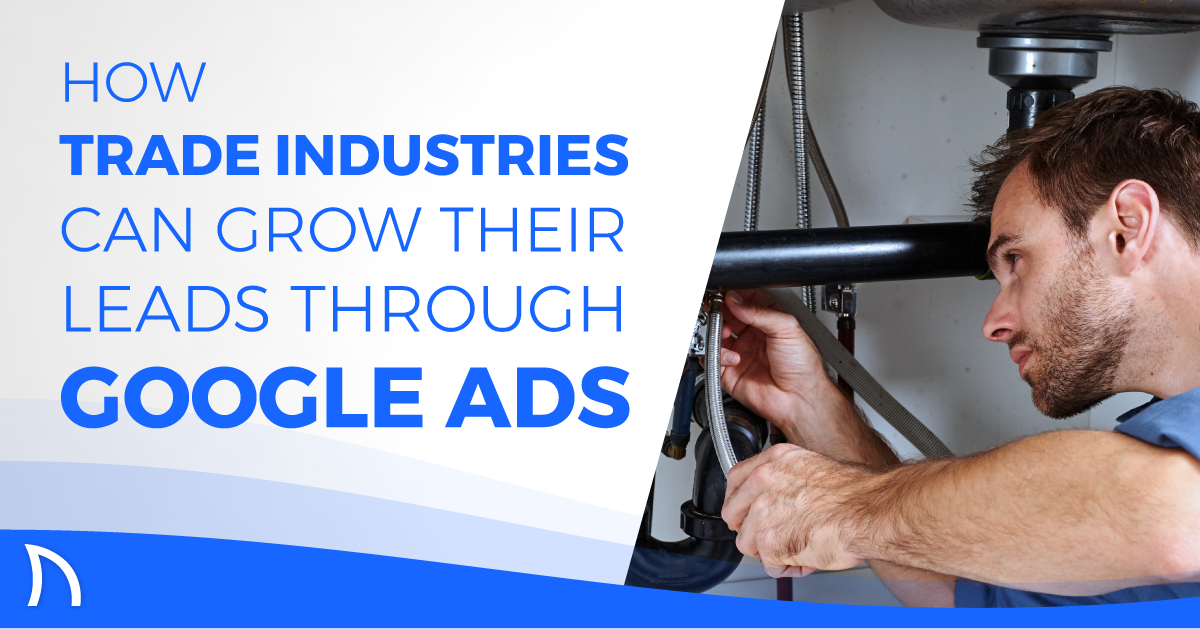 How Trade Industries Can Grow Their Leads Through Google Ads
When I first graduated from school, I worked with a sign manufacturing company on their marketing. Our production team was packed with woodworkers, engineers, and general signsmiths who were remarkably talented with their hands. And 22-year-old me? I called cordless drills "those electric screwdrivers that make holes in walls." Needless to say, they always got a good laugh when I tried to jump in and help on a sign fabrication or installation project. Most marketers like myself wouldn't make it a day as a mechanic, plumber, fabricator, or pretty much any other trade job that exists in our community. However, I've also met plenty of people in trade industries who say "I have no idea what to do when it comes to marketing." This blog article is for them.
Since I've already shared with you my lack of handyness in the sign production world, it's probably no surprise that when things break around my home (or with my car), I'm not the type of person who's capable of fixing them. Instead, I find myself going to Google and searching "(insert professional) near me" to find the people I need to help; and I'm not the only one who relies on search engines to put me in touch with tradesmen in my community. According to Internetlivestats, Google processes over 40,000 search queries every second on average.
Using a tool called Google Keyword Planner, I took a little inventory of how often people are searching for various professions on a monthly basis in the U.S. Here are some results for you: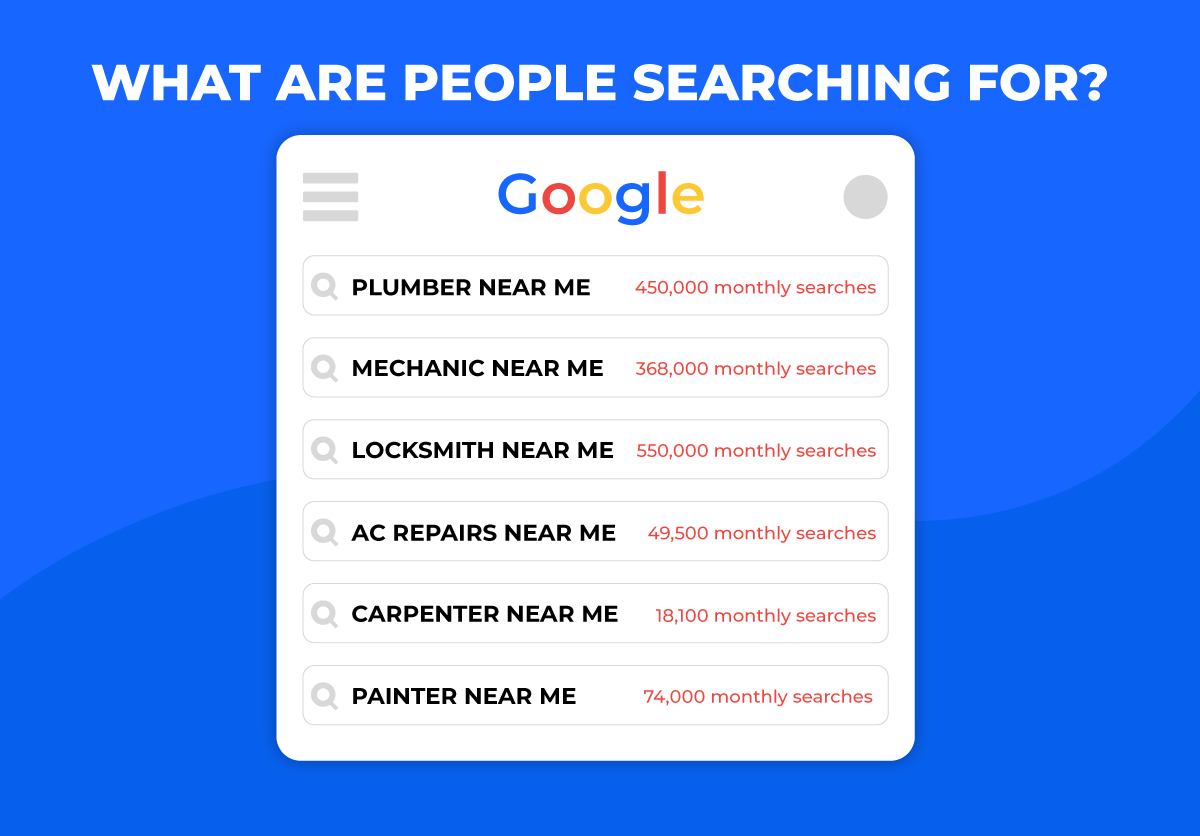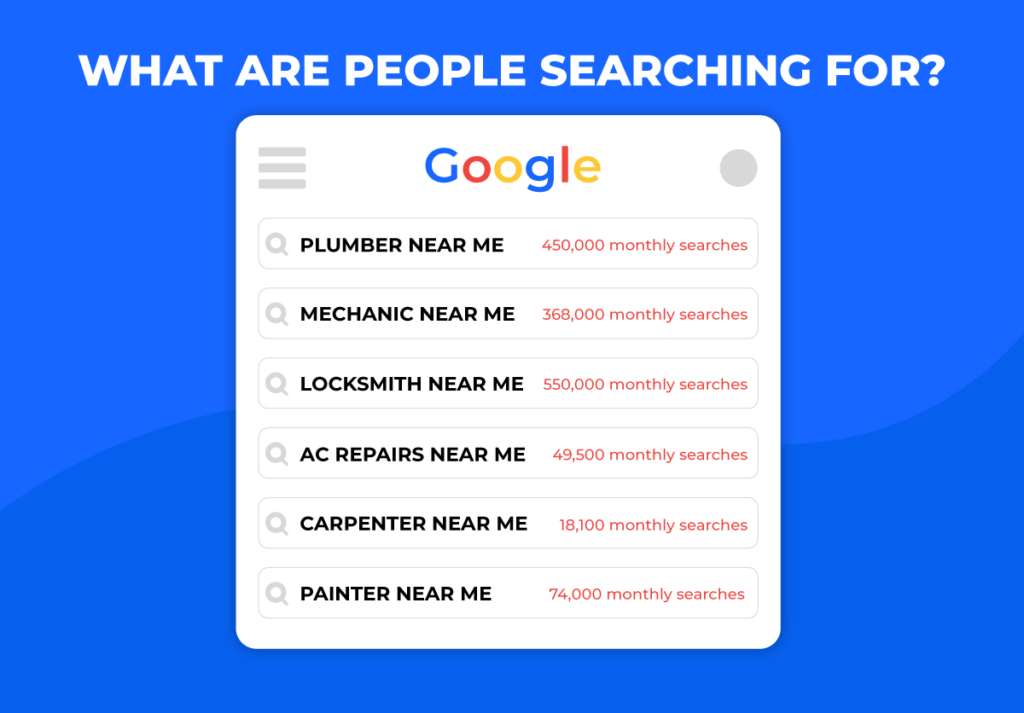 Needless to say, people are out there searching for repairmen, fixers, and other individuals in trade services on a daily basis – and as a marketer, it's our job to help you secure those searchers and turn them into qualified leads and customers. With a solid Google Ads strategy, we've seen companies who have otherwise struggled to grow their business, find an effective way to reach and convert online traffic into clients through digital advertising. To begin, let's go through a couple of real life examples of businesses that we've helped grow through advertising on Google.
Case Studies: Trade Companies Who Have Excelled With Google Ads
In our seven years of operation, we've worked with around 170 clients on various digital advertising campaigns, with two of our more successful clients being in trade industries. Business A is a granite & quartz countertop manufacturer and installer in North Dakota. Business B does home & commercial remodeling, floor and tile, and handyman services. Both businesses looked upon AdShark to help with their Google Ads strategy, and we've been able to help grow their accounts and, in turn, grow their leads and revenue.
Business A was looking to grow their sales pipeline, and we worked on Google search and remarketing campaigns as a way to drive more conversions. They've always had great products and services, but they were not winning a lot of countertop work because they struggled to get new leads into the door. Since working with them, we've helped grow their monthly leads by 1000%, they've added eight new staff members, and also added a second location. In the first ten months of this year, we've produced 172 non-branded conversions alone (non-branded means that the client's brand name was not in the search before the customer converted).
Business B was a highly-diversified contractor/trade company that worked with both residential and commercial clients on various improvement projects. They had some brand name recognition around town, and had grown through various marketing channels, but wanted to expand their growth potential through digital advertising practices such as Google Ads. Our team assisted with both search and remarketing campaigns for them and in the past ten months, our efforts have garnered 234 qualified leads (phone calls or form submissions). Once again, these were all non-branded conversions.
To take a look at more case studies and real-life success stories from our clients, feel free to visit this page. We'd encourage other trade companies that are interested in growing their leads through digital marketing to continue reading through to the next sections.
What is "Google Ads" and How Does it Work?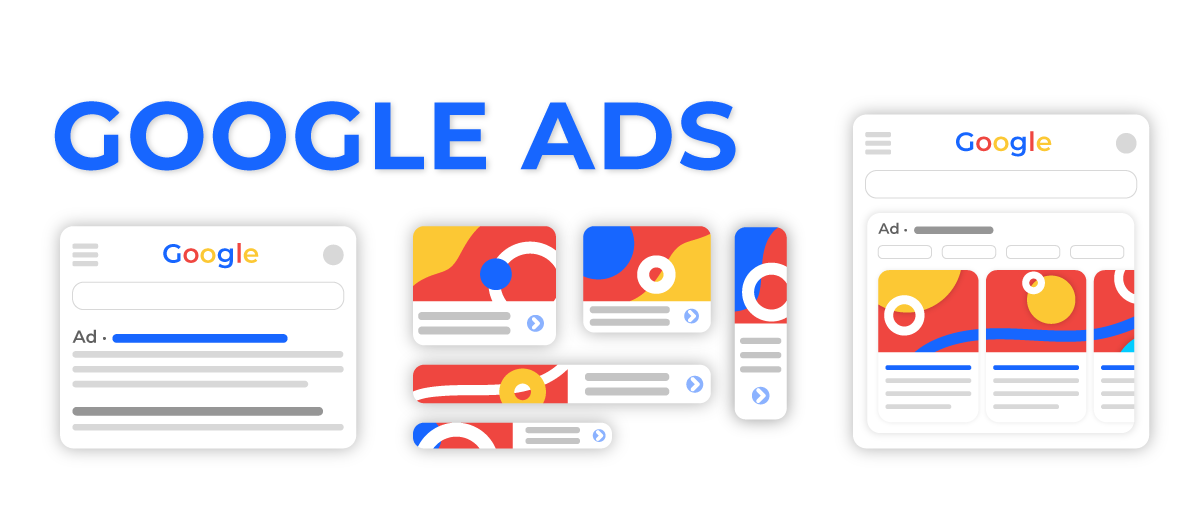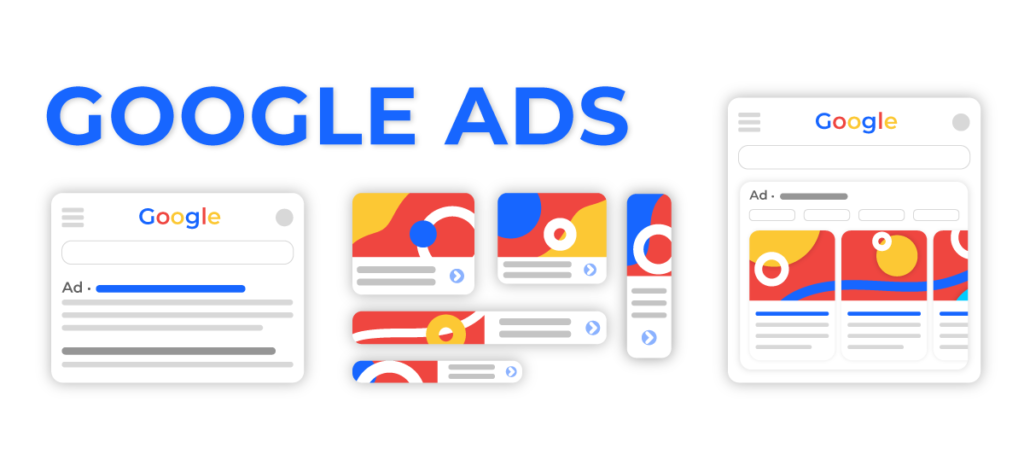 In its simplest form, Google Ads is a way for advertisers to reach (and re-reach) prospective buyers across a variety of online mediums (including Google Search, YouTube, and other sites across the web). Businesses can create a Google Ads account and run a multitude of campaigns to reach their audience, and are charged based on the amount of clicks or impressions generated by the ad. These campaigns include:
 Search Ad Campaigns: where you bid to have your website show up for various keyword searches.
Display Ad Campaigns: where you can have image ads show up on various websites across a multitude of industries.
Video Ad Campaigns: which are displayed before, after, or even during YouTube videos.
App Ad Campaigns: where you run an add for an app of yours that will be displayed across various Google sources, encouraging downloads.
Shopping Ad Campaigns: where, if you have a physical product to sell through e-commerce, you promote sales through Google Merchant Center.
Retargeting Campaigns: where you send unique display ads to individuals who have previously visited your website.
As you may already be gathering, there's quite a bit to learn about Google Ads before getting started. For the trade industry in particular, it's a wonderful way to reach potential customers because (as opposed to other ad placements), you're able to reach people when they're looking for you – particularly with search ad campaigns and retargeting campaigns. By identifying keywords that relate to your industry and the services you offer, you can capture potential customers and bring them into your funnel (drive them to your website, educate them on your unique selling points, etc.). Then, after you've captured them as site visitors through a search campaign, you can deliver more potent calls-to-action (including discount codes and promotional messages) through retargeted ads that prompt them to become customers.
Online advertising is a great way to reach your audience where they live. With the expanded use of the internet on computers, tablets, and mobile, we're also seeing an expansion of ad effectiveness. WebFX claims that people who click on ads are 50% more likely to make a purchase, and online ads increase brand awareness by 80%. By not having a Google Ads account, you may be missing a golden opportunity to have your business ranking at the top of key searches that pertain to your line of work. So, how do you get started?
Starting a Google Ads Account
If you've been convinced of your need to advertise through Google, well good – my work is halfway done. Now, we just need to walk you through the process of getting a Google Ads account up & running and then talk about some best practices to hit the ground successfully. To begin, you just need to have an email address and website for your business. As Google notes in their instructions for creating an account, you can get your first ad created in about 15 minutes! Here are the next steps that you'll need to take to get going:
Go to Google Ads to get started.
Enter the email you want to use to sign in, and then the website address for the business you wish to advertise. Then click continue.
Sign in to your existing Google Account or create a new one.
Set up your first campaign by entering your budget.
Choose an audience (based on locations, demographic information, keywords, etc.).
Set your bid, or the highest price you're willing to pay for a click on your ad, by entering a number next to your maximum CPC.
Write your ad.
Set up Google Ads billing.
Review and confirm, and get started!
The biggest differentiator between a successful ad campaign and an unsuccessful ad campaign is how it is optimized. Many companies have no problem getting a Google Ads campaign launched, but struggle to solve problems that may arise and struggle to maximize their advertising spend. If you're not cautious, you can start bidding on keywords that don't make sense for your brand, or overbidding for results that aren't potent. Of course, we'd always recommend considering a managed Google Ad service through a digital marketing agency, but we'll also try to sprinkle in some tips and pointers on best practices in the next section.
Google Ads Best Practices for Trade Professions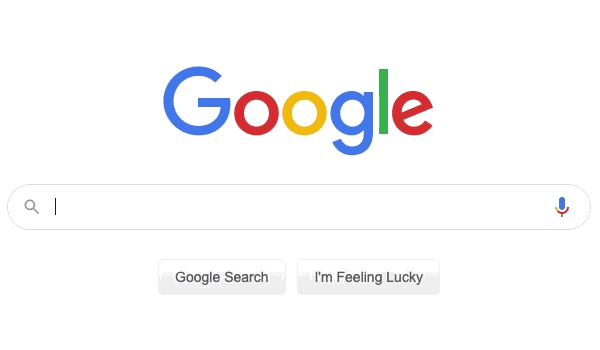 Achieving success in Google Ads requires a few things: (a) an understanding of your customer, (b) an enticing way to draw them in, and (c) time and energy to devote to keeping your campaigns optimized. If you've been running your business for long enough, I'm certain you've got a good grasp on part a, and likely a decent handle of part b. Part c, however, requires knowledge and expertise in the Google Ads platform, and time and energy to make account changes on a daily basis. Many individuals don't have the time to do so themselves, so look for a digital advertising agency to help out. Even if that's the case, having enough knowledge to hold your agency accountable is an important prerequisite. This section should help you get there.
Here's a list of some of our best practices for getting great results right out of the gate with your Google Ads campaign:
Start with Search Ad Campaigns. A lot of individuals are driven to display ads because they're typically lower cost, but we find the most success with Search Ads. It does a great job of driving new traffic to your website, effectively getting individuals into your marketing funnel. If you have a good list of keywords to select from that relate to your product or service, you can attain solid traffic from clicks to your website on various search queries. By getting this initial traffic to your website, you'll also have the opportunity to remarket to these individuals at a later point.
Find the right keywords to bid on. Google provides a free tool that's very helpful in Google Keyword Planner. This will tell you the expected amount of searches for various keywords on a monthly basis, and will also give you recommendations for other keywords that could be used. In my experience, the recommended keywords section has been a lifesaver as it's helped me find new ideas and set up campaigns based around the way people are actually searching. Bonus points: it's also a good tool for writing content on your website and finding keywords to throw in for SEO purposes (but this is a talk for another day!).
Write ads that inspire more clicks. Most people say you should write an average of three ads per ad group. The three ads should have different text and calls-to-action that may resonate with different audiences. You'll have to enter a URL, headline 1 (first thing people see in your ad), headline 2 (where you can install a benefit), display path (to give people more information about where they'll go), description (to tell people more about your business, with 1 clear message), and ad extensions (additional selling points or benefits). You can also run responsive search ads that take the best-performing headlines and descriptions and combine them to create the most potent ad to drive more traffic to your website.
Track successes. In the simplest form, you can click on the tool icon at the top of your Google Ads home page and go to "Conversions." This will allow you to set-up what you want to track – website actions, phone calls, and more. As you get more well-versed in your tracking, you may wish to create custom reports using Google Analytics data and Google Data Studio. For individuals that aren't as tech-savvy, this may be challenging. This is where a digital agency could help, but it will still be important for you to outline what you wish to have tracked. Here are some starting points: cost per click (average cost to get someone to your website), cost per conversion (the amount of money you spend for each web lead), and phone calls (the amount of calls that came in due to your ad).
Remarket to Web Visitors. Creating retargeting/remarketing ads is a great way to keep your business top-of-mind. All you have to do is have tracking code installed on your website (or specific web pages), and you'll be able to serve retargeted ads to individuals who have visited your site recently. These individuals are considered "bottom funnel" and are much closer to actually converting and becoming customers… they just may need another little nudge. That 'nudge' (or ad) can have calls-to-action like coupon codes or promotions that may inspire them to make the final buying decision and schedule an appointment or service.
Improve Your Landing Page. An often forgotten part of the equation is the web page that you're driving traffic to. However, one of the biggest indicators of your ad's quality score is the landing page that you choose. One of the easiest ways to improve this is to make sure your ad copy (or the text written on your Google Ad) is aligned with the copy/content on your landing page. If the same keywords are not used, this may be a red flag to Google and they might rank your ad lower on quality score. In addition to aligning the copy, it's important to have a way to convert the user directly on that page (think of forms and trackable phone numbers on that page so you can convert them right when they "land").
Don't just set it and forget it. This may seem obvious, but you'd be surprised how many of your competitors simply get a Google Ads campaign launched and then aren't monitoring it. You should make it a point to do daily checks and see what traffic is (or is not) being driven to your website. From there, you can make changes to the keywords you place bids on, the bidding strategy, the amount of money you're willing to spend per click (or per impression), and the way your ad looks.
Get rid of negative keywords. We recently took over some client work for an equipment company, and one of their pieces of equipment was called an "anaconda." Their previous agency was bidding a ton of money on that keyword, but it was driving no conversions (just people calling asking for a link to the Niki Minaj song). This highlights one of the key things that separates a good campaign from a bad one – bidding on the right keywords. If you take a look at how people are discovering your ads, you'll see some startling results. Make sure to be more mindful of the "match style" you use for your keywords, but also don't be shy to identify some results as "negative keywords" so you don't waste dollars on searches that don't apply. For example, if you're a local locksmith and bid on the keyword "lock repair," you might find yourself showing up for searches like "how to repair locks of hair." No bueno. Analyze your results on a daily basis and you'll find a wealth of searches that don't apply, and force you to look at your match strategy and which keywords should be negative ones.
This list only scratches the surface on ways you can improve your ad campaign and achieve better results with Google Ads. There are a variety of tools that exist online to help you get started, and we'd encourage you to consume as many of them as you can! Google Ads also wants you to be successful – because the more you spend with them, the more they have to gain – so they have a multitude of free courses and resources for you to begin to master your domain. However, if you feel you simply don't have the time to devote to Google Ads but know they can help your business, feel free to send us a no-hassle request for proposal, and we'd be happy to go over your budget and let you know what our team can do for you!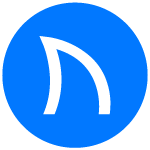 Ready to grow FASTER? Let's Talk!
Interested in having us help you grow?