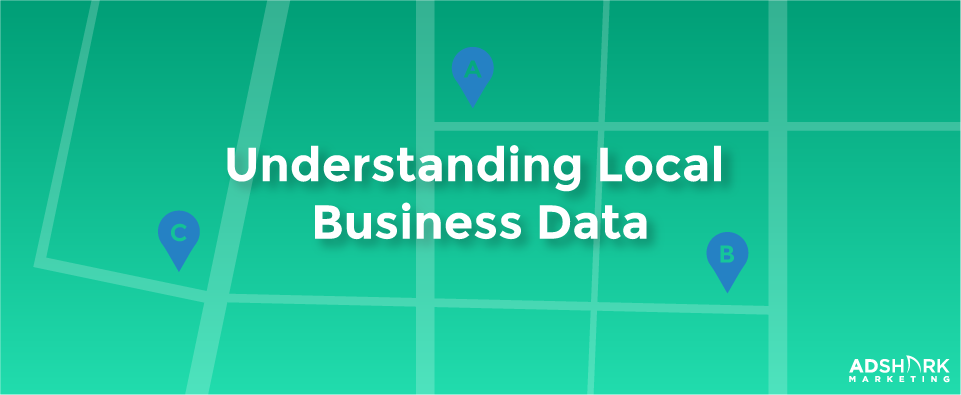 Understanding Local Business Data
Local online visibility is as important as ever moving into 2014.
Being able to quickly search, find and contact local businesses is extremely important, so we're going to run through an overview of local online business data and what it means for local search.
Effects of Local Data
Local business data is something we often look at that has significant effects on local search engine optimization (SEO) and online visibility. It can even affect the customer experience.
Have you ever had trouble finding a business you got directions to online using your phone? Or even just had trouble finding their contact information or address?
These problems can easily frustrate potential and current customers (see common data issues below).
NAP Information
When we refer online business data, generally we're talking about NAP information, or occurrences of a business's name, address and phone number (or NAPU – name, address, phone number and website URL).
Each occurrence of a business's NAP information is called a citation. When search engines crawl the web and find consistent citations, they use them as a vote or trust signal that the specified business exists with the correct address and contact information.
The number and quality of these consistent citations is a factor in local search rankings for Google. This includes ranking competitively for niche/industry terms as well as having local information showing up for branded search queries.
Common examples of citation sources include business listings and directories such as Yelp, City Pages, and Dex.
Local Data in the Search Engine Result Pages (SERP's)
Here are a few examples of how local information can be displayed in search results from Fargo, North Dakota.  We'll be looking specifically at Google search.
Branded Search Results
Here's an example of AdShark Marketing's local data being shown for branded search results, meaning a search for a specific business or location.
You can see that by doing a quick search on Google. The website, full address and phone number are actually displayed under the main website search result with a pin that will send you to the location in Google Maps.  You can also see business information displayed to the right of the search results, including a logo, a preview of the location on maps, and a link to reviews, if available.
Without even having to visit a website, users can quickly find information online about your business that they need.  As an example, I could call or find exactly where I need to go by simply typing the name of a business into my phone's home screen.  Pretty useful!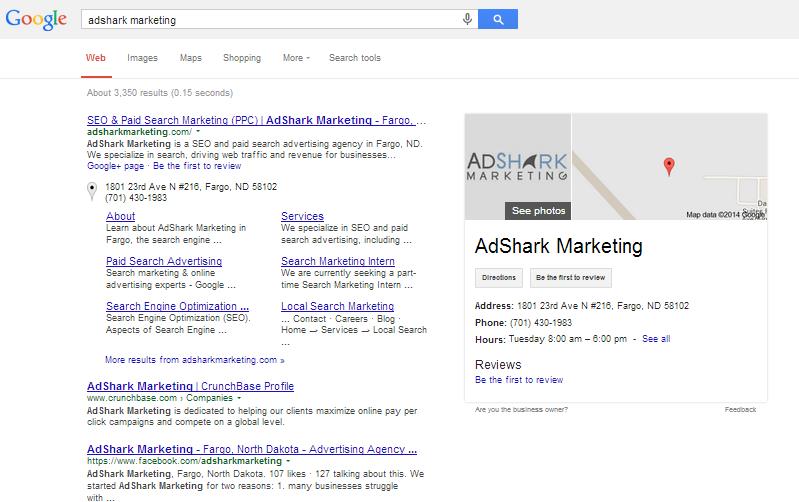 Competitive queries – Carousel & Blended Search Results
Here are two examples of how Google Places information is shown on non-branded searches for more competitive terms.
Google Carousel
The Carousel is currently shown more with restaurants, hotels, etc. where there are a greater number of relevant businesses and reviews, and is shown above the search results in a black bar that can scroll left and right.  Clicking on a Carousel result or Map pin below will change the search to a branded query showing additional information, as in the example above.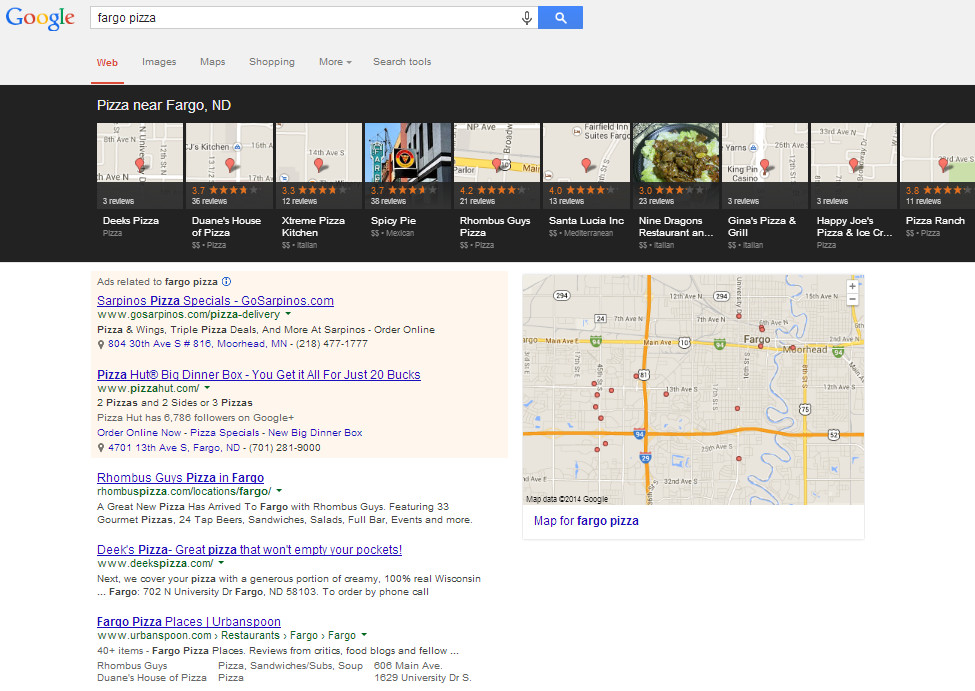 Blended Search Results
Blended search results are common for many smaller industries and resemble the information from the branded search results above, but show multiple locations.  The 7-pack, which displays seven locations, is pretty common.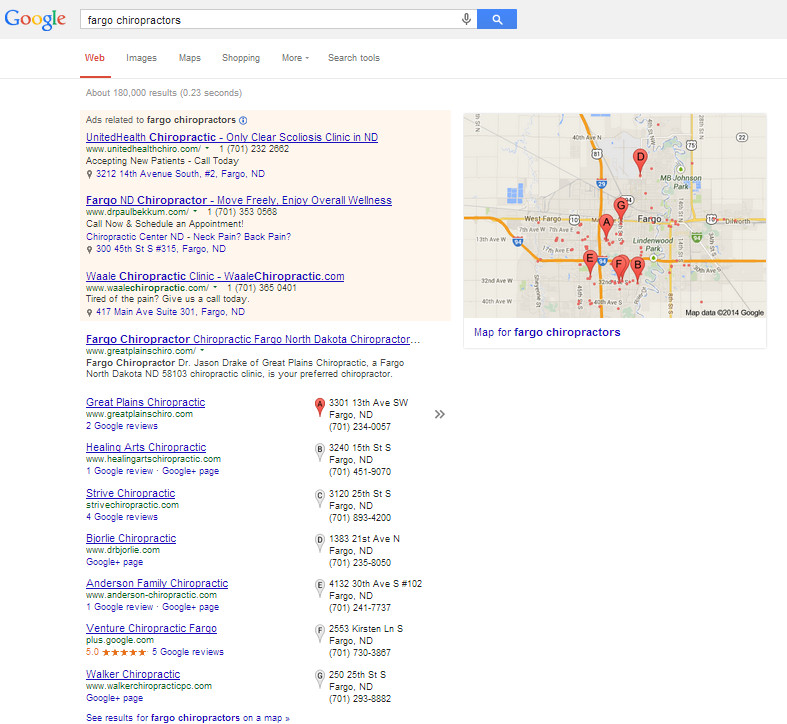 Note the pins A through G, with full NAP information, links to their website, and Google plus location reviews.  When you hover over a specific location, information is displayed on the right, similar to the branded example. Clicking a pin will direct you to the location on Google Maps.
With competitive searches, you can quickly compare local businesses and form perceptions on each one based on their website, reviews and rankings.  Users often perceive higher rankings with better or more established businesses.
The Power of Online Reviews in Search
In a 2013 local consumer review survey, 85% of consumers stated they read local online reviews, and 79% said they trust online reviews as much as a recommendation from a friend or family member (based on 2,100 responses).
That's a significant number that represents where and how consumers are finding and comparing local businesses today.
With this information being displayed in the search results, consumers have an easy way to read what others in their communities are saying and compare businesses.
Local Data Ecosystem
So we know what NAP is, but where does all this local information come from?
Below is a diagram of the local data ecosystem, created by GetListed. This is a visual example showing how business data flows from data aggregators to some specific directories and local-information-based companies online.
Four local data aggregators Adshark works with include Infogroup, Neustar/Localeze, Acxiom & Factual.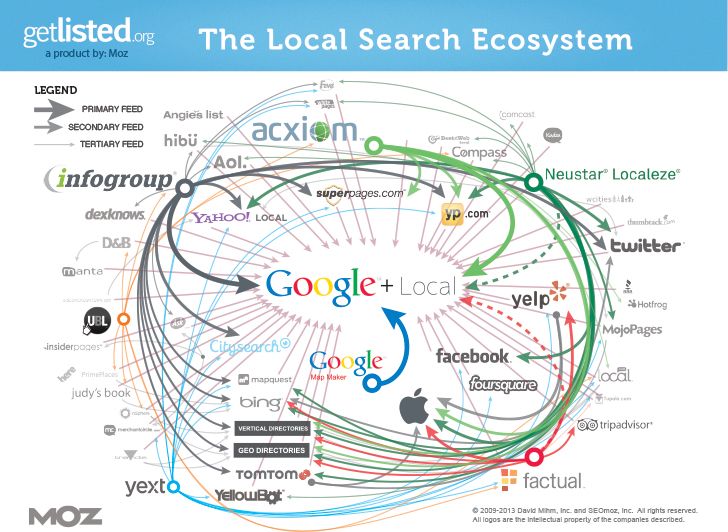 Google actually takes into account business information from multiple sources, so having consistent citations high in the ecosystem in multiple places is definitely important.
Common Pitfalls with Local Data
So we know having your business information show up across the internet is important, but there are a number of significant issues that can occur. These often cause problems we refer to as "bad data."
Here are a number of common problems:
Lack of Information & Citations
Data Inconsistencies
Incorrect Information
Duplicate Listings
Syndication Overwriting Issues
Lack of Information & Missing Citations
Often the case with new/small businesses or those without a huge web presence is a lack of business information and citations.
Most of the time their NAP never really enters the ecosystem at a high point, and as a result, they have fewer citations. This may result in not ranking competitively or even not showing up at all for branded searches.
Data Inconsistencies
Inconsistent business data is one of the more common local issues we see.  Inconsistent data confuses search engines and makes them less confident about displaying a set of information to users.
We mentioned earlier that citations are important, but they really need to be consistent.  Inconsistent data can include any variation in business name, address or phone number.  This can include variations in suite numbers or missing suite numbers as well (minor inconsistencies).
Even small variations such as LLC after a business name or University Dr S versus S University Dr could result in citations being seen as completely different businesses or locations.
Incorrect Information
Incorrect information often goes hand in hand with inconsistencies, and sometimes even duplicate listings.
A good example of this scenario is a business moving locations.  If they don't pay attention to their data, potential customers may look up directions to the wrong address.  It could easily frustrate someone if they can't find your location.
Duplicate Listings
Duplicate listings in directories are also bad for a local SEO, and sometimes also contain inconsistencies.  It is better to build one unique, quality citation from these types of websites for each location.
Syndication Overwriting Issues
Sometimes businesses try to manually fix incorrect information on specific directories and platforms. In certain cases these changes can be overwritten even after manually updating them.
These web directories and local data platforms purchase information from large data aggregators, and when an update rolls around they may take into account the aggregators' information instead of recent changes.
Specific occurrences of incorrect information are usually a symptom of bad data residing higher in the ecosystem and in other places.
How Does Your Local Business Data Look?
Contact us for a free analysis and see where you stand.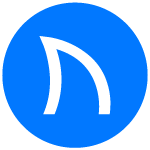 Ready to grow FASTER? Let's Talk!
Interested in having us help you grow?