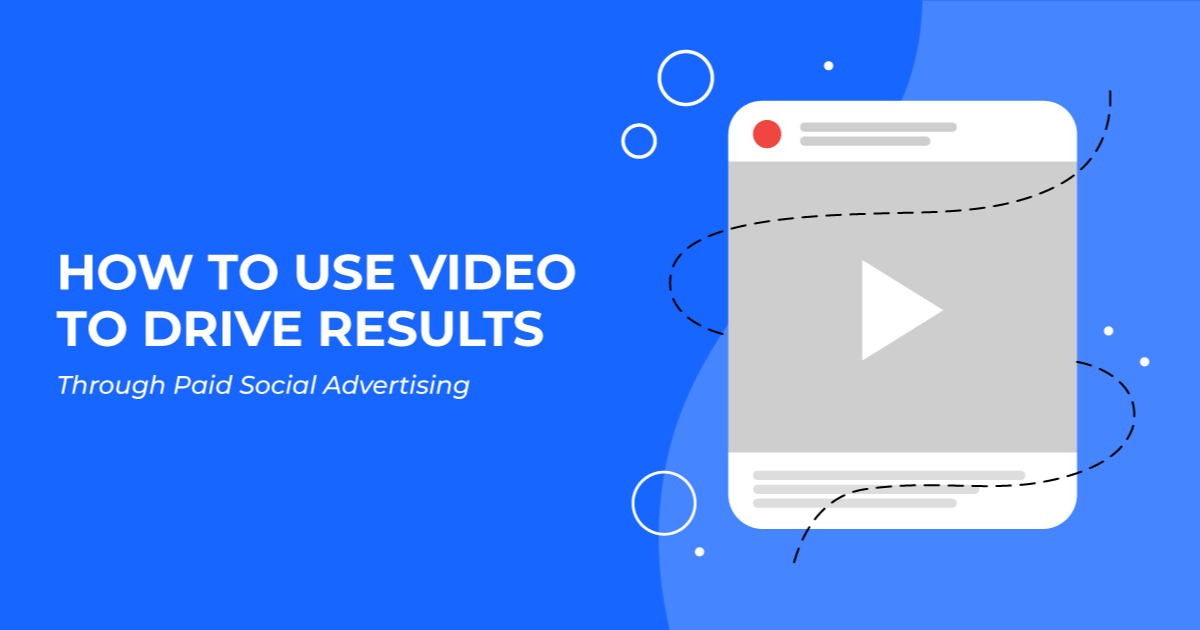 How to Use Video to Drive Results Through Paid Social Advertising
I used to think I was a better digital marketer than I was. You only know what you know, right? For me, I knew organic content. My first marketing experience came as a 20-year-old intern, running Facebook and Twitter pages for a crafting company. I helped increase our organic following by almost 25% in my first year through consistent posting, giveaways, and page like ads. I was flying high.
The first experience I had with video marketing came at my next job. This is when I realized I still had a lot to learn. We invested a good amount of money into a well-produced, creative video from a local studio. And where did I think it should go? Our Facebook Feed and YouTube Channel. No thought was given to targeted ads.
The video was clever enough to drum up strong engagement from our usual followers. It had several shares, high reach and engagement rates, and a few notes from clients of mine saying "nice job, Jack!" What we couldn't track is how it impacted sales. Thus, it was impossible to attach an ROI to the production costs and it ended our short stint with paying big dollars for video marketing.
Now, I work for a digital marketing agency that specializes in driving results. And I don't think the lessons I've learned should be held as secrets. So, today's blog is going to be all about how to get the most out of your video marketing through a well-structured paid social campaign. Let's dive in!
Does Video Perform Better on Social Media Than Other Creative?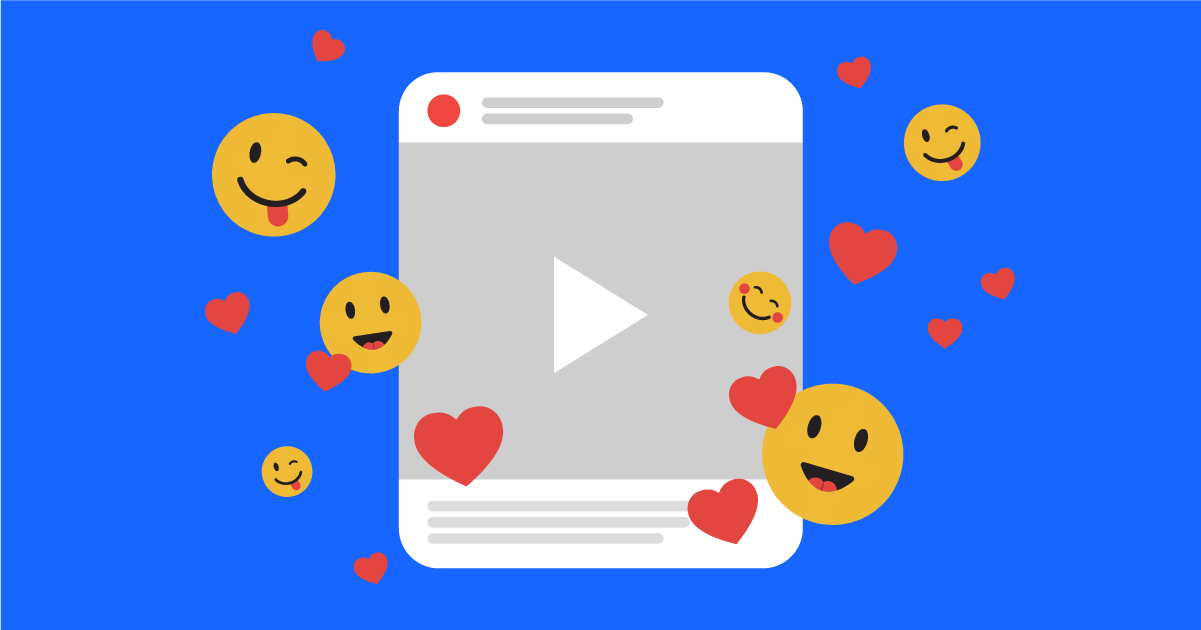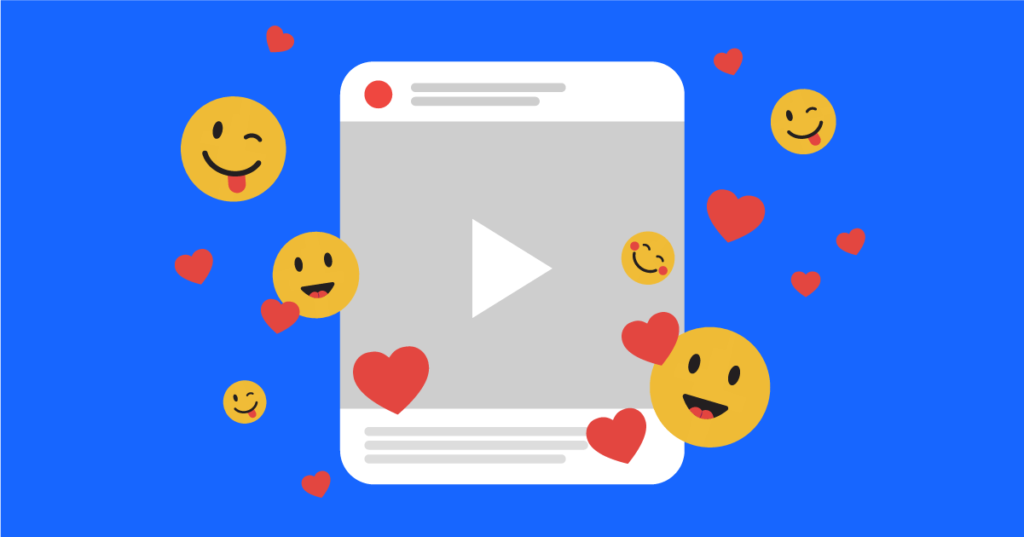 We hear this all the time. It's the age of video, they say. You gotta have it to get your message across!
There's a reason why the marketing world is going crazy for video. The demand for video from customers has continued to rise. In fact, 54% of consumers want to see more video content from a brand or business they support (via Hubspot).
It's important for every marketer to adapt their social content to cater to their audience's preferences. But the value of video marketing extends well beyond the entertainment value. Video content has also been proven to have better results. See for yourself:
Though there are still great ways to reach audiences with static designs or photos in your ads, it's clear that video marketing has been generally more effective in engaging an audience. The investment in video is a significant one, but when you can use it as an effective sales tool and track its results, the return on investment is realized.
We've helped several clients leverage video content to grow their sales or leads, and would love to share some tips for you to get started.
Tip #1: Segment Your Video Content for Specific Audiences
Do you re-introduce yourself to friends you've known for years? No. So why would you brand expect an intro video to mean as much to a first-time viewer as it does to someone who's an existing customer?
One of the beauties of advertising in the digital environment is the ability to tailor your ad's messaging to individuals based on where they are in the purchase cycle. We take this into consideration when we're running video ads for our clients, and typically break our audiences into three groups: cold audience, warm audience, and previous customers.
Cold Audience
This group is your top-of-funnel audience who is in the market for the products or services your business offers, but isn't yet aware of who you are.
Goal: increase awareness of your product, service, or company
Types of Videos: storytelling videos, brand introductions, etc. that are typically longer-form content.
Desired Action: engagement. We want this audience to watch the video, engage with it, and improve their overall recognition of our brand.
Targeting: based on interests, demographics, and other behaviors that imply they're "in market" for your offerings.
Warm Audience
This group is aware of who your business is (possibly from engaging with a previous ad), but has not become a customer yet.
Goal: drive web traffic, and purchase or lead behavior
Types of Videos: testimonials, product reviews, animations, and other video content that helps establish social proof and/or build more excitement about a product or service.
Desired Action: clicks, purchases/leads, and return on investment.
Targeting: previous social engagers (those who have viewed ads) or previous web visitors.
Previous Customers
This is a group of previous purchasers and current customers who you are looking to cross-sell, up-sell, or promote new products to.
Goal: drive repeat purchases and built brand loyalty
Types of Videos: new product explainers, promotional videos, and more
Desired Action: purchases, subscriptions, or other offers
Targeting: previous customers (including imported contact lists, or purchases that were tracked on your site).
If you begin to break down your audience into these segments, and serve them video ads that will resonate with where they're at in the customer journey, your advertising efforts will be much more effective. For additional tips on audience segmentation, contact our team to chat.
Tip #2: Pick the Right Social Channels for Your Video Ads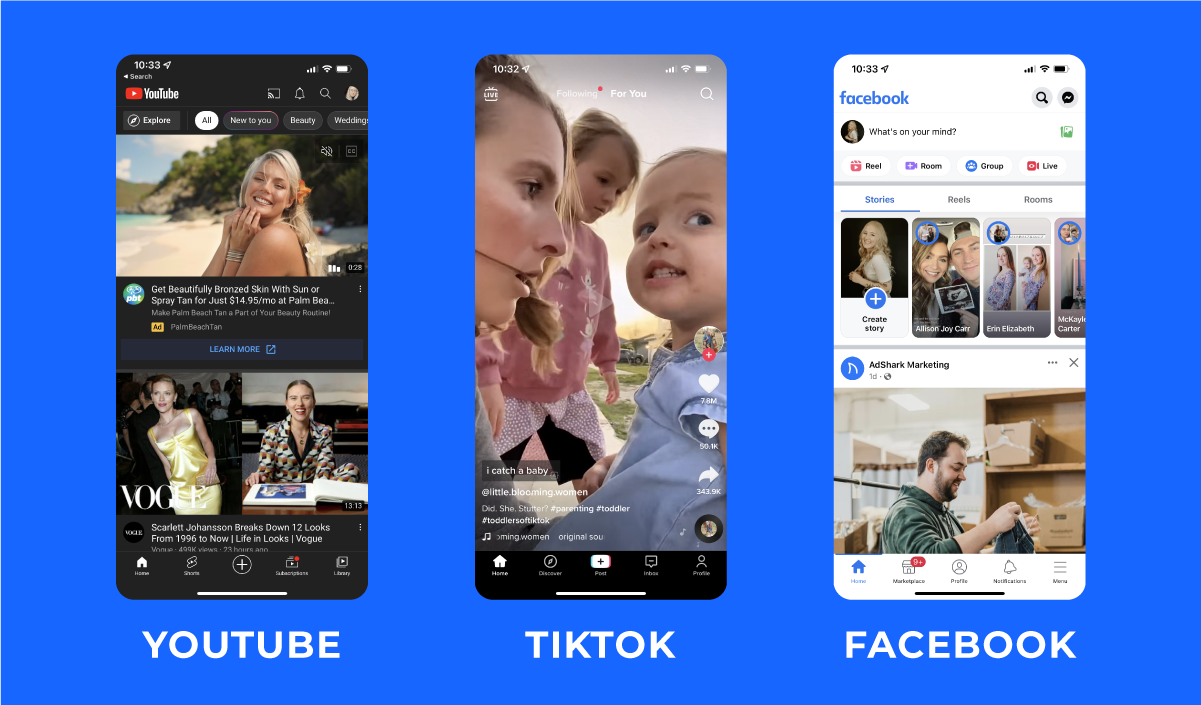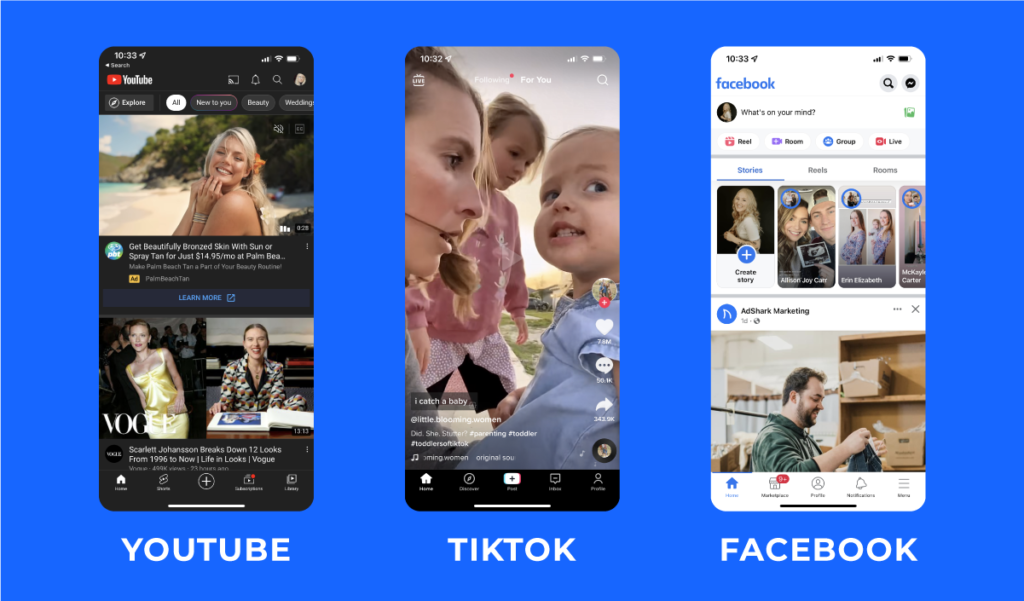 There's nothing I love more than being served a poorly-cropped video ad on my TikTok. It's clear to me that the digital marketing agency cares a lot about their ad placement.
Though not every incorrect channel decision is as obvious as bad crop jobs on social ad placements, there still are some common snags and snafus that advertisers run into when picking the social channel for their video.
To assess which channel is best for your video advertising, let's first take a look at the pros and cons of some of the most common:
Facebook (and Instagram)
Pros for Video Marketing: great targeting options, relatively low costs, ability to select placements (feed/story/etc.), large user base, strong engagement stats.
Cons: increased difficulty with attribution (iOS updates), campaign setup can be complex for inexperienced users.
YouTube
Pros: low costs, video content is native on this platform, ability to target users in a number of ways, non-skippable options, caters to longer-form content, pairs well with existing Google Ad campaigns.
Cons: rare to drive purchases or conversions, low engagement on skippable ads, increasingly difficult to target specific video content.
TikTok
Pros: growing user base, fairly low CPMs, placements appear native to the platform, strong engagement rates
Cons: some limitations on content formatting, less turnkey production (needs to look native to platform), less proven to drive sales or conversions.
There are additional digital channels for video marketers (OTT/CTV placements, LinkedIn, Pinterest, etc.) that can be pursued. Ultimately, it would behoove you to become more familiar with the audience, targeting options, and costs associated with different social platforms. We wrote another blog comparing those here.
Tip #3: Set up Tracking for Your Ads
Once you've worked through your segmentation & channel selection, the next important thing to complete before launching your ads is tracking.
A wise man once said "mo' money, mo' problems." I'm going to amend that. "No idea how much money, mo' problems." Some of the inherent value of digital advertising is the ability to track sales back to specific mediums, thus it's imperative that you have your tracking set up properly for success.
On Facebook, this would involve properly setting up your Facebook Pixel and event tracking. On other platforms, it may involve building UTM URLs and tracking conversions in Google Analytics. Every situation is unique, and we'd love to help you understand yours. If you're looking for help in setting up conversion tracking, contact our team and we'll have a conversation!
The benefits of properly establishing tracking for your ads are:
You're able to understand your ROAS (return on ad spend) and make decisions based on return.
You can compare specific channels (i.e. Facebook vs. YouTube) to determine where ad spend is best allocated.
You can set up benchmarks for future understanding and analysis of what results to expect with ad dollars.
To take it a step further: we'd recommend building a dashboard that shows your results across multiple platforms. This will be great for internal and external meetings discussing the results.
Tip #4: Analyze, Test, and Optimize Your Video Advertising Efforts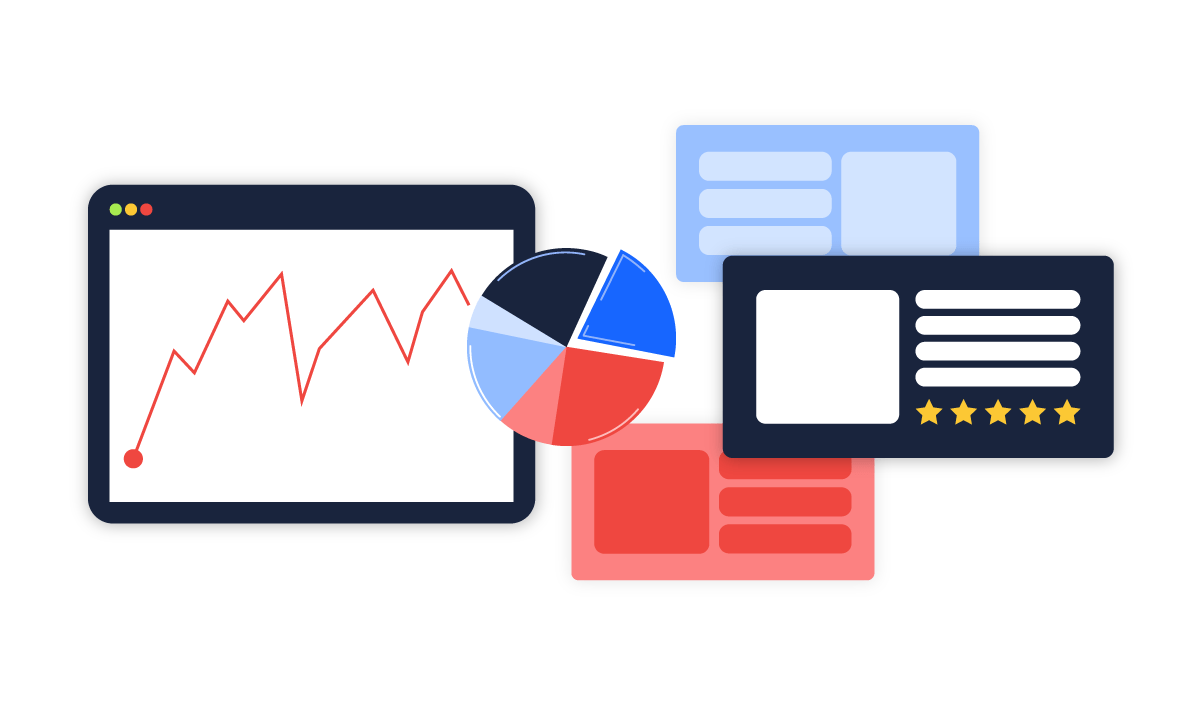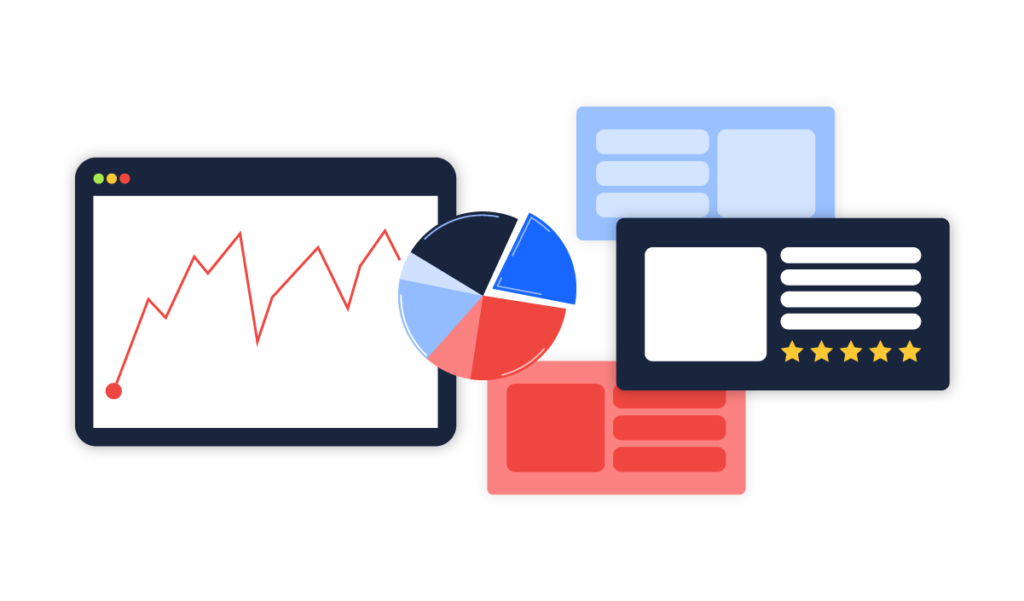 We're currently running ads to boost our Facebook Page likes. After three days of the ads running, we noticed that our costs per result were rising from about $2 a like to $5 a like. To stop this trend, we changed some campaign settings, including:
Expanding our target geo and interests
Revising our ad copy
Duplicating ad sets and moving budget to test different targeting strategies
Imagine if we had been runnin TV ads…
Advertising on social media means being able to analyze data, test different strategies, and optimize your spend towards the strategies that work best. You can be agile in making changes to your campaigns and help ensure that you're meeting your goals for return or results.
Commonly, we'll advise our clients about changes we'd like to make to campaign settings OR changes we'd recommend for creative. One of the more common issues that can occur is low engagement. Research has suggested that you have about 3 seconds to gain someone's attention online. So why do you wait until the end of your 2-minute video to get to the point?
Make sure that your video hooks people in & drives engagement, as you will be able to serve additional ad content to those individuals once they're in your funnel. If engagement is low or results are lackluster, try a/b testing different copy or different ads altogether to see which performs best. Then, deliver more ad spend to the best-performing creative.
---
Video marketing is a proven way to increase your brand's awareness and attract new customers. But it's not as easy as producing a quality video. Video marketers need to be considering the media plan for their videos, and having a well-structured social ad strategy is a key pillar to your success.
We've helped over 180 customers get the most from their online marketing, and would love to have a chance to do so with you too. To learn more about our recommendations for social media advertising, please contact our team. Thanks for reading!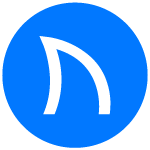 Ready to grow FASTER? Let's Talk!
Interested in having us help you grow?