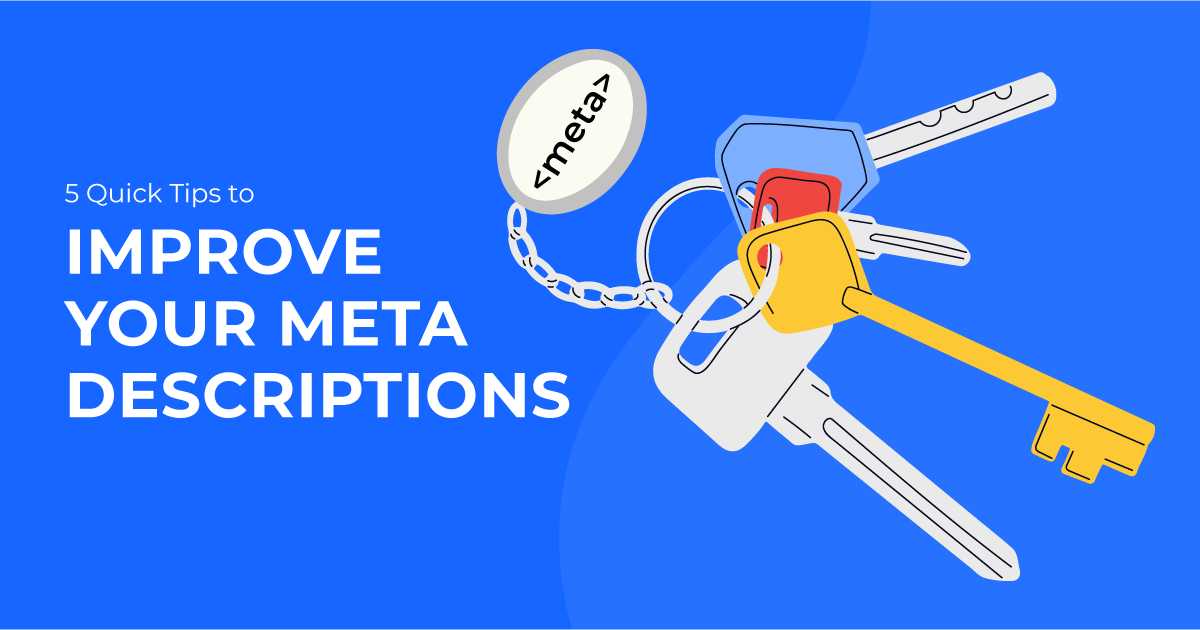 5 Quick Tips to Improve Your Meta Descriptions
In our world, we write two types of content: (a) web content that performs well with search engines, and (b) ad content that inspires individuals to click. What I love the most about writing meta descriptions is that they involve a bit of both; a focus on keywords and search engine relevance, and a creative hook to inspire action.
Today's blog is devoted to writing better meta descriptions. But why do meta descriptions even matter? Here's why:
Meta descriptions help improve click-through rates, and higher CTRs improve your overall search engine ranking.
As you look to refine your website's meta descriptions (and corresponding search rankings), we hope this blog will come in handy. Scroll below for five quick tips that will help improve your meta descriptions.
Tip #1: Keep Your Meta Descriptions Between 100 and 155 Characters
Google has gone back and forth with meta description limits, but today's most recent limit is set at 155 characters. If your description is over 155 characters, it may be subject to truncation and then you get a sloppy looking meta description like this:

In addition to being mindful of your meta description being too long, it's also possible for your meta description to be too short. If you only have a line or so of text, you may be missing out on some opportunity for more explanation of your product or service. We like to keep meta descriptions between 100 and 155 characters for best results.
Here's an example of a great meta description that fits within these limits:

Tip #2: Include Your Most Valuable Keyword, but Not Too Many Keywords
It's obvious when you're reading a meta description that was written by someone who thinks keyword-stuffing is the best way to improve search engine results. Here's an example from Google Search Central:

This is an example of someone writing a meta description that simply has way too many keywords involved. I typically tell customers to limit their keywords to about 2 (and no more than 3). See an example below of a better meta description that only includes a couple of keywords:

Tip #3: Use a Call-to-Action (CTA) in your Meta Description
As noted at the frontend of this blog, a good meta description will inspire clicks, boosting your click-through rate and improving your search engine ranking. As any ad copywriters know, there's no better way to inspire clicks than to include a call-to-action.
When developing your CTA to include in your meta description, ask the following:
What will my customers care the most about? and
How do I concisely state it?
Common CTAs may include "Shop Now," "Visit Our Store," "Purchase Today," and more. They should be written in active language and used to help describe the desired action you'd like for your customer to take.
Here's a solid example from Reebok:

And another good example from Tall Order:

Tip #4: Pick the Right Pages to Write Meta Descriptions For
Whether you are planning to write new meta descriptions yourself, or are looking for an SEO agency to conduct the work on your behalf, writing good descriptions can be laborious.
With respect to your time (and potentially money), consider only writing meta descriptions for the following types of pages:
Home Page: the homepage of your website is the most important to write a custom meta description for. This page is one of the most likely to get search results for, thus it's important to have a well-written meta description to boost click-through rate and describe your business.
Product or Service Pages: whether you're a lead gen business (with service pages) or an eCommerce business (with product pages), you'll want to ensure these are made with best SEO practices in mind. Describe your product or service and leverage keywords with high search potential.
Low Content Pages: if you have pages on your website with a low amount of written content (mostly images or videos), make sure that you're updating your meta description. Otherwise, Google will auto-populate any headlines, captions, and descriptions into your meta description on SERPs. You'll end up with funky meta descriptions like this (below):

In other words, it's okay to leave some pages without meta descriptions (and allow Google to pull in on-page text). But for your most valuable pages, ensure that you've optimized the meta descriptions to increase your chance for strong CTRs.
Tip #5: Include Product Specs or an Offer
or service specifications and an offer. Product specs serve the purpose of adding context and description to what your company is selling (compelling consumer behavior) and an offer is sometimes all it will take to drive a click.
Here are some instructions for both:
Adding Product Specs: for eCommerce products, consider additions like "Available in Black or White," "4×6 size," "non-shrink cotton," and more. For lead gen services, consider adding specs such as "for home or auto," "risk-free purchasing," "backed by lifetime warranty," and more.
Adding an Offer: for eCommerce products, consider adding an offer such as "free shipping," "buy one get one free," "$25 off your first order," and more. For lead gen services, consider adding an offer such as "free consultation," "flexible financing," and more.
Adding these elements to your meta description can make them more enticing for a user to click. Here are a couple of examples (below):

---
Tying it All Together: Writing the Perfect Meta Description
As you get prepared to optimize your web pages for search engine purposes, we hope you find this blog helpful. We also know that when you get to these blogs, sometimes you just want to know the meat and potatoes. This recap below will help there.
In order to improve your meta descriptions, consider:
Keeping your meta descriptions between 100 and 155 characters. Don't risk your meta description being truncated with too much length, but utilize enough characters to explain your products or services.
Including your most valuable keyword, but not too many keywords. Try to keep it between 2-3 keywords or less in each meta description. Don't stuff your meta descriptions with so many keywords that you lose more important details that will inspire someone to click.
Use a call-to-action (CTA) in your meta description. Consider adding CTAs that use active voice and tell customers what you'd like them to do (i.e. "Shop Now," "Visit Our Store," or "Purchase Today").
Pick the right pages to write meta descriptions for. You don't need to write meta descriptions for every single page – try to restrict it to the home page, your product or service pages, and low content pages (pages mostly involving images or videos).
Include product specs or an offer. The final touches involve using some descriptive text to explain your product or service, and/or an offer. For example, "Free Shipping on Orders Over ______."
To illustrate all of these tips being utilized, here's a meta description that we would write for a company that sells custom cutting boards: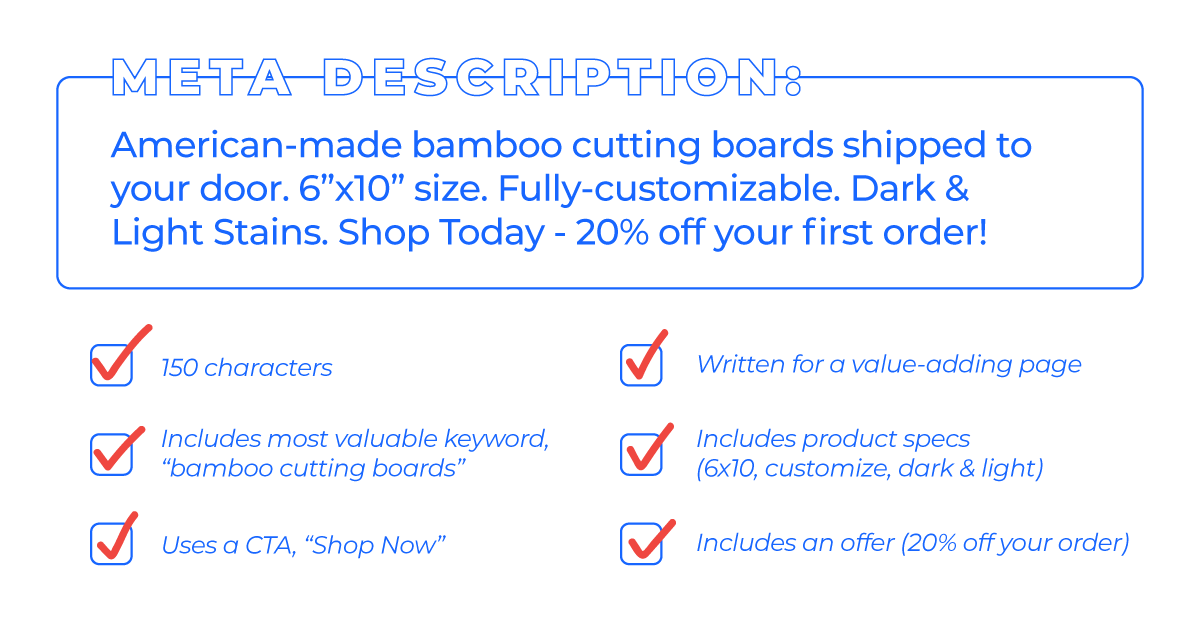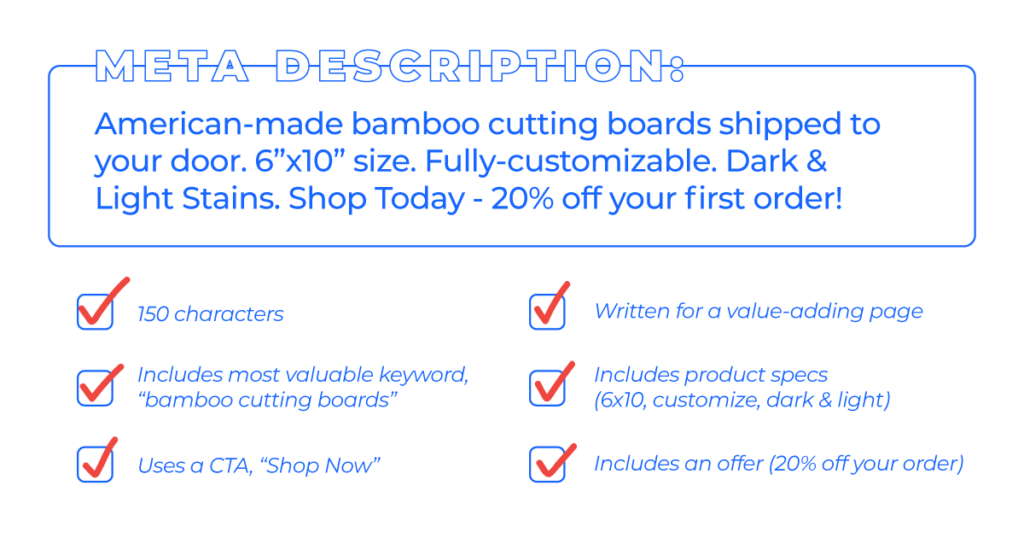 If you're looking for assistance in getting your meta descriptions written, or other SEO support, contact our team! We'd be happy to put together a custom proposal for you, or share our ideas on how you can improve your website's search visibility. Thank you for reading our blog!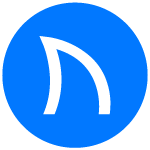 Ready to grow FASTER? Let's Talk!
Interested in having us help you grow?