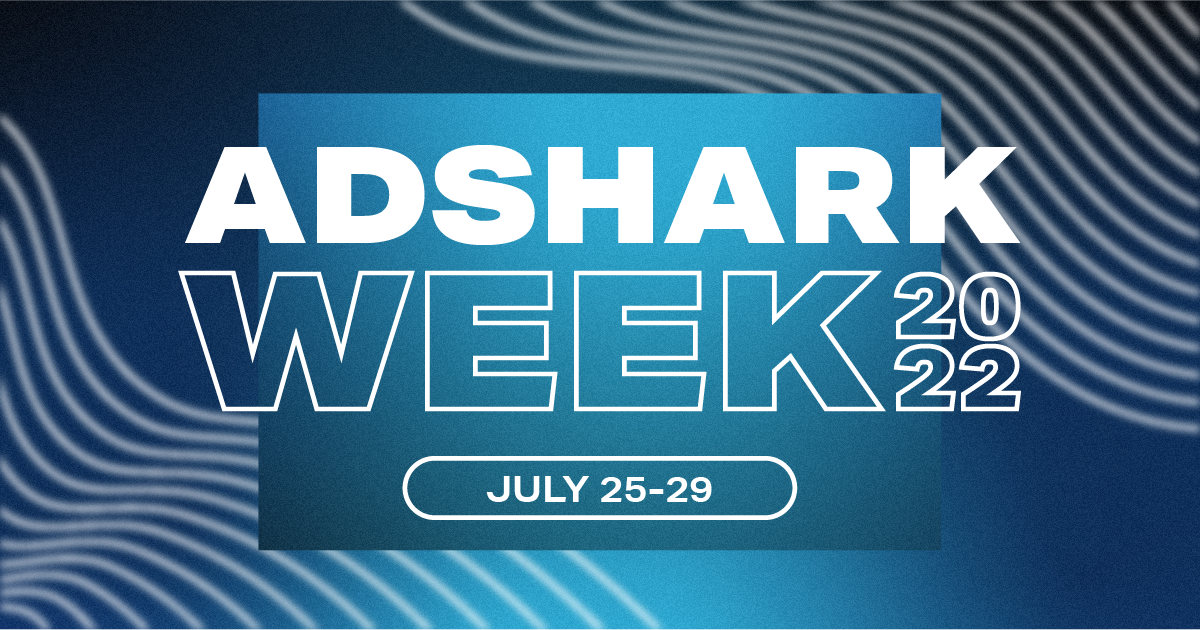 Previewing AdShark Week 2022: Our Biggest AdShark Week Yet!
In 2017, our team was looking for a way to engage our social audience and celebrate our culture. As proud representatives of a "shark" brand, we piggybacked off of the ever-popular Discovery Shark Week to create our own AdShark Week.
The first ever AdShark Week involved a Gigi's Cupcakes giveaway, rankings of our favorite shark-related movies, and polls about Michael Phelps vs. a great white shark. By the end of the week, we gained 143 new Facebook likes and reached an average of 1,411 users per day – both of which were milestones for AdShark.
As the years went by, we found ways to grow AdShark Week by offering bigger prizes, treasure hunts, and creative team introductions. Internally, we also found ways to celebrate by decorating the office & having a Homecoming-esque week of dress-up prompts.
And this year?! We challenged ourselves to have the biggest AdShark Week yet, with all of the fun getting started on Monday, July 25th. Let's see what the shark squad has in store for this year.
Five Hidden Treasures Across Town
Our treasure hunt has been a fan favorite of AdShark Weeks past, so we thought it was only right that we find a way to turn up the heat this year.
Rather than just one treasure box hidden in Fargo, we have 5 treasure maps that will be hidden in area businesses across Fargo-Moorhead. Every day we'll give clues to the location of the treasure maps. When a map is located, it will include instructions to claim a tacklebox filled with goodies, including:
Gift cards
AdShark swag
Candies
Twenty Below coffee
A Fargo mug
Think you're up for the challenge of locating a treasure map? Put your Fargo knowledge to the test starting Monday!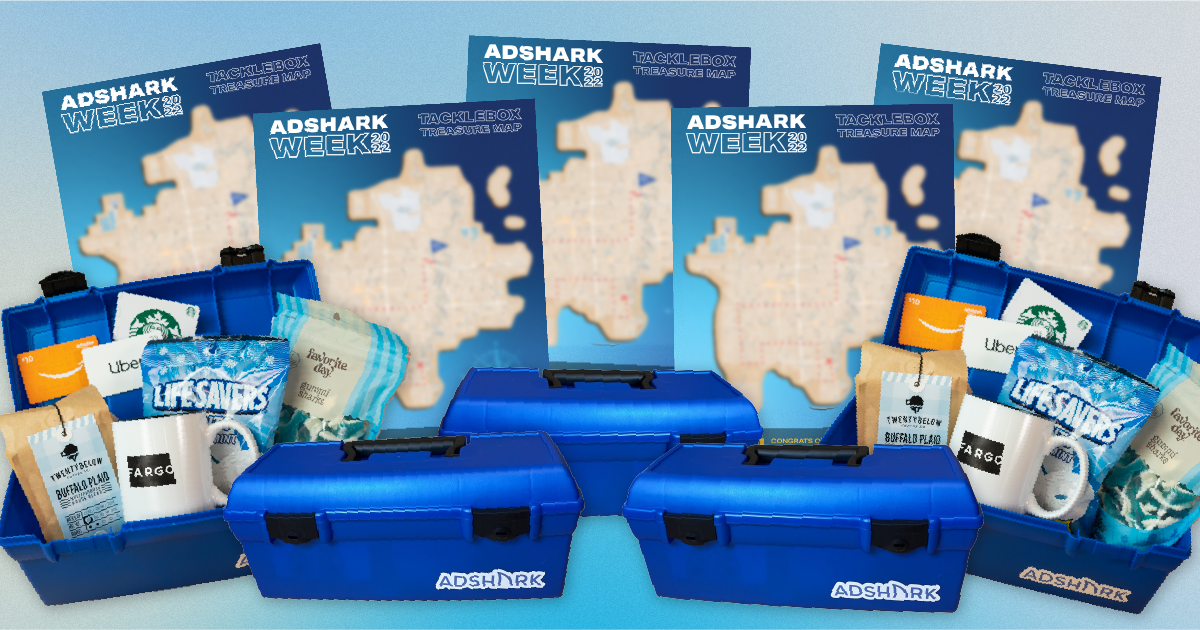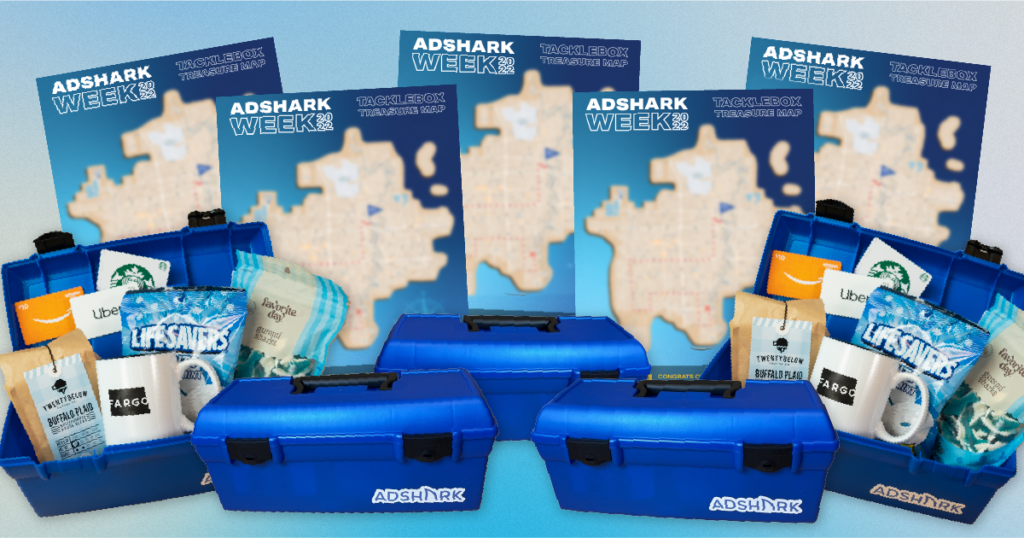 Daily Shark Sightings at Local Business
Want to bring the Shark energy to your office? On Monday morning, we'll be putting out a call on all of our social channels to receive a shark sighting at your office.
Alright, real sharks won't be showing up. BUT, some of our team members (including Sharky!) will swing by your office with a box of shark-themed donuts for you and your crew. We'll be doing four total shark sightings, one on each day from Tuesday – Friday.
Each day, we'll go live and spin the wheel to see if your business (which you'll tag in the comments) will be the recipient of some shark-centric fun!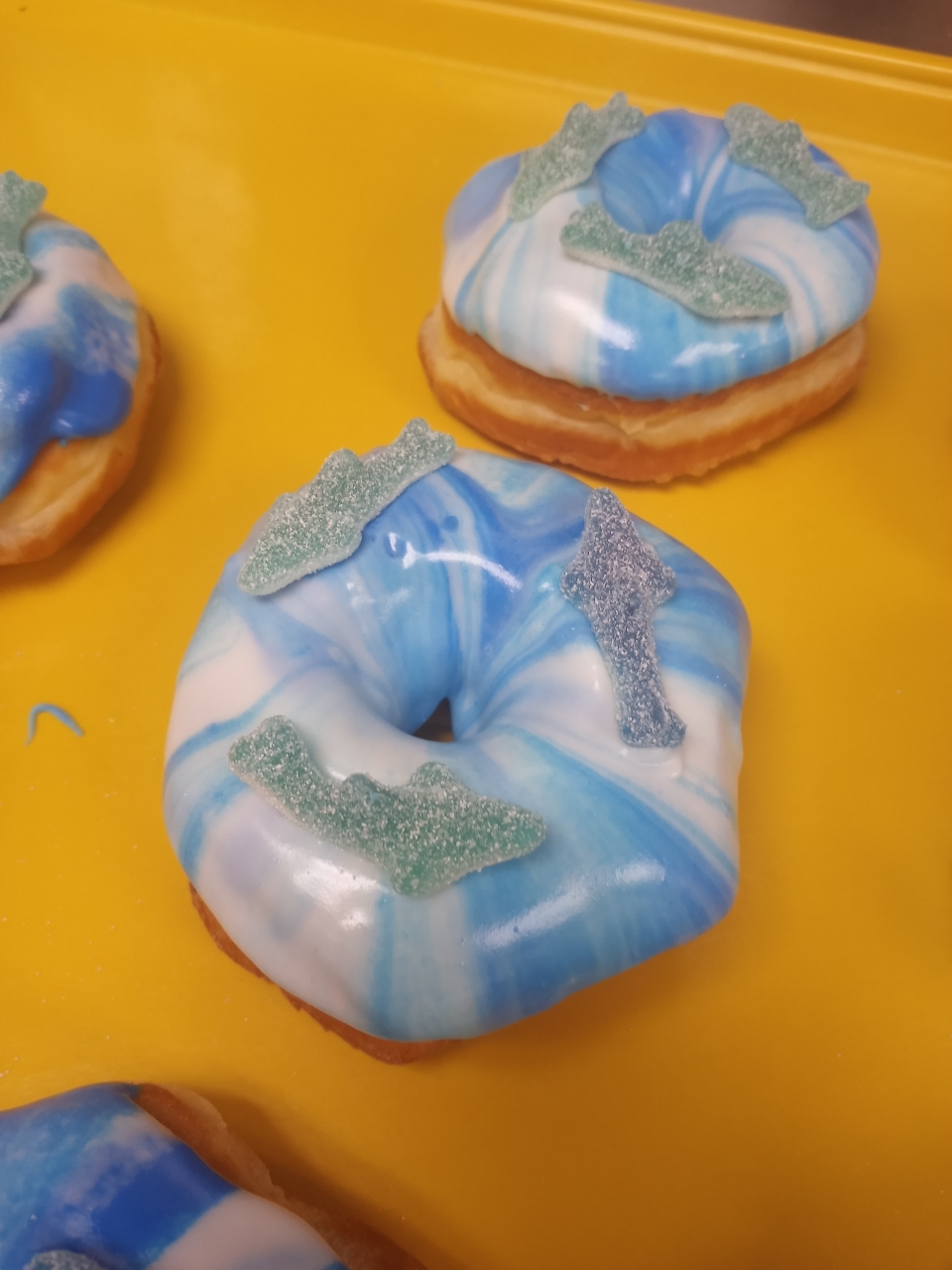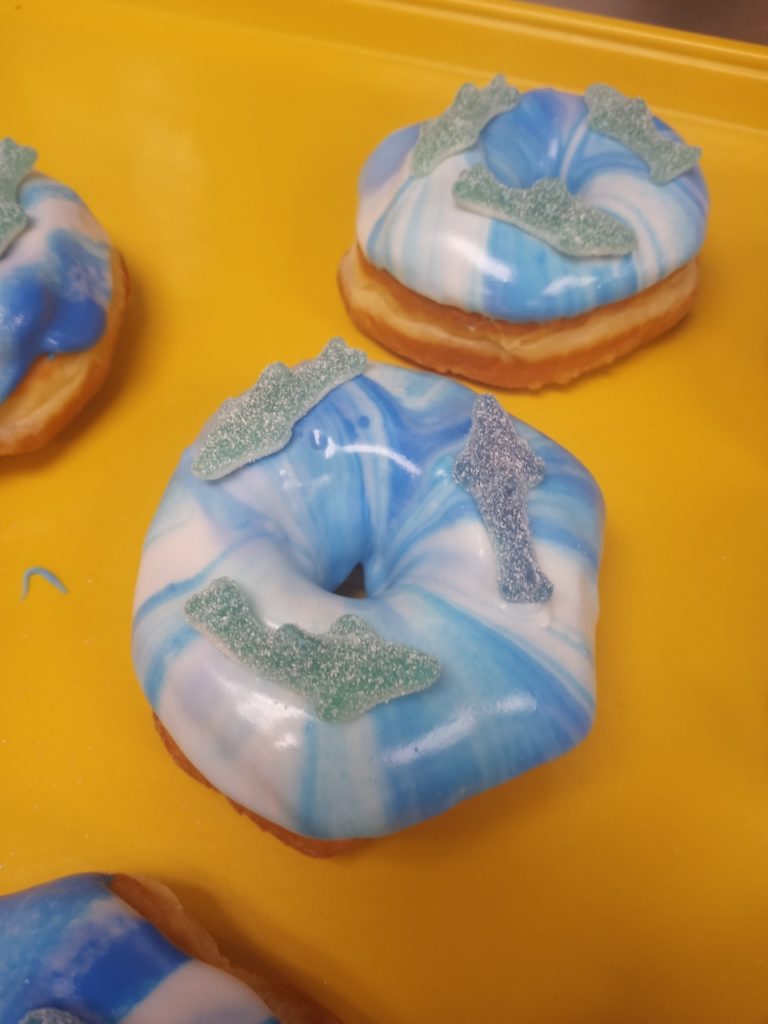 Shark-Related Giveaways Every Day
We will have daily giveaways, all of which are related to sharks in some capacity. 'How did you come up with so many shark things to give away?' one may ask. Great question. We had to make a stretch for some.
Check out the list of giveaways:
Monday: an official Shanghai Sharks Jimmer Fredette jersey

Shout-out to any of our NBA 2K-playing fans who know the Shanghai Sharks reference

Tuesday: a box of Shark Tank favorites

Bombas, Scrub Daddies, Hoodie Pillow, Guzzle Buddy, Comfy Sweatshirt, and Edible Spork – all of which made an appearance on the show Shark Tank

Wednesday: a Shark vacuum

I think this is going to be an underdog for 'favorite AdShark Week giveaway' – who doesn't need a new vacuum?

Thursday: Sharkmobile Van Rental!

Okay… so, it's not really a Sharkmobile, but we had to go with the theme. Win a two-day rental in a Vanna Vans travel van

Friday: Nintendo Switch with Shark Cover

Don't worry – the shark cover can come off if you really want it to; the main giveaway was always the Switch!
Keep your eyes out for these fin-tastic giveaways. We'll collect entrants all week and then select the winners on the following Monday!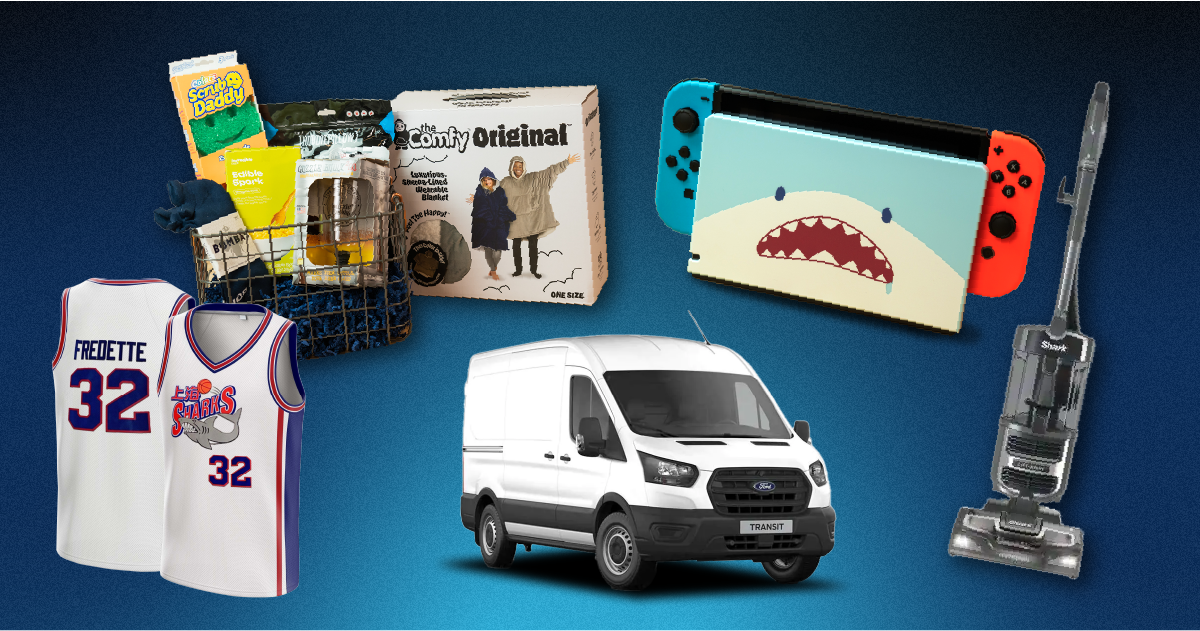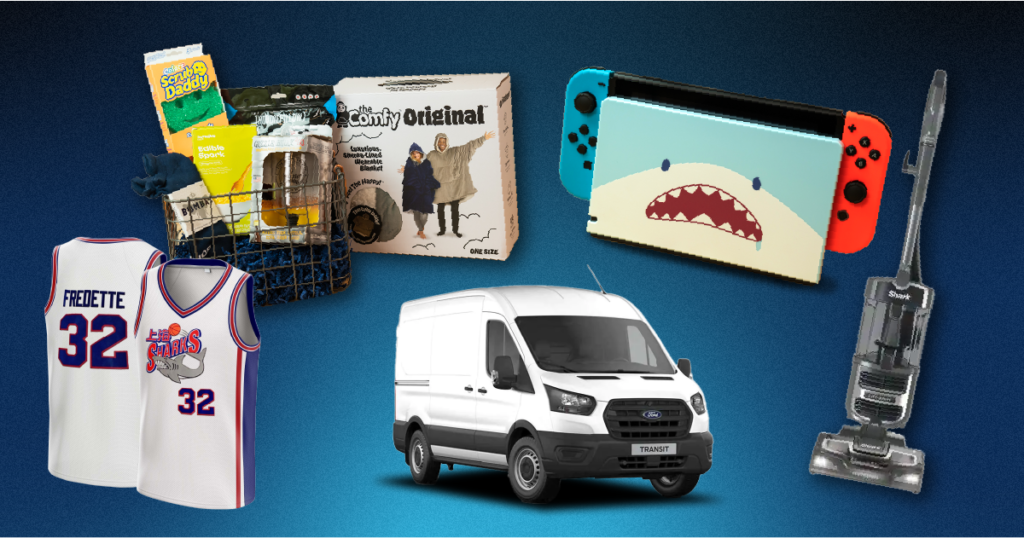 Other Shark-Related Fun
In addition to the treasure hunt, shark sightings, and giveaways, we'll be sprinkling in some other fun throughout the week. Follow our social media pages to enjoy:
Custom, animated employee sports cards: meet our whole team through these NFT-worthy animated cards.
AdShark dress-up days: we'll have a week of employees dressing up in unique outfits, including "dress as a celeb with your name day" and "dress as your favorite meme day." We'll make sure to share the daily winners on our IG and FB stories!
Shark sharing: if your office wants to join in on the fun, we'll be keeping our eyes out to share your content on our socials! We love having others take part in the shark week fun!
---
AdShark Week is by far one of our favorite weeks of the year. In part, because it's our best chance to celebrate our community of social media followers! We can't wait to celebrate with you next week.
In the meantime, if you're not yet following us on social media: change that. Here are the links to our Facebook, Twitter, LinkedIn, and Instagram pages. See you Monday!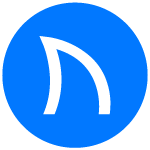 Ready to grow FASTER? Let's Talk!
Interested in having us help you grow?