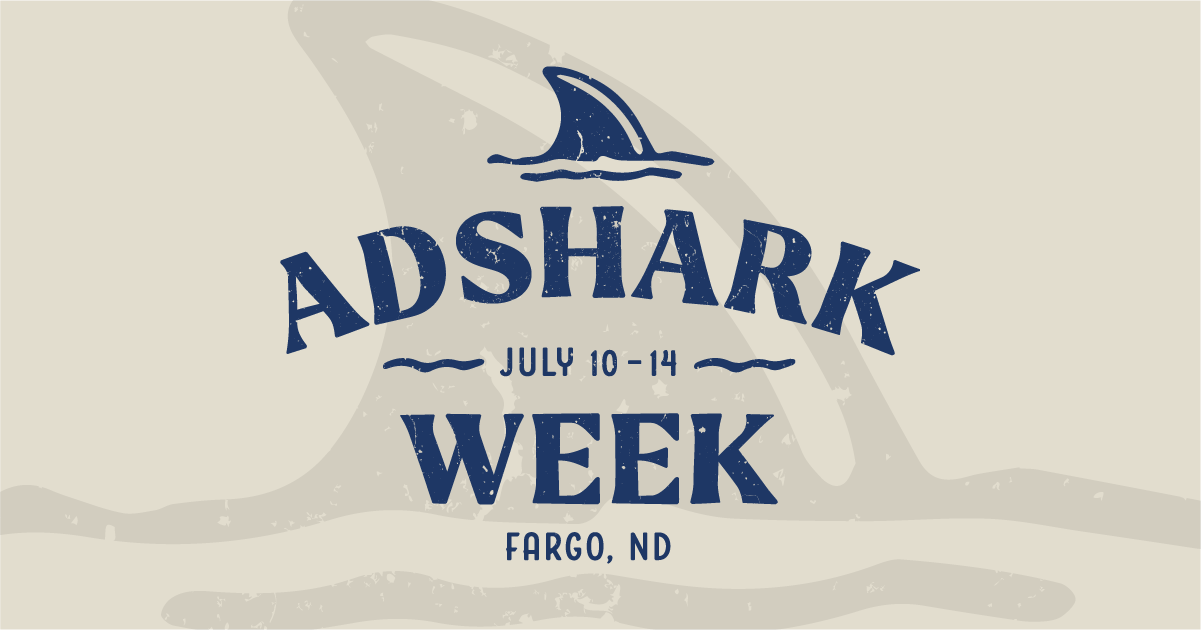 AdShark Week 2023: Recap Blog
Since 2017, our agency has celebrated all things sharks (and AdShark) with a weekly event we call AdShark Week.
With this being our seventh iteration of this week of social media giveaways, team appreciation, and shark-themed fun: we knew we had to pull out all the stops.
In total, we had over 44,000 users reached + 8,000 engagements across our social media channels. Back at the office, we hosted daily dress-up days that would make your high school's Homecoming Week look like child's play.
As we finally get our feet under us again, we wanted to take a moment to reflect back on the highlights of our favorite week of the year. Let's dive in!
The AdShark Treasure Hunt
One of our highlights every year at AdShark is our treasure hunt. We'll hide a treasure chest filled with AdShark swag + gift cards somewhere in Fargo, and provide our audience of followers with daily clues on how to locate the treasure.
This year, one smart cookie was able to deduce the location of our treasure from this single clue:
Theresa K. reverse Google Image searched this video to find that it was live bacteria on ice cream. From there, she went to the nearest ice cream shop downtown (Silver Lining Creamery) and found our treasure behind the window. Impressive, huh?
Though this ended our treasure hunt earlier than expected, we can at least claim that we had a record-breaking treasure hunt this year when it came to the time it took to be found. And that alone is worth celebrating!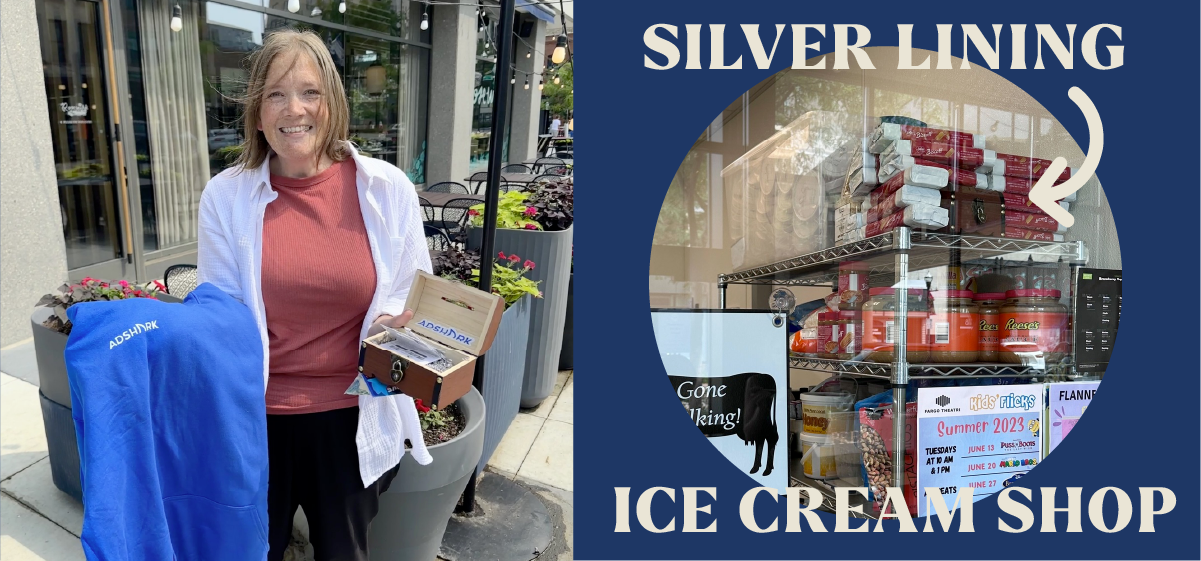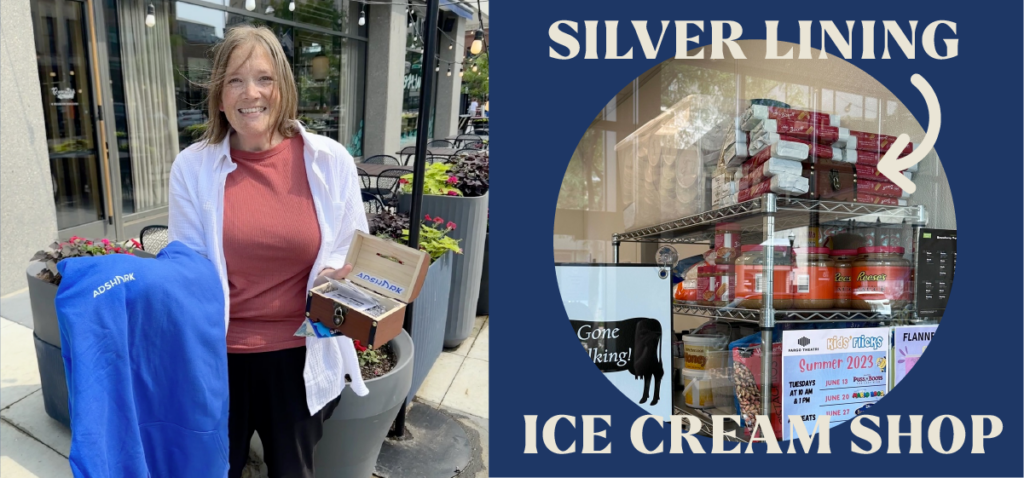 Pupdates + Cupcakes
What's cuter than a Golden Retriever puppy? A Golden Retriever puppy with a shark fin affixed to its back, delivering shark-themed cupcakes to area businesses.
On Monday of AdShark Week, we put out a call for individuals to tag their businesses in a post for a chance to win a pupdate + cupcake visit. Then, Tuesday – Thursday our team of AdShark Week planners + Kota (Jack's lovable Golden) made their way to area businesses.
Congrats to YMCA Cass Clay (Tuesday's winner), Light Consulting (Wednesday's winner), and Center for Plastic Surgery (Thursday's winner) for their wins! Thank you for your hospitality and we hope you enjoyed your cupcakes (shoutout to GiGi's!).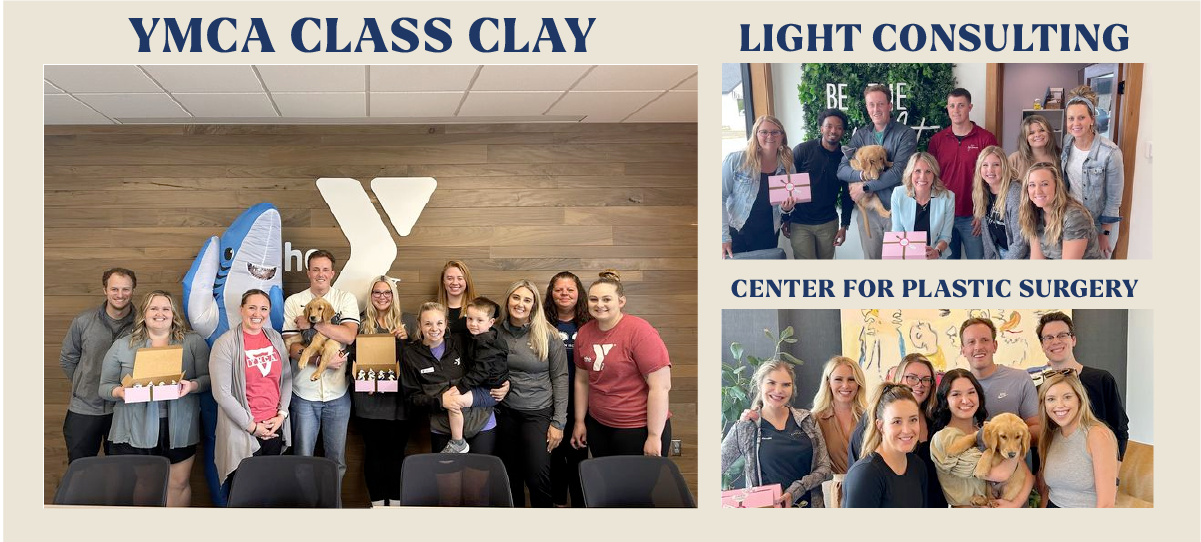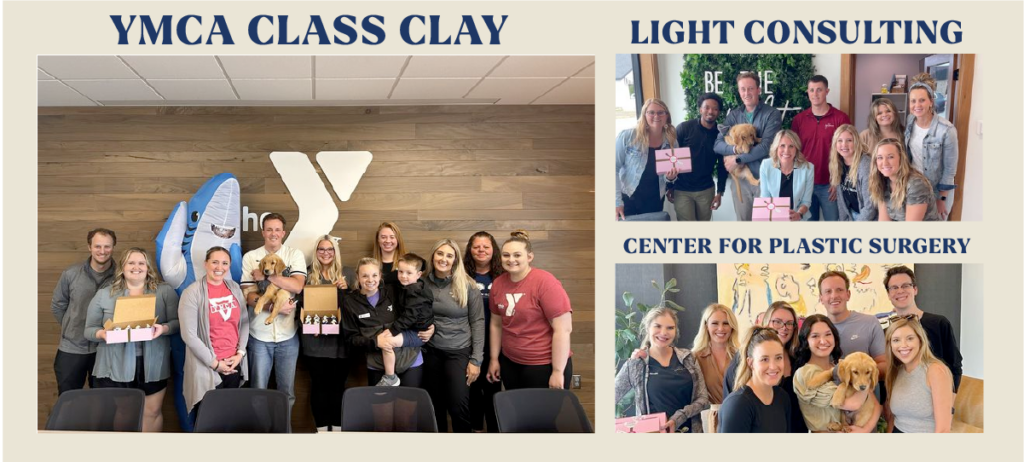 AdShark Crew Member Cards
One of our favorite parts of AdShark Week is being able to introduce our newly captive audience to the special people that help our ship sail.
This year, Nick Loock guided our creative direction on some crew members cards that were stylized to look like old sailor IDs. We plumped them up with some nicknames + fun facts about each team member.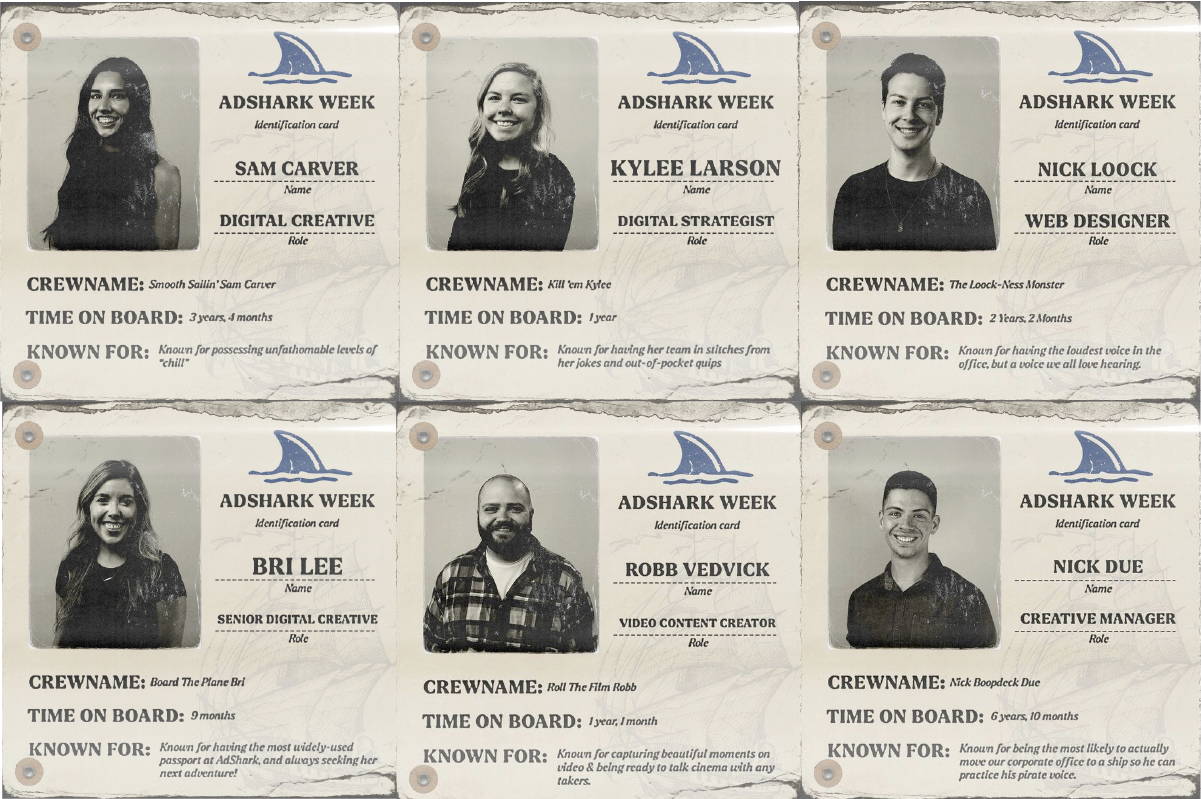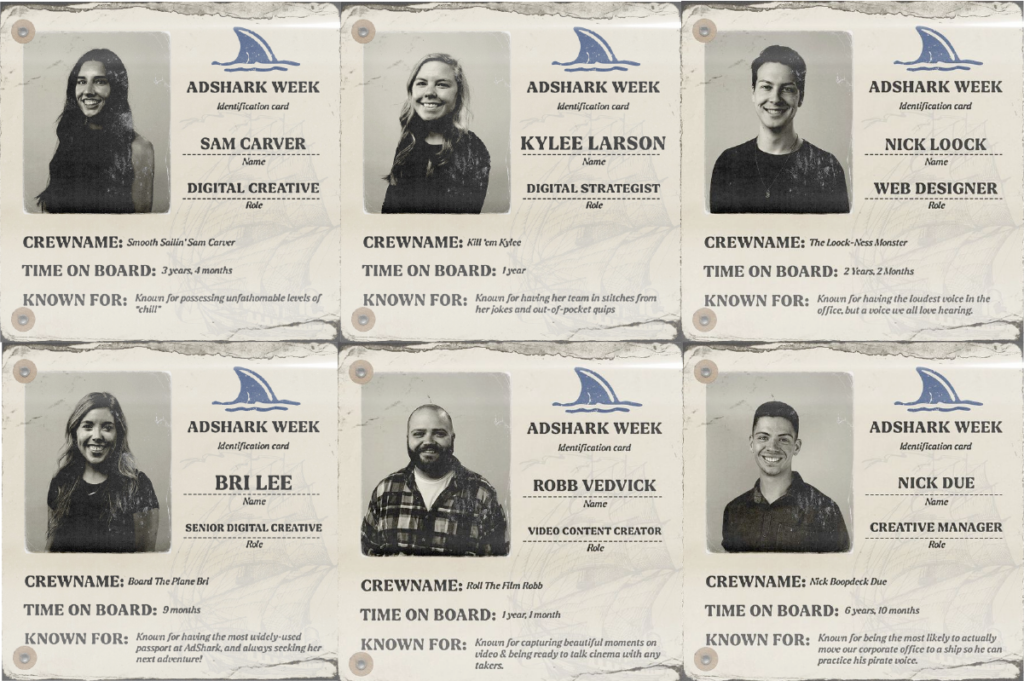 Daily Giveaways
The "main event" of our AdShark Week is always our daily giveaways. On our four major social platforms (Facebook, LinkedIn, Instagram, and Twitter), we share daily giveaways that all relate to sharks and that get progressively cooler (and more expensive) as the week goes on.
Congrats to this year's winners:
Monday's Giveaway (Giant Gummy Shark): Mary Freberg
Tuesday's Giveaway (San Jose Sharks Jersey): Kyle Bruggeman
Wednesday's Giveaway (Shark Movie Date Night Bucket): Sandie Kuehn
Thursday's Giveaway (a Shark/Vanna Vans Rental): Mandy Kaye
Friday's Giveaway (a Ps5 w/ Maneater Game): Jonny Sollie
We had over 600 entrants in our giveaways – thanks to all who participated, and big congrats to the lucky five individuals who took home a prize.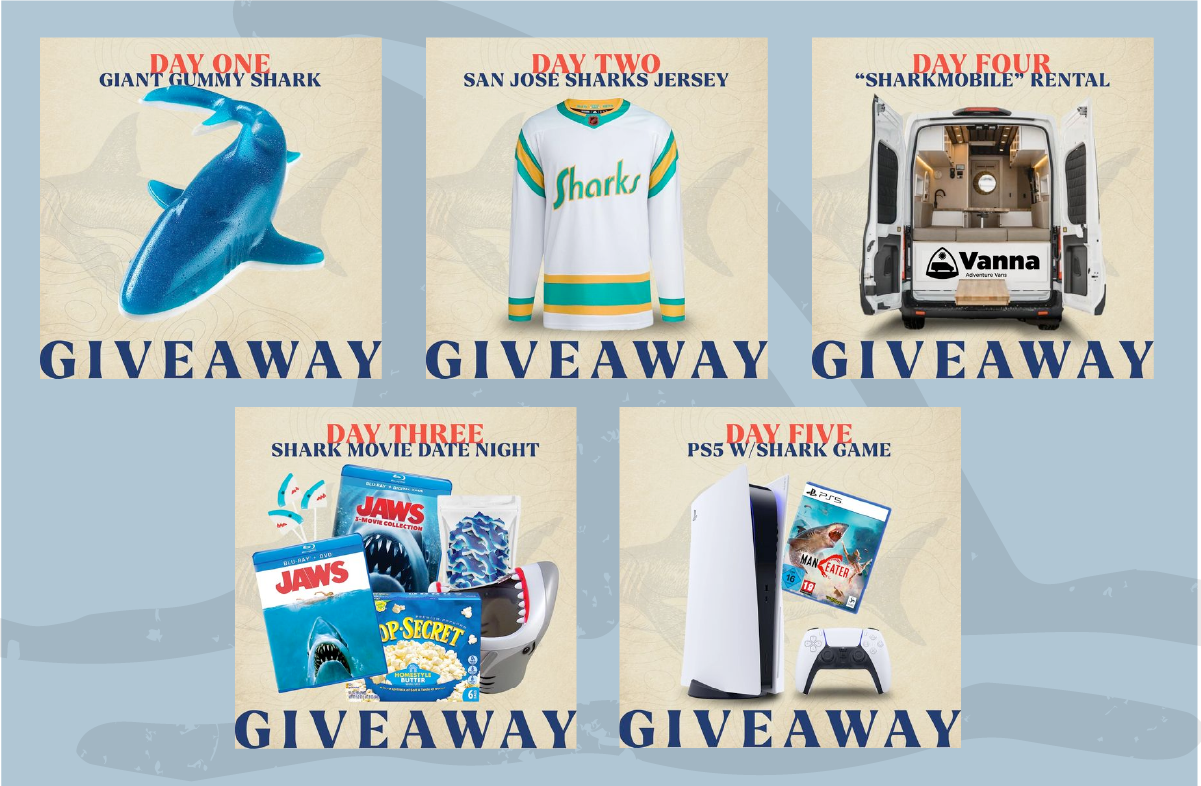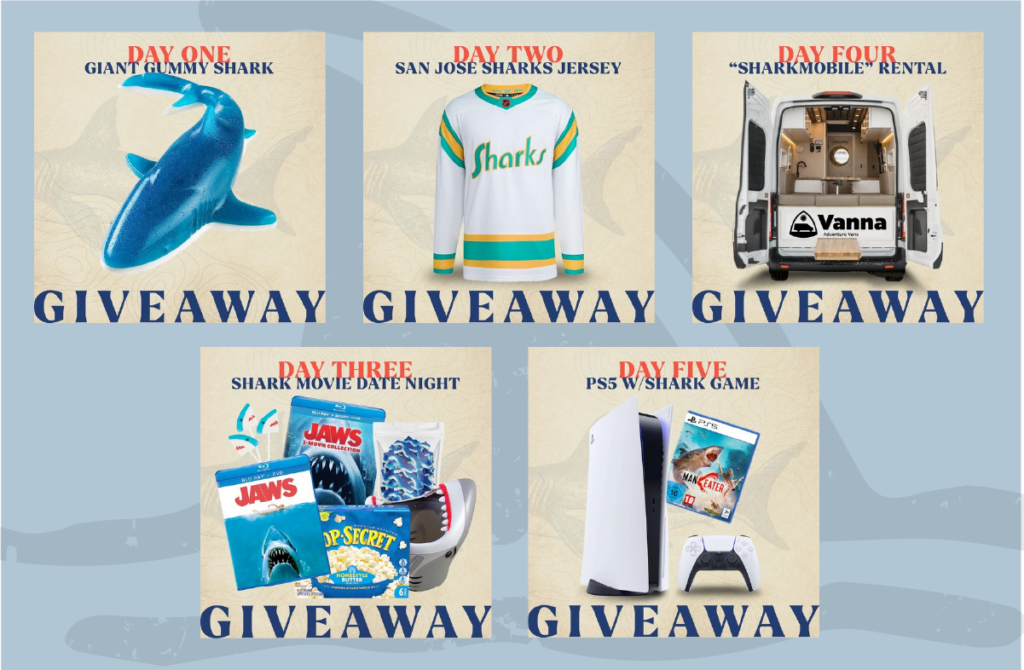 Dress-up Days / Costume Contests
Externally, #AdSharkWeek means a series of social media contests and giveaways. Internally, #AdSharkWeek means dress-up days & team spirit. This year, Sam planned some amazingly fun costume contests for us, surrounding the following themes:
Comfy Day (Monday): a day to dress up in your comfiest, bedtime garb
Jersey Day (Tuesday): a day to show your support for your favorite team
Beached Day (Wednesday): a day to dress up like your going to the beach
Bald Day (Thursday): a day to don a bald cap and support your favorite baldy
AdShark Day (Friday): a day to rock your AdShark swag
We posted daily TikToks to share the fun looks our team was rocking, and sent out surveys for employees to select their "best dressed." Each winner received a $50 gift card at our internal event on Thursday.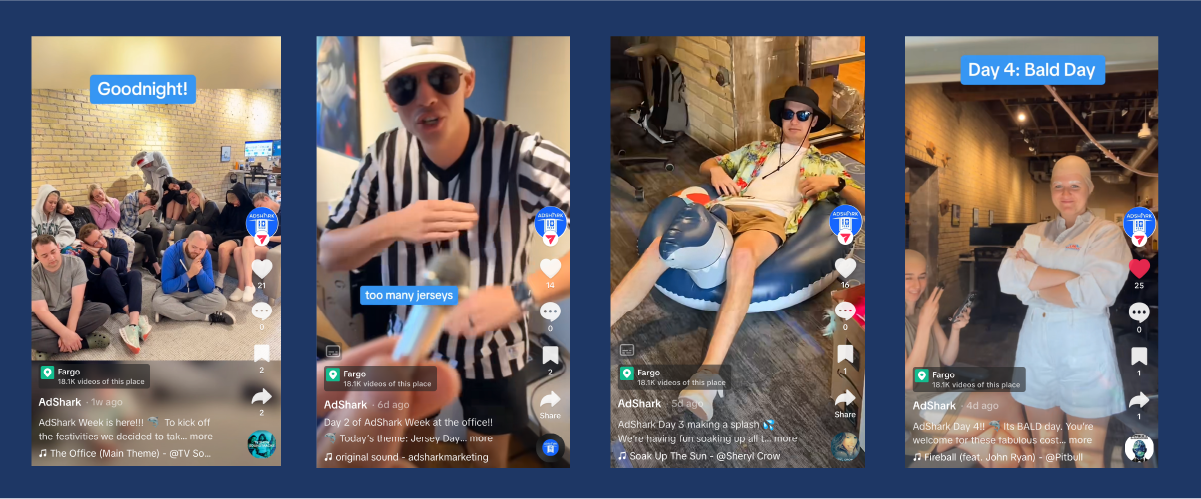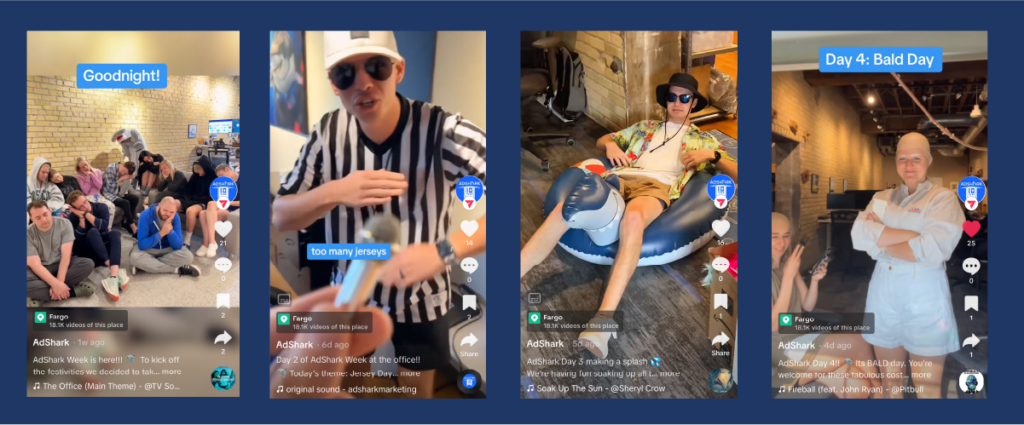 Thursday Night's Team Party
When the chaos of the week had started to die down, we hosted an internal party on Thursday night at AdShark's office.
This party was complete with Rhombus Guys pizza, adult beverages, a special GeoGuessr game, and some Karaoke. We also had a great time connecting & bonding as a team and celebrating the dress-up day winners.
Special thanks to Noah Ford-Dunker for lending his mic & speakers for our karaoke.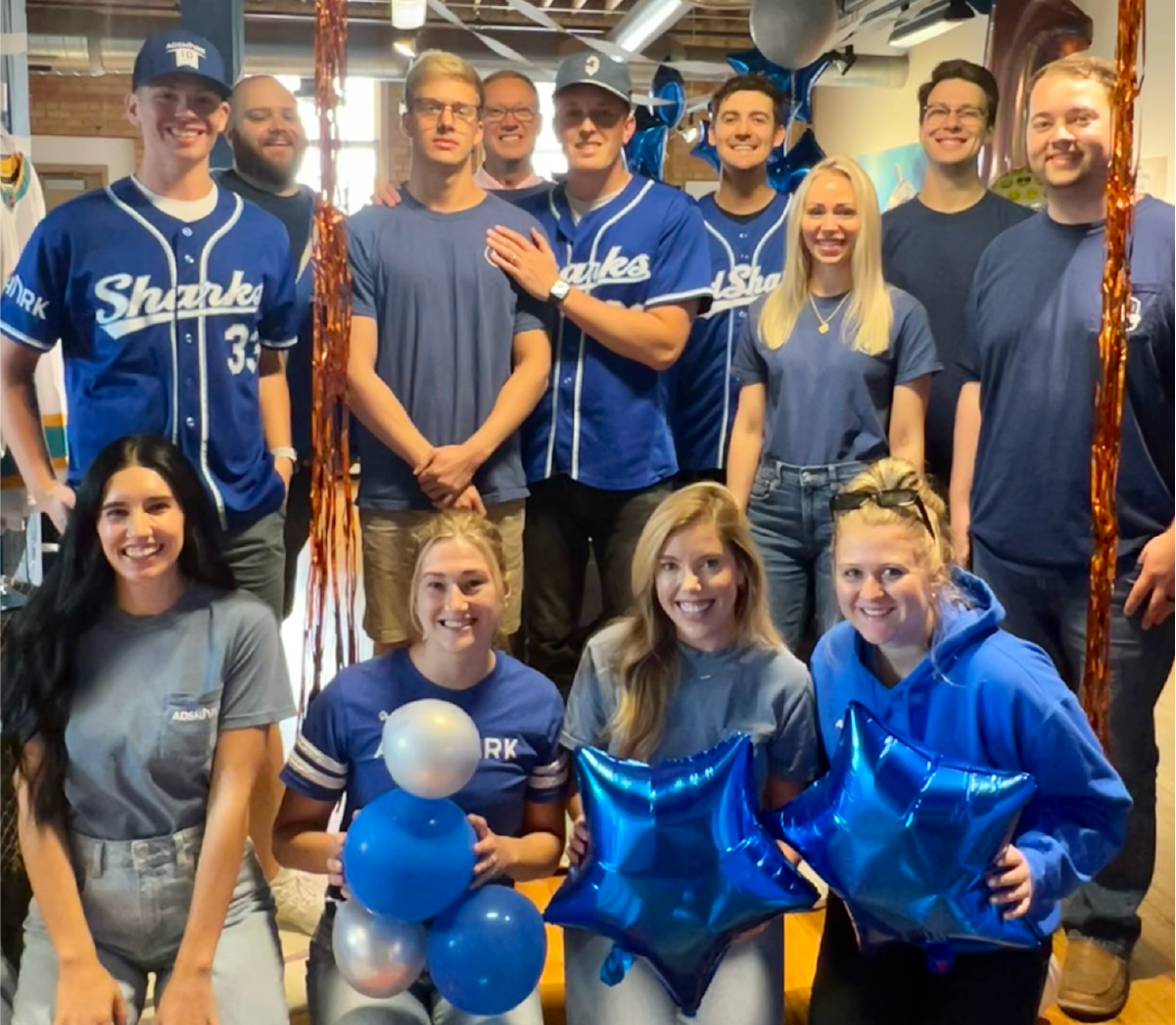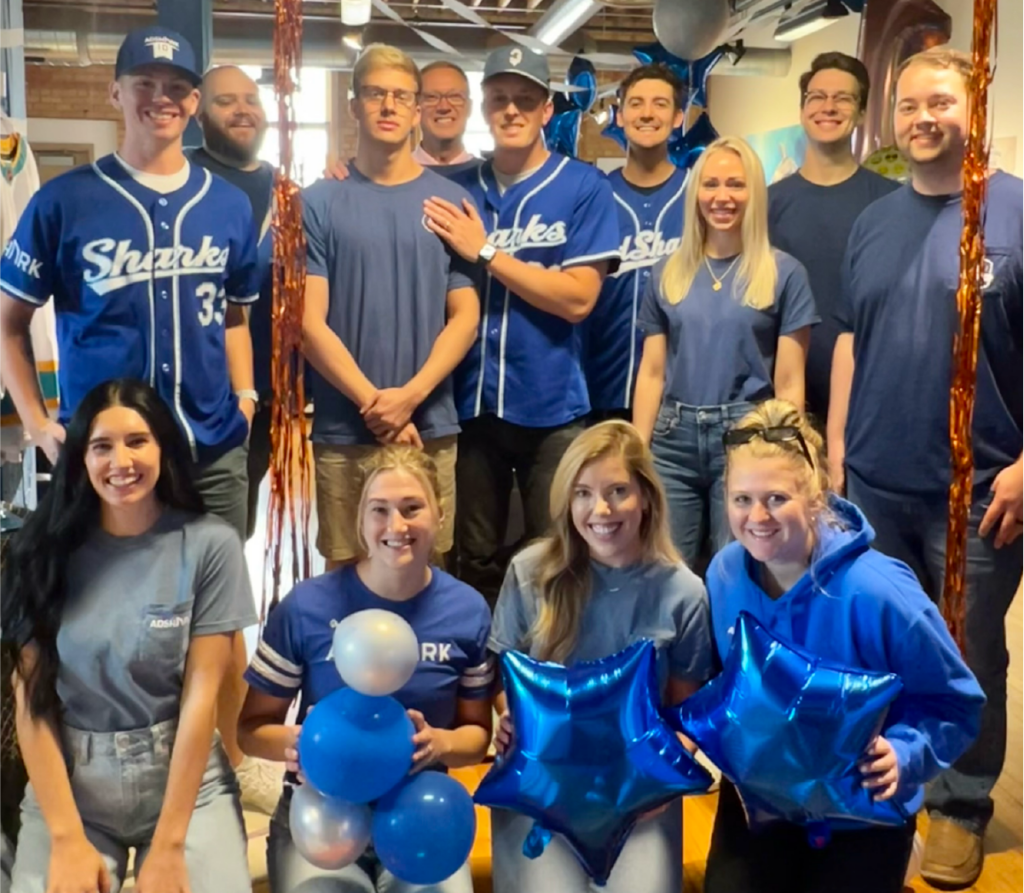 ---
Already missing #AdSharkWeek? Don't worry! We'll be back at it with more fun content throughout the year + AdShark Week 2024 will be here before we know it. In the meantime, follow our Facebook, Instagram, LinkedIn, Twitter, and TikTok to keep up to date with all things AdShark. Thanks for helping us celebrate this fun, shark-filled week!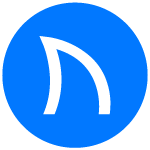 Ready to grow FASTER? Let's Talk!
Interested in having us help you grow?