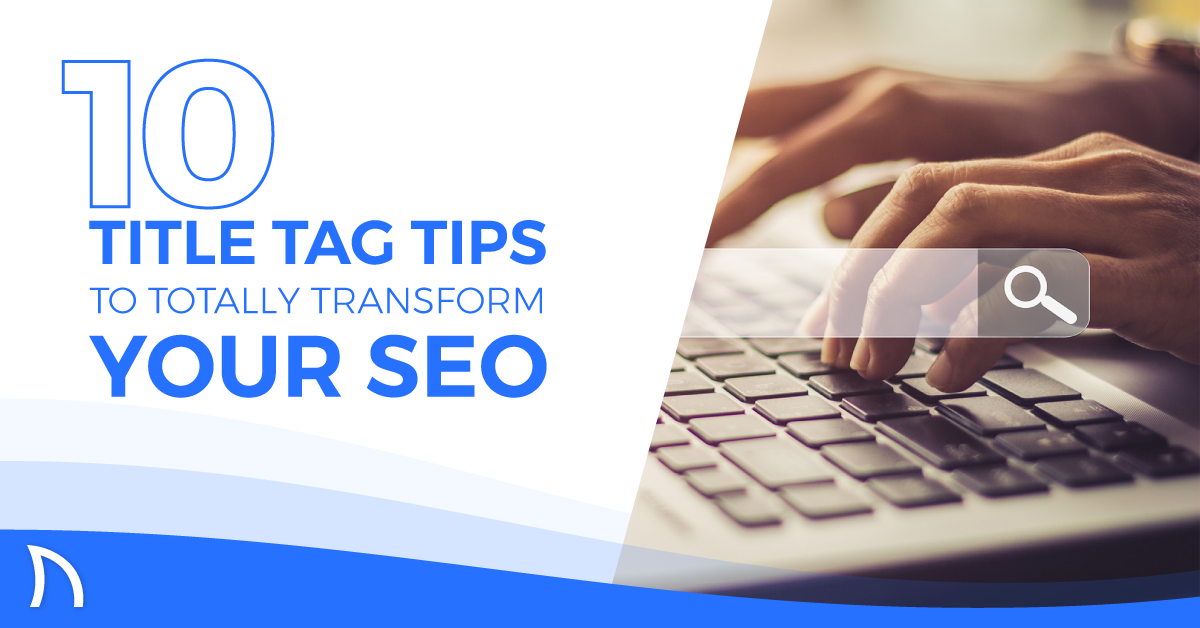 10 Title Tag Tips to Totally Transform Your SEO
I almost found a way to make the title of this blog completely alliterative. Shame. Clearly we work hard here on our titles, and you should too. In the world of SEO, there's an art to predicting which factors help increase your search rank the most. Between page content, meta descriptions, outbound links, h1s and h2s, well… you get the point. There's a lot to be mindful of! However, virtually all SEO experts are in agreement that title tags are fundamental components of search engine success.
According to DataBox, 36% of SEO experts think the title tag is the most important SEO element. Furthermore, an Ahrefs study found that improving your tile tags can lead to a 37% increase in web traffic to a page. In other words, not only does improving your title tags up your search ranking, it also drives more people to visit your website once you have ranked!
For content strategists, this places a strong emphasis on the way you title your site pages, product listings, and more. So, we wanted to take some time this week to help you master your site's SEO through the implementation of purpose-driven title tags.
What are Title Tags?
If you've been doing SEO for a while, you can keep scrolling. If you haven't: welcome to the wonderful world of "why won't Google show my site?" Let's help you find some answers.
A title tag is a piece of HTML code that specifies the title of a web page. It's the title that will appear as a clickable link on search engine results, like:

Or:

Title tags will also appear on a site's browser, as evidenced in this snippet: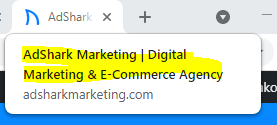 These title tags are intended to describe what is on the page, and are an important element in determining how you'll rank on search engine results pages (SERPs). Though title tags can sometimes match the way a page is actually titled (either from the navigation menus on the site or the headings), the title tags are not actually visible from the front-end of the site. For this reason, people will usually modify title tags to perform well for search engines. Hence the creation of this blog article!
How to Insert Title Tags on Your Pages
Where my WordPress peeps at?! Okay, cool. This applies to you. Most individuals who have their sites put together on WordPress will have a plugin included for Yoast SEO or All-in-One SEO. In both cases, the plugins will have a spot at the bottom of the post/page reserved for "SEO." You can enter new title tags in the "SEO title" section. There may auto-populate title tags that take into account the title of your post/page + the site title. OR you can enter your own custom title tags by deleting the auto-populated bubbles and writing one out. Here's an example:


Other content management systems, like BigCommerce, Shopify, SquareSpace and more, will also typically have spots for SEO or meta data to be included. This is typically under an 'advanced options' menu for a page that will call out spots for you to write page titles, meta keywords, meta descriptions, and more. An example from BigCommerce can be seen below: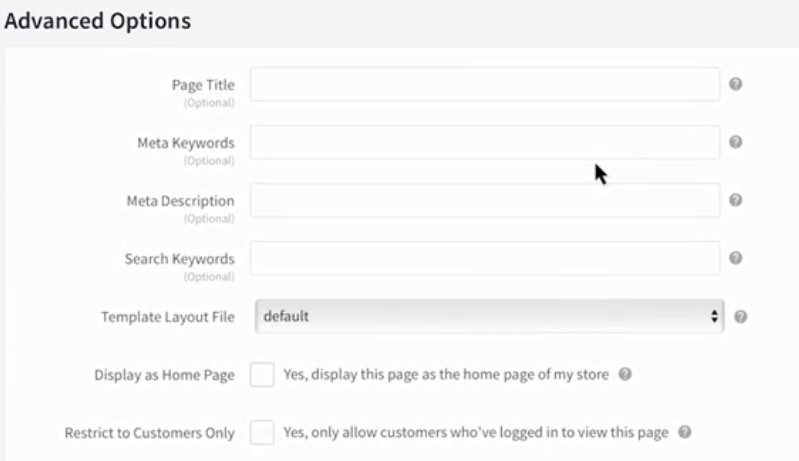 If your web platform doesn't appear to call out spots for you to enter your title tags, don't worry! You can still get title tags created through the old-fashioned art of writing your own HTML and inserting it into the code for the page.
If you need to do this, you can use the following as a guide:
<title>Enter Your Title Tag Here</title>
Now that you have a better idea of what title tags are and how to insert them into your website, let's discuss how to make them work for you. The next section will dive into the 10 tips that you need to consider in order to write title tags that are optimized for search engines and will increase your search ranking and visibility. Let's get started!
Tip #1: Consider Your Context
I wish I could tell you that you'll read these ten tips and know everything you possibly need to know about title tagging anybody's site. It's just not true. Every business has different goals, so a one-size fits model for title tags is nonexistent.
The first thing you need to consider is: where is my audience?!
Local: if your audience is mostly based in your city, having site pages that call out your city's location is important.
Regional: if you're a business that serves a multitude of locations within a given region (i.e. the midwest), you can consider throwing in terms like "Midwest" into your title tags. OR, you can call out specific locations like cities, states, or territories on your location/contact pages only.
National: if you're an e-commerce business, SaaS business, or an operation that simply can serve many locations across the country, we'd suggest leaving cities, states, and territories out of your title tags altogether. Local ranks shouldn't matter as much for you.
In addition to location, another variable that can influence the way you write title tags would be the title of your business. Let's look at the example of an auto body shop. Here are two auto body companies:
Sticky's
Fargo's Auto Body
For Sticky's, the title of the business alone doesn't give me a great idea of what this business does. If they were making title tags for their home page, I would say they should include keywords for what they do in their title tags (i.e. "Paint, Collision, and Auto Body Repair in Fargo, ND | Sticky's"). Whereas with Fargo's Auto Body, the name alone tells where they're based and what they do. Thus, their home page title tag can be a bit more basic (i.e. "Fargo's Auto Body | Trusted Car Repair Shop"). Making sure to always consider the context surrounding your business will help improve the process for writing title tags.
Tip #2: Ensure All Pages Have Unique Title Tags


Did you hear that ding? No, it wasn't your office microwave. It was the sound of Google, Bing, and every other search engine across the world flagging your site for duplicate title tags. Duplicate title tags may not sound too severe, but think of it from a user's perspective. If you serve them two links that are identically tagged, how are they supposed to know which page to navigate to? Similarly, how is a search engine to know which page to show?
Duplicate title tags can be detrimental to your SEO and your user experience. You can check which of your current site pages have duplicate title tags (or are missing title tags altogether) with a tool like Screaming Frog. If you find that you do have duplicate title tags, make sure to remedy that as soon as you can.
Tip #3: Stick to Normal Capitalization
Don't you HATE when PeOpLe try to tell you how to FEEL with their capitalization? Yeah, me too. As the kids say: no(rmal) cap. Make sure that your title tags are using normal capitalization because it doesn't matter to search engines. No matter how many capital letters you try to throw into a word, a search engine cannot feel what you're trying to emphasize.
Good Title Tag: "Online Store Builder – Create an Ecommerce Store with Shopify"
Bad Title Tag: "Online Store Builder – Create a FREE Ecommerce Store NOW!"
We would also recommend that you use capital letters the same way you would for the title of a book. Only capitalize the first letter of a word when it's more than 3-4 letters long or comes first in a sentence.
Tip #4: Break Apart Sections with Separators


This is the only time that "I need some separation" sounds like a good thing. This particular tip is less about the SEO benefit, and more about the aesthetic improvements that will entice your reader to click. If you have a mix of both keywords, site titles, and locations that you want to incorporate to a title tag: it's almost a necessity to break it up with separators. Here are common examples of separators at use in title tags:
The colon: Hootsuite: Social Media Marketing & Management Dashboard
The dash: Blog Tool, Publishing Platform, and CMS — WordPress.org
The backslash: Abby Anderson // Fargo Wedding Photographer
The vertical line: Ashley Furniture HomeStore | Home Furniture & Decor
The arrows: WordPress.com >> Get a Free Blog Here
The bullet point: Perishable Press • Digital Design and Dialogue
Personally, we're the biggest fans of the vertical line and dash. The goal of a separator is to make titles easier to digest while still informing what exists on the page. For SEO purposes, there can be value in including both keywords & branding, and this is one of the cleanest ways to make sure you account for both. Don't worry too much about which of these options you choose to use, so long as you don't get extra funky with things like dollar signs, asterisks, or hashtags.
Tip #5: Keep your Title Tags Short and Sweet
If you ask Google, they'll say there's no limit on the length of title tags. But you're not asking Google right now, you're asking Jack. The reality is that search engines only have so much real estate for title takes until they get cut off and truncated. And that looks, well, pretty bad. So instead, try to keep your title tags short and sweet. It will force you to get to the point when describing what's on your page, will limit your desire to do major keyword stuffing, and will increase your chance of having a searcher click through to your website.
The industry standard that you'll hear referenced is 50-70 characters. In actuality, truncation takes place based on the pixels that characters take up, rather than a character count. If you are using WordPress with an SEO plugin like Yoast, you'll be shown previews of how your tags will show up in Google. This will help you get a better feel for when your tags are risking truncation. At the least, I'd recommend you use a website like WordCounter's Character Counter to determine how many characters your title tag is, and adjust accordingly.
Tip #6: Describe What's on Your Page
Let me tell you a story about my made-up friend, James. James just found out about Google Keyword Planner and was so excited to learn about average search volume on keywords. The items he sold (financial training courses) had pretty low search volume however. So instead, he tried to find terms that had a lot higher search volume that he could entice to get to his page. He found terms like financial planner, retirement planning, and personal finance advisor that were tangentially related to his offerings, and wrote the following title tag for service page: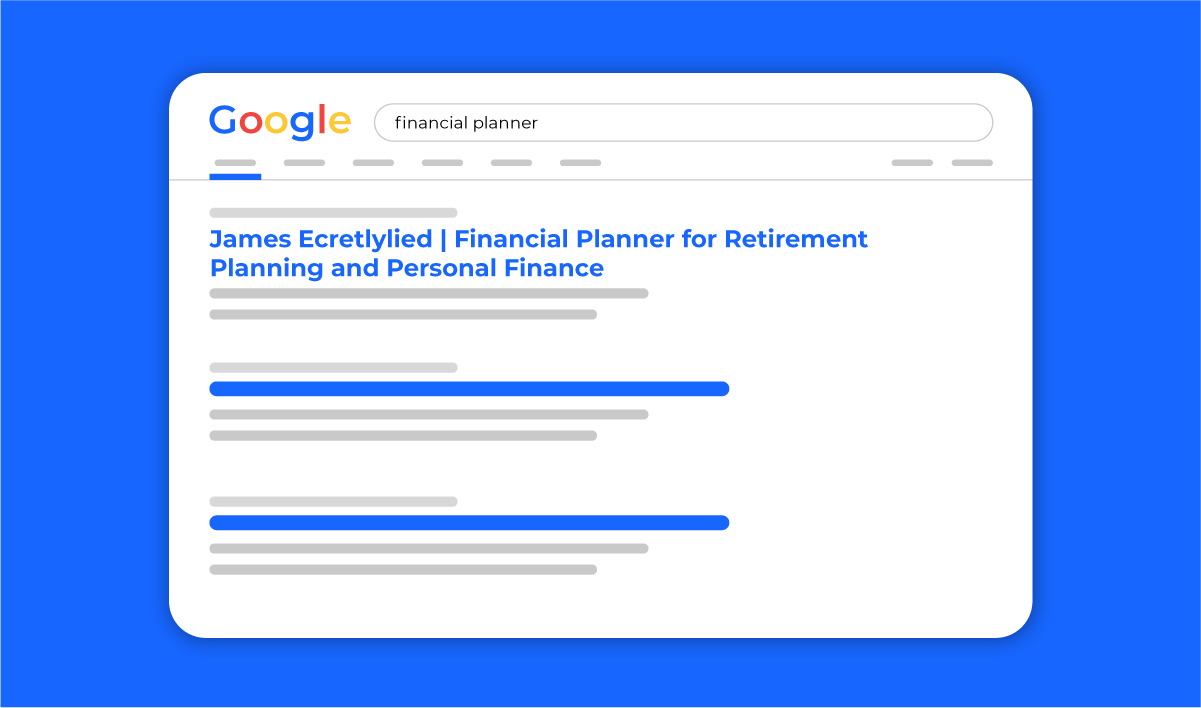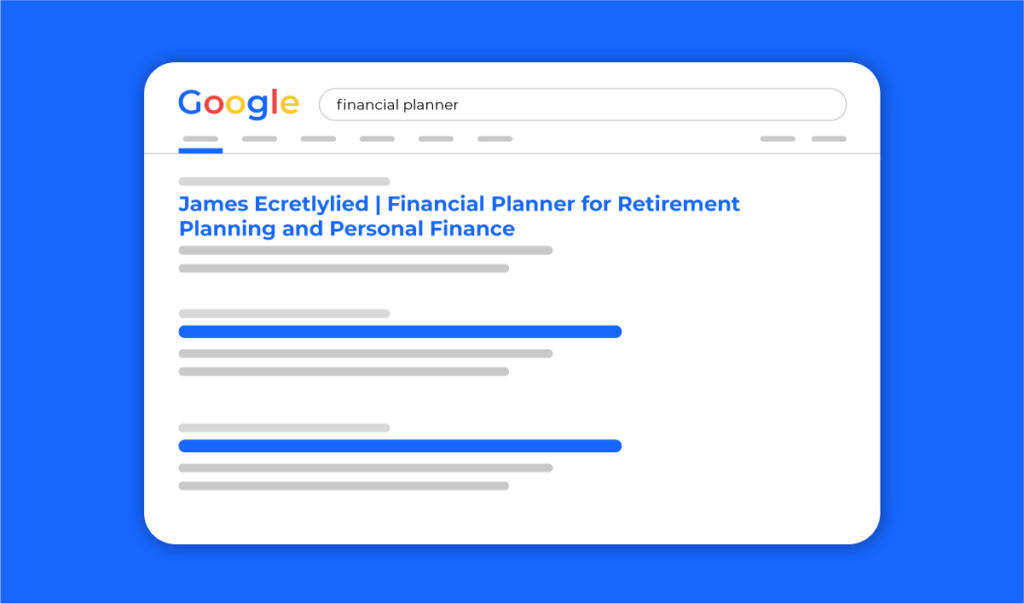 Though James may have increased his search visibility, he was sending people to a page that was not actually related to financial planning for retirement; it was all about an online course. James' bounce rate skyrocketed and search engines realized that this page should not show up for the search terms they were showing for. Worse yet, he wasted an opportunity to accurately describe what his business was about for the smaller group of people looking for that service.
The moral of the story is to ensure that you are always describing what's actually on your page. Otherwise, people (and search engines) will learn that you were fabricating and just trying to stuff your title tag with keywords and it'll ultimately hinder you in the long run.
Tip #7: Identify One Main Keyword to Prioritize
As I just stated, you don't want to stuff your title tags with keywords. Both people and search engines are too smart to fall for that. Instead, identify one major keyword to prioritize in your title tag for each page and you'll be much better off. In order to find which keyword to focus on, you can use tools like Google Keyword Planner and SEMRush to identify average search volume.
For this example, let's say that I'm an online retailer of meats. In order to boost my organic search ranking for my products page, I want to write a title tag that will inspire the most visibility (and clicks). Here's what Google has to show: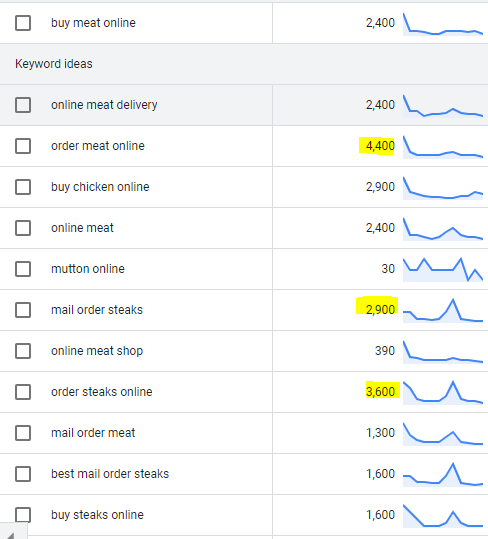 I then head over to SEMRush and use the same keyword and find this: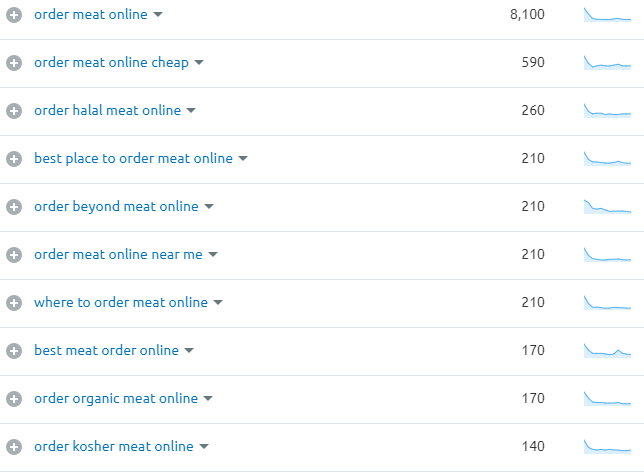 What I've learned from the results is that the term order seems to be used more than buy or purchase and that there's value in both the terms meat and steak. From this information, I would consider putting together a title for the page that reads like:
Randy's Meat | Order Meat & Steaks Online – Free Delivery
This title tag has a clear CTA, includes keywords that we've prioritized, and also keeps our company's brand included. Most importantly: it isn't deceptive. It will lead to a webpage in which customers can order their meat (including steaks) online.
Tip #8: Consider Long-Tailed Versions of Keywords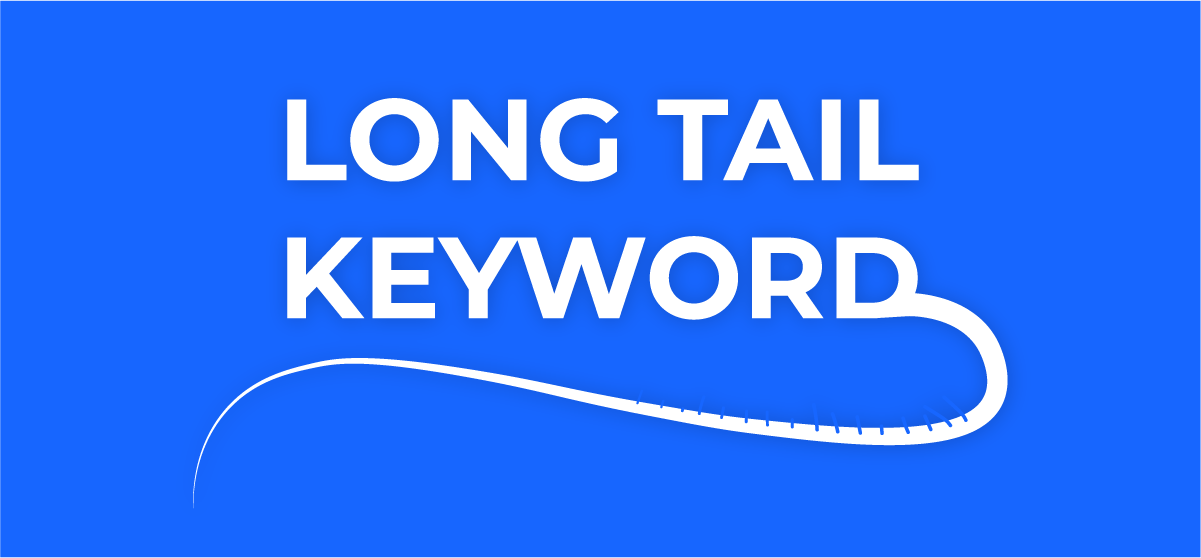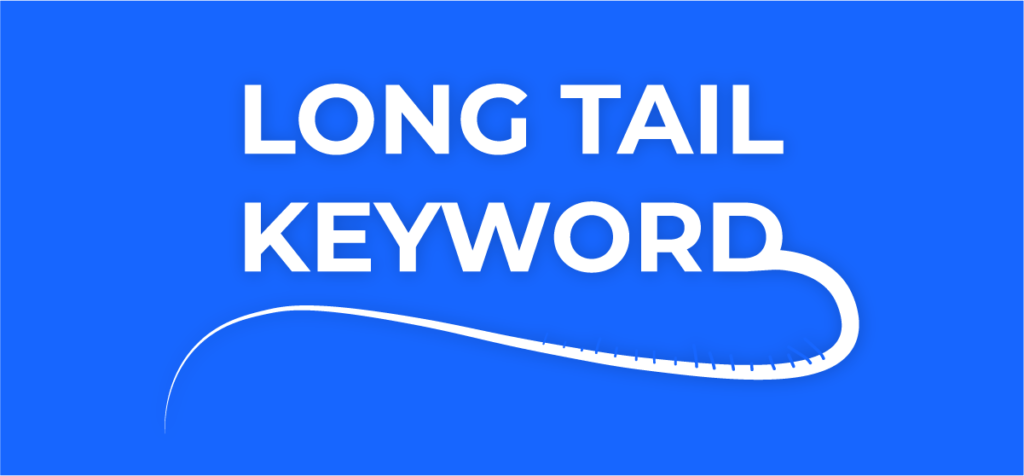 Long tail keywords are phrases that are longer in length. Though searched less often, when long tail keywords are searched the user likely has higher search intent. To get real meta with it, the phrase "what is a long tail keyword" is in fact a long tail keyword (as opposed to the term "long tail keyword" on its own).
As it relates to writing title tags, we've said on two (and now three) occasions that it would be advisable to not stuff your title tags with multiple keywords. Instead, it is good practice to use long-tailed versions of the one prioritized keyword you're using. Here's how to illustrate the difference:
Frank's Furniture | Furniture like Couches, Sofas, Sleepers, Mattresses, Chairs, Ottomans, Beds, and More.
Frank's Furniture | Contemporary Furniture Styled for Modern Homes
The first option is a bit much. The second option takes the keyword "furniture" and ties in additional words to make it more focused without distracting from the main keyword. By using the same tools discussed in previous sections (Keyword Planner and SEMRush) you can get some semblance of ideas for long tail keyword search volume which may influence your decision.
Tip #9: Call Out What Makes You Unique
If you know what a unique selling proposition is, then you probably took a marketing course or have been forced to put together a marketing plan. I used to roll my eyes when putting these together in college, but now I've come to really value the exercise of identifying what makes a client unique. To put it simply, a USP answers what differentiates you from your competition.
USPs should be specific to your target audience, describe a benefit, and explain the problem you solve. To have your USP be reflected in your title tag (where there's limited text space) can be a challenge. However, if you can condense what makes your brand unique while also describing what's on the page – you're golden.
For this example, we'll look at Daily Harvest. If you haven't received their ads on your Facebook before, Daily Harvest is a smoothie/meal delivery service that prides itself on its healthy & tasty items. The differentiator for them is the healthy, plant-based options. So, for a title tag on their recipes page, they chose:

In this title tag Daily Harvest calls out their brand name, uses a separator, includes their valued keyword ("recipes") and calls out their unique pieces (plant-based, farm-frozen). Finding ways to show your unique selling points while still including keywords and your branding is a delicate balance, but one that can be achieved.
Tip #10: Recrawl Your Site When You're All Done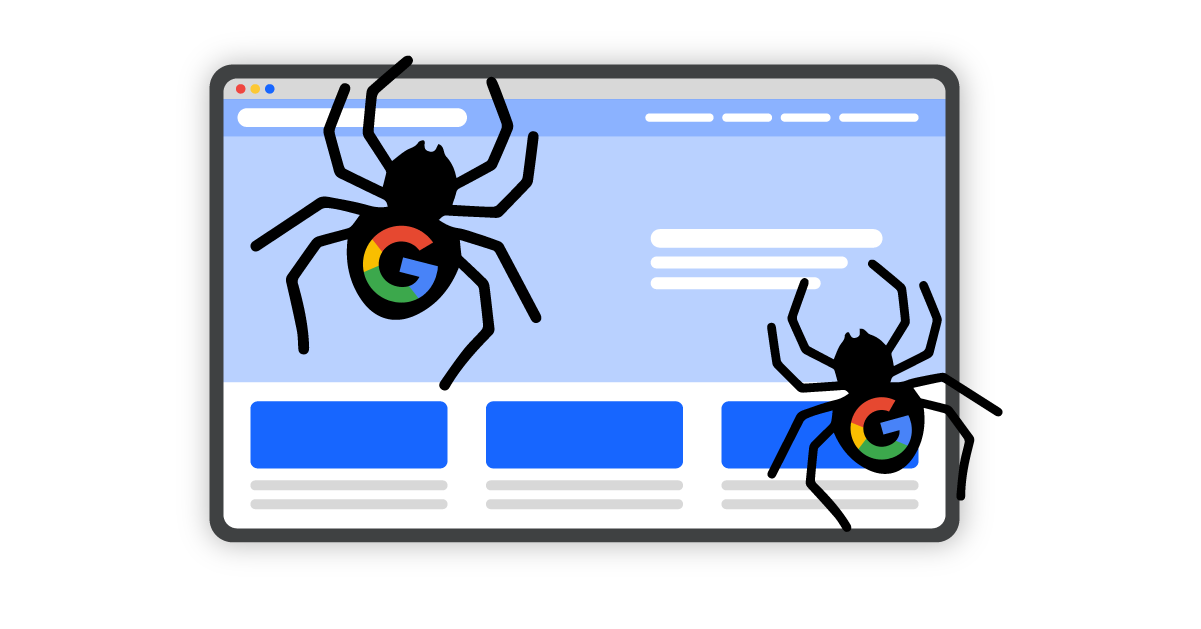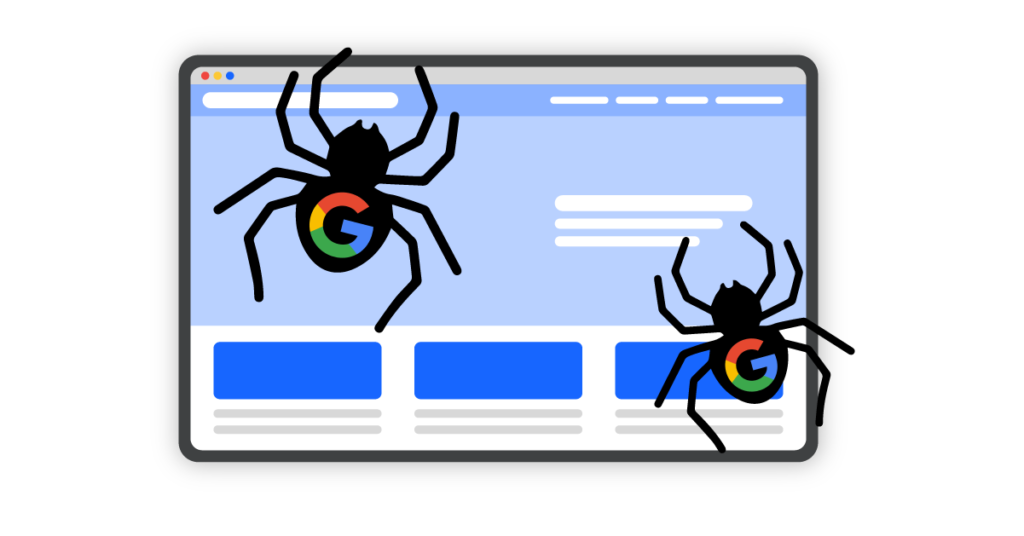 After you've made the changes to your title tags, it's important to alert Google so they can speed up their process for seeing those changes and recrawling your site. Google eventually will crawl your website again and note the changes, but there's some ambiguity related to when they will do so (most say this happens between 4 days and 4 weeks). You can speed up that process through Google Search Console.
Google Search Console is an often underutilized tool that Google provides for free. All you have to do is setup an account, add a little bit of code to your website's header/footer, and you're all good to go. In addition to providing data on what search terms are driving traffic to your website, it includes a feature for you to submit a URL for a recrawl. To do so:
Make sure you have Google Search Console set up, and then log in to your account.
Navigate to the GSC Inspection Tool
Submit a URL from the website you want to get recrawled.
Click the "Request Indexing" button
Regularly check the URL in the Inspection Tool to see when Google last recrawled your website.
This can help expedite the process of having your title tags updated on Google's SERPs and will make sure that your hard work of re-titling your pages hasn't been a wasted effort.
Making improvements to your site's SEO can feel daunting. Title tags are one of the many ways that you can see gains in your search ranking and visibility, but it's not the only answer. If you'd like to learn more about our SEO services and how we can help your company boost its organic ranking for prioritized keywords, please feel free to reach out. We would love to offer you a free proposal or conversation about how we can assist. Thanks for reading! Good luck getting your title tags optimized.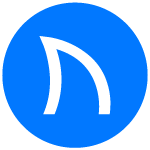 Ready to grow FASTER? Let's Talk!
Interested in having us help you grow?