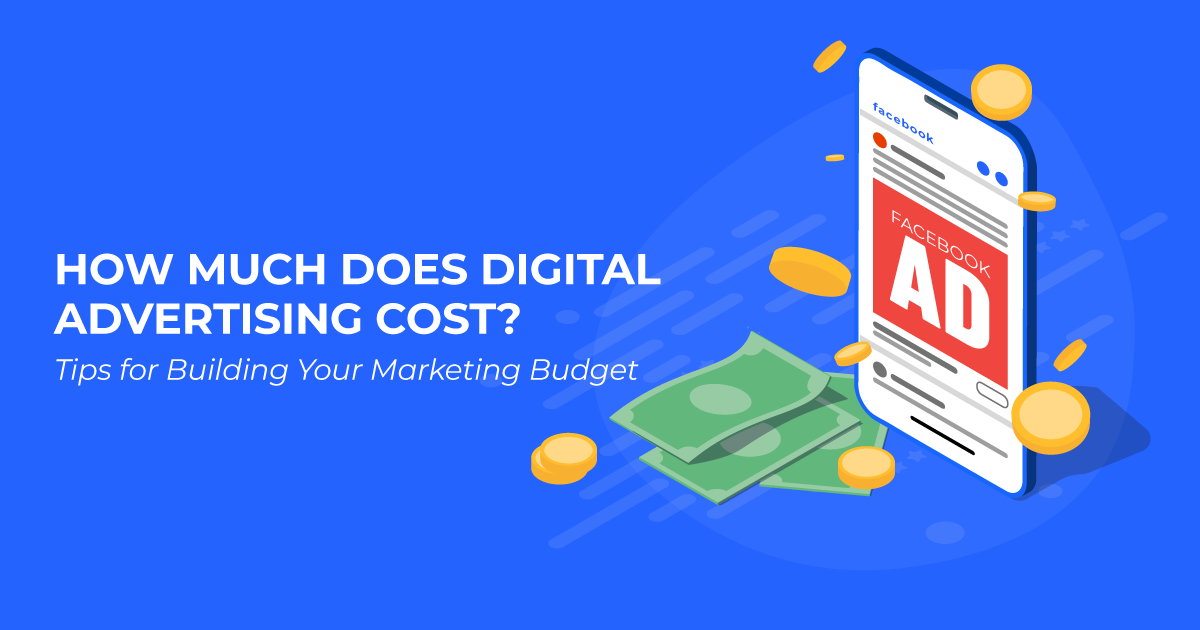 How Much Does Digital Advertising Cost? Tips for Building Your Marketing Budget
The last month of the calendar year is typically characterized by merriment and festivities in our personal lives. In our professional lives (as marketers), we reasonably feel a little less holly & jolly when tasked with the dreaded budget season.
Unless you're Henry Hill in Goodfellas, chances are you don't love asking for money. But with advertising spend growing at an average clip of 3.8% over the last 20 years, many of us have been in the position of discussing increased spend with our execs. In 2022, it's anticipated that worldwide advertising spend will rise by 6.8% (Statista).
Because we've been in your shoes, we wrote this blog to serve as a starting guide on how much digital advertising will cost, and how you can build your budget for success in 2022. Let's get started!
Current Costs of Facebook Ads, Google Ads, and Other Digital Advertising Mediums
If answering the question 'what will digital advertising cost me' could be answered in a one sentence response, then both of our jobs would be easier. The reality is that the cost of your advertising will depend on a number of factors including industry, platform, target audience, type of campaign, and more. To begin to understand the cost, it's important to map out the current costs of each platform.
The two metrics that get cited the most when discussing costs of digital advertising are cost-per-click (CPC) and cost-per-thousand-impressions (CPM). It's also important to factor in minimum ad spends when determining the cost of your advertising. Let's take a look at a few of the more popular digital advertising mediums and the CPC, CPM, and minimums of each platform.


Though this cost data can be helpful in identifying which platforms fit within your budget, it's important to note the context behind the numbers. Most importantly:
Google Search Ads will be the most potent in driving interested, relevant traffic to your website (hence the higher CPC and CPM).
Ad costs are subject to increase (or decrease) depending on the number of advertisers competing for real estate at the given time.
We would anticipate the numbers for each platform to increase in 2022.
Despite minimums being where they are, in order to best determine your budget, it's important to consider the impact of your dollars. For this, we'd recommend consulting a digital marketing agency.
Using these average costs can help your business start to build a game plan for next year's budget. It's important to align your advertising with your goals. For example, if you're more focused on raising general awareness than driving web traffic, consider platforms that will give you a low CPM, and worry less about the CPC. Looking for more tips? Turn to the section below!
Tips for Building Your Digital Marketing Budget
Now that you have an understanding of some expected costs on your digital advertising platforms, it's time to establish a formalized budget for 2022 (and beyond!). As a marketing agency with clients across a variety of industries, we're no stranger to helping prepare budgets and allocate spend. Here are some tips to assist you in the process of building your digital marketing budget.
Implement Tracking & Reporting to Understand Your Current Online Marketing Presence
It's hard to know where to go without the full knowledge of where you're at. In order to begin outlining your digital marketing spend for the upcoming year, we'd encourage using a few tools to help gauge how your current online mediums are performing. Examples include:
Additional channels may include insights from your website content management system, LinkedIn, TikTok, and other organic channels currently in your marketing mix. The goal is to pull as many numbers as you can to have an idea of the current impact your marketing is having from an online standpoint. Merge this with the aforementioned stats about average digital ad costs, and you'll have a more robust picture of the impact that you could have when you increase your spend.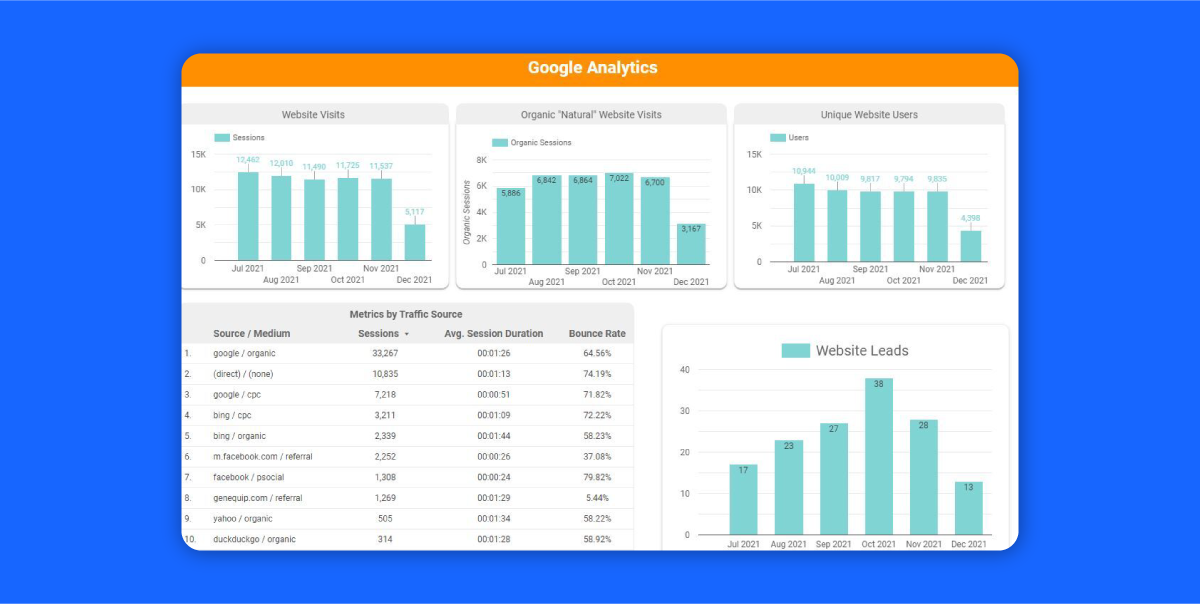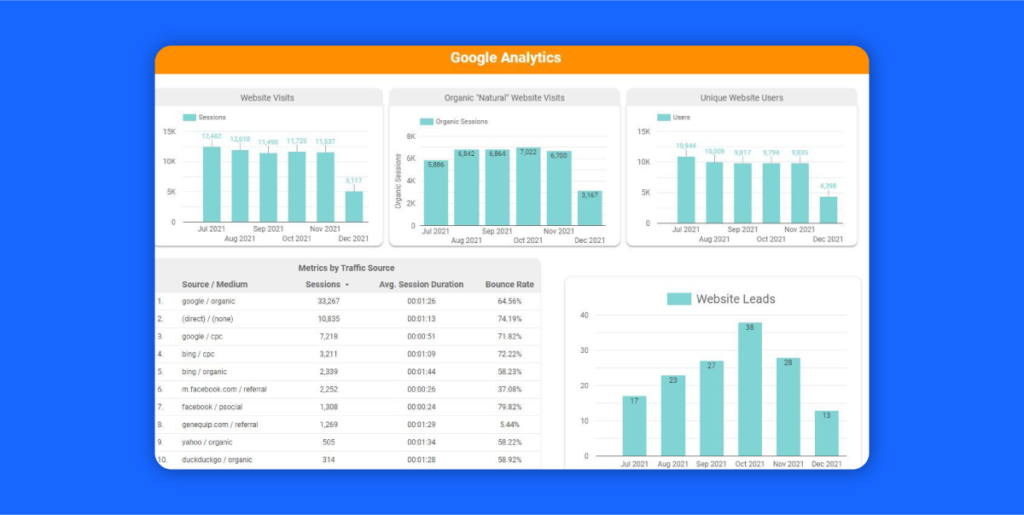 Establish Goals for Your Digital Advertising
I've been in this industry long enough to understand that everybody's KPIs and desired metrics have some variance. Sure, we all want to build awareness and increase profitability, but how does that translate to digital campaign setup?
To better outline your company's goals, perhaps it's important to introduce the goals that our friends at Google and Facebook will ask you about. See below: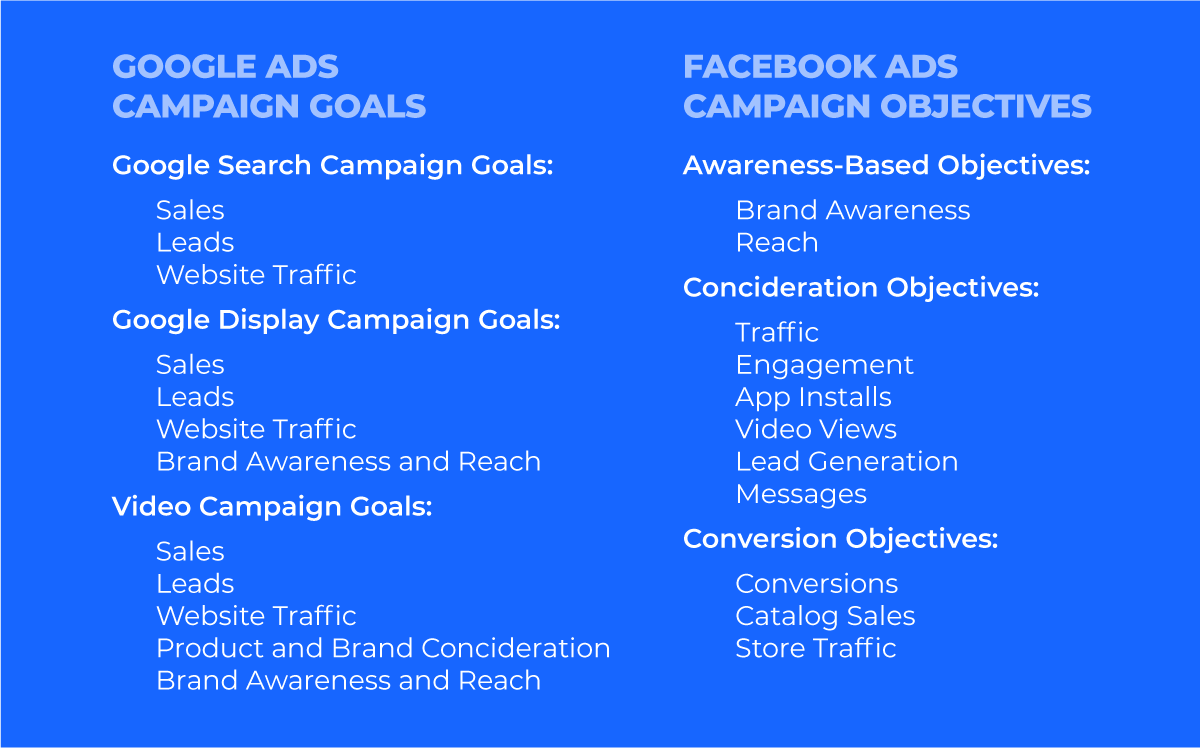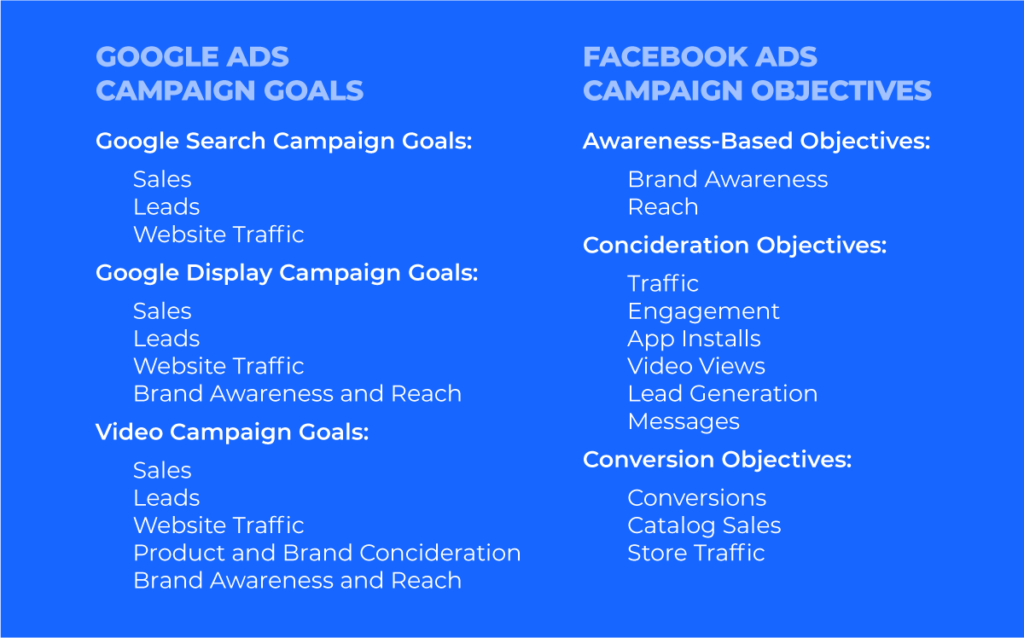 For your business, it's important to consider how your own goals match up with these objectives set out by Google or Facebook. For brick & mortar retailers that are looking to up their foot traffic and expand their audience, focus on raising awareness. For eCommerce organizations looking to increase their customer base, look to allocate your ad spend towards campaigns that will increase sales and store traffic.
As we outline strategies for our clients, we typically tie in a mix of campaign objectives that match their goals. We understand that our top-of-funnel audience (cold prospects) may need to learn about a business before "converting," so opt for traffic, engagement, or brand awareness objectives for them. As they move further down the funnel, and closer to becoming a lead/sale (or a repeat sale!), we'll focus more on the conversion objectives.
Establish your digital marketing goals and then ask your digital marketing agency how they can assist with transferring said goals to a budget that will make the impact you're looking for.
Conduct Industry & Keyword Research
The next step in building your budget is getting an idea of the competitive landscape. For this section, we'll mostly focus on the two most popular digital advertising platforms (Google Ads and Facebook Ads).
For Google Ads, there's a wonderful tool that is free for you to use when you create an ad account called Keyword Planner. Keyword Planner will be helpful in showing the average monthly search volume of specific keywords that you wish to bid on, and will also give you an idea of the expected cost. Here's a screenshot to further explain: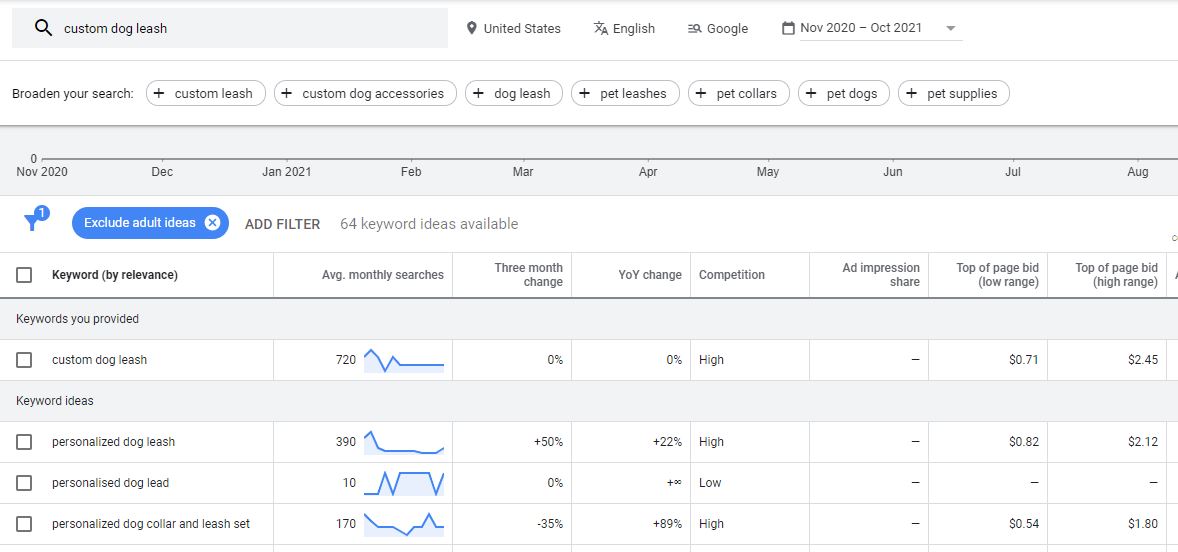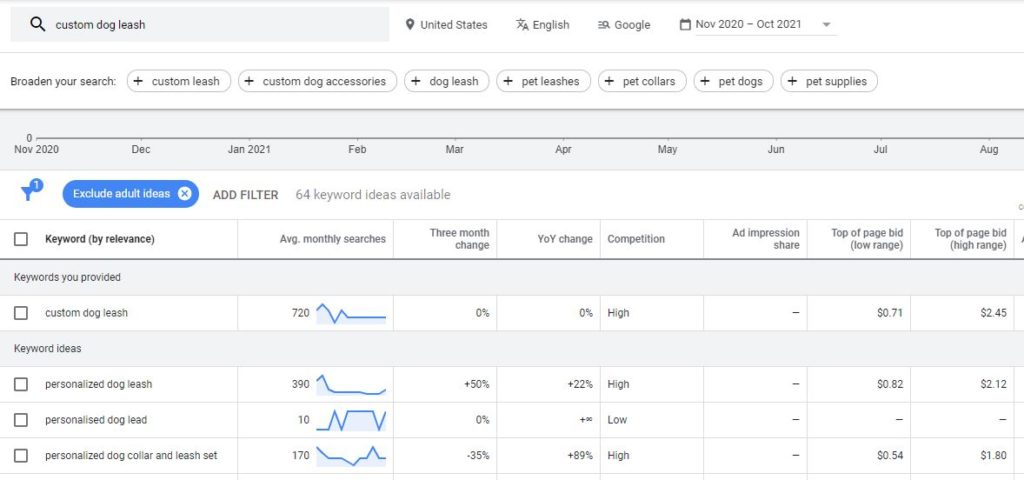 For this example, I used "custom dog leash" and put it on United States targeting. It suggests that, on average, to show up at the top of the page you would need to bid between $0.71 and $2.45 cost-per-click. It also provided a few other keyword recommendations to consider.
Using this data, I can begin to make some assumptions. Understanding that the average click-through-rate on a Search Ad is ~2%, and the average amount of monthly searches for "custom dog leash" is ~720, I can assume that a month of advertising on custom dog leash may result in:
720 impressions
144 clicks
Between $102 and $350 in ad spend.
Though this isn't a perfect science (you will seldom have a search impression score of 100%), it can at least start to give you some understanding of how far your budget can go.
For Facebook Ads, it's a little easier to predict your impact. When you're setting up an ad, you'll be given estimated reach based on your campaign or ad settings. Here's an example of what that looks like from within Ads Manager: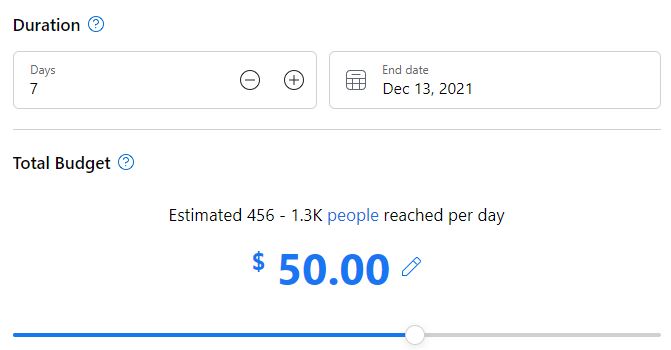 For this example, I used a $50 budget with a more focused target audience. I'm given an estimated range of people that may be reached per day. I also know that the average click-through-rate on Facebook Ads is around 0.90% and the average frequency on Facebook Ads is around two (2 impressions per user reached). From this, I can estimate the following:
$350 in ad spend ($50 for 7 days)
6,300 – 18,200 in impressions
56 – 164 link clicks (web visits)
Using this research, you can start to get better ideas of how far your dollars can go. This will be beneficial as you draft your budget and marry it with the goals that your organization has set out to accomplish in the upcoming year. For additional pieces of advice, feel free to contact us to discuss how we can help prep your digital budget!
Plan to Scale Your Digital Marketing Account(s)
It's unlikely that you're reading this blog and thinking how I can cut my ad spend this coming year. In all likelihood, if you're planning to revise your digital marketing budget, you're looking for ways to add more dollars to it. Let's chat about how you can do so on Google Search Ads.
Ensure your campaign tracking has been set up
Identify your search impression share lost due to budget (missed opportunities due to budget).
Identify your click through rate (CTR), and average cost per click for these same campaigns.
Track these in a spreadsheet for individual campaigns, and identify what opportunities exist, and how much room for additional budget there may be.
Here's an example of how that may look:
| | | | | | | | | |
| --- | --- | --- | --- | --- | --- | --- | --- | --- |
| Impression | Search Impression Share | Max Available Impression | SIS lost (budget) | Missed Impression (Budget) | CTR | Missed Clicks | Cost Per Click | Added Budget |
| 10,000 | 50% | 20,000 | 2.00% | 400 | 2.50% | 10 | $2.50 | $25.00 |
In this example, we can see an account with 10,000 impressions that has a 50% impression share (if only actual campaign numbers were so clean!). This tells us that our maximum available impressions are 20,000. We also know that 2% of our search impression share is lost just due to budget (Google tells us this, too). That indicates that we're missing 400 ad impressions (2% of 20,000) due to our budget. When you factor in a clickthrough rate of 2.5%, you'll see that 10 missed clicks are missed. With a $2.50 CPC, an added budget of $25 would help this campaign.
Math is great, isn't it?
Though every situation and every advertising medium isn't so clean, there are great tricks like this to help you learn how to scale your ad spend and get results. We specialize in this area, and would love to chat with you further. Let's open the conversation about scaling your digital advertising.
How Much Does it Cost to Outsource Digital Advertising to a Marketing Agency?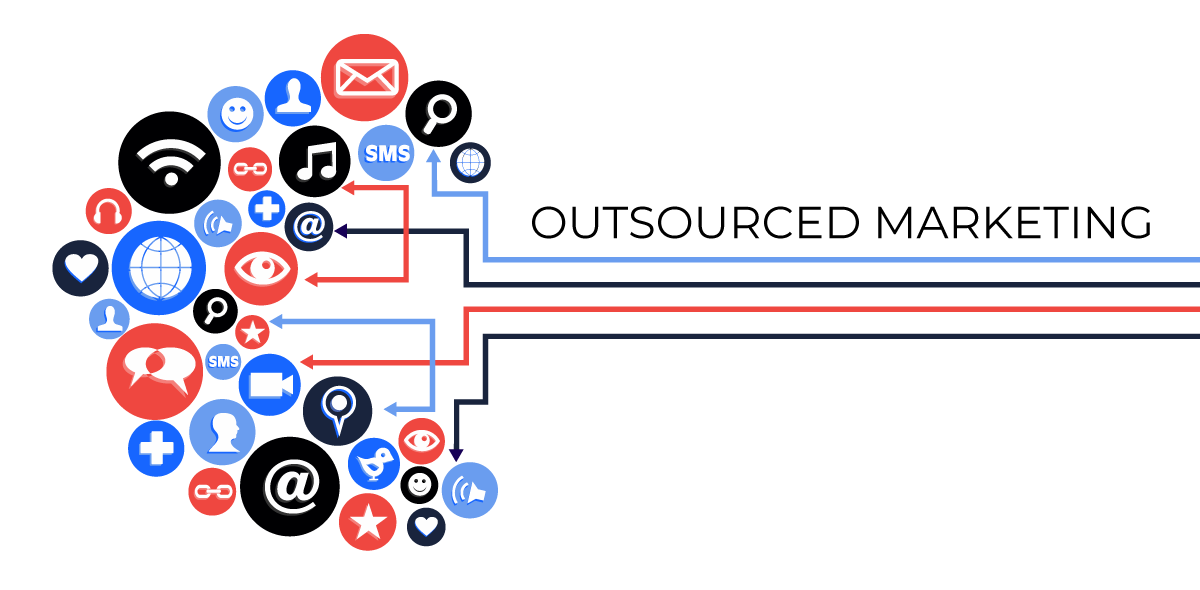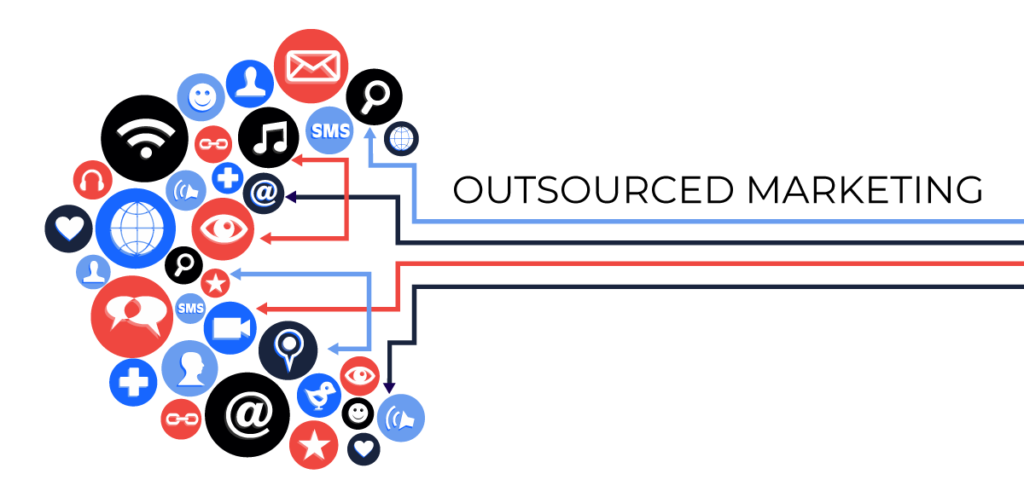 Some of you who are reading this article may be interested in handling ad buys in-house, while others are looking at outsourcing digital work to an agency (I know a great one here). In either case, as you're preparing your budget you're likely factoring in the expense of employee salaries or agency fees to your bottom line budget.
First, let's take a look at the cost of a Digital Marketing Manager. United States salaries for an individual managing your digital efforts range from $45,000 – $175,000 (according to Builtin.com). With a team of multiple digital marketers on your staff, that price can reasonably rise to hundreds of thousands in payroll and benefits.
For an agency, the cost will almost certainly be lower but you may trade-off some of the benefits of having an internal source to work with on a daily basis. Though our agency prioritizes the relationship with our clients and aims to be an extension to their marketing teams, we've also heard from leads who have had lackluster experiences with agencies they've worked with. All of this will need to be factored in by your team.
As for the cost to outsource your digital ads, many agencies will start at around $1,000 – $2,500 per month in agency fees. Typically, you'll want to find an agency whose management fee accounts for 50% or less of the overall investment into digital. For example, if your budget for digital ads is $4,000 per month, aim to ensure that the management fee covers $2,000 or less of that expense (and the rest goes to ad spend).
Unlike traditional media buying where agencies get discounted rates on radio or tv placements and upsell them to end users, that's seldom the case with digital. Agencies are paying the same amount to Facebook or Google as you would, so the value and expense comes in their strategy & campaign optimization.
If you'd like to learn more about the fees that an agency like AdShark would charge to manage your digital advertising, reach out to our team. We'd love to have a no-strings conversation about the value & what our work would include.
Tying it all Together
Whether you're looking to revise an existing digital marketing budget OR you're considering digital for the first time in 2022, it's important to have a plan put together that will set your organization up for success. This article was written to help you get started on the production of your digital marketing budget. A summarized list of the areas we covered includes:
Worldwide ad spend is set to increase by almost 7% in 2022 – are you prepared for the increase?
The current costs of ad spend on top platforms:

Google Search: $2.69 CPC, $41.10 CPM, no minimums
Google Display: $0.63 CPC, $2.39 CPM, no minimums
Facebook Ads: $0.97 CPC, $7.19 CPM, $1/day minimum
LinkedIn Ads: $5.26 CPC, $6.59 CPM, $10/day minimum
TikTok Ads: $0.19 CPC, $1.82 CPM, $50/day minimum

Tips for building your budget:

Implementing tracking & reporting
Establishing goals for your digital advertising
Conducting industry & keyword research
Planning to scale your digital marketing accounts

The costs of outsourcing digital advertising to an agency ranging between $1,000 – $2,500 per month as a starting point
If you're interested in exploring how a digital marketing agency can maximize your advertising results, we'd love to consult with you and work within your budget. Please feel free to reach out to jack@adsharkmarketing.com with any questions. Enjoy your budget season, and have a great 2022!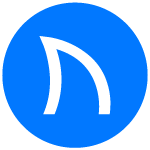 Ready to grow FASTER? Let's Talk!
Interested in having us help you grow?