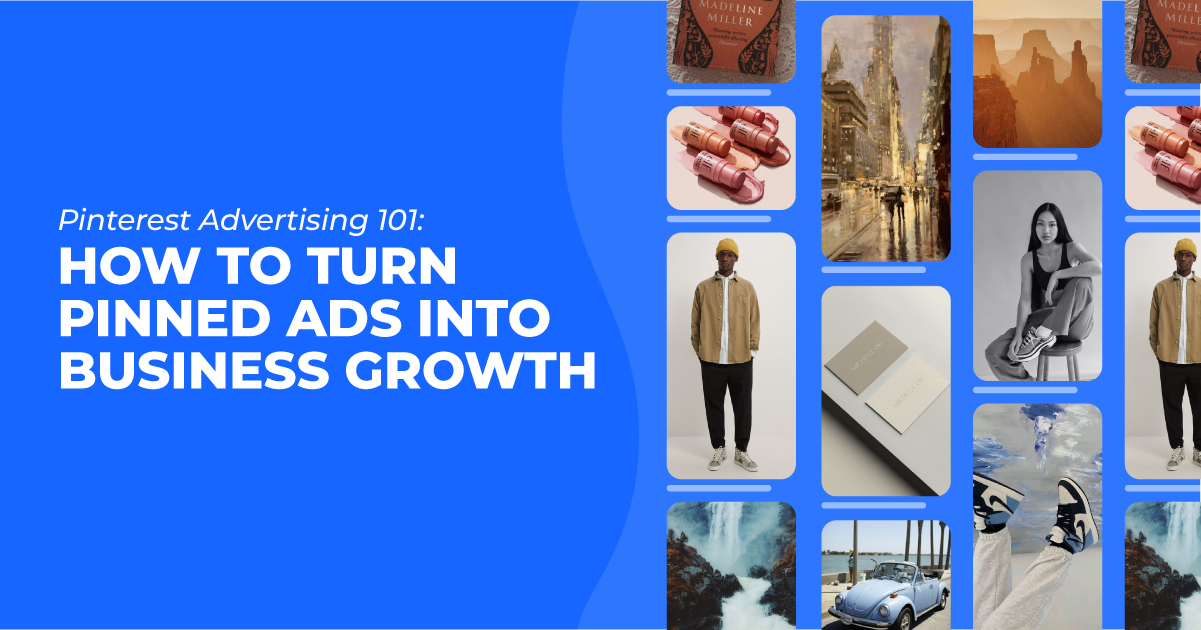 Pinterest Advertising 101: How to Turn Pinned Ads into Business Growth
In 2015, I graduated from college and moved into an apartment. For the first time in my life, I didn't have mom's cooking or cafeteria food to rely upon for sustenance. Though my steady diet of eggs & bacon, chicken nuggets, and Jack's pizzas kept me satiated for a month or two, I soon realized I needed new cooking inspiration. And that's when I found Pinterest.
Pinterest originally launched in 2010 as a social media platform intended for inspiration sharing. Today, Pinterest has over 440 million active users – a number that grew by over 37% in the past year (via Findstack). It's no wonder businesses are flocking to Pinterest to leverage business opportunities.
If you've been considering getting started with Pinterest advertising, this article's for you! We'll break down the costs of advertising on Pinterest, demographics and user information, and some best practices for getting started. Let's dive in!
The History of Advertising on Pinterest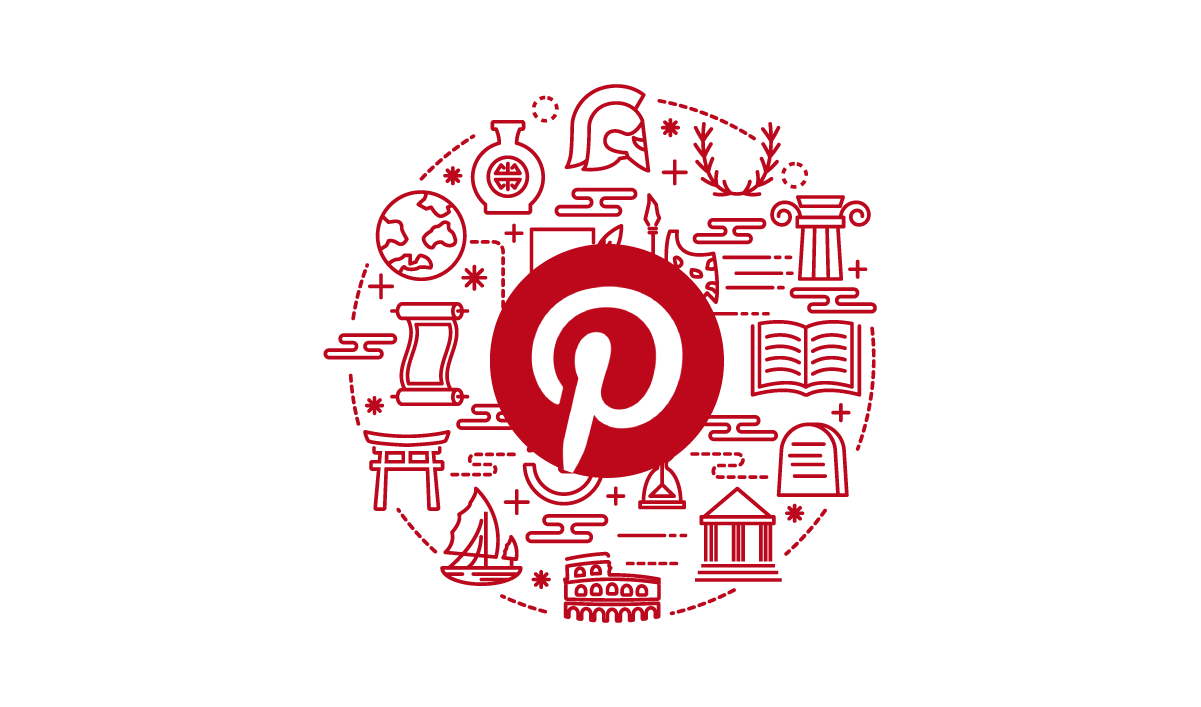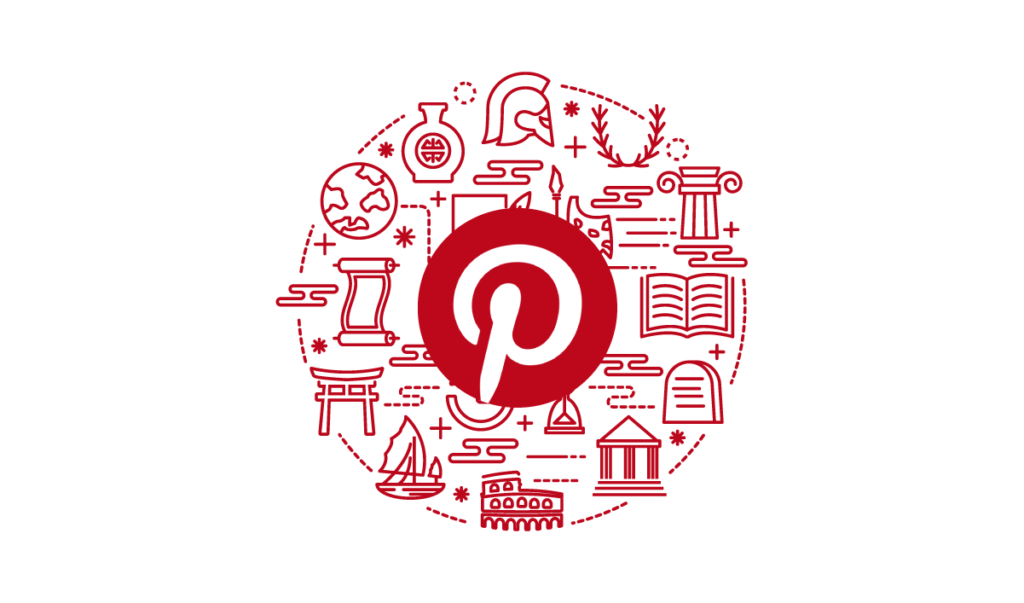 Ben Silberman and Paul Sciarra, the founders of Pinterest, began development for their new social media platform in December 2009. Four months later, a prototype site was released and nine months after that, Pinterest had 10,000 users. In March of 2011, the Pinterest iPhone app was available, which helped Pinterest earn acclaim from Time Magazine, TechCrunch, the Webby Awards, and more.
The company continued to grow over the next several years, went public in 2019, and by 2020 had reported an advertising revenue of $1.7 billion (an increase of 48% from a year prior). The growth of this social platform has been exciting to watch, and like most free apps and websites, would not have been possible without its ad revenue.
Pinterest's advertising efforts began in the form of Promoted Pins which were released in 2013 (via TechCrunch). These pins were based on individual user's interests & actions while using Pinterest, in addition to actions while using advertisers' websites. The launch of these ad efforts helped Pinterest generate its first revenue in 2014 (via WSJ).
According to Statista, Pinterest advertising revenue was projected to end near $2.5 billion in 2021. Advertisers continue to flock towards Pinterest for a few reasons, including:
Pinterest is a platform in which people can discover new brands. In fact, over 85% of weekly Pinners have bought something based on Pins they see from brands.
Pinterest is home to individuals with strong purchasing behavior. Stats show that Pinterest users spend 80% more in retail than people who do not use Pinterest.
Pinterest users tend to have higher incomes and tend to be decision makers in their household. Data shows that 49% of US internet users with a household income of $100K+ are on Pinterest, and 62% of US Millennials with a HH income of $100K+ are on Pinterest.
These statistics on Pinterest users help paint the picture: Pinterest is a starting spot for buyers. As an advertiser, reaching this purchase-happy audience has become a priority. As Pinterest continues to evolve, we can expect more and more improvements to the advertising experience.
How Much Does it Cost to Advertise on Pinterest?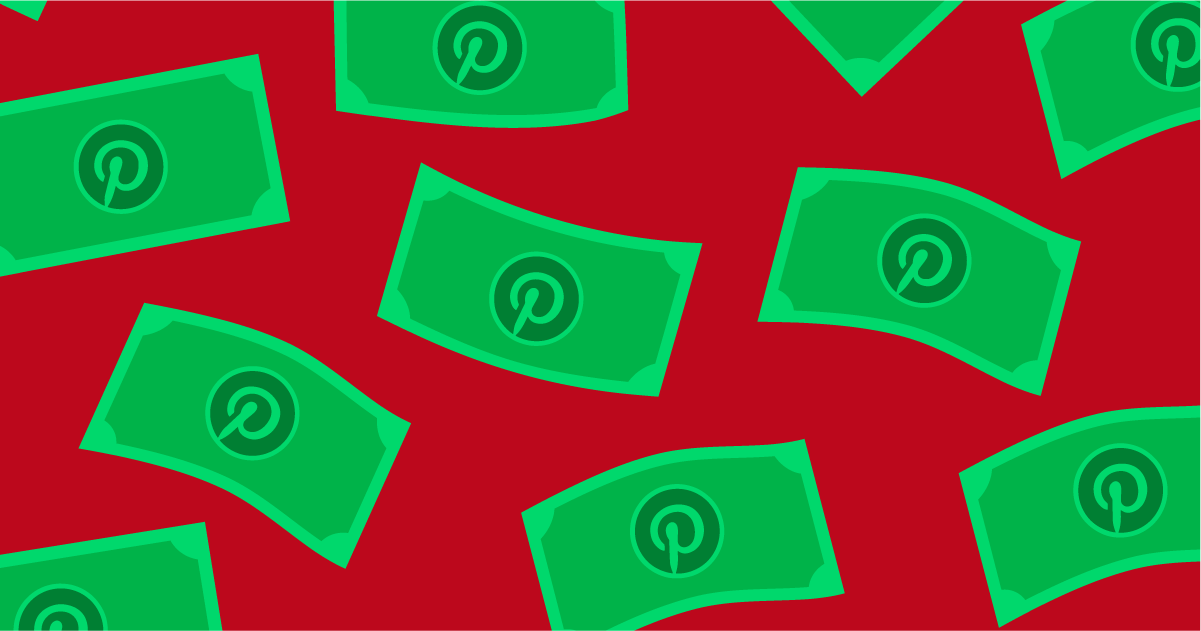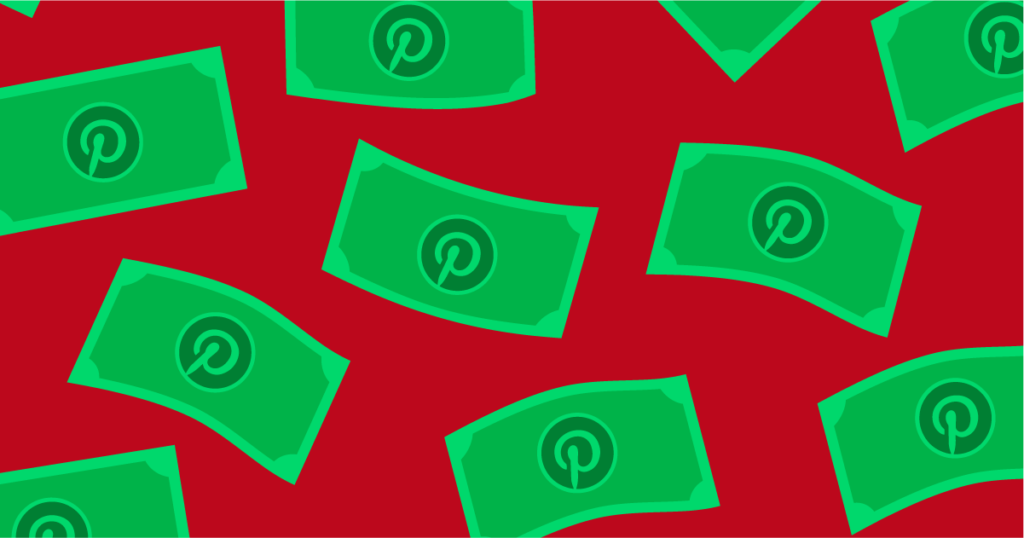 Alright, let's get down to the brass tax. In the previous sections, we discussed the history of Pinterest advertising and some of the stats that sell the case for your business deploying Pinterest ads. Naturally, you're expecting that Pinterest advertising comes with a heavy cost.
However, if you read our Paid Social Media Tips blog from a few months back, you should already know that Pinterest is among the most affordable social media advertising platforms. Here's what it costs to advertise on Pinterest:
Minimums: Not applicable. The only cap is a $0.50/day cap on your campaigns.
Cost-per-thousand impressions (CPM): Between $2 and $5.
Cost-per-click (CPC): Between $0.10 and $1.50, depending on campaign type.
Of course, variables exist. Pinterest has several different ad types (standard pins, carousels, video pins, etc.) and several campaign objectives (brand awareness, video views, traffic, etc.). Your targeting will also impact how far your dollars go on Pinterest.
In most cases, we'd recommend starting with a daily budget between $10 and $20 on Pinterest ($300 – $600 per month). Leave room for extra budget for creative needs and/or agency fees! If you'd like to discuss what Pinterest ads could cost for your business, please feel free to contact our digital strategists to learn more!
Interest and Demographic Information for Pinterest Users
Even for marketers, we get in a habit of narrowcasting audiences. In my head, Pinterest users are primarily females between the ages of 20-40, with an interest in cooking, crafting/DIY, and similar hobbies. In reality, Pinterest will grow to around 500 million monthly active users in 2022. Advertisers will have the ability to reach a wide gamut of interests and demographics.
As a whole, here's what we know about Pinterest users:
In addition to this demographic information, we also can pull some insights about Pinterest users from data that Pinterest publishes about their audience. The key points from this audience research are:
97% of Pinterest searches are unbranded, implying that Pinterest users are eager for new ideas and new brand discovery.
85% of Pinners say Pitnerest is where they go to start a project, implying Pinterest users are creative & self-starting.
80% of weekly Pinners have discovered a new brand or product on Pinterest, implying that Pinterest users have purchase intent.
If these insights related to demographics and interests seem like your ideal customer portfolio, perhaps Pinterest is worth giving a shot! With costs that are as low (or lower) than any other social media platform, and an audience that is growing by the day: Pinterest could be a viable solution for your business. Next, we'll learn about some tips & best practices for Pinterest ads.
Best Practices for Pinterest Advertising
Now, what you really came for. Our team at AdShark has had the pleasure of helping over 75 businesses with their digital advertising strategy, several of whom have tied Pinterest advertising into their mix.
For our eCommerce clients, we've viewed Pinterest as a great tool for growing new sales (and leveraging remarketing audiences) to achieve a desirable return on ad spend. For our lead generation clients, content on Pinterest has led to contact forms, sign-ups, newsletter subscriptions, and more. Regardless of how your company plans to use Pinterest, here are some tips to help your strategy succeed.
Design ads that appear native to the platform and inspire interaction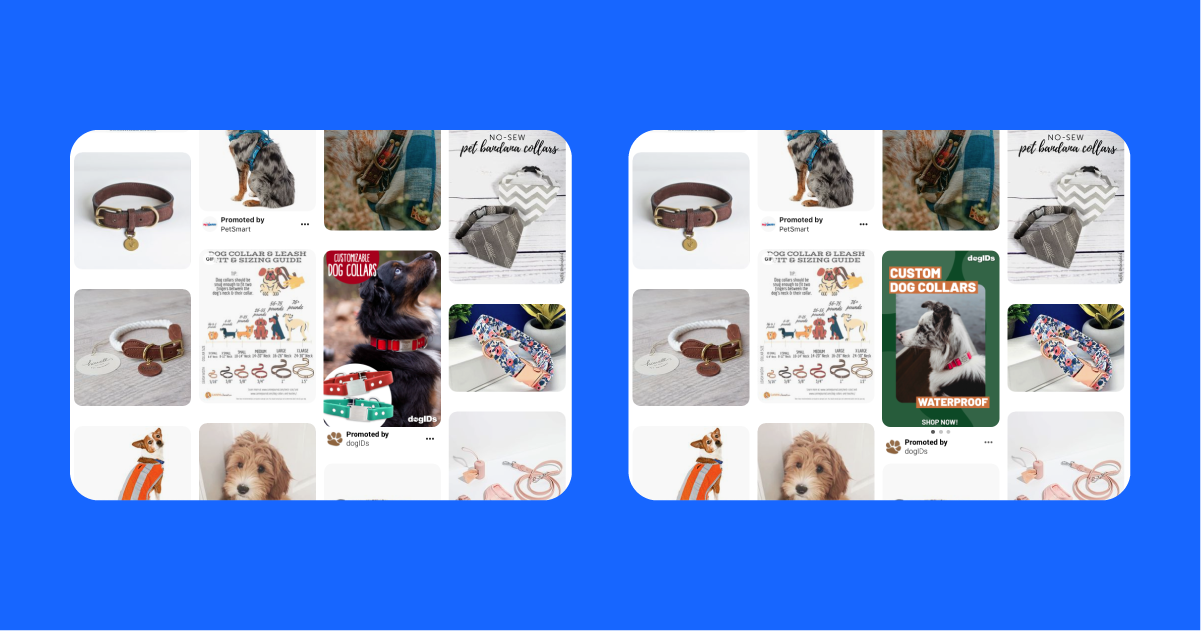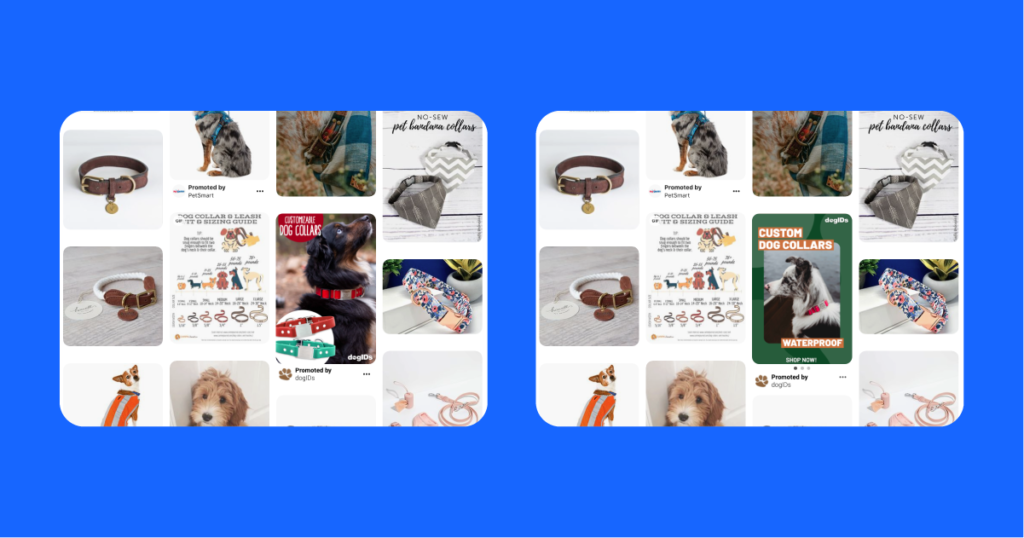 Step one of making your ads appear native is ensuring that they are designed with the right specifications in mind. For most of you using static image pins, that will mean the following:
PNG or JPEG
20 MB size limit
2:3 aspect ratio (1000 x 1500 pixels)
Titles up to 100 characters, but ideally 40 characters or less
Descriptions up to 500 characters.
If you have additional questions about Pinterest ad specs, please refer to this helpful guide that Pinterest created. It will also provide you with updated specs on additional ad types, so that your pin doesn't look truncated or out-of-sync with the rest of their feeds.
When thinking of making creative that is native to Pinterest, remind yourself of what Pinterest users aim to do. They want to learn, be inspired, and apply what they find to their own lives. Consider making content that stays in-line with those goals. Content that uses stunning imagery, lists or calls to action, movement, and more can help inspire more click activity.
You can also consider content that is dynamic or interactive. Think of building out a quiz on your site that you can use for an ad (i.e. "which shade of lipstick are you?" for a cosmetics company). Those clicks back to your website can funnel in new sales or leads, and build up your remarketing audience. Other examples may include downloadable templates, tools and guidelines, scripts, prompts, and more.
Pay attention to your targeting options & segment your audience as needed
Once you've developed the visuals and copy that will be used for your ads, it's important to focus on the audience you're targeting. Pinterest provides advertisers with a multitude of targeting options, including:
Audience Targeting: where you can create an audience based on visitors who went to your site, customer lists you upload, previous pin engagers, or "actalike" (similar to Facebook's lookalike) audiences that behave similarly to your current audience.
Interest Targeting: where you can search from a variety of interests, or select preloaded interests like design, DIY and crafts, education, electronics, etc.
Keyword Targeting: where your ad has the ability to show based on specific keywords or phrases that are searched on Pinterest. More granularly, you can do "broad match" (reaching the widest audience), "phrase match or exact match" (narrowing in), or "negative match" (keywords you don't want to show up for).
Demographic Targeting: where you can determine specific genders, ages, locations, languages, and devices.
Ultimately, you'll want to layer in targeting based on what you're advertising and who you feel like it will appeal most to. We'd recommend keeping things relatively broad to begin with, outside of perhaps segmenting your campaigns based on two audiences: prospecting vs. retargeting.
Your prospecting audience is one who is "in-market" for your products or services but likely hasn't interacted with your brand yet. For this audience, rely heavily on the interest, demographic, and keyword options to reach them.
Your remarketing audience may be previous engagers, site visitors, or customers. This is an audience that you'll want to serve different creative to (new copy, new images, different promotions, etc.). Breaking out your audiences like this will allow your Pinterest ads to have more success when they're serving.
Monitor your metrics & build a report to gauge your Pinterest Ads success
The KPIs or metrics that will matter to you will depend on your line of business. If you're an eCommerce customer, you'll want to focus on the ROAS (return on ad spend), Total Revenue, and Purchases. For lead gen clients, you may care more about conversions like contact forms, in addition to engagement metrics like click-through rate.
Whatever the case is for your business, building out a report is a great way to determine the effectiveness and to help you build benchmarks to expand upon. Pinterest will provide you with a number of data points, including:
Impressions
Engagements
Pin Clicks
Outbound Clicks (and Outbound Click Rate)
Video Views
And more
For a full list of Pinterest's metrics, visit here. These results can be shown on your Pinterest admin dashboard, or by downloading a csv file with results. However, you can also look at creating your own dashboard that filters data to show the most important metrics for your business.
We are big proponents of Google Data Studio for our reporting, and use a Supermetrics plugin that connects Pinterest Ad accounts to our client dashboards. Here's a look (hiding the numbers) of what that might look like: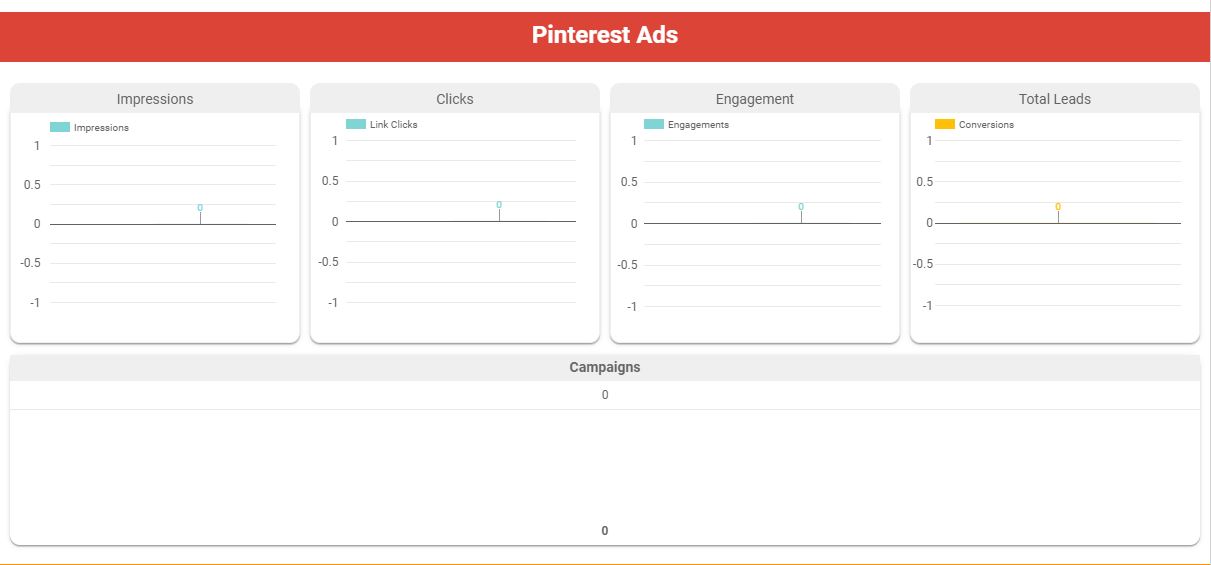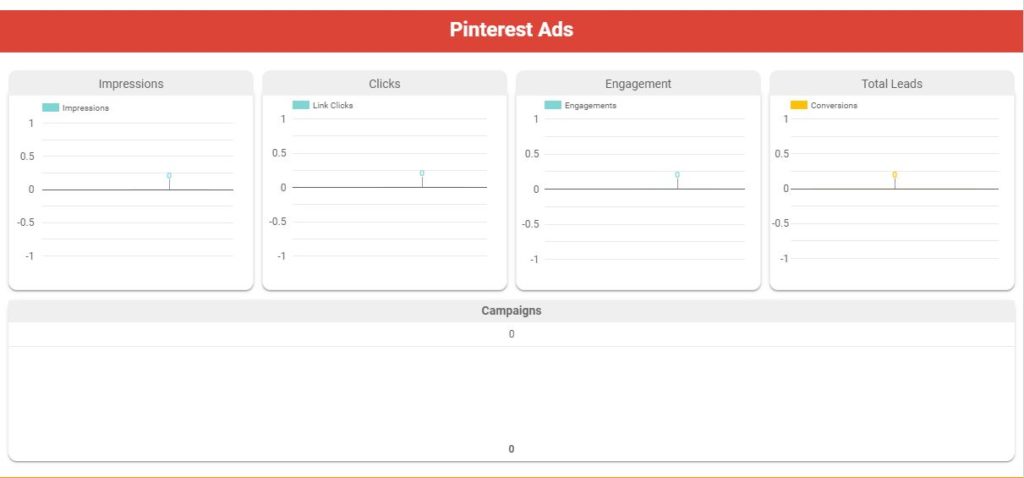 Don't set it and forget it; Always be optimizing!
Utilizing your tracking and reporting, take the time to routinely visit your Pinterest ads and make optimizations. Some examples of optimizations you'll make on your Pinterest ads may include:
Changing Campaign Objective: Pinterest will optimize your campaign (and bids) to match the campaign objective you select. If you're struggling to get views on your video ad, consider changing from "brand awareness" to "video view." If conversions are slow to come by, but you want to increase the size of your remarketing audience, change from "conversions" to "consideration."
Working Negative Keywords: if you're targeting based on search keywords, take a look at which words your ads are showing up for (particularly if you're doing broad match). Just like on Google Ads, you may have to spend some time making "negative keywords" from search phrases that your ad is showing up too often (with poor results) on.
Re-allocating Budget to Best Performing Campaigns: when monitoring your campaign performance, make sure to take some time to move budget to the top performing campaigns. This will ensure a more favorable ROAS and overall results on your Pinterest ads.
Changing Creative: if you've been experiencing poor engagement on your ads, it may be time to look at changing out your creative approach. Consider ideas that will be naturally more engaging (videos, quizzes/interactive content, etc.), or even try simple copy changes that will improve performance.
If you'd like to hear additional ideas on optimizing your campaign, we'd be happy to help. Reach out to connect with any of our digital strategists about how to improve your Pinterest ad results.
---
Pinterest is an increasingly viable platform for businesses of all sizes to advertise on. Due to the high purchase intent of users, the low cost and lack of minimums, and the numerous ways to target new (or existing) audiences – it may be a good fit for your business. If you'd like to learn more about how to best utilize your digital ad spend on Pinterest, please connect with our team. We'd love to talk you through ways to smartly spend your advertising dollars. Thanks for reading!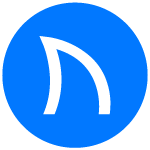 Ready to grow FASTER? Let's Talk!
Interested in having us help you grow?