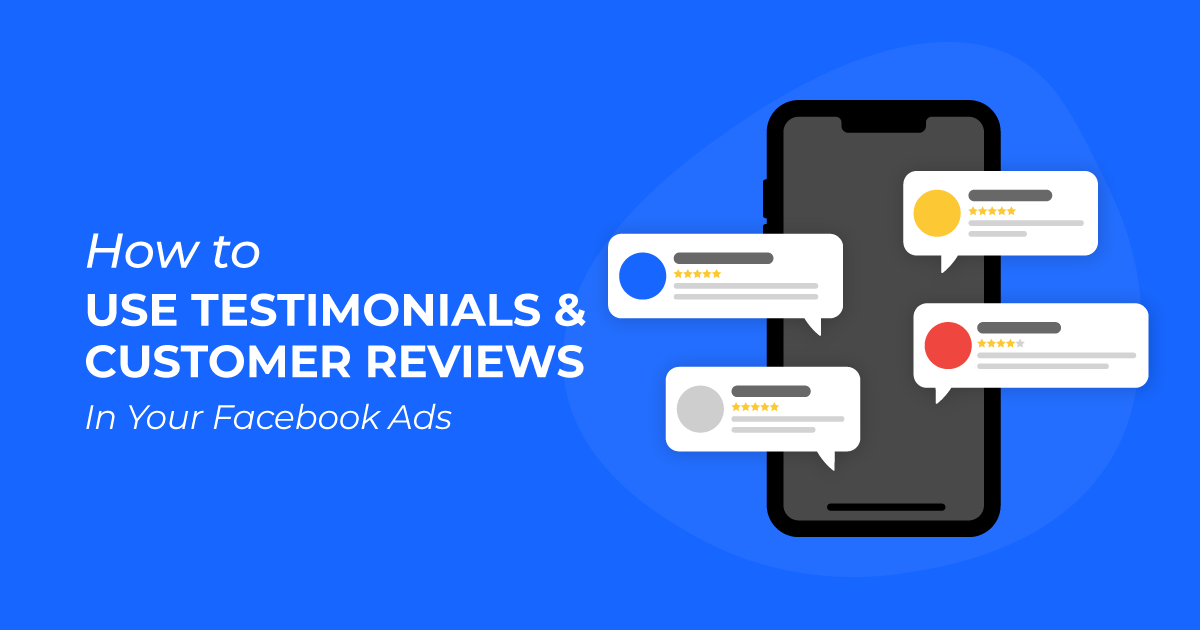 How to Use Testimonials & Customer Reviews in Your Facebook Ads
Growing up, family movie nights typically lasted 5 hours. The first three hours were spent researching and debating what to watch, and the final two were spent watching the film. Well… truthfully, we sometimes didn't make it to the final two hours. We just gave up during our research.
I love my family, but always thought we were an anomaly when it came to the way we research things before trying them. Whether it was scrolling through user reviews on iMDB for a new movie or reviewing Yelp before trying a new restaurant: others' opinions always mattered to us. Why? Time and money matter, and you want to ensure that both are spent wisely.
As I've shifted into the world of marketing, I realize that my family was far from the norm when it came to their incessant need to research before purchasing. In the digital marketing world, reviews from customers directly impact customer trust. They also play a role in your overall search visibility and SEO (read more about that here).
November is characterized by gratitude, and I wanted to follow suit on the "thankful" theme in today's blog. So, we'll be talking about how you can take your clients' words of gratitude and insert them into your sales engine through digital ads. Let's dive in!
Why do Customer Reviews and Testimonials Matter?
The reviews you receive from previous (or current) customers can either make or break your ability to drive new business. In an online environment, there are a multitude of sources where customers can read reviews about your business. Some of the most commonly access reviewed are found on: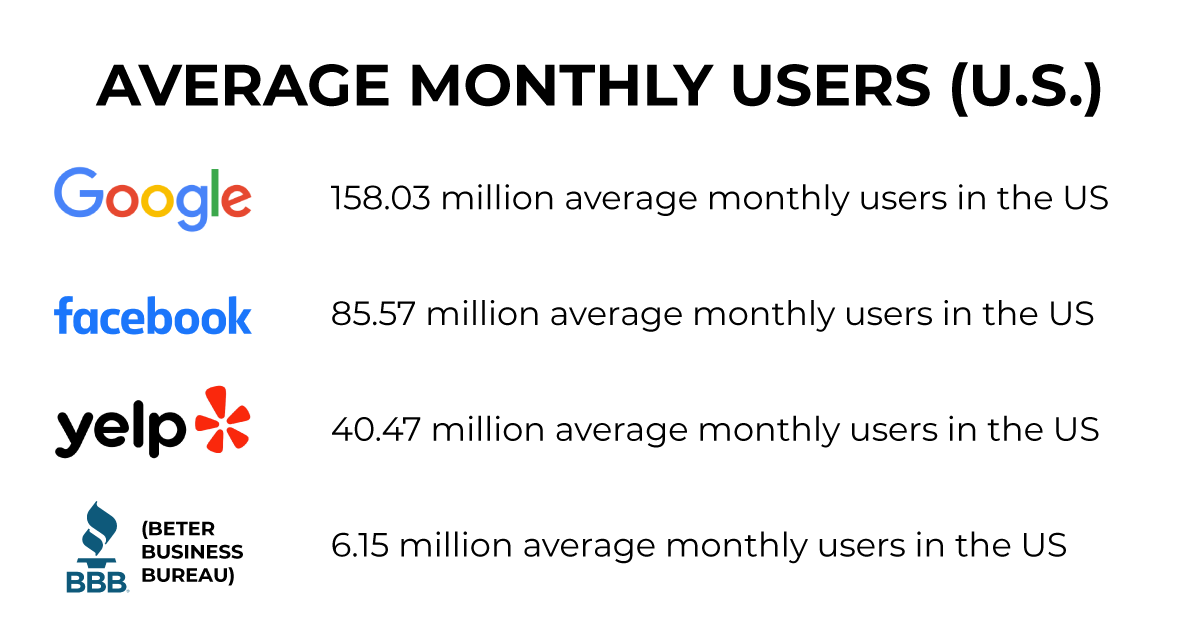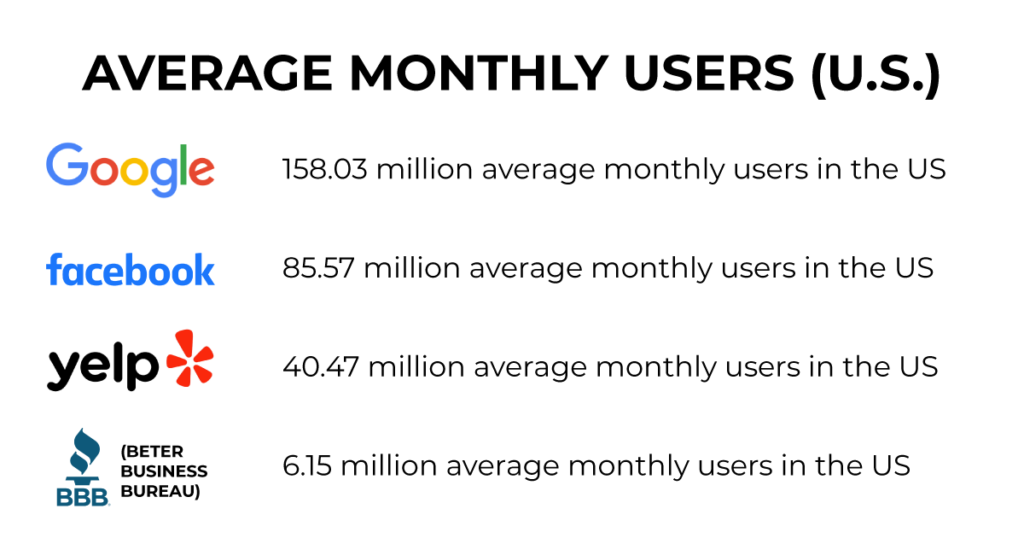 Clearly, we spend a lot of time researching reviews. One of the most important reasons why is to establish trust. As customers, we want to ensure that we are spending our dollars wisely and the closest way we can achieve that (without trying a free version of a product) is to lean on customers before us who have made a purchase.
Here are some stats that signal just how much customer reviews matter when influencing consumer behavior:
89% of customers worldwide make the effort to read reviews before buying products (via Trustpilot)
79% of shoppers say they trust online reviews as much as personal recommendations (via BrightLocal)
Almost 55% of consumers read at least four reviews before buying a product (via Bizrate)
These stats make this final one even more puzzling to me. According to Birdeye, only 28% of reviews are responded to by businesses across all industries. Though it is widely-documented that customer reviews and testimonials influence new buyers, most companies are failing to even acknowledge when a review comes their way. Tough look.
In the following section, we'll give you some examples of how customer reviews can be used in your digital advertising on Facebook to drive results from new shoppers. But if you're a business owner who fails to respond to the reviews you get now: step away from the blog for a minute, log in to your Google My Business, and get to work!
How to Turn Your Testimonials into Facebook Ad Content
Okay, let's talk about how you can maximize the value of your customer reviews. We've established why testimonials matter: they build trust for new customers, and they're heavily researched before a purchase is made. So, wouldn't it be nice if you could cherry-pick your best customer reviews, build them into well-designed ads, and reach a prospective shopper with them before they have a chance to go scrambling on their own for social proof?! In comes advertising on Facebook.
Here are the steps that you should take if you're looking to run customer reviews or testimonials as ads on Facebook.
Step One: Collect Testimonials from Clients
The first step involves actually collecting testimonials to be used by clients. Perhaps your business has been in operation for a while and you've amassed some reviews on Google or Facebook already. If so, great! Start there and just make sure to ask your customers who have left good reviews if they're comfortable having them show up in ads. If you don't have a wealth of reviews at your disposal, here are a few ways you can try to acquire more:
Send an email to your top clients, requesting a review to be used
Put out a call on social media for reviews
Develop postcards or other collateral materials soliciting reviews
Inspire people to leave a review by offering an incentive
Utilize a review collection service (i.e. Trustpilot, Reviews.io, and Yotpo) to drive more reviews
My recommendation would be to look for a variety of different types of businesses. Think of how you can have a diverse representation of how your products or services have helped businesses by seeking a diverse group of reviewers. Look across different geos, industries, etc. to build a review pool that will serve you well and allow for your ads to be delivered to more niche audiences if you so please.
Step Two: Build out Your Ad Creative
When possible, we'd recommend that you use video testimonials. They do the best job of establishing trust and credibility, as it's a lot harder to fake authentic video reactions about how your product or service helped. In our experience, we've found that having a mix of 15-, 30-, and 60-second videos to test on Facebook has worked very well for driving results.
If video is not a possibility, try to build out ad creative that shows a snippet of a customer's testimonial on the graphic itself. Rather than having to rely on scrolling through a longer testimonial in the top copy, the graphic alone can get across the meat & potatoes of the message. It also helps to use an actual photo of your customer (bonus points if you can also get your customer to be visually demonstrating their use of your product or service). Also try to include a name, company, and location (if applicable) for your customer.
Here are a few examples of strong ads that were used on Facebook and included testimonials: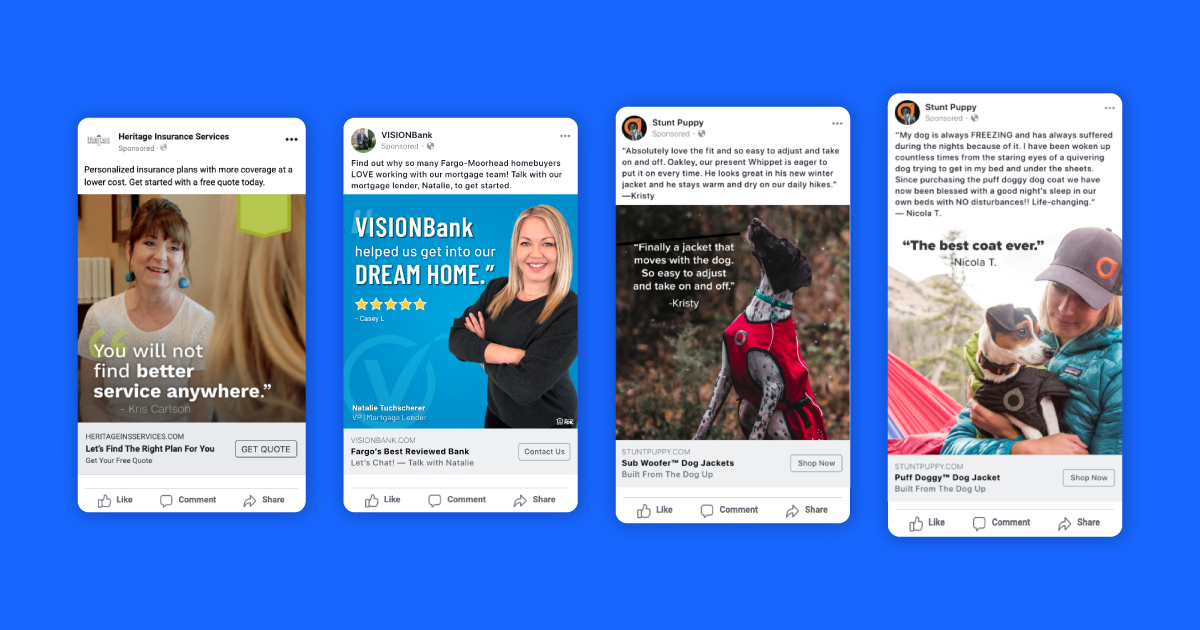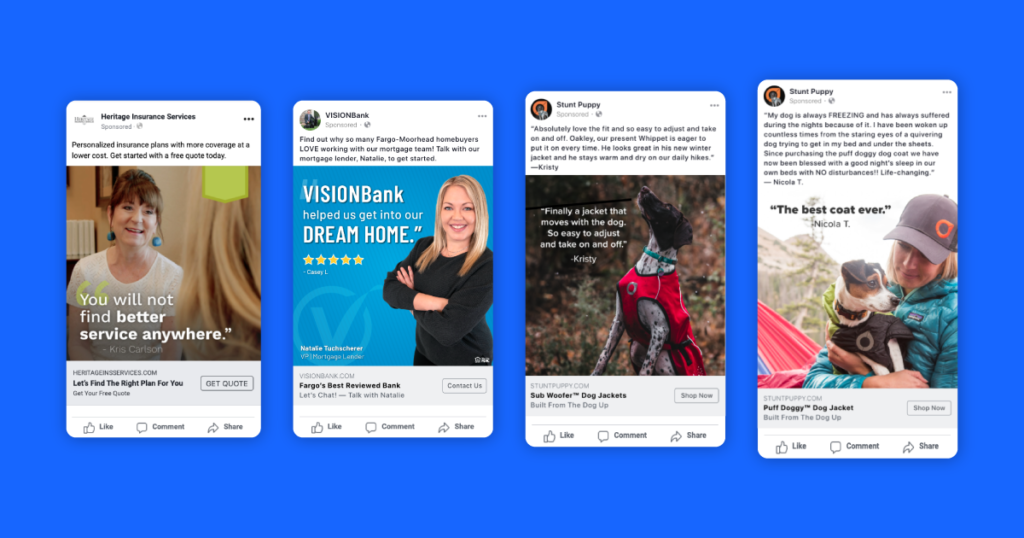 We'd also recommend including multiple ads in your campaigns or ad sets so that you can test and optimize around the best-performing ad. Try a few different ad formats, change up the length of your ad (if the content is animated OR video), and even look at running multiple testimonial ads alongside one another. The more creative you can test, the better.
Step Three: Structure Your Campaigns
Once you're getting your campaigns set up in Facebook Ads Manager, you'll want to make sure you have the structure in place for optimal results. Here's how we typically handle testimonial-based ads:
Campaign Objective: Conversions.
Audience Targeting: Middle-of-funnel (specifically, people who have visited your website or engaged with your previous ads, but have not yet purchased or become a lead).
Number of Ads: Typically, 2-3 at least. It's best to have different videos or imagery to use, or a combination of video and static to test. If nothing else, we'll try to mix up the copywriting to see which runs the best.
Every business is different. We work with a mix of eCommerce, lead gen, and SaaS companies, most of whom benefit from the use of customer reviews in their advertising. If you have questions about how to structure your testimonial campaigns on Facebook, we'd love to connect. Chat with us here!
Step Four: Track Results & Make Iterations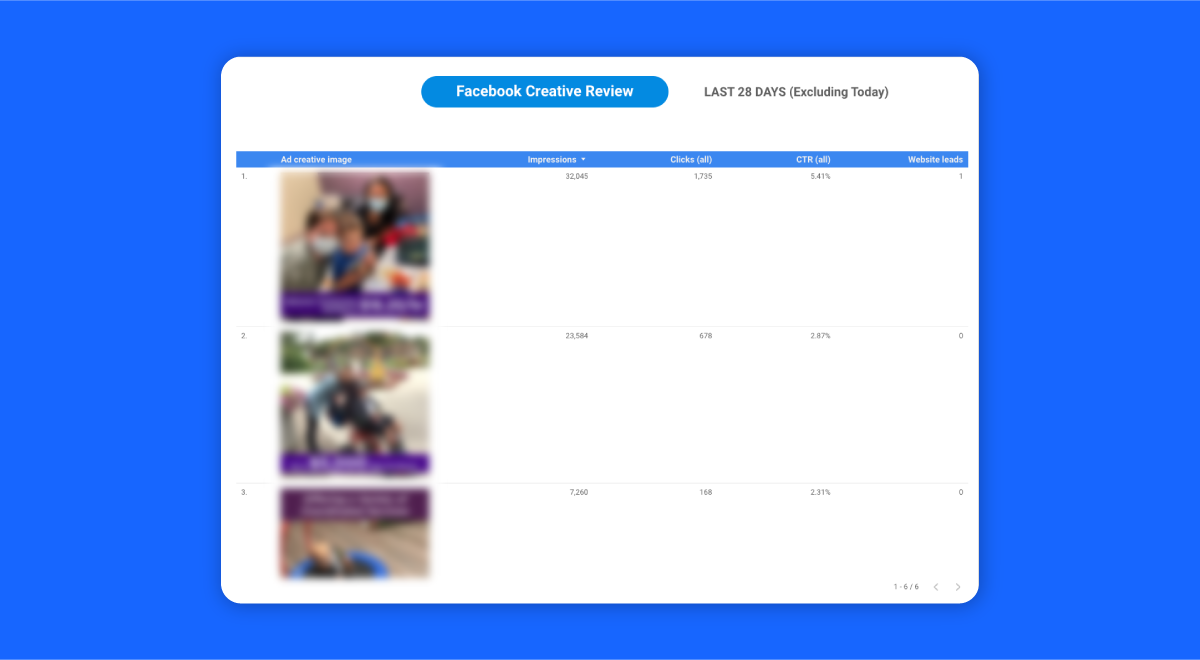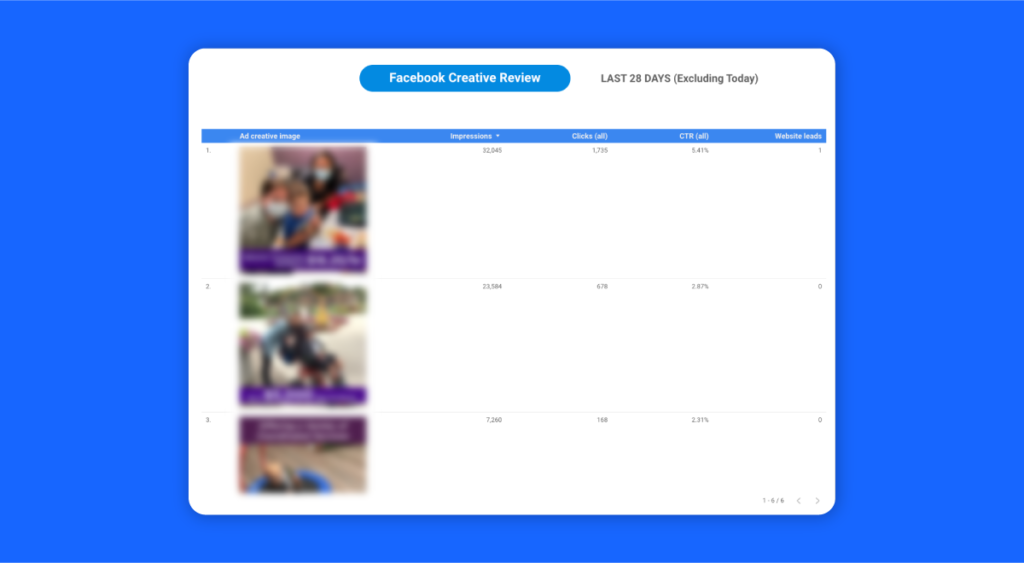 When you're diagnosing the effectiveness of your Facebook Ad campaigns, there are a few metrics in particular that should guide your decision making. Conversions are the most important. How many purchases, sign-ups, or contact forms are coming as a result of your ads? And what's the cost-per-conversion? This will help drive internal discussion.
Secondly, look at click-through-rate (CTR). Typically, we look for a link CTR of 1% or more. If our ad is performing below that threshold, it may be time to look at making an iteration. If it's well above that threshold, we will consider putting more budget towards that ad to help it serve even more.
Finally, we like to examine the frequency of an ad. Facebook/Instagram measures "frequency" as the amount of impressions divided by the reach. If your ad has 4,000 impressions and 1,000 reach, it has a frequency of 4. Try to keep your frequency between 2 and 3, as ad fatigue can hit and performance can diminish past this point. If your frequency is rising, you may want to look at expanding your audience size OR switching up the creative altogether.
From these metrics, we can make decisions about how we should change or iterate our ad accordingly. If you'd like to learn more about our process of diagnosing testimonial ads, let's have a conversation.
Step Five: Implement These Final Tips to Maximize Your Effectiveness
You've got your testimonials in place, your ad creative made, your account structured, and tracking established. GREAT! Now, let's take a look at some final opportunities to maximize the value of your testimonial ads.
Cross-promote testimonials elsewhere. Don't just look at Facebook Ads as a spot to share your testimonials, but consider building out a landing page for client reviews, share ads in email newsletters, and upload video content to YouTube. You can reap benefits from cross-promoting the kind things your customers had to say about you!
Develop Unique Creative for Feeds vs. Stories. Make sure you're mindful of your ad's placement. If you're going to be making Instagram or Facebook stories, have them laid out to the appropriate dimensions so nothing important is minimized, scaled down, or cut off.
Track Website Activity from Ad Viewers. Consider developing unique links including UTM parameters for each ad, and monitor Google Analytics to see how the traffic generated from each ad performed on your site. This can help you have a better understanding of the results of your ad, and help you gauge the quality of the traffic. If they're not buying or converting, are they at least spending a long time on landing pages? Visiting more than one page? Interacting with your site in other ways?
Gift those who provide you testimonials. If the testimonial ads work well, the customers who left you a review will essentially be driving new business for you. How would you give a gift to someone who gave you a referral? Consider the same (or more) for someone that's willing to do a testimonial!
Tying it All Together
The vast majority of us rely on customer testimonials to establish trust in a business. As an advertiser on Facebook, you have a unique opportunity to reach your audience with testimonial ads that will help increase your credibility and drive new business. Here are the key things you need to remember:
With 79% of shoppers saying they trust online reviews as much as personal recommendations, it's clear that testimonials influence consumer behavior.
To improve the effectiveness of your advertising by implementing testimonials, consider the following steps:

Collect testimonials from customers by pulling from existing reviews, or soliciting via email, social media, post card, incentive programs, or review services like TrustPilot.
Build your ad creative, with an added focus on video content, the inclusion of customers' names and companies, and optimizing your copywriting to perform.
Structure your campaigns with a conversion objective, middle-of-funnel audience targeting, and multiple ads to test.
Track your results and make iterations based on results (place extra attention on three key metrics – conversions, CTR, and frequency).
Cross-promote testimonials, develop unique creative for feeds vs. stories, track website activity from ad viewers, and give a gift to your testimonial providers for improved results.
Building customer reviews and testimonials into your Facebook advertising strategy is a great way to establish trust and move customers further through the funnel. To speak with us about Facebook Advertising, testimonials, or any other form of digital marketing, please click this link. We'd love to help you maximize your advertising dollars and improve your results. Let us know how we can help!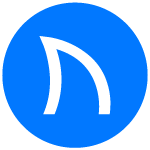 Ready to grow FASTER? Let's Talk!
Interested in having us help you grow?