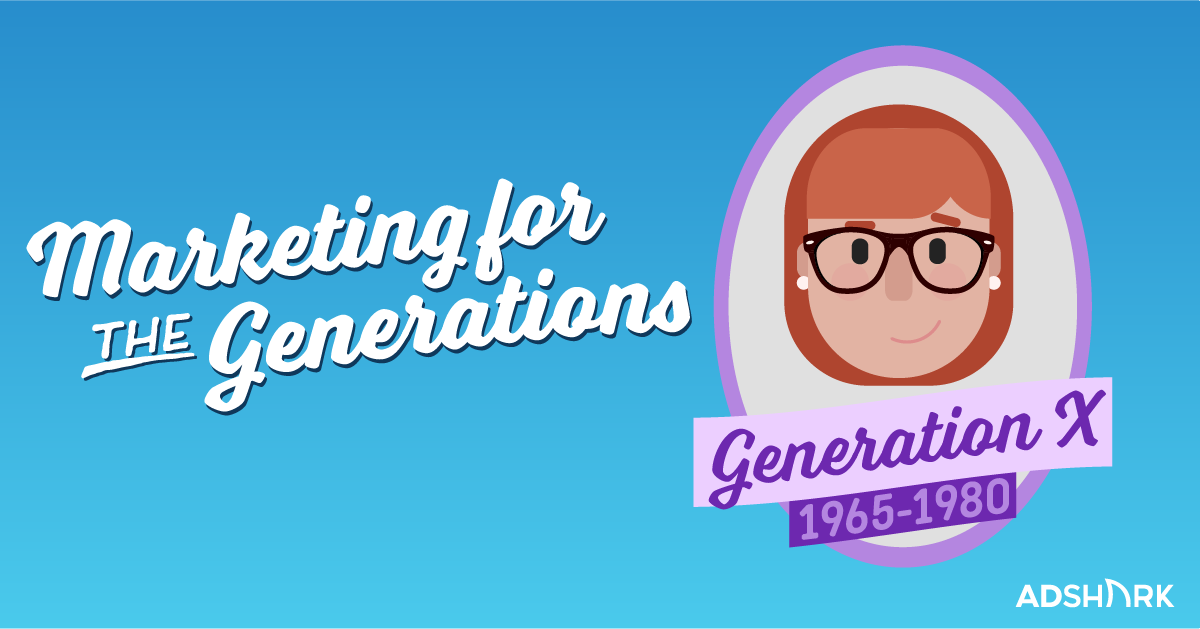 Marketing to Gen X: Why Brands Should Pay Attention
Many brands in the past have ignored marketing to Gen X simply due to the fact that they are sandwiched between two large generations—the Boomers and Millennials. The issue with this is not realizing the buying power and opportunity that comes with reaching out to the "middle child" generation.
Generational marketing doesn't mean focusing on stereotypes for each generation, like Gen X is full of cynical slackers or Millennials are lazy and entitled. What it does mean is that there are prevalent, observed behaviors that should be considered when developing a marketing plan and messaging. For Gen X, stats to consider include:
Who is Gen X?
Gen X consists of people born from 1965-1980—making them 40-55 years old as of 2020. And while the oldest of the generation is entering their mid-50s, Gen X still enjoys learning and adopting new technology. The hardest part of understanding Gen X is the vast difference between the older and younger members of the generation.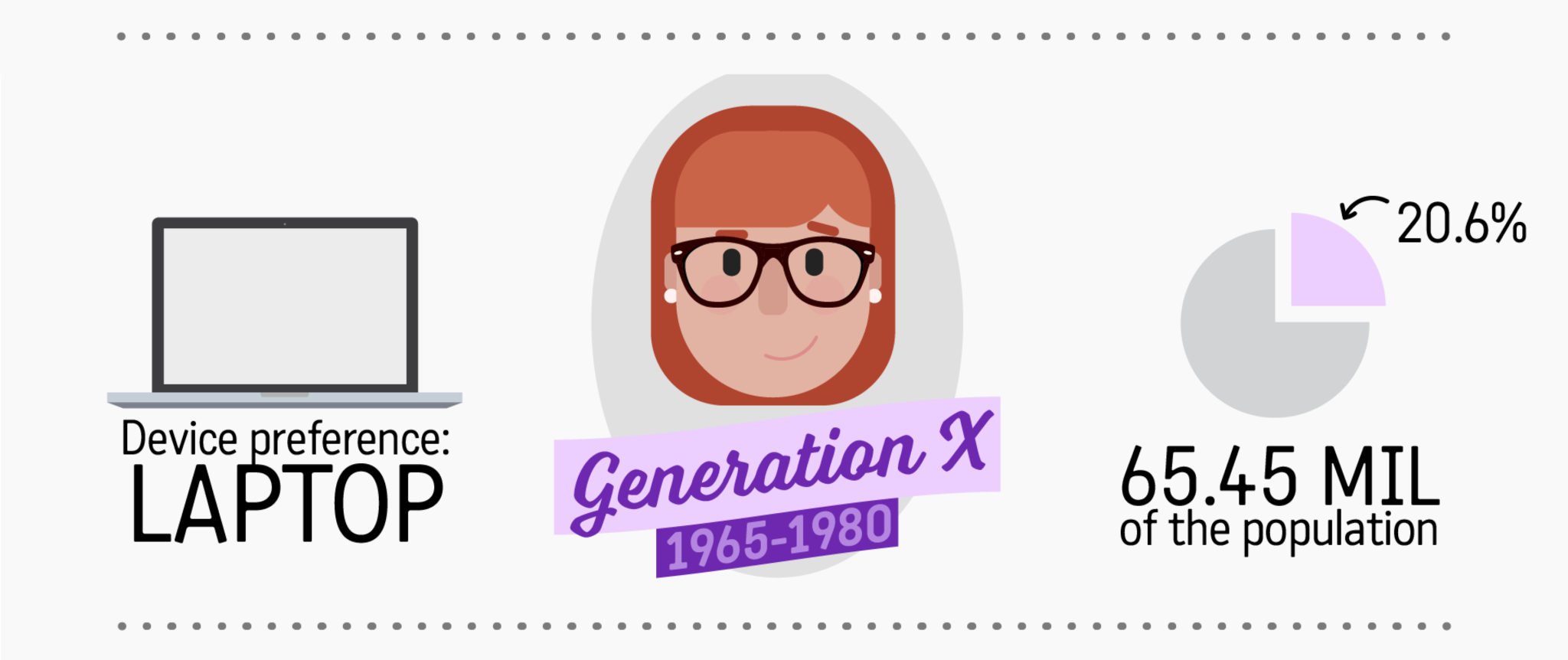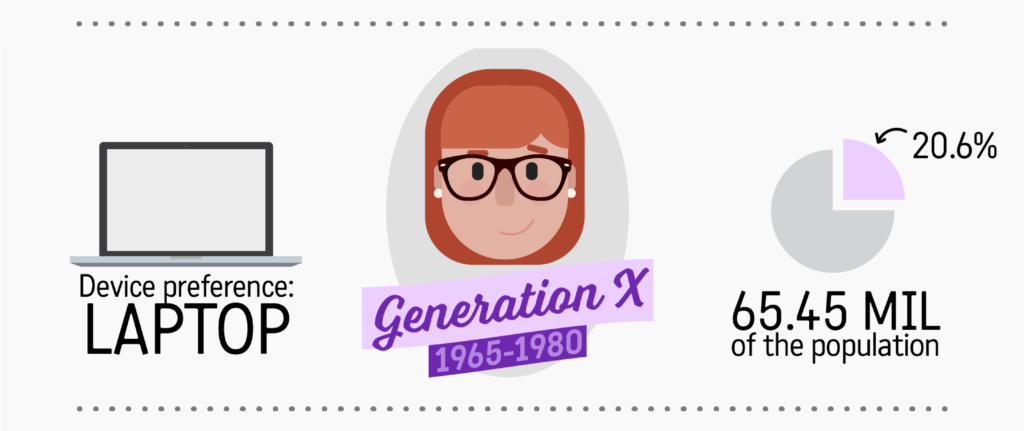 Those born earlier in the generation lean more towards the Boomer generation, while some of the youngest in the generation have Millennial buying habits. Despite these differences, there are still common characteristics across the generation.
Events That Shaped Gen X Lives
Gen X has been through a lot. The older generation grew up during the Vietnam War and Watergate, while the younger generation came of age during the beginning of MTV, Y2K and the AIDS epidemic.


Gen X Character Traits
Gen Xers are characterized as ethical, independent, adaptable and open to diversity. They are also seen as skeptical and cynical. However, new research shows that Gen X is the most brand-loyal generation—if your brand can successfully reach them in an authentic, real way.


Gen X is financially stable.
Unlike the Millennial generation, Gen X is at the age when they are reaching the top of their careers, earning the most income. They have influence over both their company and household decisions, meaning they have a lot of buying power. Gen Xers are also savers. And, they are preparing for kids to go to college, saving for family trips and dealing with elderly parents needing care—so saving is a necessity.
Gen X is brand loyal
While Gen X has some skepticism when it comes to brands, they tend to be pretty loyal to their favorites. So, as a brand, you have work to do to gain their loyalty. Focus on quality, customer service and being authentic and relevant.
Gen X sees some digital marketing as intrusive
Some channels really don't work for Gen X. Text messaging, retargeting or anything that seems intrusive to their personal lives won't work. They just don't want to be bothered on social media or online.
Gen X actively hunts for deals
Gen Xers are savers. They are actively hunting for deals online and are the most likely of any generation to use coupons and promo codes. In fact, 93% of Gen X respondents have used coupons in the past year, according to a report by Valassis. One thing brands need to consider is the channel for which they deliver their coupons. Moving them to mobile apps or promoting them on social media may not be the best way for Gen X.
Gen X is frustrated that marketers overlook them
Gen X is sandwiched between the two biggest generations, Baby Boomers and Millennials. So it's well-known that marketers would overlook them, to the point that the generation has taken notice and is not very happy about it. While small, Gen X has big spending power, both personally and professionally. So keeping them included with relevant messages delivered to the channels they use will go a long way for brands.
Gen X's Relationship with Technology
Gen X was already reaching adulthood when the internet came around. However, like their younger counterpart, they have been able to adopt technology—for the most part. They actively use social media and email but remain skeptical about receiving some marketing messages through technology.
Gen X constantly checks email
While Gen Z and Millennials are picking up their smartphones constantly, Gen X is logging into their email. More than 80% of Gen Xers say email is their preferred means of receiving brand messages. So, if you're trying to target Gen X, email newsletters or promos are a great option for effectively reaching them.
Gen X and Social Media
Gen X has quickly caught up to the younger generations with their social media use, but they still use it differently. According to Pew Research, 75% of Gen X is on social media.


Gen X is most likely using Facebook, Instagram, YouTube, LinkedIn, and Snapchat. And, if Gen X is following a brand on social it's because they are looking for promotions. So, brands should keep that in mind when developing a posting schedule.
What Are My Options for Marketing to Gen X?
Like we've said before, Gen X is looking at email and potentially following their favorite brands on Facebook. But as a brand, do you have other options?
Places to Advertise


Every generation is still using Google. And while some brands are opting to focus their advertising budgets on social media, if you have Gen X in your sights, it might be better to continue testing paid search campaigns. Gen X also likes getting relevant deals sent directly to their inbox. And while a lot of people are shouting that print is dead, Gen X also likes getting direct mail pieces.
Writing your Ads
Because Gen Xers are actively hunting for deals and promos, use coupon terms like "promo" or "discount in your advertising. Gen X also can see through fake messaging so stay away from claims that seem too good to be true or look and sound like an infomercial.


7 Tips for Marketing to Gen X
1. Use retargeting sparingly.
Some messages seem intrusive to Gen X. Abandoned cart ads, retargeting ads and anything that directly shows "big brother" is watching will automatically put up their skeptical red flag. So tread lightly with this group, otherwise, you may end up alienating them from your brand.
2. Include offers and coupons in emails.
I am pretty sure I've officially started beating a dead horse with this message. So, if you take one thing away from this blog it's that Gen X likes coupons. I mean, who doesn't? Just make sure to prioritize a promotional calendar in your marketing strategy and include the right channels for delivery.
3. Try direct mail marketing.
Typically, we want people to focus on digital marketing tactics—I mean we are kind of biased. But we also won't tell our clients to do things that don't work. And in this case, direct mail tends to work for Gen X. So, if you can create an integrated campaign—then, by all means, do it. 68% have said they use coupons they receive in the mail, so if you want to test direct marketing make sure you include an offer.
4. Don't text them marketing messages.
Here's another example of an intrusive marketing message. They just don't want you to text them offers. Instead, use text messages for customer service or communication on orders already placed. Anything else, stick with email.
5. Try using social media to promote sales and special offers.
Gen Xers who follow brands on social media are looking for those darn coupons. Start adding promos to your content calendar and see how well they do. This can also be an effective way to build brand awareness through advertising on social.
6. Be authentic and keep your promises.
Gen X is already cynical and doesn't typically trust brands. Keep your word and stay true to your brand, because if you don't, they will see right through it. And winning them over will provide a lifetime of brand loyalty.
7. Set up a loyalty program.
Loyalty programs can go a long way for a group that likes deals and are loyal to a fault. Birthdays, anniversaries, milestones all can be included in promotions sent their way. Check out brands like Ulta, Target, and Kohls for ideas and inspiration.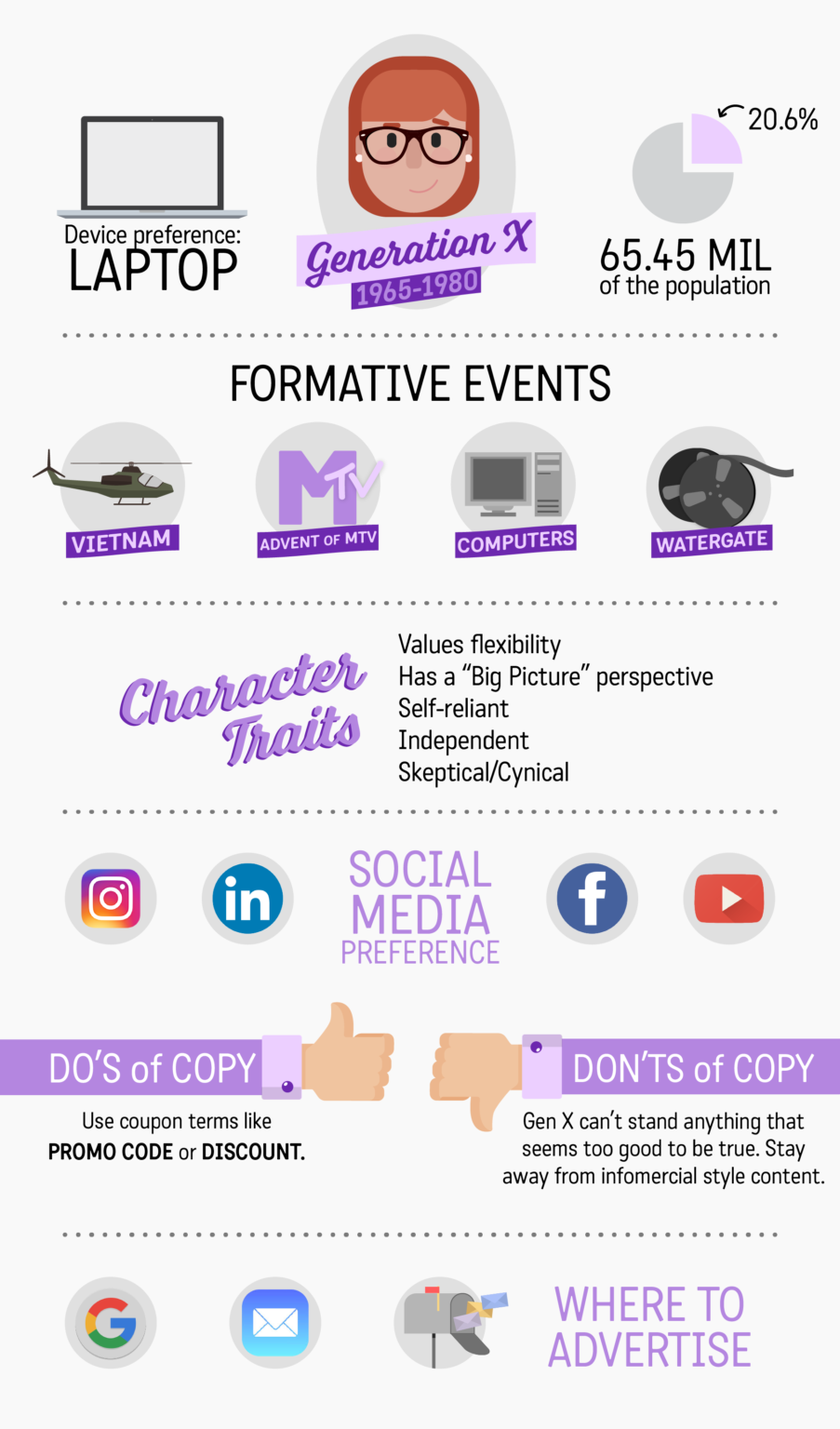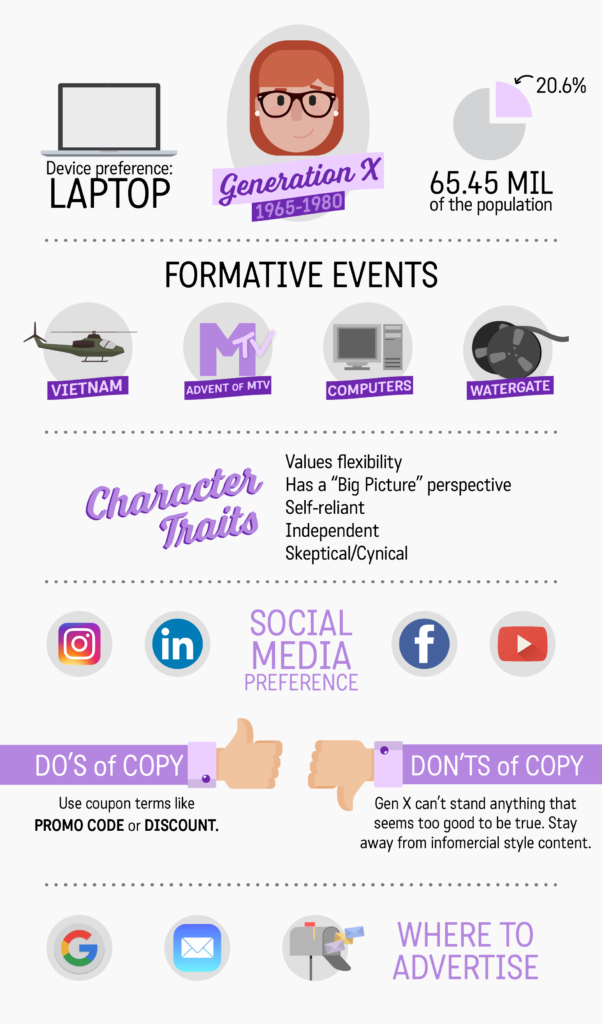 Don't Forget About Gen X
As Gen X reaches the point where they are earning their highest income and getting to the highest point of their careers, it's time for marketers to start paying attention. While not as big as the older and younger generations, they have a lot of spending power.
How Can AdShark Marketing Help?
If you're ready to start implementing digital marketing tactics in 2020, AdShark can help with your paid search and paid social campaigns. Reach out to us and we will analyze what you've been doing and how to improve your results to grow your business.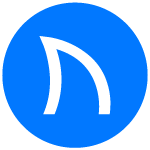 Ready to grow FASTER? Let's Talk!
Interested in having us help you grow?